Service rarely takes convenience into consideration. No, it is a fact that in most cases, service is highly inconvenient. I admit that too often I thought of the service I was providing Deanne's grandfather, Sherman, as just that, inconvenient.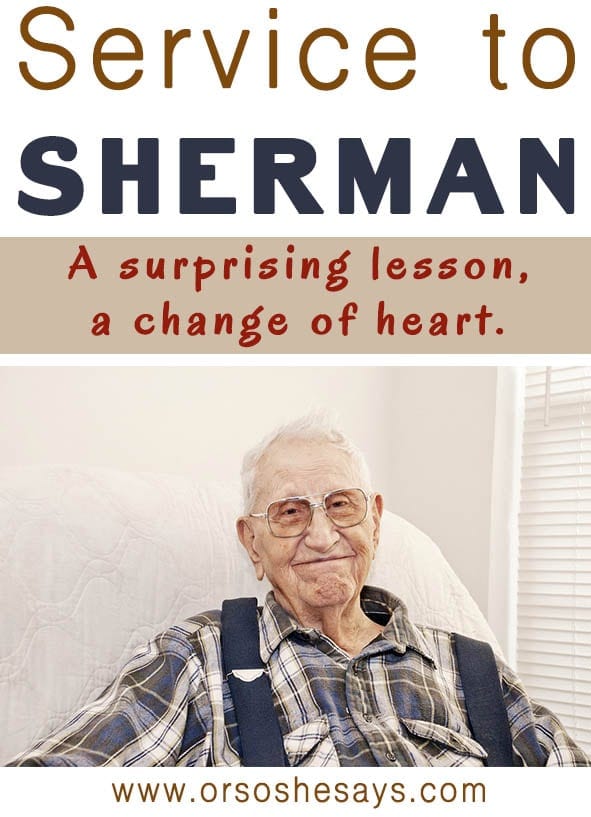 In his 78th year of life, and shortly after the birth of our 3rd child, Sherman called me one evening. I remember him explaining that due to his wife's failing health she was no longer capable of putting him to bed every night and he asked if I might be willing to do so going forward. Sherman had muscular dystrophy and lacked the strength in his limbs to put himself to bed. In fact, by this stage of life, his mobility was entirely dependent upon a motorized scooter. I agreed to assist him, but it was not without reservation. The thought of putting him to bed at night, especially once I realized that I would have to change his clothes as well, something I had never done for anyone other than my infant children, initially made me a bit uncomfortable.
Adding to my discomfort was the fact that not too many years prior to his asking for my assistance, Sherman and I had weathered a very rocky relationship. Some of the hurt from times past still lingered between us. I wondered how it was that he would ask me, a person of who I was certain he still held in derision, to be the person he would ask for help from. Regardless, I really did care for him and wanted to be of help, so I accepted his request.
After the first couple of weeks of helping Sherman, I got into a groove. I no longer felt as though I was going to drop him on the ground sliding him over from his scooter to the bed, and we had a method for changing his clothes that maintained his privacy and kept us both from any embarrassment. The only mishap I had in the whole first year was the time I accidentally put his wife's underwear on him instead of his own (in my defense, there were enough similarities to honestly have made this mistake). I guess wearing women's underwear all night proved to be a bit uncomfortable for him both physically and emotionally. Oh, and I guess there was the time I put his underwear on backward as well. I guess other than the underpants issues, we both got into a pretty efficient routine.
As time wore on, the night-time routine of putting Sherman to bed became more complicated. Both of our lives continued on in different trajectories. With every year his strength weakened and getting him into bed became more difficult as he was able to assist less. What used to take me a few brief minutes to get him settled grew increasingly longer. At this same time, my family continued to grow, schedules became more complicated, and my own bedtime for my own children coincided with my appointment with Sherman often leaving Deanne to wrestle four young kids to bed by herself. At some point during this stretch I allowed helping Sherman to begin to feel more like a chore than service.
Family parties, outings, friend get-togethers, and holidays were often cut short in order for me to get to Sherman's on time to help him to bed. Often, my kids would complain and ask why it was that we always needed to leave early. With similar regularity, though I tried not to vocalize it in front of my kids, I found myself asking the same question. I felt a budding resentment, not for Sherman, but for the duty I needed to perform. During the moments I felt this way, I wondered if giving service in this manner was doing my heart any good at all… I mean, didn't my kids, wife, church-calling, and personal time need me every bit as much as Sherman?
One evening when I was feeling particularly worn thin, after putting him to bed, I felt compelled to stick around for a while. This was not something I would typically do. No, more often than not, I was a man on a mission and efficiency was the most important thing. Getting Sherman to bed quickly and making sure everything was generally good was the name of the game. I had unfortunately turned much of my service in a perfunctory performance. But not that night. After getting him settled, I slumped into his scooter I had just taken him out of and sat there in silence for a moment.
"Are you doing ok Sherm?" I asked him habitually, not sure what I was still doing there.
"Yes, thanks to you," he responded.
Suddenly I realized I never heard him complain about his predicament. I thought to myself that he would much rather not require having me put him to bed. I am sure he would prefer to be able to do this all himself Here he was a prisoner in his own body, reliant upon everyone else to perform the majority of his physical needs, but I never heard him grouse about it. I sat there a bit awkwardly for a moment longer, drinking in this epiphany when Sherman spoke.
"Dan?" he started. "I want to tell you something."
I could sense something a bit different in his tone this night, I could sense the importance of what he was about to say. "I want to tell you that I was wrong. I was wrong about you during those years when things were bad between us. During those times, I could never have imagined what you eventually would come to mean to me, how important your friendship and service would be. I am so glad that I got to know you. I am so glad for you. I love you Dan."
After overcoming my initial surprise, I looked him in the eyes and saw nothing but humble sincerity there. With a sudden realization of how much I dearly cared for this man I responded.
"I'm very glad I can be here for you Sherm. I'm so sorry for the lost years, I bear a lot of the blame for those, but I am happy that we have a relationship now. Your friendship means a great deal to me. Thank you for asking me to help you… I have needed this. We have needed this. I love you too Sherm."
As I left that night I was battling conflicting emotions. I was humbled and grateful for the opportunity to be of service to this good man, but I was also tormented by the shame I felt for struggling to serve him with joy. I sorrowed for the selfishness I had allowed to creep in to my heart. I know didn't serve Sherman perfectly. Neither can I say I always served him cheerfully. Serving Sherman took time and effort that sometimes I felt like I shouldn't have to give. In those moments of selfish weakness I was wrong.
I may not have always wanted to serve Sherman, but I most certainly needed to serve him. Perhaps, in God's grand design, the only true way things were going to heal between us, was through this specific service. Had I not been given the opportunity to care for him, even in this relatively small fashion, I am certain that I would have never truly appreciated nor loved him as I grew to. I believe that the assistance I provided him ultimately ended up helping me in a far greater measure. And isn't that almost always the case when you serve?
Last month, a day after my wife put him to bed for what would be the last time, I took my family over to say goodbye to Sherman. Many thankful tears were shed as we recognized God was finally going to release him from his mortal test. I knelt by the side of his bed that I had put him into thousands of times before and whispered into his ear.
"Thank you Sherman for allowing me to serve you. Thank you for giving me the opportunity to get to know you. As much as you felt you needed me, I needed you more. See you soon my dear friend; I love you."
Sherman was an incredible man, a true warrior of our time. I could and most likely will write about his remarkable, miraculous life at some point in the future, because stories like his, though never designed to be in the limelight or on the front page, must be told. Sherman recently passed away at the ripe old age of 86, exceeding every doctors prediction for how long he would live by decades. I will be forever thankful for the last eight years of his existence. In some ways, for me specifically, they were some of the best years of his wonderful life.
See more inspiring posts like this one below:
Family Night Lesson: Secret Service Mission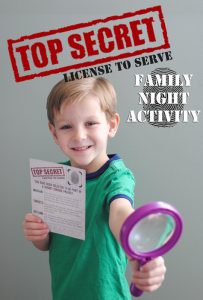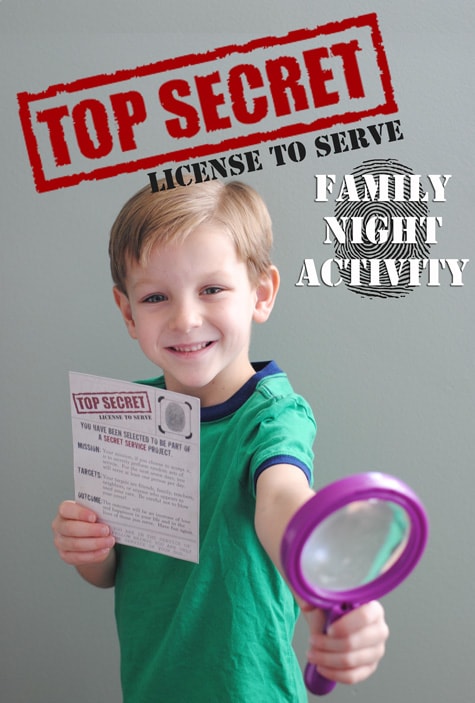 Project Is Love Alive? A Service Family Night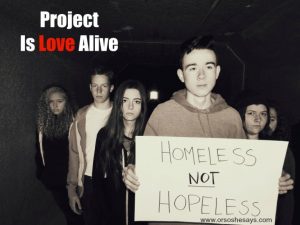 How to Create Your Dream Home in a Simple Way