On a recent family vacation to Bear Lake, my sister-in-law (and lovely assistant), Rebecca, was in charge of dinner for the night. She made this fabulous meal that everyone devoured and I realized this girl has been holding out on me! I instantly demanded she give me all of her good recipes, and like a good assistant should, she did. I guess I'll keep her around a little longer. 🙂 Anyway, this Slow Cooker Curried Chicken and Chickpea Stew is one of the recipes she emailed me. My kids love Indian food and I love an easy meal in the slow cooker, so I knew this was just the one to try first. Yes, my friends. Yes. It was scrum-diddly-umptious. I'm sure she's freaking out right now because it probably looks different than her recipe. Last minute, I was feeling naughty and dropped a bar of cream cheese in the stew to make it more of a creamy gravy, rather than a soup. But, it was awesome both ways. We were taste-testing it with the cream cheese and without, and none of us could decide. So, I'll share the recipe as given and if you want to add cream cheese, feel free. The only other change I made, okay, well two… I forgot to buy onions, so I just gave a few shakes of dehydrated onions. Also, because I don't do tomato chunks, I used crushed tomatoes instead. If adding cream cheese again, I might even add more crushed tomatoes to make more sauce.
Here you are… Slow Cooker Curried Chicken and Chickpea Stew: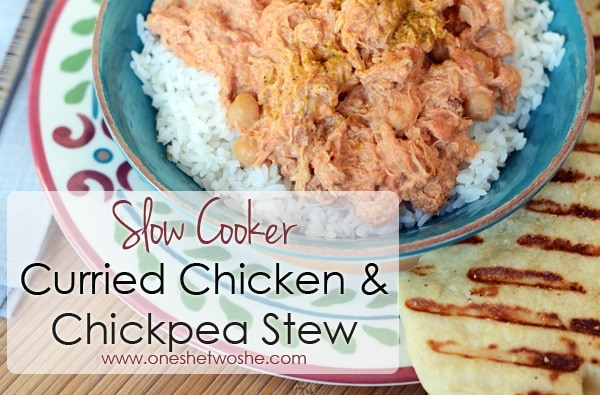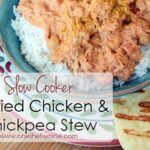 Slow Cooker Curried Chicken and Chickpea Stew
Ingredients
1 1/2

lb.

boneless

skinless chicken breasts

1

Tbsp.

olive oil

1

Tbsp.

curry powder

1/2

tsp.

salt

2-3

onions

thinly sliced

4

cloves

garlic

finely chopped

1 28-

oz.

can diced tomatoes with juice

1

can chickpeas

drained
Instructions
Combine chicken, olive oil, curry powder and salt in slow cooker and toss to coat.

Sprinkle onions and garlic on top of chicken.

Pour tomatoes on top.

Cover and cook on low for 6 to 8 hours.

During last hours of cooking, stir in chickpeas.

Serve hot over rice, couscous or quinoa.

Optional: add a bar of cream cheese for creamier sauce.