The 10th is here! The best day of the month! With Christmas coming (HOORAY!!!), and trees sure to go up in just a couple of weeks, we were excited this month for the theme to be Handmade Ornaments. There are so many fun & creative ornaments to choose from– felt, glitter, vintage goodness, bright & cheery, traditional, child-oriented, and more! You're sure to find one that fits your tree theme–or a new theme you want to start! We'd love for you to pin the collage below, check out the DIY Snow Globe Ornament below and then go see all of the other fabulous projects created by some of my blogger besties.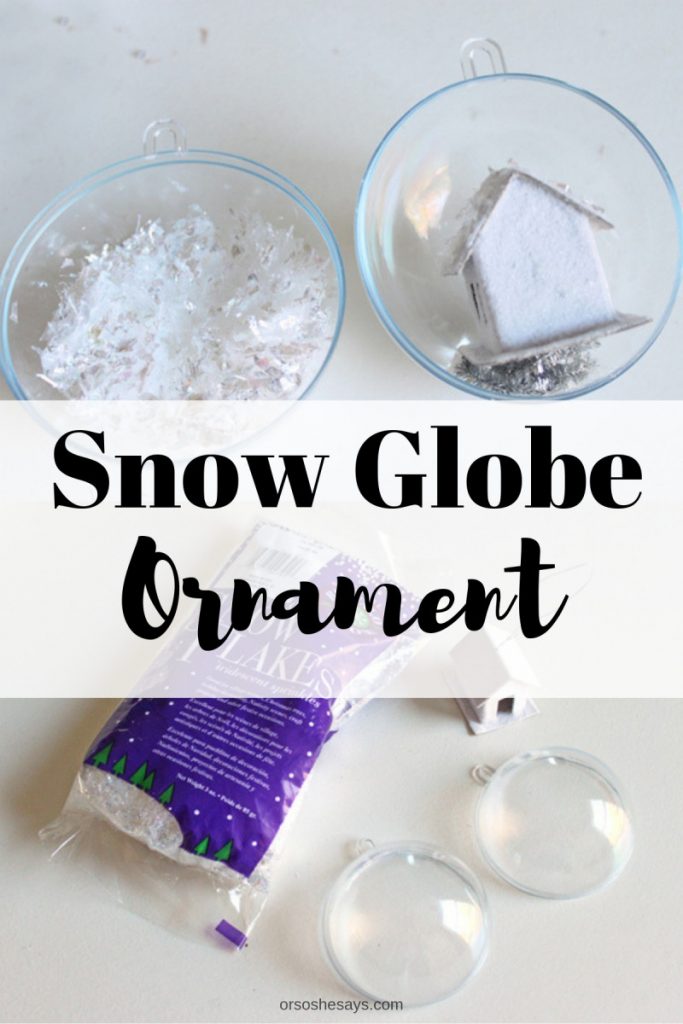 Simply Kierste sharing Ruler Ornaments
'Or So She Says…' sharing Snow Globe Christmas Ornaments
Lolly Jane sharing DIY Spindle Ornaments
Your Homebased Mom sharing Pottery Barn Knock Off Glitter Letter
Eighteen25 sharing Felt Ornaments
Landeelu sharing Newsprint Ornaments
Little Miss Momma sharing School Picture Ornaments
Capturing Joy sharing Nativity Fabric Ornaments
Thirty Handmade Days sharing Bright & Cheery Christmas Ornaments
DIY Snow Globe Ornament
It's beginning to look a lot like Christmas at my house! When you're a crafter (especially a craft blogger), you have to get a head start. Don't worry, I haven't put up the tree or anything… yet. Anyway, I'm so excited to show you this snow globe ornament that I made. Doesn't it just make you want to light a fire, snuggle up, and listen to Christmas carols?
I made it using a clear plastic ball ornament that I found at Hobby Lobby. Unlike a regular ball ornament, this one splits in half so you can fit bigger things inside of it. So many possibilities! The little house ornament and the fake snow came from Michael's.
First I cut the string off the house ornament and jazzed it up by gluing some of the "snow" onto the roof. I was tempted to add a little person or something to the inside of the house, but I was going for sophisticated. Next time. 🙂
I needed some way to attach the flat surface of the house to the rounded surface of the ornament. I had some sparkly pipe cleaner, so I curled that up to make a base. Just hot glue that down on the bottom of half of the ornament.
Next, hot glue the front half of the house to the top of the pipe cleaner, and put some fake snow in the other half of the ornament.
Glue the ball back together to prevent any glitter accidents. Seriously, this stuff is all over my house! I suggest NOT using a glue gun to glue the ball together. It dried too fast, and then I ended up with this.
Oh well, nothing a pretty bow couldn't fix. You didn't even notice in the top picture, right? Get ribbon with wire in it if you want it to hold it's shape.
Shake the snow around a bit to get it under the house and evenly dispersed, and you are done!
Happy Christmas crafting! Be sure to check out my blog for more fun Christmas craft ideas!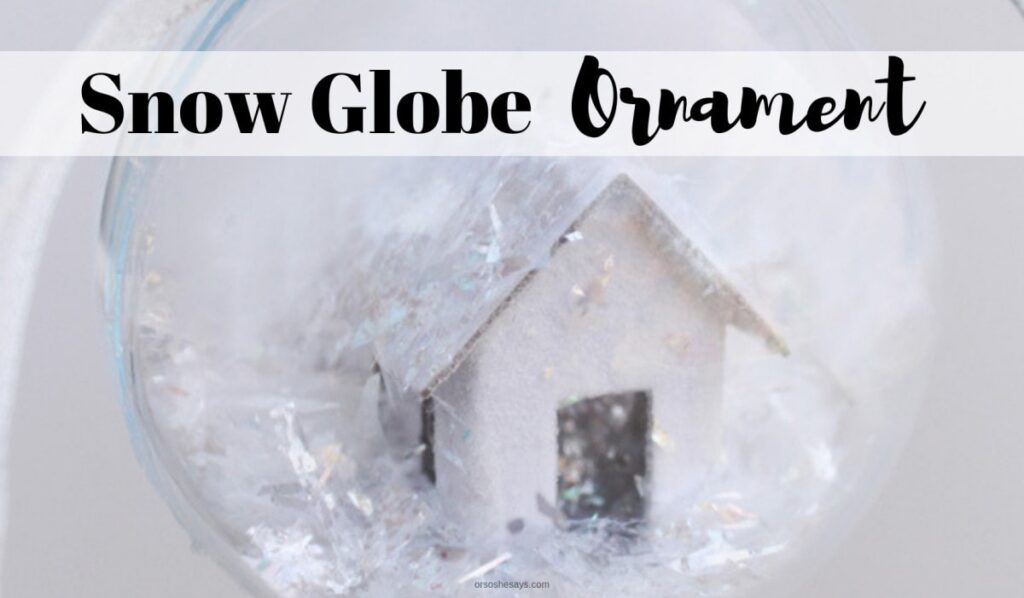 Our picks for making your own snow globe ornament:
Seekingtag Clear Plastic Fillable Ornaments Ball – 100mm Pack of 10 Individual Ornaments
Kurt Adler Petite Treasures 12-Piece Miniature Ornaments Set, 2 Pack
Zealor Christmas Miniature Ornaments Kit Fairy Garden Dollhouse Decoration
SnoWonder Instant Snow Fake Artificial Snow, Also Great for Making Cloud Slime – Mix Makes 4 Gallons of Fake Snow
Be Amazing Insta-Snow Jar, Makes 2 Gallons
Caryko Tinsel Creative Arts Chenille Stems 6 mm x 12 Inch, Pack of 200 (Silver)
ccbetter Upgraded Mini Hot Melt Glue Gun with 30pcs Glue Sticks,Removable Anti-hot Cover Glue Gun Kit with Flexible Trigger for DIY Small Craft Projects & Sealing and Quick Daily Repairs 20-watt,Blue
E6000 230010 Craft Adhesive, 3.7 Fluid Ounces
Aleene's 36116 Original Tacky Glue 3 Pack, 8 Oz
R'ND's 300 Pack Ornament Hooks Christmas Tree Decorating Hangers- Metal Wire Ornament Hooks for Christmas Tree Decoration Hanging (Silver)
Christmas Ribbon; 60 Yards 3/8" Grosgrain Satin Fabric Xmas Ribbons for Crafts Decoration Holiday Box Gift Wrapping, Hair Bow Clips, Sewing, Wedding, Baby Shower (12Colors x 5Yds Packed in Roll)
Christmas Ribbon for Crafs – Hipgirl 60 Yard 3/8