Try this summer strawberry salad paired with grilled chicken, bacon and creamy poppyseed dressing. The kids will LOVE all these elements, even if you have to separate them on the plate!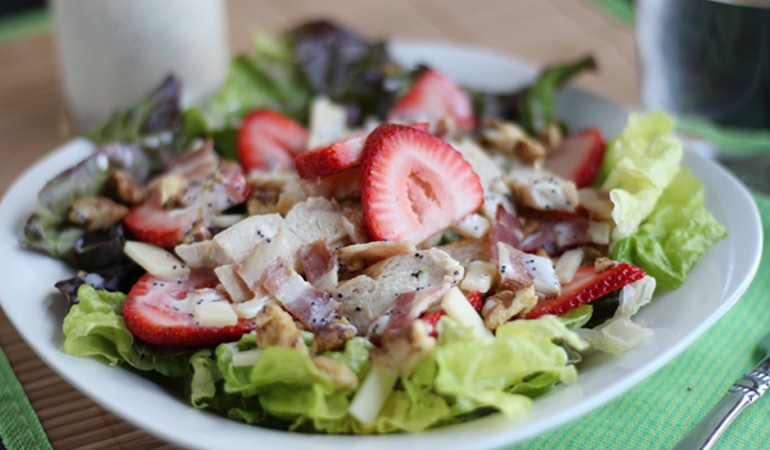 This strawberry salad has been my go-to lunch lately. Something about the sweet strawberries, salty bacon, and creamy tangy dressing make me want to lick my plate….and that's saying something, because usually I'm not a huge salad person. The strawberries I've been buying at the store have been so sweet lately and I'm loving it–and I happened to score them for 88 cents per clamshell at Sprout's last week!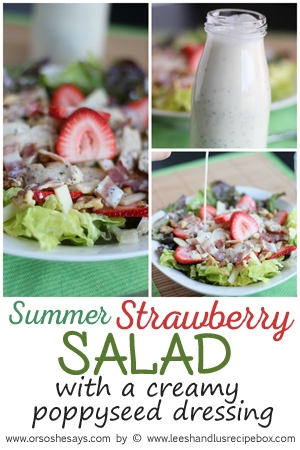 You can serve this as a side when you're grilling or add the grilled chicken to the salad and call it dinner! The greens are also obviously adaptable (I usually like to use half baby spinach and half romaine). And I usually alternate between diced swiss cheese and crumbled feta depending on my mood.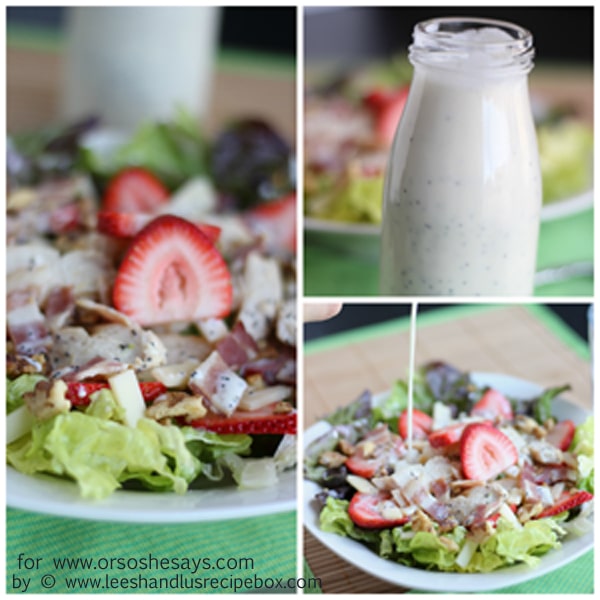 If you don't want to make the dressing, Brianna's poppyseed dressing makes a good substitute–but you will miss out on the lemony-freshness that this homemade dressing brings to the table. The homemade dressing really is a breeze to whip up. Either way it's lick-the-plate good though!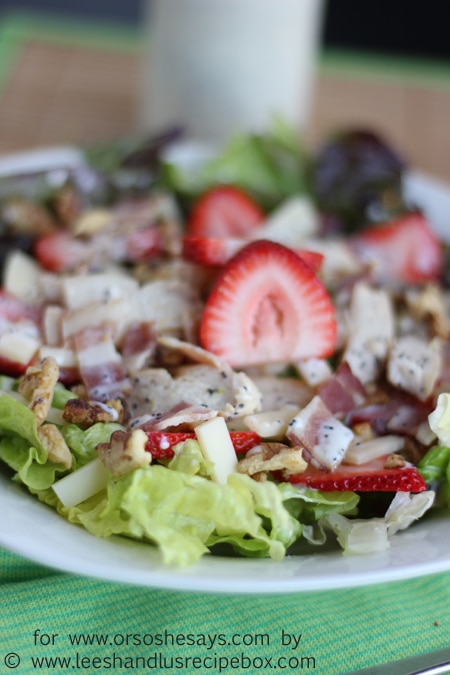 I usually candy enough nuts for a few days worth of salads so I can skip that step at lunchtime on subsequent days….or I just have a toasty and sweet afternoon snack!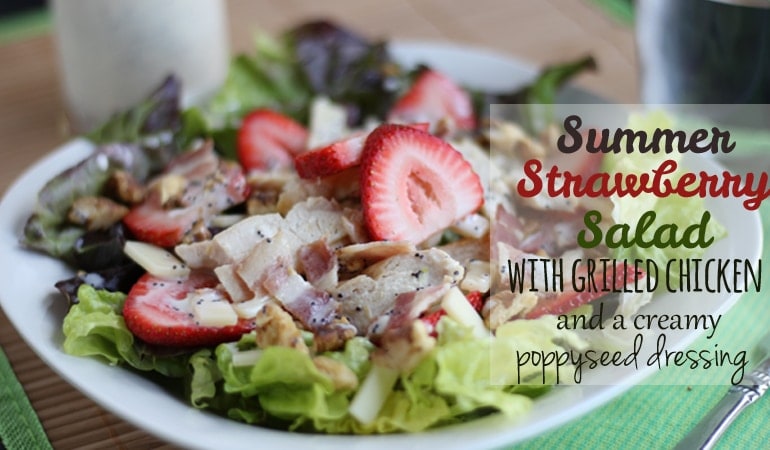 The effort is minimal, but the combination of flavors can't be beat. It's definitely a keeper of a salad at my house.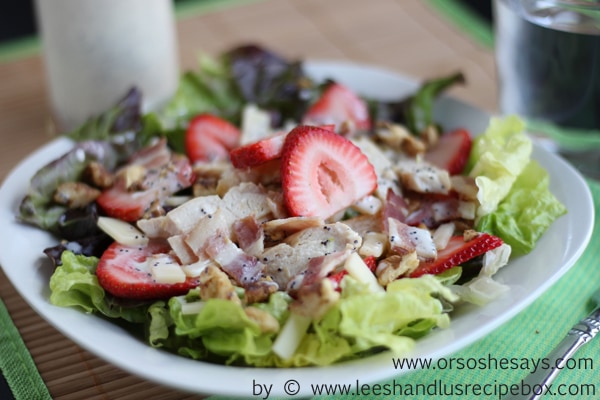 We hope you'll try it!!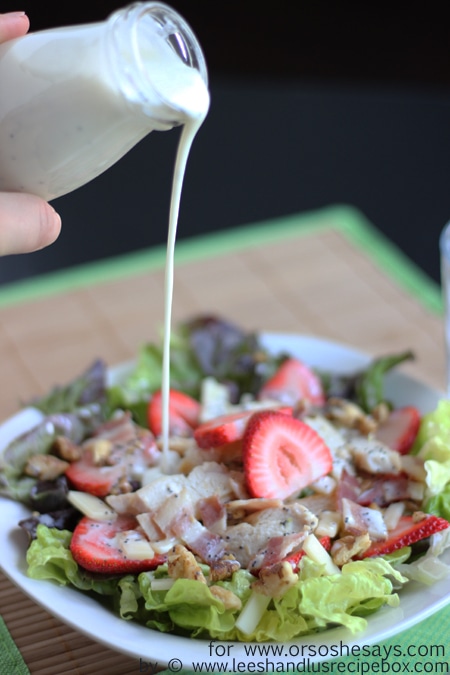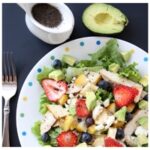 Summer Strawberry Salad with Grilled Chicken, Bacon and a Creamy Poppyseed Dressing
Salad greens topped with sweet strawberries, crisp bacon, grilled chicken, candied nuts, and creamy swiss. Top it all off with a creamy lemon poppyseed dressing and dinner is served!
Ingredients
salad greens

sliced strawberries

slivered almonds

candied or roasted

bacon

cooked and crumbled--or bacon bits

sliced Swiss cheese

cut into small pieces

diced grilled chicken

optional

For the dressing:

2/3

cup

mayonaise

1/2

cup

milk

1/4

cup

sugar

2

tablespoons

apple cider vinegar

1

tablespoon

lemon juice

from the zested lemons

1/2

teaspoon

lemon zest

1

tablespoon

poppyseeds

1/2

teaspoon

dijon mustard
Instructions
To make the dressing, combine all ingredients, except poppyseeds, in a blender or a mixing bowl and whisk or blend until well combined. Mix in poppyseeds.

For the salad, assemble each salad on its plate individually starting with the greens. Layer on the strawberries, candied nuts, bacon, chicken, and cheese. Top with dressing and serve immediately.

Grilled Chicken Pasta Salad (with Creamy Balsamic Parmesan Dressing) |Honey Poppyseed Vinagrette Dressing (and salad) | Aloha Chicken Salad
For more summery salads like this one, try these posts on OSSS:
Fresh Raspberry Salad with Wine Blush Vinaigrette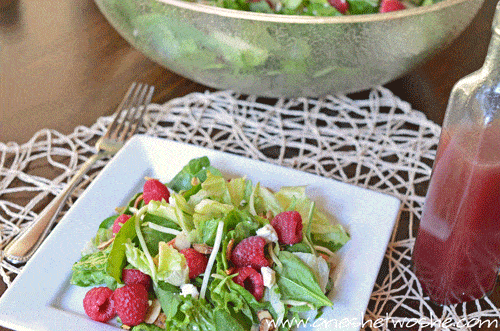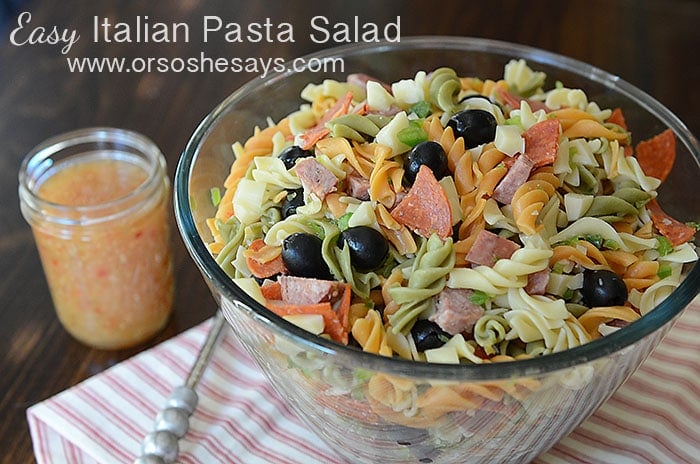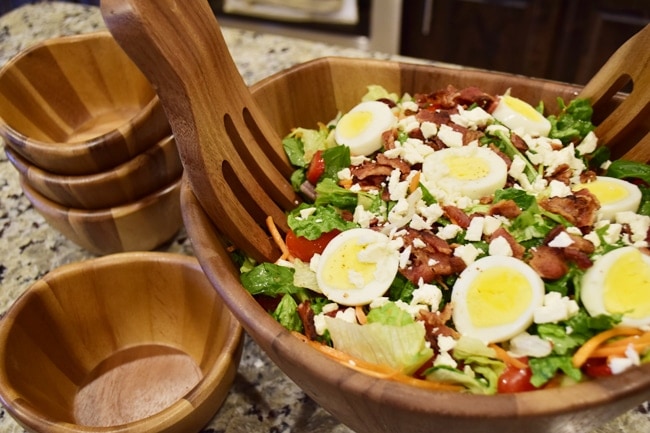 Save
Save
Save