I've taken a step away from the kitchen for a bit to share one of my favorite
games
with you. It is essentially the telephone game (the one we played as kids that always ended up being "fart" ? No? Just my friends…moving on…) only drawn out on paper. My family has dubbed this version of the telephone game: "The Sticky Note Game". You can find this game commercially, but it is so easy to do at home!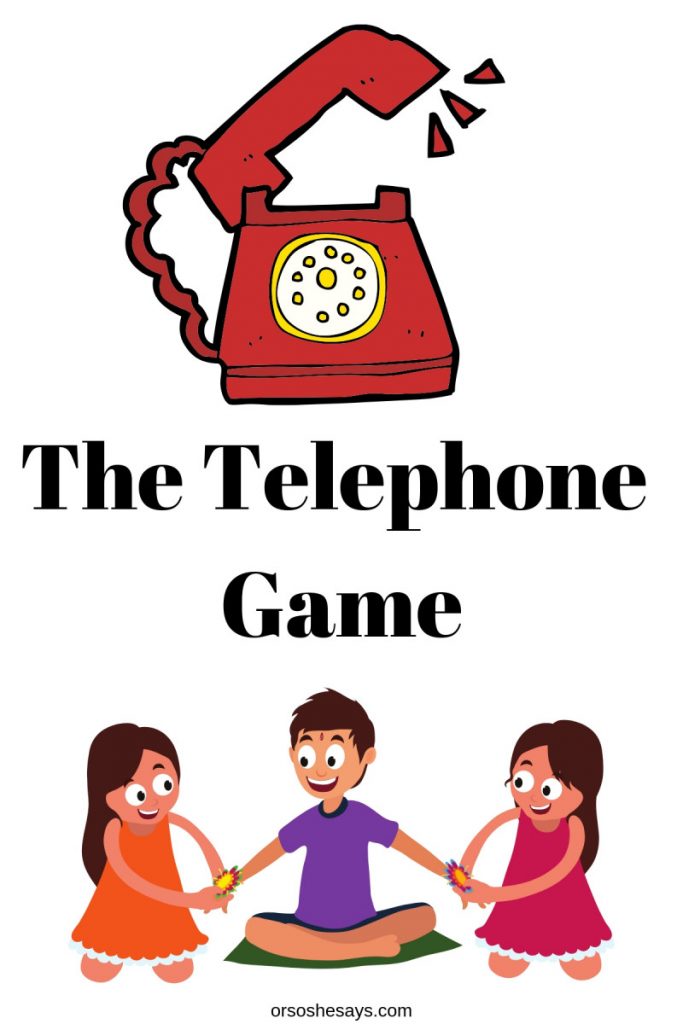 Here's what you need for this version of the telephone game:
A pad of sticky notes (or several small notebooks)
Pens or pencils
A word, phrase, or sentence of your choosing
6+ players (you can play with fewer, but I have found that they more players there are, the better)
Here are the steps for playing the telephone game:
1. Give each player a section of sticky notes equal to the number of players (ie. If there are 6 players, everyone needs a pad with 6 sticky notes) and a pen or pencil.
2. On the bottom page, each person writes down their word, phrase or sentence…no peeking!
3. Each person folds the bottom corner over. We start at the bottom (with folded corners) as it discourages accidental peeking.
4. Each person passes his pad to the left (or right, your choice)
5. Each player looks at the phrase written on the pad. On the next blank sheet, they illustrate the phrase to the best of their ability. If you consider yourself lacking in artistic ability, no worries! Have "good" drawers and "bad" drawers makes this game more fun! Just do the best you can.
6. Once you are done drawing, fold your bottom corner with the previous page so they are folded together. This just makes it easier to flip to the correct page.
7. Once everyone is finished drawing pass the pads to the left again.
8. This time, each player opens up to see an illustration. No looking at the original phrase!! Each player must now write a word, phrase, or sentence that best describes the illustration. Once finished writing, each player folds their sheet in with bottom two and passes to the left.
9. Now each person has a phrase to illustrate again. Each person keeps alternating between drawing, passing, and writing until there are no more blank sheets and the pad ends up at the original writer. Depending upon the number of people, you will end with either a phrase or a picture.
10. Take turns going around and sharing the phrases and pictures and share some good laughs!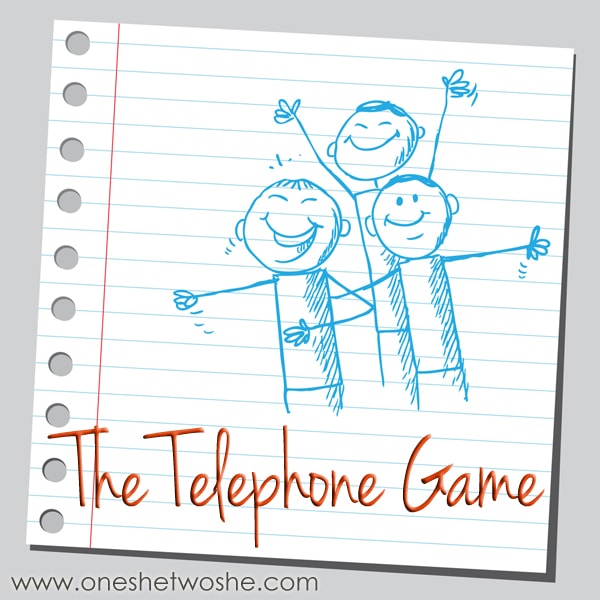 Here is a sample game from the last time we played:
The photos show 2 player's papers, side by side
Player A wrote: A wallaby tries using a compass
Player B wrote: Stop picking your nose!
Here are the illustrations
The new phrase for Player A: An Obese dinosaur-squirrel is navigating with a compass
The new phrase for Player B: Stop picking your nose, pig girl
Illustrated again
The final phrase for Player A: The dinosaur probably ate a compass
The final phrase for Player B: A man is being robbed while picking his nose
And we ended with illustrations
Variations
*Instead of starting at the bottom piece of paper, you can remove the last picture/phrase, and stick it to the bottom each time. Be careful not to lose any pages!
*If you are playing with younger children you may want to have a few scraps of paper with ideas available for them to choose.
*If you want an extra challenge (or it you have some pokey drawers) you may want to time each round.
*This game is very adaptable to different groups. We have played with my grandma and with my brother's bachelor friends and had just as many laughs with a "clean" game as we did with the more "colorful" game.
*A note on phrase ideas: feel free to use common phrases, music lyrics, movie quotes, inside jokes, or obscure stories. They sky is the limit!
And if you need any appetizer ideas for your game night, don't forget to stop by
here
!
Our picks for this version of the telephone game, and more family fun:
Highland Notes, 3 x 3-Inches, Yellow, 24-Pads/Pack
Multicolor Pens – 12 Pack of 6-in-1 Retractable Ballpoint Pens – 6 Vivid Colors in Every Pen – Best for Smooth Writing – By Hieno
Pilot G-Tec-C Gel Rolling Ball Pens, Ultra Fine Point, Assorted Colors, 10-Pack Pouch (35484)
Pictionary Board Game
Hasbro Guesstures Game
Watch Ya' Mouth Family Edition – The Authentic, Hilarious, Mouthguard Party Card Game
Hasbro Trivial Pursuit Family Edition Game, Game Night, Ages 8 and up(Amazon Exclusive)
Jenga Game Wooden Blocks Stacking Tumbling Tower Kids Game Ages 6 and Up (Amazon Exclusive)
More posts you'll love:
Sunday FUNday: Family Night Idea
Top Rated Board Games for Bored Families
Entertaining Kids Without Electronics: 8 Family Games They Will LOVE