It's been a while since I shared one of the recipes that my picky eater / fabulous son has made. Due to Caden's incredible distaste for nearly all things food, I gave him the assignment to start working on a cookbook. I'll randomly help him find and make new recipes to add to his collection. (You probably saw my post on it a while back…) In the past, he has shared Hamburger Gravy, Taco Bowls, White Castle Burgers, Buffalo Chicken Mini-Pizzas, and Dinner Rolls.
Anyway, so recently Caden wanted to make something to bring to a church BBQ. He thought it would be fun to make fortune cookies to share with the kids there, and it was fun! They were way easier than I expected, and they would be really cute for parties or neighbor gifts.
To make them, you will need eggs, sugar, butter, vanilla, almond extract, flour, and water. First, heat your oven to 375 degrees. Line a couple cookie sheets with parchment paper, set aside.
Get your fortunes ready…type them up and cut them out. Some of ours: "You are mom's favorite child," "You will get a pony for Christmas," "You will be a ninja when you grow up," and "There is a billion dollars waiting for you in Antarctica."
In a medium bowl, whip 3 egg whites and 3/4 cup sugar until frothy (with a hand mixer.) This can take several minutes. Stir in 1/2 cup melted (and cooled) butter, 1 tsp. vanilla, and 1/4 tsp. almond extract, and 2-4 TBS. water. You want it to resemble pancake batter.
Spread about a TBS in a circle on the cookie sheet. Spread it thin enough that it resembles a crepe…about 4 inches wide. You want to start with just 2 on a sheet, until you get used to the folding technique. After that, maybe up it to four. Bake them for 5 to 7 minutes, until there is at least half inch of golden around the edges (despite that the pictures below show less golden.) If they are undercooked, the cookies won't harden and will be chewy.
Okay, now this is where we would do something different next time… Next time, I won't put the fortunes in until they are folded and completely cooled. I think I will just fold them in half and tuck them in one side. After these baked, and we folded a fortune inside, the fortunes would stick to the non-golden part and rip apart when you broke them open. From what I gather around the internet, that's really common. So, save yourself some disappointment, and just tuck them in at the end.


If you're wondering what "Primary" is, it's the children's class at my church. The kids are often asked to give short "talks" on a designated topic. Some love speaking, some don't. 🙂
Alright, so the minute they come out of the oven, you've got to get to work. Use a spatula and scoop in onto the counter. Quickly fold it in half, without pressing the folded seam. You want a little hollow opening. Carefully pick it up and bend it in half. Some people like to just drape it over the side of a bowl, but I didn't really find that necessary.
The cookies naturally want to open back up, while they're still warm and pliable. Stick them inside a muffin tin and it will help them retain their shape while they are cooling/hardening.
After they're cool, I would tuck the folded fortune into one end of the cookie…and, you're done!
Fortune Cookies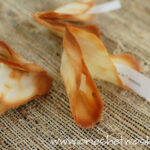 Homemade Fortune Cookies
Ingredients
3

egg whites

3/4

cup

sugar

1/2

cup

melted

and cooled butter

1

tsp.

vanilla

1/4

tsp.

almond extract

1

cup

flour

2-4

TBS

water
Instructions
Type up and cut out your fortunes, set aside.

Heat oven to 375 degrees.

Line a couple cookie sheets with parchment paper.

In a medium bowl, with an electric hand mixer, whisk together the egg whites and sugar, until frothy. It may take a few minutes.

Whisk in melted butter, vanilla, almond extract, water, and flour. You want the mixture to resemble pancake batter. If it's too thick, just add and extra TBS of water.

Spread a TBS of the batter on the cookie sheet, into a 4 inch circle. You want to spread it so it's as thin as a crepe.

Do two cookies per sheet, until you get the folding technique down, then maybe up it to four.

Bake for about 7 minutes, or until the edges are golden about 1/2" all the way around.

Remove from oven, using a spatula, quickly remove them and set them on the counter.

Fold them in half, without creasing the folded edge, you want a hollow opening.

Fold them in half the other direction, so they look like fortune cookies. 🙂 To help them hold their shape while cooling, set them inside a muffin tin. It will prevent them from opening.

Once they have cooled and hardened, fold a fortune in half, and stuff it into one side of the cookie. (Adding them to the cookie before folding usually leads to a stuck fortune...icky.)

All done!