We've all heard it said before, "Oh, you're supermom." "Of course, you can do it. You're supermom." What the heck does that even mean? Does it mean "perfect mom"? Do we really think anyone is a 100% PERFECT mom?? I've decided that "supermom" can mean different things to different people, but it usually encompasses several things that have very little to do with being a real 'super mom'…two words, super mom.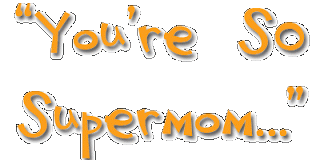 Let's discuss the two, according to my perspective…
"Supermom." If you would like to embody this term, and I know some of you do, you will need to be able to check off at least 10 of the following, with your #1 reason being 'to impress'. If you have other reasons, like 'because you like it,' or 'it makes you happy,' then it doesn't count:
– Become PTA President. A board member is fine, but eventually you need to be running the show…or be best friends with the lady who does.
– Never leave the house without makeup. If that's too much, you will need false eyelashes and Bare Minerals.
– Be skinny within 6 weeks of giving birth. It's best not to let anyone see you before those 6 weeks.
– Go running every morning at 5 am. Try to get to the gym later in the day, as well.
– Be the best cook on the block. If anyone can beat your cookies, you are instantly demoted.
– Never stop smiling and have no opinions that might cause you to descend from your happy state.
– Have veggies incorporated in all children's meals and never, ever, ever give them sugar. Never.
– Bows and ribbons need to be in your little girls' hair at all times, the bigger the better. At least 7 non-ouchy rubber bands holding twists and turns is best.
– Birthday parties need to literally be picture perfect. Spend at least 3 hours just making invites. The cake needs to be a masterpiece. Make sure all your friends see the cuteness. If they don't, put it on your blog.
– Don't ever let anyone see you take seconds when you eat. In fact, just stick to your calories.
– Never say it's hard to be a mom. Who would say that anyway?!?
– Never wear sweats.
– Attend play dates at least 3 times a week. But, only go to the ones where your kids will be the cutest and best behaved ones there.
– If your kid acts like a brat, always say, "they're just tired."
– Have your children in a music lessons and ALL available sports activities. Home life should be practically non-existent. Never complain about living your life in a car.
– Make sure your kids get in with the popular crowd. Kiss up to their mommies every chance you get.
– Save up for plastic surgery. You want no evidence of child birth to be left on your body. The natural effects of childbirth are "wrong" and need to be "fixed."
– Never wear the same outfit twice, in front of the same people.
– Make sure your babies are crawling by 8 months and walking by 10. Have them reading by the age of 3. You don't want people to think they're "slow" or "unambitious."
– Keep your house spotless. It's that simple.
– Go into major debt and start working full time just so that you can afford a hot-rockin home, an iPhone, and a sexy car. You don't want to be seen living in anything less than 2,000 square feet.
– If your kids eat their boogers, lock them in their rooms. Nothing can ruin your reputation faster.
– Never let your child go to school with a zit on their face. Never let them pick their own outfits or style their own hair.
– When another woman gains weight, has marriage problems, or has a troubled child, be happy…secretly.
– Never be seen at Wal-Mart or dollar stores. If you must go, be prepared with excuses.
– Never breastfeed less than one year and make all baby food with fresh, organic ingredients. Look down on anyone that doesn't, no matter their excuse.
– Teach all your infants sign-language and never let them watch tv. They need 2 hours of classical music a day.
– Complete a handmade scrapbook for each year of their life. None of this po-dunk-photo-uploading-book stuff.
– Completely ignore your husband so that you can read them 7 stories, sing them 23 songs every night before bed. Rock them until they fall asleep, for as long as it takes.
– If there's any chance that having another baby would unveil your character imperfections, don't do it! Besides, you just had your boobs done.
– Never compliment another woman or act interested in getting to know her, unless she has already achieved "supermom" status. Making women feel that you admire them or care in any way just boosts their confidence. Bad. Remember, what you seek is "envy."

After you have perfected 10 of the requirements, you are not officially a "supermom" until at least 3 husbands flirt with you and 5 women call you "supermom," in a period of one month. At that point, you may prepare your acceptance speech…"First of all, I would just like to thank myself for working so hard and never giving up. I could never have done it without myself. I would like to thank some of the celebrities in Hollywood for inspiring me and showing me the cool way to act and live my life. I would like to thank my family, especially my children, for taking a back seat to my image. I would never be so fabulous if they really knew how to express their needs of a real mom and give me major guilt trips. And, most of all…I would like to thank all of the people that want to be me. I could never be "supermom" without you! Thank you! *giggle, giggle*"
Okay, now obviously I'm being sarcastic. (Some of those things, individually, really aren't bad things. I know that. Don't email me. I'm just trying to make a point.) But, doesn't it really seem that sometimes we, mothers, tend to get caught up in this silly idea that life is a show and a competition? The main motivation is to appear as the perfect mother, put-together, talented, beautiful, and happy…rather than to really be a great mother. A . really . great . mother. Seeking to create envy adn to impress. And, it often works! How many times have you been around a woman that looks and acts completely perfect? It's hard not to feel a tinge of jealousy, right? But, on the other hand…how refreshing is it to be around a woman who is only preoccupied with being a good person and a good mother? You may still get a tinge of jealousy, but in a way that is okay. In a way that says, "I admire that. I love that she is so down to earth and doesn't get caught up in having to be so "perfect." I love that she puts her family first and cares more about being right on the inside, than the outside. I want to be like that too."
* I would also like to note that just because a gal has a fancy car, plastic surgery, behaved kids, a big house, is super talented, ambitious, or downright beautiful DOES NOT MEAN she is putting on a show. Those things do not automatically equal being self-centered or not genuine. Some of the greatest and most genuine people I know have and are those very things, but they still keep their priorities straight and remain down-to-earth. Get to know them, and don't be judgmental because of those things.* Today, I just wanted to talk about not getting carried away with trying to appear perfect…
Because this need to appear perfect is so widespread, it's truly hard for any woman to not second guess herself. You look around and start to feel boring, frumpy, unimportant, untalented, fat, ugly, etc. It happens to me, and I would be hard pressed to believe it never happens to you. But, that's the mistake! That's the trap! That is the crap that doesn't matter. The more women get caught up in that trap, the more women will continue to get caught up in it. What really matters is that you continually strive to be a good person, that you strive to be a really super mom. When you try to appear perfect, it often backfires on you. You become someone that is boring and makes people uncomfortable. All I know is that I want my children, my husband, and my God to think that I did my best. I want them to know that they are my top priority and I will sacrifice any worldly desires to attend to their needs and be there for them. What do YOU want?
Sometimes it's hard to stay focused. Sometimes you THINK you're focused, then you go to the gym, go to church, go to the pool, watch tv, etc. and see a "perfect supermom," and the negative feelings wash back up. To stay focused, I would submit that every mother should make a list of what they believe makes a super mom, not the superficial "supermom," but the kind of mother you truly want to be. Everyone might have different criteria on their list, and that's okay.
Here's some of my list of what I want to do for MY children, that I believe would make me a REAL super mom (written to my children):
– I want to have open communication with my children. When you talk, I want to listen, without judgement. I want you to feel comfortable coming to me and know that I will be kind, rational, and understanding…whether I agree with you, or not. I want you to communicate well, in general. Being able to communicate effectively is imperative to your happiness and a successful family. Besides, people are SO interesting, and you should learn to love getting to know them.
– I want my children to be familiar with affection. I want to make a point of hugging, kissing, and being vocally affectionate, even though it doesn't always come naturally to me. I believe that affection has a powerful effect and is so comforting. I want you to sense my love through my words, touch, and actions.
– I want my children to understand the importance of their family. "Friends come and go, but a family is forever." That's what my mom always taught me. And, it's true! I believe the family holds the key to happiness. Life is so sad when their is contention within the family. It's so important that we stick together. There will be so many ups and downs in life, and we need to be able to count on each other for love and support. We are a team, taking on life together. Learn to understand your family members, befriend them, tolerate their shortcomings, embrace their strengths, help them, make sacrifices for them, express and show your love to them. You will also not be able to do every activity in the world. They are great, but we will just have to pick a couple. I think there are more benefits that come from spending time with your family.
– I want to teach my children to resolve conflict. Conflict in our hearts and lives can be so detrimental, but it is inevitable. I don't want you to hide from it, but know that you can face it, head on, and make things better. Not only that, but there is a right and wrong way to resolve conflict, and it involves a sound mind and lots of maturity. There are certain times when the best way to resolve conflict is to bite your tongue and let it go, other times it needs to be approached. Either way, it is important to forgive. You will be wronged many times in your life, get over it. Seek to understand those who differ from you and know that there are many times that YOU will need forgiveness too. It is not your place to be unforgiving. Besides, bitter people are no fun to be around.
– I want my children to be humble and generous. I want you to understand that everything good that you have comes from God. He can take from them at any time. It is important to show gratitude and to be generous, always. Make time in your life for service. Service has the remarkable ability to wash away sadness, anger, and pride…if you do it for the right reasons. When you serve, do it for those who need help, not for the recognition of the world.
– I want to teach my children to enjoy life. It's okay to laugh, take time off, be silly, relax, and discover. Life is hard, but it's also beautiful. Find the good and love it! Music, art, sports, nature, animals, etc. are all so deserving of our time and attention.
– I want to teach my children to work hard. Working hard builds character and teaches you to value what you have. By its nature, it also educates. It is what is needed to have a fulfilled life. It's important to work to be self-sufficient, and not rely on others (or the government) to sustain you. Live within your means, be prepared for a rainy day. It's okay to ask for help, but give life everything you've got, first. And, never stop working. You are capable. You have been blessed with a brain that works, use it. You have been blessed with a body that works, let it work. Understand the difference between working hard and being a perfectionist. Always remember what is most important in life and find a way to balance work with it.
– I want my children to love learning. There is a never ending amount of knowledge to be had. The more you know, the more exciting life is. Knowledge brings opportunities, it creates opportunities, and helps you navigate your way through life. Be certain to keep your knowledge in perspective. Be humble, willing to learn, and accept that you don't know everything. There are many truths, regarding right and wrong, that are simple and universal. If you have questions, your heart, and the Man Upstairs, will often enlighten you more than any amount of earthly knowledge can.
– I want my children to respect their body. The body is a gift and a tool, given to help you reach your potential. Don't damage it by using drugs, drinking, or putting any harmful substances in you that alters your mind, ruins your insides, and inhibits your free will. Watch what you eat. Don't obsess about food, enjoy it. But, remember "moderation" and eat far more healthy food than unhealthy food. Exercise your body, but again…don't be obsessed. Just be healthy. It makes shopping a little more difficult, but dress modestly. Your body is special, don't look cheap. You don't need to show it off for validation, because you ARE special. You can still have great style and you will be respected for it. Your body has the gift of being able to create another body to host a special spirit, a child. Don't take it lightly. Never risk what is amazingly special without a lot of forethought. Marry your significant other, make promises, never to be broken, to them and to God. If you are both keeping your promises and living as you should, please bring children into this world, create a family.
– I want my children to know that life is a test. It is not supposed to be easy. Each trial and moment of choice gives you an opportunity to prove yourself or improve yourself. Do your best and become a better person. Don't let hardships get the best of you. People can find happiness in the worst of circumstances. People can find misery in the best of circumstances. Choose happiness and choose to do what's right. Life is easier and more satisfying for those who are optimistic.
– I want my children to stand firm and stand tall. You know what is right. The right way is not always the cool way or the politically correct way, but it is the only way to get to where you want to be. Others will not always tolerate your steadfastness. They may laugh at you, call you names, and hate you. Regardless, love everyone, not their choices, and you will be blessed for it.
– I want my children to be loving. Loving others means hoping the best for them, treating them with kindness and respect. Love them, whether you agree with them, or not. Loving someone does not mean condoning bad behavior or allowing them to hurt your mind, body, or spirit. Seek for ways to show your love to people. Speak kindly of others and be a true friend. Look for the good in people and avoid fault-finding.
– I want to be available to my children. I made the choice to have you (so happy!) and I will do everything I can to be available to you. I don't believe anyone can love you as much as me, and I think you need that love in your life…as much as you can get! Not only do I want to give you quality time, but a large quantity of my time. I would rather live in a teeny tiny house, drive a beater car, and give up all my "wants," if it meant leaving you often. I will take "mommy breaks" now and then, but I will try to never let my hobbies and interests get in our way. Right now, you need me and those things can wait. If I forget, just kick me in the butt. Then, I'll kick myself in the butt.
– I want my children to know how much I love my husband, their father. It is important to me that you know your tender heart is safe. Your dad and I love each other so much and love this family that we have been blessed with. We talk about how lucky we are all the time! We've made promises to each other and to God that we want to keep. We will always work hard at our relationship and try to be good examples to you of how spouses should treat each other. It's important that I set aside time for your father. We need to go on lots of dates and even shut the door, now and then. 🙂 I am on your dad's side, and he is on mine. We're both on your side…you just might not realize that, yet.
– I want my children to have integrity. Dishonesty is all around us. It is not okay. You are to be an honest person. Honest people have more freedom and happiness. If you were wrong, say it and fix it. If you might get in trouble by being honest, get in trouble. There is nothing like a clear conscience. Honesty is essential for trust, and trust is essential for close relationships.
– I want my children to be goal-setters. What's the point of life if you never improve yourself? Every day you should try to do something to improve upon yesterday. Be more healthy, give more service, spend more time with family, get more accomplished, speak more kindly, break a bad habit, etc. Evaluate your life on a regular basis, recognize ways you can improve, and DO IT!
– I want my children to understand what REALLY matters. God, family, being a good person, to name a few. Focus your time and thoughts on those things. They are what will bring you the most happiness.
– I want my children to know that "I'm human." I've never done the motherhood-thing before. Each new day is a new experience for me. I'm trying to do my best, but I know sometimes I will totally blow-it. I don't think I'm always right and I will try to be open to suggestions. I will try and say that "I'm sorry," and improve upon myself. Please be patient with me and know that my intentions are for you to be happy and feel of the love that I have for you.
Whoa! Is that enough? Sheesh! I could totally keep going…but, you get the point. Those are some of the things that I feel would make me a super mom, IF I can successfully do them. I will try my darndest, but really…I am a mom. Not a "supermom" or a really super mom. I'm a mom. Sometimes I'm good at it, sometimes I'm not. Sometimes I get caught in the "trap," but really, I want no part of it. I will try every day to live up to my beliefs of what would make me super. My kids deserve it.
But, you know what I think? I think that the "supermom syndrome" is a direct result of how critical we are of each other. Moms judging other moms…it makes you clam up, doubt yourself, and want to be something that you're not. Something that is so frivolous. We are all different, but we all want the same thing…happy children who make good choices. Think how much better this world would be if we turned our energy off perfection and onto our children.
I really believe that mothers have the greatest capacity to change the world for the better, but we have to stick together. We hold so much power in our hands. Alienating women from one another by competitiveness is detrimental to children, mothers, and really everyone in the world. That's not an exaggeration. Moms need to help each other, want the best for each other, realize we have the same intentions and cheer each other on…despite our differences. We all know it's hard, why pretend it's not? Enough with this "supermom" and "perfection" stuff…who cares? I'm not that cool, you're not that cool. Let's do our best to raise some good kids.
"The more skillful the caregiver, the more invisible her efforts become. Ideally, the recipients themselves don't even notice that they are being care for, other than to accept caring as part of the natural order of things…Like the work of a fine seamstress, the tiny stitches that build character and confidence are invisible to the eye." ~ Ann Crittenden "The Price of Motherhood
What's on YOUR list of how to be a REAL super mom? I checked in with the Facebook ladies, and got some great answers, here's a few:
"I feel like super mom when I can manage to make a whole day without losing it and yelling or freaking out. When I can feel fun and relaxed with my kids, give them each plenty of undivided attention, and provide them with memorable little adventures." ~ Kate
"Supermom" doesn't exist, as we all know. But I think a super mom is someone who is able to keep control of herself (behavior, temper, countenance, words) more often than not and has fun with her kids while maintaining her role as an example, not a peer. She loves where she is, not only where she has been or will be. She knows she doesn't have to do everything perfectly right now, just something; and she's content to let others have successes without feeling guilty they aren't hers. She forgives herself when she falls and asks her friends and family for help when she needs it. It's not a place to be, it's something to work toward; a piece at a time, a season at a time. With frequent stops along the way to laugh at yourself." ~ Jill
"I do believe every mom can be a good mom by just surviving and making it through the day. To not be overwhelmed and don't forget your priorities!!!! Your family comes first and that to me is what a mom should think about." ~ Jill N.
"I believe a super mom is one who can admit that everything is not always perfect. A mom who is constantly running, volunteering here and there, and working on impressing society are only missing out on the small moments of being a mom! Our kids are only young once, so I agree with Beta love, protection, QUALITY time and balance amongst it all is a super mom in my book!!" ~ Karen
"I think a supermom is someone who keeps her cool when the kids are not behaving their best, someone who has learned to say no to her children so they're not over-scheduled, (and who says no to other people too so she can spend time with her family). I think a supermom is someone who has learned the difference between "want" and "need" and teaches her children accordingly. Someone who is kind and not judgmental and who thinks about others. That's my definition." ~ Aimee
"I don't believe there is a supermom because all moms are good at a lot of things. If you have time to do a million things, PTA, perfect kids, cook dinner, entertain your husbands friends, pick up after everyone….you will eventually crash and burn. And once that happens its like the whole world just flipped. Any mom that loves, protects and spends quality time with their children is a super mom in my book." ~ Beta
Feel free to share your thoughts! On MY blog, I don't put up with hateful or downright ignorant comments…DELETE! This blog is about helping women and building each other up. So, no matter what you have to say, do it kindly.
And, if you think this post is worthy, please share it! And, if you're not following "Or so she says…" yet, please do! Whether by a feed, Facebook, Twitter, Google, or email, we would love to have you!