The winner of the Visit Puerto Rico Vacation Giveaway has been selected amongst over 2,700 entries! The winner's comment fell on therebelchick.com as entry number 874 as selected by random.
This is a Sponsored post written by me on behalf of Puerto Rico, The All-Star Island for SocialSpark. All opinions are 100% mine.
So, this time last month I was driving through a rainforest, hiking through the jungle, swimming in waterfalls and enjoying some of the yummiest food ever! Ahhh, I want to go back! Where is this amazing place, you may ask? Well, my husband I took our ten-year anniversary trip to Puerto Rico. I'd wanted to go for a very long time, and we finally did it!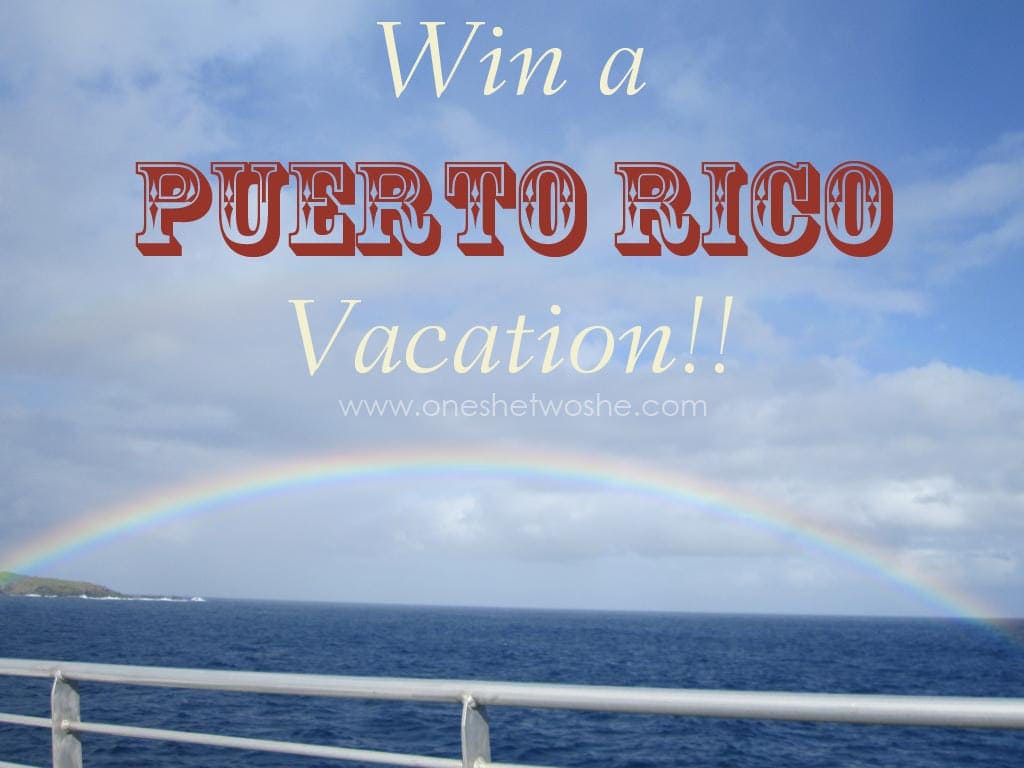 Gorgeous rainbow we saw on the ferry to Culebra Island.
Ever since we got back, I've been talking to everyone I know about how they HAVE to go to Puerto Rico someday! Many people don't realize that because Puerto Rico is a U.S. Territory you don't need a passport and they use the U.S. dollar. You literally get on an airplane and just go!
We only had five days in Puerto Rico, and we saw and did a lot, but there is still more that I want to go back and see. Here are some of the highlights from our trip:
Ahhh, the beaches … there are not words to describe the gorgeous color of the water, the beautiful sand or the variety of surf. There is 270 miles of coastline in Puerto Rico, and we managed to see quite a bit of it! My favorite beaches were all on Culebra Island (a short ferry ride from the mainland of Puerto Rico). Apparently I'm not alone since Flamenco Beach (on Culebra) is often cited as one of the best in the world, and the Travel Channel  featured it as one of the top ten beaches anywhere.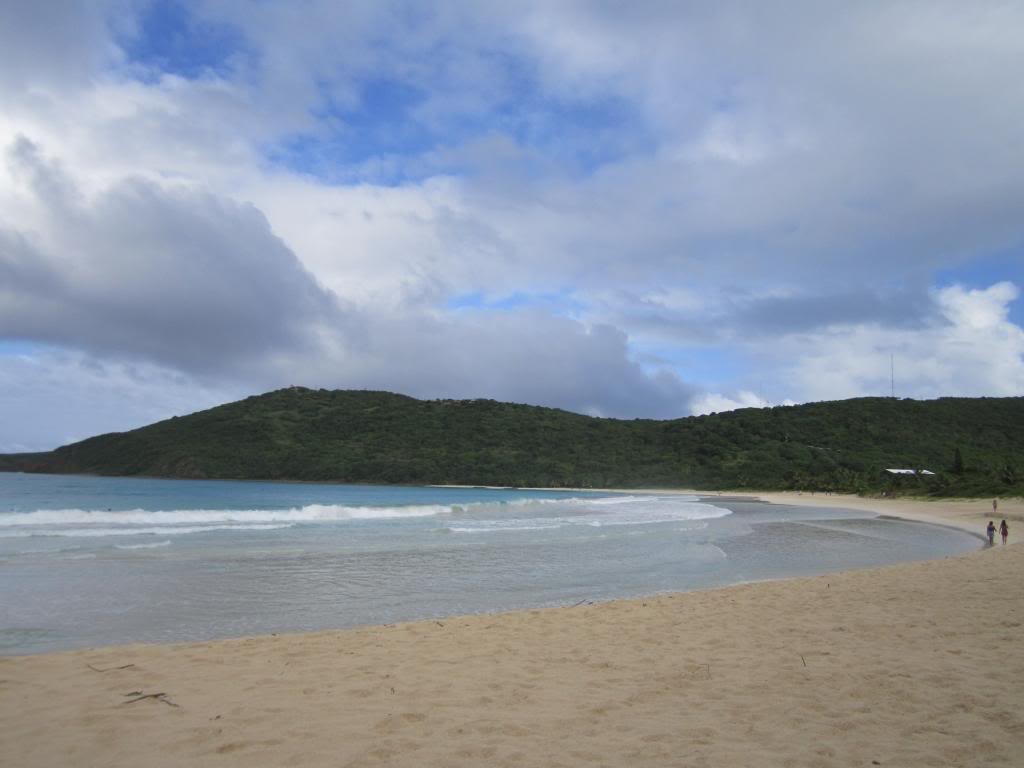 As I mentioned before, we spent an entire day in El Yunque rainforest. It's the only rainforest under the U.S. National Park Service, so it's very well maintained, has good signage and information centers. It's said you can "climb to the clouds," and that's exactly what it felt like. We started the day by getting drenched in a tropical downpour, and then climbed up a tower for a spectacular view of the rainforest. The sun came out just in time for our hike to La Mina Falls where we got to do some swimming in the very cold waterfall. Check out this video featuring La Mina Falls.
Our last day we spent walking around Old San Juan and soaked up some of the rich history and amazing architecture of the city. My husband is a huge history buff and insisted on reading every sign, so I learned a lot! We toured El Morro fort and saw walls that have been around over 500 years. Fascinating!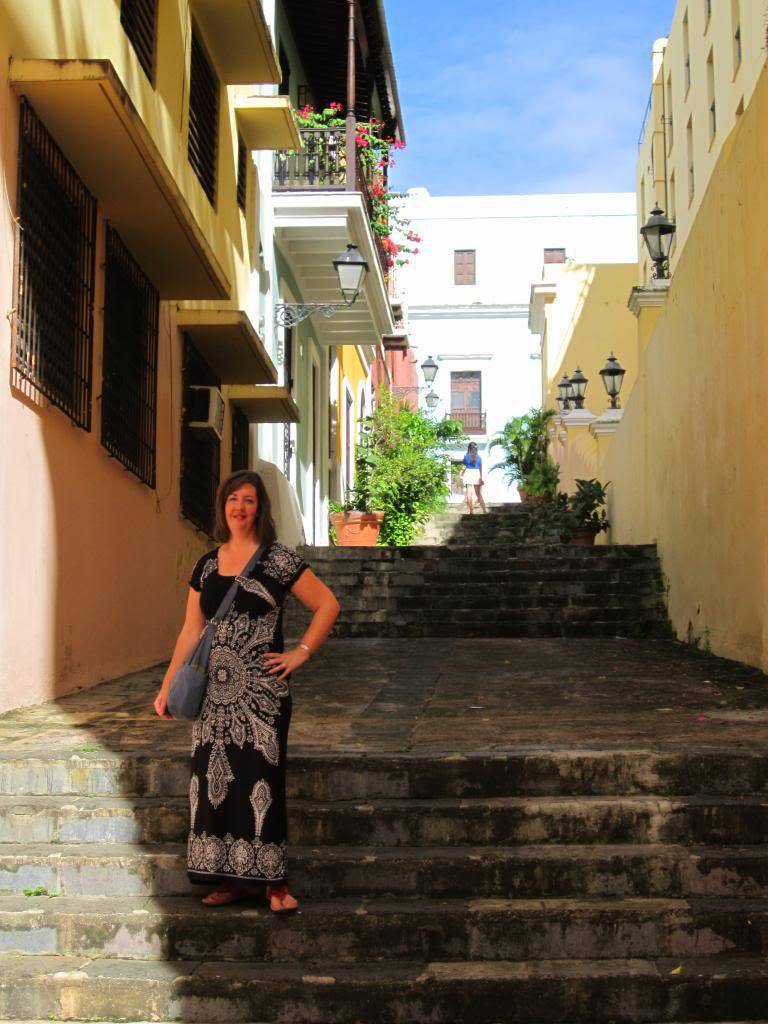 Exploring the gorgeous streets of Old San Juan
The food, oh the food! We LOVED it! We enjoyed breakfasts at several different panaderias (bakeries) that were filled with delicious pasteries, cakes, sandwiches … you get the idea! My husband's favorite Puerto Rican food  was found at El Verde BBQ, a local hot spot close to where we stayed in Rio Grande. Don't think typical American BBQ with everything slathered in sauce. This BBQ had a huge display of whole roasted chickens, fried pork (our favorite), ribs and lots of delicious local side dishes, all done with savory and unique seasonings. So yummy!
Some of the things we missed, but are on our list for our next visit:
Definitely the bioluminescent bays! We didn't go on a tour because there was a full/bright moon during our entire trip, which makes it hard to see the tiny dinoglagellates in the water that generate an emerald green and ultramarine illumination when the water is disturbed (i.e. you can see trails of the litte plankton when you paddle, touch the water, etc.) This delicate ecosystem is very rare and a must see, unless of course the moon is too bright (I'm not complaining … the moon made for some very romantic nightime walks on the beach).
My adventerous side was sad to miss the Camuy caverns that run through the third largest subterranean river in the world. We just ran out of time and didn't get to explore the many caves. There's also great horseback riding if that's your thing.
Puerto Rico is absolutely filled with world-class attractions and friendly people that make any trip there into a five-star vacation! Check out SeePuertoRico.com for yourself to learn more about my favorite spots and to discover some of your own!
And I'm super excited to offer you a chance to win a trip for two to Puerto Rico! Live your own 5-star vacation story in Puerto Rico. The winner will receive a total prize up to $2,000 including:
Roundtrip airfare
3-night stay (in one room)
Food credit
If you'd like to enter the contest, than you've got three chances to win!
Leave a comment about your favorite Puerto Rico amenity (or two, or five or twenty favorites … trust me, it will be hard to choose). Check out SeePuertoRico.com for ideas!
Follow @PRTourismCo on Twitter Tweet a message about what you'd like to do in Puerto Rico with a link back to this post and the hashtag #5StarPR. Make sure to leave your tweet URL in the comment section.
Like SeePuertoRico.com on Facebook, then leave a comment saying that you liked them on Facebook.
I'm already jealous of whomever the lucky winner is! Our Puerto Rico trip seriously was one of the best vacations I've ever had. We're already planning our trip back! Good luck