Who doesn't love a good Harry Potter game?! Adelle is sharing a Harry Potter Would You Rather printable pdf game, as well as two other Harry Potter printable games for all your wizarding needs.
Hi everyone, it's Adelle from Packed with Fun, the official blog for Get Away Today! Today, we want to help you experience magic like never before with the help of Harry Potter inspired fun with 3 free Harry Potter Printables! Ever since The Wizarding World of Harry Potter opened at Universal Studios Hollywood here on the west coast, we've all been a little obsessed with the boy wizard. Learn what Hogwarts House you will be sorted into with the help of the Sorting Hat, count down the days until your fantastic Wizarding World of Harry Potter vacation by trimming Dumbledore's beard and even answer our Harry Potter Would You Rather questions with 3 free Harry Potter printables to help you get ready for your trip to the Wizarding World of Harry Potter!
Harry Potter Would You Rather ~ Printable PDF Game
Harry Potter Would You Rather Game
Would you Rather be a member of Dumbledore's Army or a member of the Order of the Phoenix? These are the questions you will you will have to face in our Harry Potter Would You Rather Game! It is super easy to play and full of tough questions from the Wizarding World.
You can print out each of the pages of your FREE Harry Potter Printables here:
Once you have all of your Harry Potter Would You Rather questions, you have so many options as to how you want to keep them! You can keep them in sheets or cut out each question and make a booklet.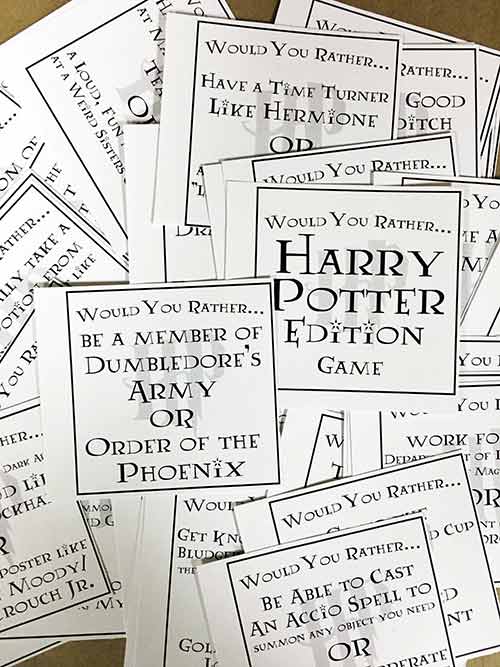 If you choose to cut out the questions, you can get them professionally bound or do it yourself with binder rings, ribbon, etc. The possibilities are endless!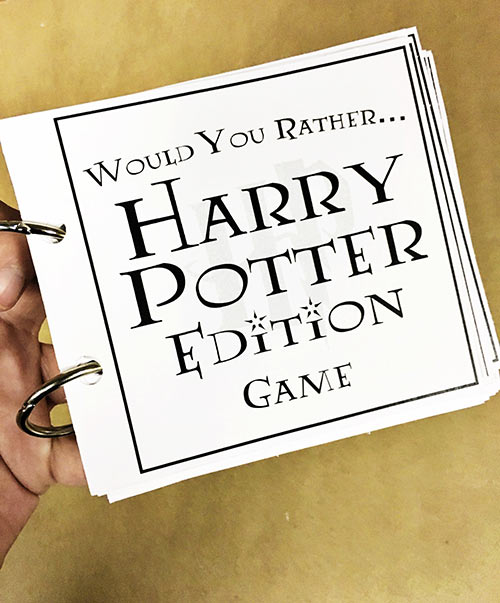 You can play it on the road to Universal Studios Hollywood, in Hogwarts castle or even in the muggle world! You can learn so much about your friends and family based on what they choose in the Wizarding World! As Dumbledore said, "It is our choices that show us what we truly are far more than our abilities."
Harry Potter Origami Fortune Teller Sorting Hat
You can now play the most important game of origami in your young wizard life, with this Harry Potter origami fortune teller sorting hat. The rest of your Hogwarts career starts with the moment you are sorted into your house. Gryffindor, Slytherin, Ravenclaw and Hufflepuff… all great options! But you never know which one you belong in until the Sorting Hat places you. Now you can have your answer with our Harry Potter Origami Sorting Hat.
Cut the excess paper around the square pattern so you are just left with your origami page. Flip the pattern over so the white back is showing. Fold each of the four corners into the middle of the page. Follow the solid lines to help make sure everything is even.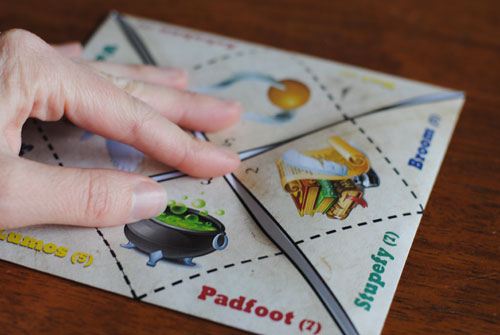 From there, along the dotted lines, fold the four corners into the center again so you are left with a smaller square. Crease the edges to help with the structure later.
Now fold the square in half towards the center and make a solid crease. Then unfold and fold again in the opposite direction and make another crease.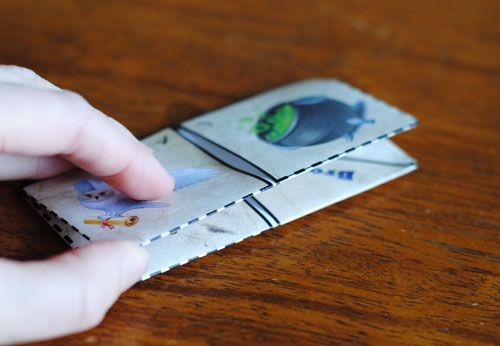 Place your pointer fingers and thumbs into the openings at the bottom of the pattern and pop it up. You will make four peaks that stand up on their own.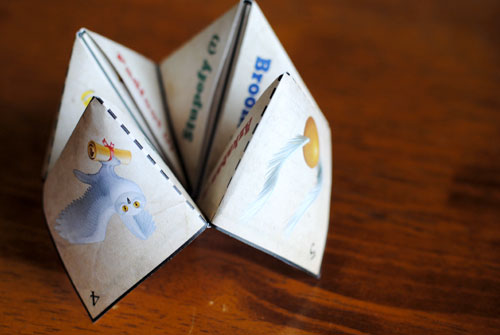 Now you let the Sorting Hat work its magic! Hold the origami in two hands just like when you popped up the pattern. The person being sorted will choose a picture on top. Count out the number associated with the chosen picture by alternating opening up and across with your fingers. Leave the Sorting hat open on the last count. Now the sortee will choose a word and the sorter will open and close from the number as before.
In the last round, the wizard being sorted will choose a final word. Open the flap and read what in underneath. Congratulations! You have either been sorted into a Hogwarts house, directed to start again or even learn that you are just a regular ol muggle.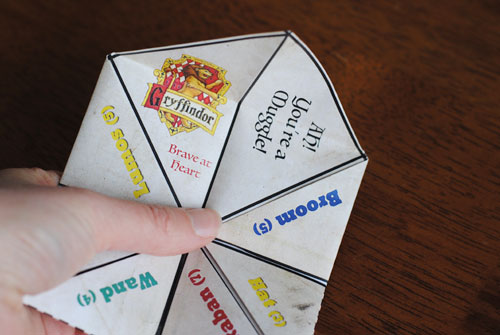 If you're visiting the Wizarding World of Harry Potter, make sure everyone in your family is sorted before you go. Otherwise, how will you know which t-shirt to buy?!?! Good luck!
Dumbledore Harry Potter Vacation Countdown
Dumbledore is so wise and always knows what is around the corner! So what better way to countdown than with Dumbledore and his wonderful beard?
Start by printing out your FREE Harry Potter Printable vacation countdown here: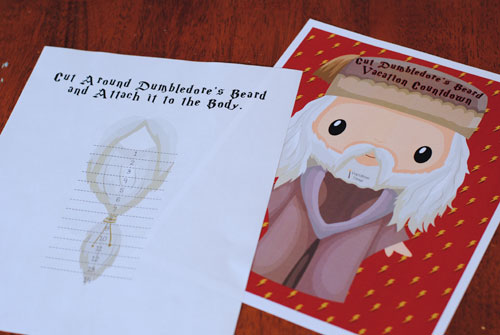 Cut around Dumbledore's Beard and attach it to his face. Then as everyday passes cut off another section until it is time for your magical Wizarding World of Harry Potter at Universal Studios vacation.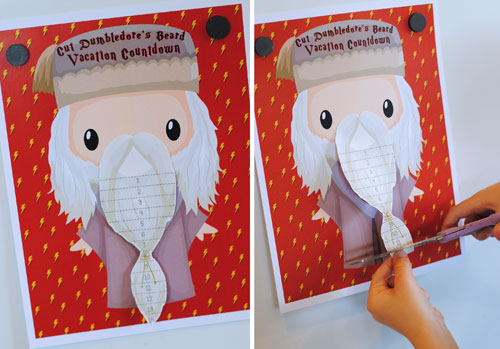 I hope you enjoy the Harry Potter Would You Rather, our version of the house sorting hat, and the Dumbledore countdown!
Get an AWESOME Deal on Universal Studios Hollywood Tickets
Now is the time to put on your wizard robes and fly on over to the Wizarding World of Harry Potter at Universal Studios Hollywood. It truly is pure magic. Book your Universal vacation at www.getawaytoday.com or call our travel agents at 855-GET-AWAY. Our tickets can help you save up to $29 per ticket depending on when you travel. I'm not sure what that translates into Galleons, but with a family, that's definitely worth a few Butterbeers!
And, we have to hook up for all you lovely Or So She Says readers! Use promo code: OSSS10 when booking to save an additional $10 off your vacation package!
For all things Harry Potter, try these posts on OSSS:
Harry Potter at Universal Studios – Everything You Need to Know!
Harry Potter Butterbeer Fudge Copycat Recipe
Have you subscribed to the 'Or so she says…' newsletter yet? We send out emails with more great ideas, and your first one will include Mariel's five FAVORITE recipes from the blog. You can sign up by clicking HERE.