I have the best surprise Universal Studios trip reveal idea for you! Let's be real – everything in the wizard world of Harry Potter is more fun. Even getting the mail! Can you imagine receiving post by owl who knows where to find you?! Now you can be a wizarding world owl yourself and the bearer of the best news for you family – a vacation to the Wizarding World of Harry Potter Universal Studios Hollywood. And believe me, Get Away Today knows their stuff when it comes to family vacations, not to mention their ability to get you the best deal out there (their service is totally FREE.) So, make the wait for your vacation fly by with our Hogwart's Owl Post Vacation Countdown!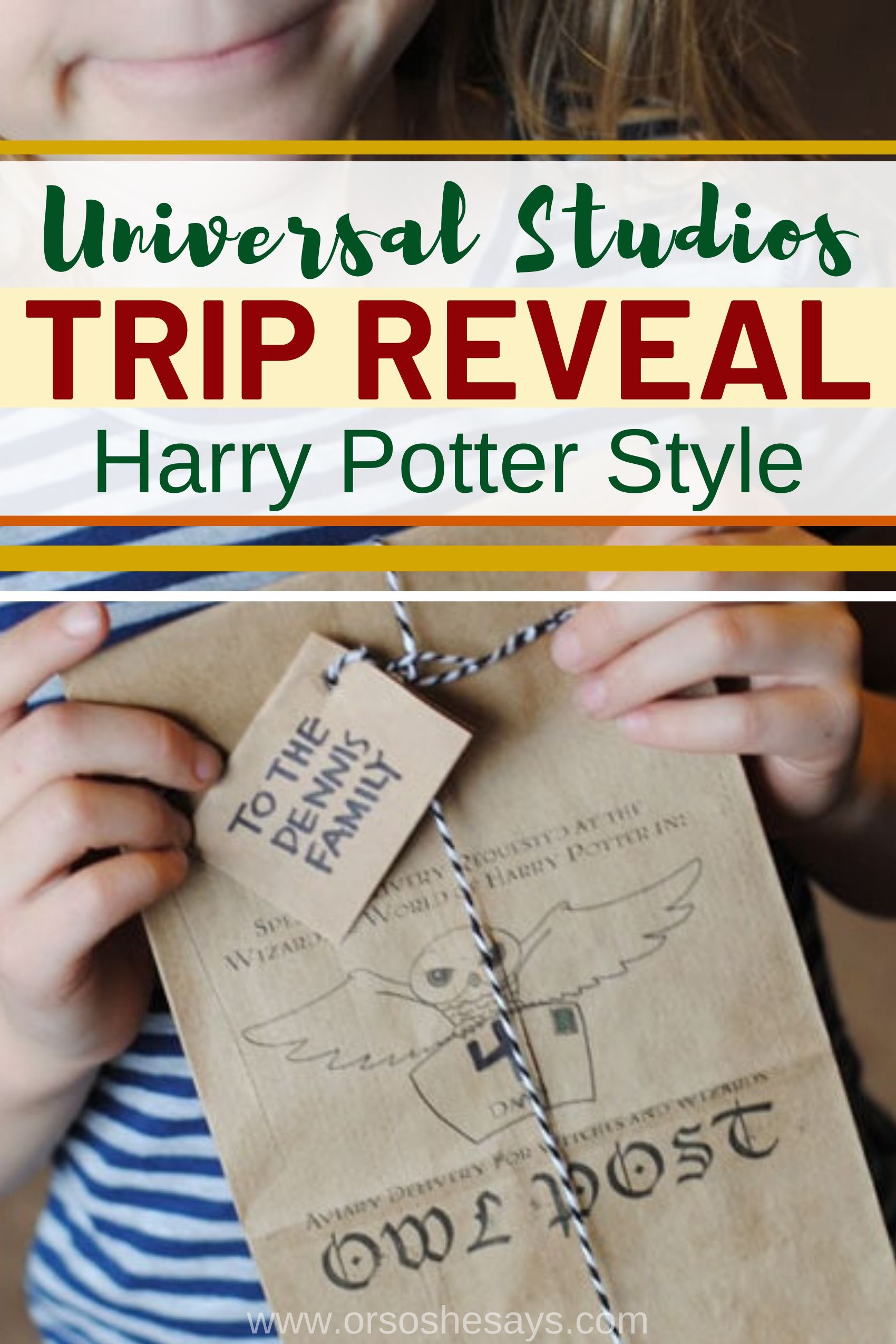 Surprise Universal Studios Trip Reveal Idea
Getting Started ~ Harry Potter Owl Post
To begin this magic surprise, decide how many days you want to have as part of your countdown. I think anything between one to two weeks is perfect! For every day of your countdown you will need a brown paper bag to deliver your goodies.
We are going to print the design right on the bag, which you can download here. It makes your presentation look so fun and up to those wizard standards.
To get the design on your paper bag, tape the top securely onto a standard sheet of printer paper. I used a thick Washi Tape because it isn't too sticky, it lays flat and it's easy to peel it off once the design is printed on the bag. You also want to be sure to place the part of the bag with the flap laying down on the printer paper so that the top is smooth. Things go really smoothly when you follow these steps.
Print the Owl Post logo onto all of your bags. Make sure to look at the little picture on your printer that shows how to insert the paper into the feed tray. Mine went in upside down with the taped part of the bag at the top.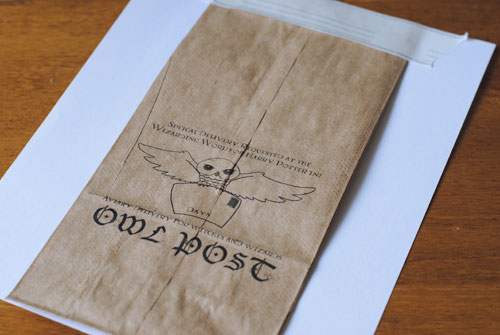 Now fill out the number of days left to you will be "delivered" to the Wizarding World of Harry Potter on the owl's envelopes.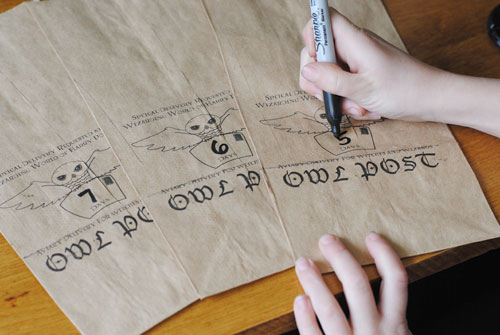 Filling the Owl Post Bags for the Harry Potter Trip Reveal
Here comes the best part! Fill each of the bags with all sorts of Harry Potter activities, treats and items. I liked to start off small and get more exciting as the trip gets closer. These are a couple ideas I thought of to get you get started: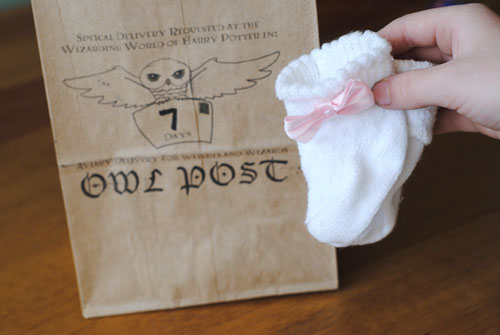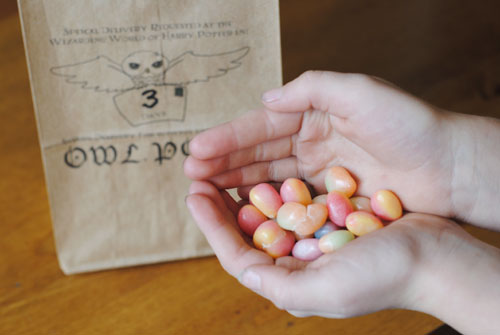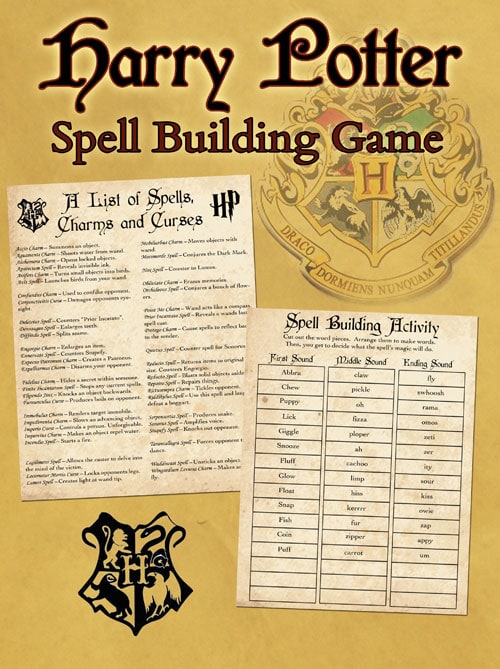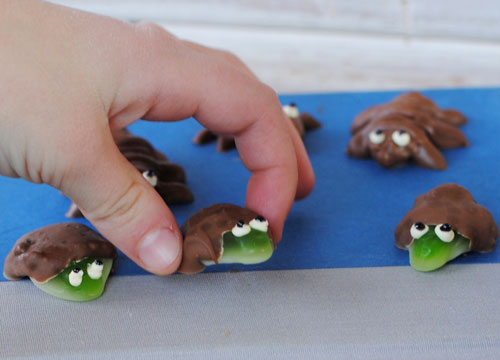 You can be as creative as you want. It is so much fun to fill each parcel with some sort of magical trinket or activity to surprise your family with every day. You can deliver the bags however you want! Leave one on the porch, ring the doorbell and run. Or leave one somewhere new every morning before anyone ways up. This is such a fun and easy way to get everyone excited and make the time go by faster until your magical vacation!
More Bag Ideas for Your Universal Studios Vacation Announcement
Green Direct Perfect Durable Brown Paper Lunch Bags Size Medium for All Ages (Pack of 100)
Master Has Given Dobby a Sock Dobby is Free Harry Potter Funny Crew socks Gift,Gray White,9-11
Cinereplicas Harry Potter Beanie Hat Knit Cap – Official (Pompom Gryffindor)
Harry Potter Scarf – Official – Ultra Soft Knitted Fabric – by Cinereplicas
Harry Potter Earrings 6 Pair Set
Bundle – 3 items: Harry Potter, Ron Weasley, and Hermione Granger Magic Wands
Harry Potter Snape Wand Pen and Bookmark
ANKRY Fairy Jewelry Harry Potter Golden Snitch Quicksilver Golden Pearl Necklace
Potter Makeup Brushes Set Women
Funko Pocket Pop Keychain: Harry Potter-Harry Action Figure
Harry Potter House Pony Tail Holders
Hair Bow – Harry Potter – Gryffindor New Licensed Hh487yhpt
Mattel Games Uno Harry Potter Card Game
Funko Mystery Mini: Harry Potter Action Figure – One Mystery
Aurora World Inc. 8
At Universal Studios Hollywood they have their own Owl Post where send yourself a card or letter postmarked from Hogsmeade! Your family will be sure to have a magical time wandering the halls of Hogwarts, having a meal at The Three Broomsticks, riding the Forbidden Journey, watching a wand ceremony at Ollivanders and so much more.
The Best Place to Book Your Universal Studios Vacation
Book your Universal Studios Hollywood tickets online or call our vacation wizards at 855-GET-AWAY. Mention code OSSS10 and save an additional $10 on your Southern California vacation package. Like I mentioned earlier, I use Get Away Today for literally all of my vacations, from Disney vacations, to cruises, to Universal… and everything in between. They are totally free to use and will find you the BEST deal on your vacation. They'll book it for you, line up cars, airfare, hotels, shuttle… and make everything work together, so you don't have to deal with it. Plus, they travel to all of their vacation destinations, REPEATEDLY, so they know exactly how to answer your questions and share their best tips with you. You'll love them, I promise.
If You Liked This Surprise Universal Studios Trip Reveal Idea…