Banana Split Mini Bundt Cakes are such a Fun Treat!  Moist Banana Cake is Filled with Pineapple, and Topped with Strawberry Buttercream, Chocolate Sauce, Peanuts, and a Cherry on Top.  Perfect for your next Party!
Hi again, friends!  It's Allie here, from Baking a Moment.  How's your March going?  Mine is kinda crazy, and really cold.  Kinda crazy, because my kids have been home, a lot more than usual.  Like, for the past few weeks, they've only averaged around 8-12 hours a week at school.  Wanna know why?  Because: Cold.  Cold, snow, ice, sleet, freezing rain, some more snow, oh, and sick.  Can't forget sick.  I guess that's what happens when there's so much cold.
I'm ready for Spring, you guys.
So ready.  I'm ready for playing outside on the swings.  I'm ready for let's go ride bikes.  I'm ready for the bus is picking us up at the regular time today.   I'm ready for tee ball, and birthday parties.
When I think of Spring, I think of birthday parties.  Both my boys were Spring babies, and I love that!  When they were first born, I loved that just when we were ready to venture out of our little cocoon, gorgeous warm breezes were beckoning us to go on long stroller walks.  And now that they're bigger, I love that presents, parties, and games are there for them, just when their house-bound stir-craziness is at a fever pitch.
Since baking's my favorite, I always try to come up with something super-special and fun for them on their birthdays.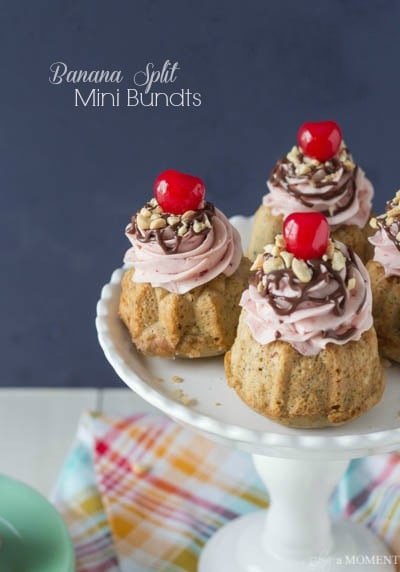 These little banana baby cakes are baked up in a mini bundt pan.  The mini bundt pan gives you cakes with a little well in the middle, and it's the perfect place to tuck something delicious.  I got this idea from one of my bloggy idols, Alice, of Hip Foodie Mom.  When I saw her do this, I knew my life would never be the same again, and I haven't been able to stop thinking about it since.  So, once the cakes are cooled completely, fill the little well in the middle with pineapple.  If you're serving them right away, coarsely chopped fresh pineapple is perfect.  You could also use crushed pineapple from a can, just drain off the excess juice.  Or, if you're making them ahead, you could use the pineapple dessert topping that comes in a jar.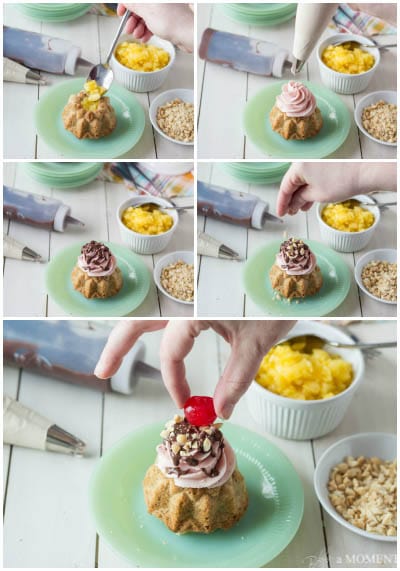 They get topped with the most gorgeous strawberry Swiss meringue buttercream.  If you've never had Swiss meringue buttercream, you have to try it!  It's so silky and light, but buttery at the same time.  And it's so stable, it holds its shape beautifully and is perfect for piping.  This recipe is loaded with fresh strawberry puree.  I think I'm feeling Spring already!
The buttercream gets a drizzle of chocolate syrup, a sprinkling of chopped peanuts, and, of course, a cherry on top.  No banana split is complete without a sweet red cherry on top!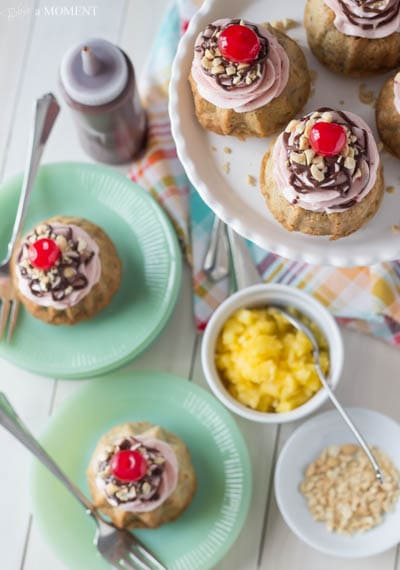 How fun are these?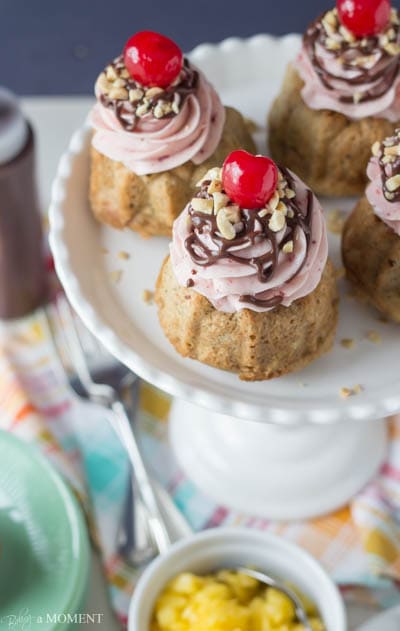 Can't you just picture how big and round their eyes will get when they see these beauties?  They're so colorful!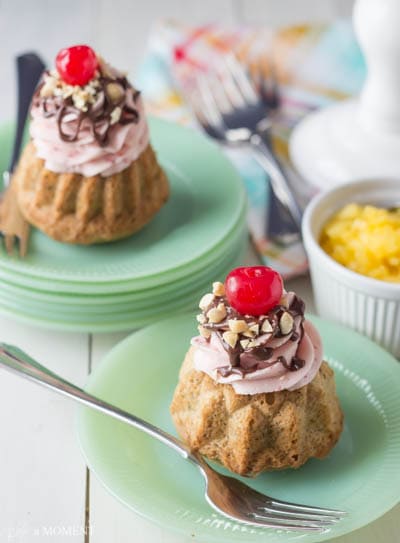 [amd-zlrecipe-recipe:288]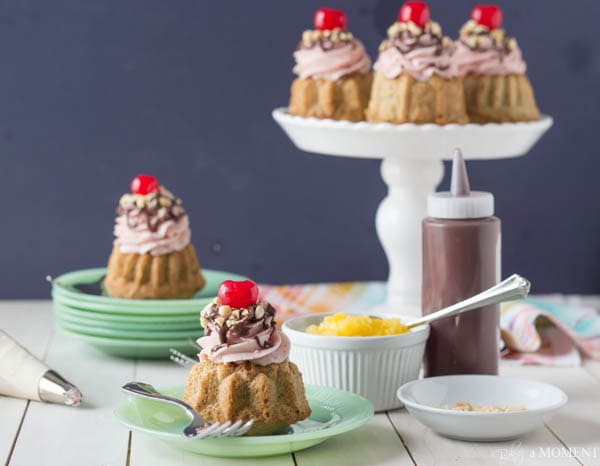 I hope you'll think of this fabulous recipe the next time you're planning a party.  These banana split mini bundt cakes are sure to be a huge hit!  And if you like them, then you should definitely check out some of my other recipes on Baking a Moment.  I'm thinking these…
… these…
…or these…
…would be a great place to start!  Just click the pic to view the post and download the recipe!  Hope to see you soon!
Recipes, please!! (& great family ideas too.)
Subscribe to get our latest content by email.