It's the 10th day of the month, so I've gathered my creative blogging friends, and we came up with a PASTEL theme to create projects around, since SPRING is upon us! I have a super-duper easy Easter egg craft for you… check it out!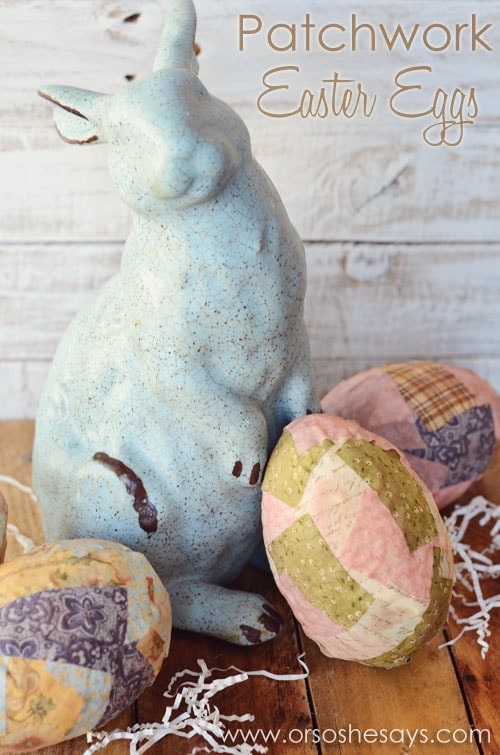 So, this begins our 11th month with this collaboration. We had so much fun with it the past 10 months, we decided to take it another round. One friend needed to part ways, so we added the amazingly talented Chelsea from Two Twenty One to the mix. For now, get into the spring mode with PASTELS!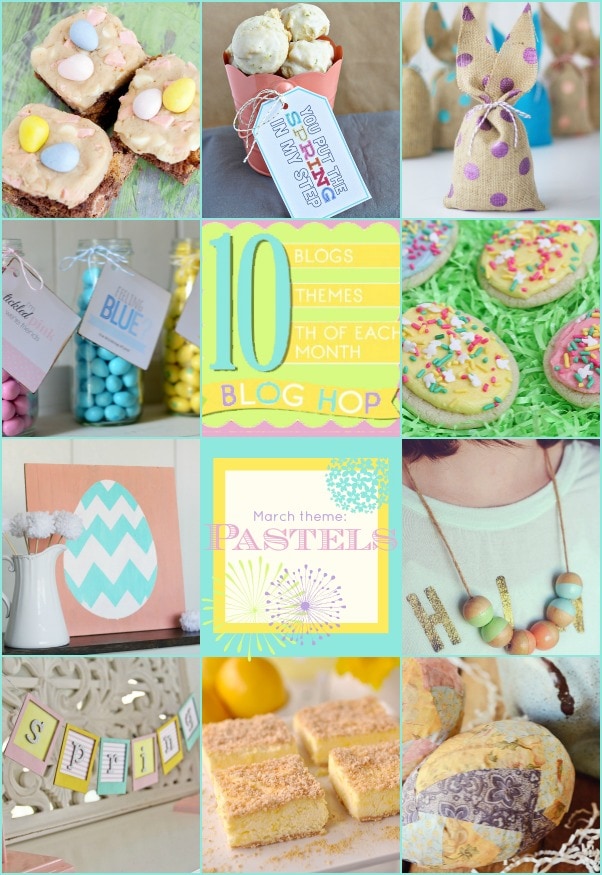 Join the BLOG HOP and "hop" on over to view the other projects up close. If you happen to come upon a broken link, just click HOME on each site to view the project.
From top left, moving down row by row:
Cadbury Mini Egg Cookie Dough Brownie by Capturing Joy with Kristen Duke
Yummy Spring Cookies + Cute Printable Tag by Thirty Handmade Days
Easy Burlap Easter Bunnies by Landeelu
Friendship Gift Tags by Simply Kierste
Easter Egg Cookies by Two Twenty One
Spring Easter Egg Sign Decor by Lolly Jane
DIY Color Blocked Necklace by Eighteen25
Polaroid Spring Banner by Little Miss Momma
Frozen Lemon Dessert by Your Homebased Mom
Patchwork Easter Egg Craft by Or So She Says
And, now for MY 'pastel' post!!
This may come as a surprise to you, as I'm usually not the one sharing craft posts, but I actually love to craft. I especially love making holiday decorations. I used to craft a lot more than I do now… now that I am a mother of many. But, every now and then, I'll throw something together. But, it has to be quick and easy. Oh, and cute.
With that said, I needed something for my 'pastel' post and remembered these super easy modge-podged balls that I made way-back-when to fill a metal basket, as a Fourth of July decoration. It would be just as quick and easy to do the same thing on styrofoam eggs. And it was, my friends. So quick. So easy.
Patchwork Easter Egg Craft: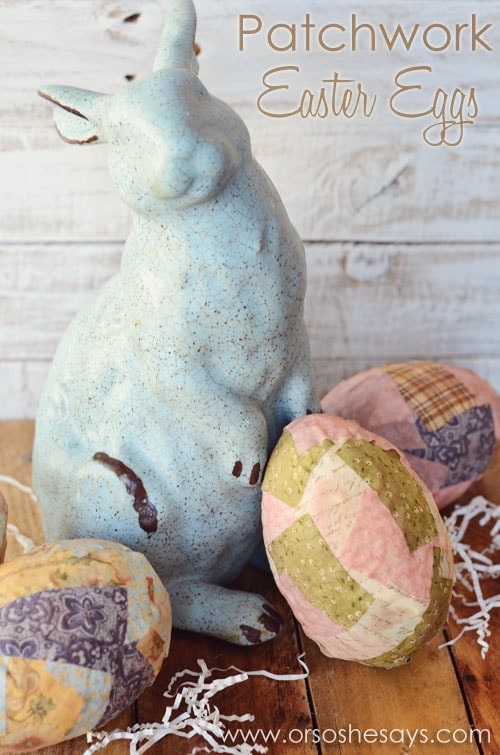 All you need is scrap fabric, cut in small pieces, a bottle of Modge Podge, styrofoam eggs, and a small foam paint brush.
There are several different sizes of eggs available. I bought the big ones, but it would be fun to mix it up a little bit.
To make them, simply paint the back of a scrap piece of fabric with Modge Podge and press it anywhere on the egg. After it's on the egg, paint the top of the fabric with Modge Podge. Add the next piece, overlapping them to make a messy patchwork look. Messy, but good. When you have everything on, you may want to do one more quick Modge Podge layer of the entire egg. Set aside and let dry until hard.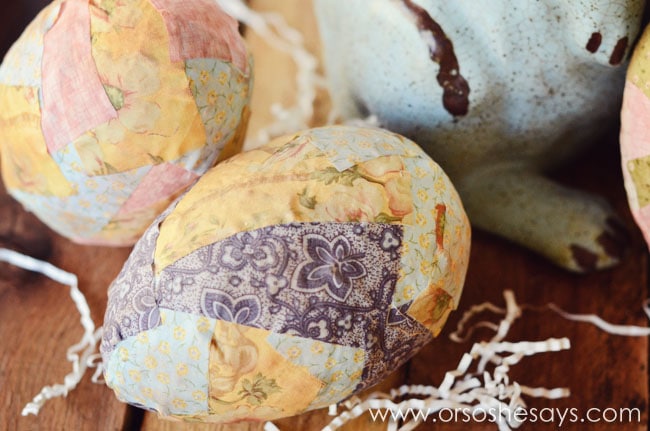 Just for kicks, I got a brown ink pad and lightly rubbed it on the bumps and random areas of the egg, to give them more of an vintage look. And… that's it! These are fun to use with a table centerpiece, to scatter randomly on shelves, or to fill up an Easter basket and display. Happy crafting!
P.S. Are you following 'Or so she says…' on Pinterest and Facebook?? If so, you'll be ready for the Double KitchenAid Giveaway coming up in the next couple days AND all the Facebook Flash Giveaways where you can win Zulily credit and prizes. Plus, of course both are always packed with oodles of great ideas and talk about all things 'women.'