Anyone in a book club?? Who doesn't love curling up with a good book?! I used to read a lot before I got married and popped out a baby… It's crazy how caught up you can get in your "To Do" lists and appointments and kids' soccer practices and never really take any time for yourself. I think finding time to sit down, relax, and read a great book every once in a while could keep us all from becoming stressed-out-groucho-moms and wives!
So to assist you in your efforts to find stress-relief we thought we'd ask some actual book club members (from the 'Or so she says…' Facebook page) what their favorite book choices have been and share them with all of you. Happy reading!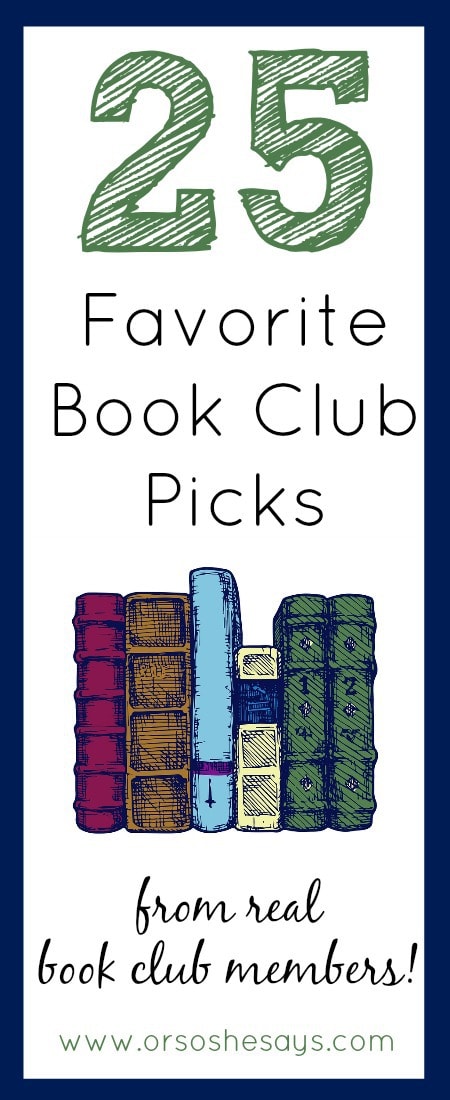 25 Favorite Book Club Picks
The Alchemist ~ Paulo Coelho
Paulo Coelho's masterpiece tells the magical story of Santiago, an Andalusian shepherd boy who yearns to travel in search of a worldly treasure as extravagant as any ever found. The story of the treasures Santiago finds along the way teaches us, as only a few stories can, about the essential wisdom of listening to our hearts, learning to read the omens strewn along life's path, and, above all, following our dreams.
Prayers For Sale ~ Sandra Dallas
It's 1936 and the Great Depression has taken its toll. Up in the high country of the snow-covered Rocky Mountains, eighty-six-year-old Hennie Comfort has lived in Middle Swan, Colorado, since before it was Colorado. When she first meets seventeen-year-old Nit Spindle, Hennie is drawn to the grieving young girl. Nit and her husband have come to this small mining town in search of work, but the loneliness and loss Nit feels are almost too much to bear. One day she notices an old sign that reads prayers for sale in front of Hennie's house.
The Storied Life of A.J. Fikry ~ Gabrielle Zevin
A. J. Fikry's life is not at all what he expected it to be. He lives alone, his bookstore is experiencing the worst sales in its history, and now his prized possession, a rare collection of Poe poems, has been stolen. But when a mysterious package appears at the bookstore, its unexpected arrival gives Fikry the chance to make his life over–and see everything anew.
The Forgotten Garden ~ Kate Morton
A tiny girl is abandoned on a ship headed for Australia in 1913. She arrives completely alone with nothing but a small suitcase containing a few clothes and a single book—a beautiful volume of fairy tales. She is taken in by the dockmaster and his wife and raised as their own. On her twenty-fi rst birthday, they tell her the truth, and with her sense of self shattered and very little to go on, "Nell" sets out to trace her real identity. Her quest leads her to Blackhurst Manor on the Cornish coast and the secrets of the doomed Mountrachet family. But it is not until her granddaughter, Cassandra, takes up the search after Nell's death that all the pieces of the puzzle are assembled.
These Is My Words ~ Nancy Turner
A moving, exciting, and heartfelt American saga inspired by the author's own family memoirs, these words belong to Sarah Prine, a woman of spirit and fire who forges a full and remarkable existence in a harsh, unfamiliar frontier. Scrupulously recording her steps down the path Providence has set her upon—from child to determined young adult to loving mother—she shares the turbulent events, both joyous and tragic, that molded her, and recalls the enduring love with cavalry officer Captain Jack Elliot that gave her strength and purpose.
Left To Tell ~ Immaculée Ilibagiza
Immaculee Ilibagiza grew up in a country she loved, surrounded by a family she cherished. But in 1994 her idyllic world was ripped apart as Rwanda descended into a bloody genocide. Immaculee s family was brutally murdered during a killing spree that lasted three months and claimed the lives of nearly a million Rwandans. Incredibly, Immaculee survived the slaughter. For 91 days, she and seven other women huddled silently together in the cramped bathroom of a local pastor while hundreds of machete-wielding killers hunted for them. It was during those endless hours of unspeakable terror that Immaculee discovered the power of prayer, eventually shedding her fear of death and forging a profound and lasting relationship with God.
The Language of Flowers ~ Vanessa Diffenbaugh
The Victorian language of flowers was used to convey romantic expressions: honeysuckle for devotion, asters for patience, and red roses for love. But for Victoria Jones, it's been more useful in communicating mistrust and solitude. After a childhood spent in the foster-care system, she is unable to get close to anybody, and her only connection to the world is through flowers and their meanings. Now eighteen and emancipated from the system with nowhere to go, Victoria realizes she has a gift for helping others through the flowers she chooses for them. But an unexpected encounter with a mysterious stranger has her questioning what's been missing in her life. And when she's forced to confront a painful secret from her past, she must decide whether it's worth risking everything for a second chance at happiness.
Wonder ~ R.J. Palacio
August Pullman was born with a facial difference that, up until now, has prevented him from going to a mainstream school. Starting 5th grade at Beecher Prep, he wants nothing more than to be treated as an ordinary kid—but his new classmates can't get past Auggie's extraordinary face. WONDER, now a #1 New York Times bestseller and included on the Texas Bluebonnet Award master list, begins from Auggie's point of view, but soon switches to include his classmates, his sister, her boyfriend, and others. These perspectives converge in a portrait of one community's struggle with empathy, compassion, and acceptance.
The Nightingale ~ Kristin Hannah
In the quiet village of Carriveau, Vianne Mauriac says goodbye to her husband, Antoine, as he heads for the Front. She doesn't believe that the Nazis will invade France…but invade they do, in droves of marching soldiers, in caravans of trucks and tanks, in planes that fill the skies and drop bombs upon the innocent. When a German captain requisitions Vianne's home, she and her daughter must live with the enemy or lose everything. Without food or money or hope, as danger escalates all around them, she is forced to make one impossible choice after another to keep her family alive.
Major Pettigrew's Last Stand ~ Helen Simonson
In the small village of Edgecombe St. Mary in the English countryside lives Major Ernest Pettigrew (retired), the unlikely hero of Helen Simonson's wondrous debut. Wry, courtly, opinionated, and completely endearing, the Major leads a quiet life valuing the proper things that Englishmen have lived by for generations: honor, duty, decorum, and a properly brewed cup of tea. But then his brother's death sparks an unexpected friendship with Mrs. Jasmina Ali, the Pakistani shopkeeper from the village. Drawn together by their shared love of literature and the loss of their spouses, the Major and Mrs. Ali soon find their friendship blossoming into something more. But village society insists on embracing him as the quintessential local and regarding her as the permanent foreigner. Can their relationship survive the risks one takes when pursuing happiness in the face of culture and tradition?
Still Alice ~ Lisa Genova
Alice Howland is proud of the life she worked so hard to build. At fifty years old, she's a cognitive psychology professor at Harvard and a world-renowned expert in linguistics with a successful husband and three grown children. When she becomes increasingly disoriented and forgetful, a tragic diagnosis changes her life—and her relationship with her family and the world—forever.
The Winter Sea ~ Susanna Kearsley
History has all but forgotten…In the spring of 1708, an invading Jacobite fleet of French and Scottish soldiers nearly succeeded in landing the exiled James Stewart in Scotland to reclaim his crown. Now, Carrie McClelland hopes to turn that story into her next bestselling novel. Settling herself in the shadow of Slains Castle, she creates a heroine named for one of her own ancestors and starts to write. But when she discovers her novel is more fact than fiction, Carrie wonders if she might be dealing with ancestral memory, making her the only living person who knows the truth-the ultimate betrayal-that happened all those years ago, and that knowledge comes very close to destroying her…
The Rent Collector ~ Camron Wright
This fictional story, based on actual accounts, follows a Cambodian family that lives at–and makes their living from–Stung Meanchey, the largest municipal waste dump in all of Cambodia. as her husband scavenge the dump for things to sell, Sang Ly tries to find a way to heal her ailing son. When she discovers that the bad-tempered rent collector can read, Sang LY begs the woman to teach her. The unlikely relationship is the beginning of a life-changing quest. It is a story of hope, determination, and the strength of family. It is the journey of one woman to save her son and another womans chance at redemption. It demonstrates that even in a dump in Cambodia–perhaps especially in a dump in Cambodia–everyone deserves a second chance.
The Guernsey Literary and Potato Peel Pie Society ~ Mary Ann Shaffer & Annie Barrows
January 1946: London is emerging from the shadow of the Second World War, and writer Juliet Ashton is looking for her next book subject. Who could imagine that she would find it in a letter from a man she's never met, a native of the island of Guernsey, who has come across her name written inside a book by Charles Lamb…. As Juliet and her new correspondent exchange letters, Juliet is drawn into the world of this man and his friends—and what a wonderfully eccentric world it is.
The One and Only Ivan ~ Katherine Applegate
Having spent twenty-seven years behind the glass walls of his enclosure in a shopping mall, Ivan has grown accustomed to humans watching him. He hardly ever thinks about his life in the jungle. Instead, Ivan occupies himself with television, his friends Stella and Bob, and painting. But when he meets Ruby, a baby elephant taken from the wild, he is forced to see their home, and his art, through new eyes.
Peace Like A River ~ Leif Enger
Young Reuben Land has little doubt that miracles happen all around us, suspecting that his own father is touched by God. When his older brother flees a controversial murder charge, Reuben, along with his older sister and father, set off on a journey that will take them to the Badlands and through a landscape more extraordinary than they could have anticipated. Enger's novel is at once a heroic quest and a haunting meditation on the possibility of magic in the everyday world.
The Rosie Project ~ Graeme Simsion
The art of love is never a science: Meet Don Tillman, a brilliant yet socially inept professor of genetics, who's decided it's time he found a wife. In the orderly, evidence-based manner with which Don approaches all things, he designs the Wife Project to find his perfect partner: a sixteen-page, scientifically valid survey to filter out the drinkers, the smokers, the late arrivers. Rosie Jarman possesses all these qualities. Don easily disqualifies her as a candidate for The Wife Project (even if she is "quite intelligent for a barmaid"). But Don is intrigued by Rosie's own quest to identify her biological father.
Winter Garden ~ Kristin Hannah
Meredith and Nina Whitson are as different as sisters can be. One stayed at home to raise her children and manage the family apple orchard; the other followed a dream and traveled the world to become a famous photojournalist. But when their beloved father falls ill, Meredith and Nina find themselves together again, standing alongside their cold, disapproving mother, Anya, who even now, offers no comfort to her daughters. As children, the only connection between them was the Russian fairy tale Anya sometimes told the girls at night.
Half Broke Horses ~ Jeannette Walls
So begins the story of Lily Casey Smith, Jeannette Walls's no-nonsense, resourceful, and spectacularly compelling grandmother. By age six, Lily was helping her father break horses. At fifteen, she left home to teach in a frontier town—riding five hundred miles on her pony, alone, to get to her job. She learned to drive a car and fly a plane. And, with her husband, Jim, she ran a vast ranch in Arizona. She raised two children, one of whom is Jeannette's memorable mother, Rosemary Smith Walls.
Redeeming Love ~ Francine Rivers
California's gold country, 1850. A time when men sold their souls for a bag of gold and women sold their bodies for a place to sleep. Angel expects nothing from men but betrayal. Sold into prostitution as a child, she survives by keeping her hatred alive. And what she hates most are the men who use her, leaving her empty and dead inside. Then she meets Michael Hosea, a man who seeks his Father's heart in everything. Michael obeys God's call to marry Angel and to love her unconditionally. Slowly, day by day, he defies Angel's every bitter expectation, until despite her resistance, her frozen heart begins to thaw.
Orphan Train ~ Christina Baker Kline
Penobscot Indian Molly Ayer is close to "aging out" out of the foster care system. A community service position helping an elderly woman clean out her home is the only thing keeping Molly out of juvie and worse… As she helps Vivian sort through her possessions and memories, Molly learns that she and Vivian aren't as different as they seem to be. A young Irish immigrant orphaned in New York City, Vivian was put on a train to the Midwest with hundreds of other children whose destinies would be determined by luck and chance.
Hotel on the Corner of Bitter and Sweet ~ Jamie Ford
In the opening pages of Jamie Ford's stunning debut novel, Hotel on the Corner of Bitter and Sweet, Henry Lee comes upon a crowd gathered outside the Panama Hotel, once the gateway to Seattle's Japantown. It has been boarded up for decades, but now the new owner has made an incredible discovery: the belongings of Japanese families, left when they were rounded up and sent to internment camps during World War II. As Henry looks on, the owner opens a Japanese parasol. This simple act takes old Henry Lee back to the 1940s, at the height of the war, when young Henry's world is a jumble of confusion and excitement, and to his father, who is obsessed with the war in China and having Henry grow up American.
The Book Thief ~ Markus Zusak
It is 1939. Nazi Germany. The country is holding its breath. Death has never been busier, and will become busier still. Liesel Meminger is a foster girl living outside of Munich, who scratches out a meager existence for herself by stealing when she encounters something she can't resist–books. With the help of her accordion-playing foster father, she learns to read and shares her stolen books with her neighbors during bombing raids as well as with the Jewish man hidden in her basement.
What Alice Forgot ~ Liane Moriarty
Alice Love is twenty-nine, crazy about her husband, and pregnant with her first child. So imagine Alice's surprise when she comes to on the floor of a gym (a gym! She HATES the gym) and is whisked off to the hospital where she discovers the honeymoon is truly over — she's getting divorced, she has three kids, and she's actually 39 years old. Alice must reconstruct the events of a lost decade, and find out whether it's possible to reconstruct her life at the same time. She has to figure out why her sister hardly talks to her, and how is it that she's become one of those super skinny moms with really expensive clothes. Ultimately, Alice must discover whether forgetting is a blessing or a curse, and whether it's possible to start over…
The Boys in the Boat ~ Daniel James Brown
It was an unlikely quest from the start. With a team composed of the sons of loggers, shipyard workers, and farmers, the University of Washington's eight-oar crew team was never expected to defeat the elite teams of the East Coast and Great Britain, yet they did, going on to shock the world by defeating the German team rowing for Adolf Hitler. The emotional heart of the tale lies with Joe Rantz, a teenager without family or prospects, who rows not only to regain his shattered self-regard but also to find a real place for himself in the world. Drawing on the boys' own journals and vivid memories of a once-in-a-lifetime shared dream, Brown has created an unforgettable portrait of an era, a celebration of a remarkable achievement, and a chronicle of one extraordinary young man's personal quest.
Have you subscribed to the 'Or so she says…' newsletter yet? We send out emails with more great ideas, and your first one will include Mariel's five FAVORITE recipes from the blog. You can sign up by clicking HERE.
Want more great book club ideas?? Check out these past posts!
10 Tips for Starting a Book Club
Free Bookmark Printable for Your Book Club