There is NO way that you will not LOVE these cookies.  Well, maybe…if you've suffer from severe head trauma, burned every taste bud in your mouth while testing the Cup 'O Noodles, and hate pumpkin with a passion.  Everyone has had a pumpkin chocolate chip cookie…but, have you had a freakin' good one with frosting on it? 
Probably not. 
You've got to try these, they really, really, really might just be
my favorite cookie, ever.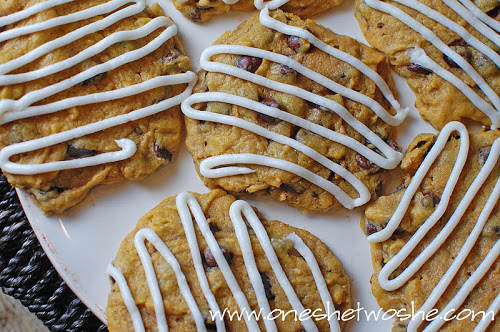 This recipe came from my mom, who is a cooking extraordinaire…she's shared with you two of my other favorite recipes, the refreshing
Tropical Passion Dessert
and addicting
Nutty Craisin Chew
.  She's actually having a cookbook published fairly soon, I'll keep you updated.  But, for now…taste some more of her heavenly goodness.
For this recipe, you will need:  butter, cooked pumpkin, vanilla, baking powder, salt, nutmeg, sugar, eggs, flour, baking soda, and milk chocolate chips.  For the frosting, you will need more butter, vanilla, milk and powdered sugar.
Heat your oven to 350 degrees.  Cream together 1 cup of butter and 1 cup sugar.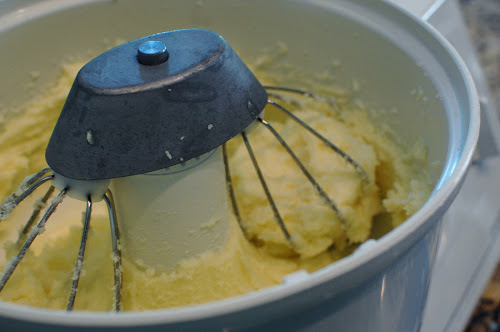 Add 1 cup of pumpkin, 1 egg, and 1 tsp. vanilla.  Mix well.  Don't worry, it only looks like barf for a few minutes.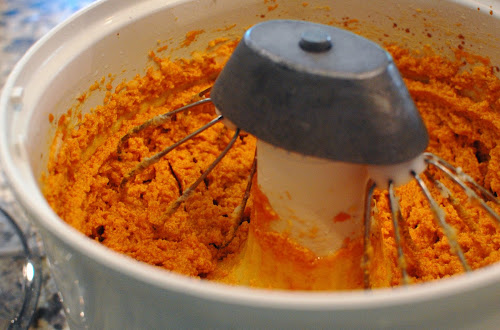 In a separate bowl, add your dry ingredients:  1 tsp. baking powder, 1/2 tsp. salt, 1/2 tsp. nutmeg, 2 cups flour, and 1/2 tsp. baking soda. Mix well.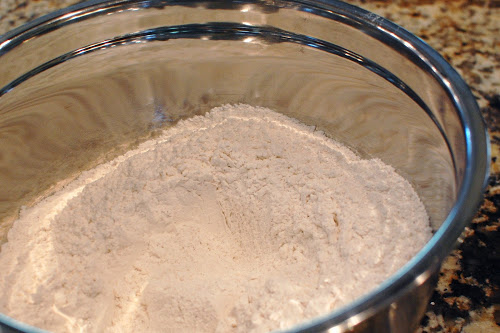 Add your dry ingredients into your pumpkin mixture.  Pour in a bag of milk chocolate chips (we like Hershey's brand, over Nestle).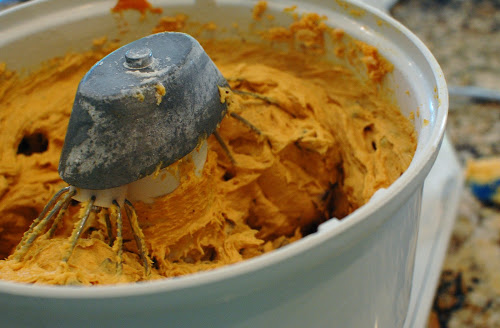 Drop by heaping TBS. onto a parchment covered baking sheet.  Bake for about 15 minutes.  Meanwhile, make your frosting.  In a bowl, combine 1 stick of slightly softened butter, 4 cups powdered sugar, 1 tsp. vanilla and milk (to consistency).  Load it up in a pastry bag.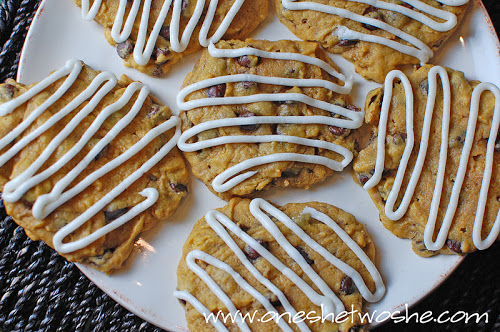 When the cookies have completely cooled, squiggle some frosting across the tops of each one.  Somehow my mom's cookies end up being more plump than flat…but, we couldn't figure out why mine flattened more.  And, she doesn't seem to get little finger swipes and indentations in her cookies from little kids.  Oh well, they still tasted awesome.  If you plan on sharing, I would double the recipe.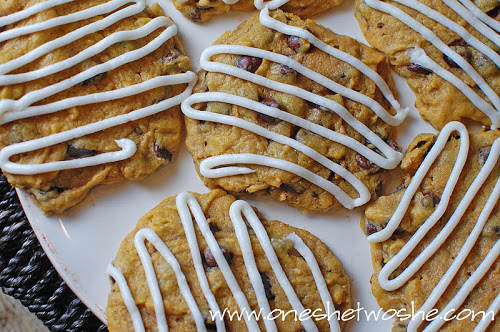 Chocolate Chip Pumpkin Cookies with Buttercream Frosting
Chocolate Chip Pumpkin Cookies with Buttercream Frosting ~ My Favorite Cookie!
Ingredients
1 cup butter
1 cup sugar
1 cup cooked pumpkin
1 tsp. vanilla
1 egg
1 tsp. baking powder
½ tsp. salt
½ tsp. nutmeg
2 cups flour
½ tsp. baking soda
1 bag milk chocolate chips
Instructions
Heat oven to 350 degrees.
Cream together the butter and sugar.
Add the pumpkin, egg, and vanilla. Mix well.
Combine dry ingredients in another bowl, add to the pumpkin mixture and mix well.
Stir in the chocolate chips.
Drop by heaping TBS onto parchment covered baking sheet. Bake 15 minutes.
When cooled, squiggle buttercream frosting across the top.
For frosting, combine 4 cups powdered sugar, ½ cup softened butter, a few TBS. of milk, and a tsp. of vanilla. Combine with handmixer. Put in pastry bag and squiggle frosting across top of cookies.

Recipes, please!! (& great family ideas too.)
Subscribe to get our latest content by email.