Besides raiding the fridge and climbing everything in sight, my daughter has started getting into imaginary play lately. Since she's the oldest, I've tried to be creative about some things I can make for her. Last week it was a gas can for her cozy coupe car, and this week I took a stab at designing a pretend library card.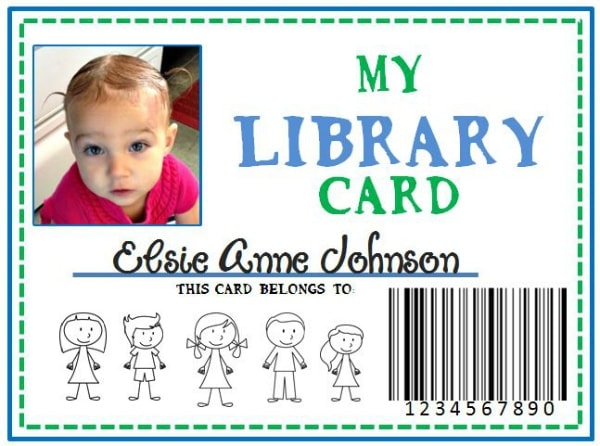 I have two reasons for choosing to make a library card:
1. Again, for imaginary play. She seems to want to do everything just like mom lately, so I try to give her "pretend" versions of my makeup, cell phone, jewelry–you know the drill. I figure if I can make it, that's one less toy I have to buy.
2. We love children's books at our house (okay, I Love children's books). I started collecting children's books before I was even married. I especially like to collect children's books that teach a life lesson, because they benefit both children and adults. Because of that, we have a lot of books. Since I'm a big fan of toy rotations, I thought "Why not apply the same principle with all of our books?" Instead of having a massive pile of books in Little One's room, why not put them into rotation so that there's always something new and exciting to read each week? A fun way to do this would be to create a "Family Library." My plan is to put all of our books down on a shelf in our storage room, and once a week the kids can bring their library card and swap out the previous week's books for new ones. My idea is to stick with about 10-15 at a time, that leaves enough for about 2 stories per night. If you have multiple children and want to make this extra fun, you could have the kids take turns as the "library clerk" and check in/out everyone's books. So fun.
Here's a blank library card for you to print (continue reading for instructions on adding your own kid's picture):
Tips for inserting your own photo: Download the pdf, and click "Take a Snapshot" under "Edit." Then paste the Library Card into whatever program you have on your computer (Word, Powerpoint, etc.). You will then click on "Insert photo," pick whatever photo you are wanting to put on your library card, and then size it accordingly.
Have fun!