Your first year of teaching is a lot like having kids. You think you know what it's like, but really you have no idea until you're knee-deep in it every day. I was lucky enough to have Mrs. Lewis (my cooperating teacher) take my hand and guide me through every step of teaching my first year. She was so current, organized, loving, and amazingly creative! The Goldilocks Valentine story I have to share today came from her. I've searched the internet for this story, and can't find it anywhere. I don't know if she made it up, (I've misplaced my original copy) or found it somewhere. Either way, this is one of my all-time favorite things to do for Valentine's Day! My boys love to hear it year after year, and it would be the perfect activity for any valentine parties you have next week, or just to do at home with your kids.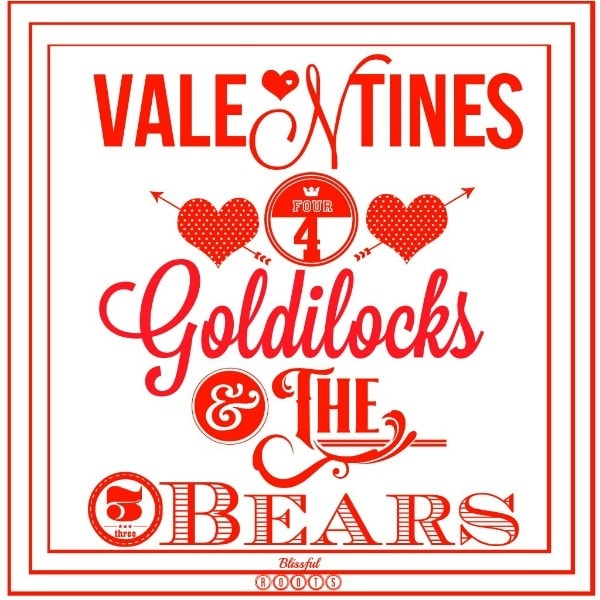 The story itself can be found at the end of the post. You can download it and print a copy for yourself. As I mentioned, my original copy has gone missing, so this is my version of it. I'm not exactly a storyteller, so feel free edit where you'd like.
As you read the story, you'll be cutting four hearts. I'm sure you've all cut out hearts from a folded piece of paper before, but don't worry I have pictures to help. The story pretty much gives you all the prompts you need to know when to cut, but I'll run through it here with the pictures just so you're sure.
The story begins with Goldilocks walking in the forest and suddenly remembering it was Valentine's Day. She finds the three bears' house, no one is home, but she lets herself in. She finds some scissors and papers and begins making some valentines. So you'll need to have a piece of paper and scissors ready. I used a 12 x 12 piece of red card stock, but you can use whatever you'd like.
Then the story says she folds the paper in half, so fold your paper in half.
Then Goldilocks proceeds to cut the paper. She does a first cut, but it's not right, she does a second cut, not right again, then a third and fourth cut. Finally, she's happy with the fourth heart and takes it with her, leaving a mess of scraps on the table. As you're cutting the hearts, don't open the three bears' hearts, yet. Just let them fall to the table looking like a pile of scraps. You can open the fourth heart and show it because that's the one Goldilocks takes.
You won't do this in the story, but I just wanted to give you a picture of what all four of your hearts will look like once cut and unfolded.
When the bears return home, Papa Bear will go to the desk and discover a great big valentine for him. So, pick up the biggest "scrap" and unfold it to show the kids the giant heart.
Mama Bear will find a valentine for her as well. Find the medium-sized "scrap" to pick up and unfold. This is Mama Bear's valentine.
And last, but not least, Baby Bear will find his little valentine. Pick up the last "scrap" and open it to reveal Baby Bear's valentine.
And here is the heart Goldilocks takes with her.
Was that all clear as mud? Print out the story below, and practice it before you do it in front of your kids. It's really simple, but it doesn't hurt to run through it a time or two before you do it in front of an audience. And please feel free to post a comment if something seems a bit confusing.
Happy Valentine's Day week! I love this holiday of love! Come and visit me at Blissful Roots this week. I have plenty of valentine posts to get you ready for the big day. I have a Valentine Playlist, Kneaders heart sugar cookies, a printable valentine tic-tac-toe board, and much more. Enjoy your day!