It's so nice to have a bit of structure back in our home, at least until next summer. Homeschool is happening, laundry and dishes are getting done, kids are adjusting into a sleep routine, we are sitting down for meals, easing off the vacations (almost), ahhh…it feels good. By May, I'll be sick of the structure and ready for the madness again. Life is like hair, it needs to be switched up every now and then. It keeps things fun and interesting. Just one reason I love Utah, the seasons are pretty darn dramatic.
One thing, in particular, that I am pleased to welcome back is Caden's cooking classes. (See The Plan for My Picky Eater) I finally have the home-time I need to help him discover new foods he may like and learn to cook in the process. So, this past week, I found a recipe that would push his taste-bud limits…Paula Deen's Gorilla Bread.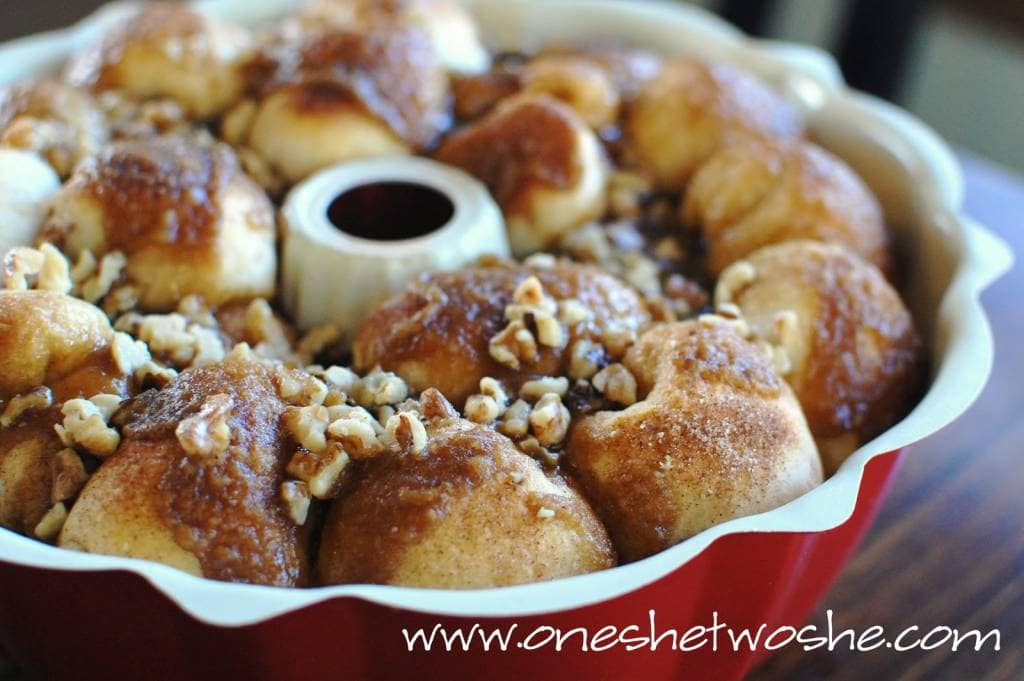 Caden love, love, loves the
Cinnamon Rolls
that I make. So, maybe he would like this recipe, except that the chopped walnuts and cream cheese would really challenge him. I knew he would enjoy the fun process of making it and how cool it looks afterwards, but would he love to eat it?
To make the gorilla bread, you need: sugar, cinnamon, butter, brown sugar, cream cheese, 24 ounces of refrigerated biscuits (two 12 ounce cans or 3 1/2 of the 7.5 ounce cans), and chopped walnuts.

First, heat the oven to 350 degrees and spray/grease a bundt pan. Mix 1/2 cup sugar with 3 tsp. cinnamon in a bowl, set aside.
In a small pot, combine 1 stick (1/2 cup) butter and 1 cup of packed brown sugar. Cook on medium low until butter is melted, stir well and set aside.
The original recipe says to use 2 (12-ounce) cans of refrigerated biscuits, that have 10 biscuits in each can. Well, couldn't find it. So, I ended up buying a four-pack of 7.5 ounce cans and used 3 1/2 of them. Anyway, so you take your bar of cream cheese and chop it into enough pieces for each biscuit. Flatten the biscuits, sprinkle some of the cinnamon/sugar on top, and add a square of cream cheese. Fold up the dough around the cream cheese.
Sprinkle about 1/2 cup of the walnuts into the bottom of the bundt pan, then place half of the dough balls in the pan. Sprinkle the tops of them with cinnamon/sugar.
Pour half of the melted butter mixture on top, followed with another half cup of nuts. Layer the other biscuits on top, sprinkle with sugar, pour the rest of the butter mixture on, and add last 1/2 cup of nuts.
Bake for 25 – 30 minutes, or until the dough balls look slightly golden. Let cool for at least 5 minutes.
Place a plate on top of the bundt pan and invert…ta-dah! Oh, so guess what…everyone loved it EXCEPT for Caden. The little booger! He couldn't overlook the cream cheese and walnuts. But, now he knows…he's not a fan of Gorilla Bread. I guess that's how it goes, sometimes. More for me.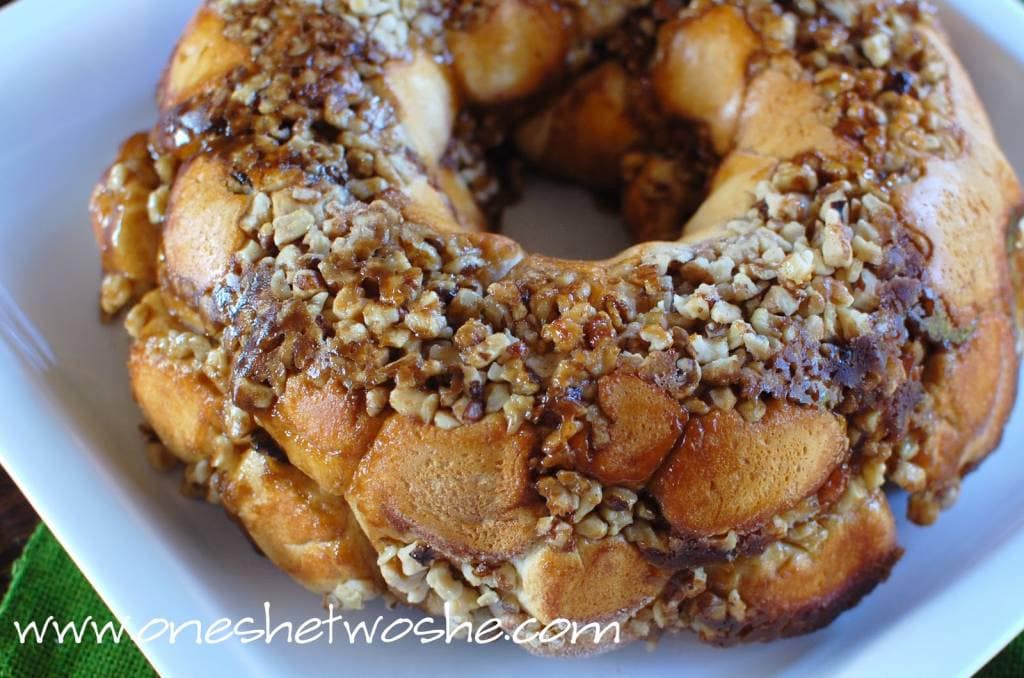 Want to check out more of Caden's recipes??
Buffalo Chicken Mini-Pizzas
,
White Castle-ish Burgers
,
Hamburger Gravy
,
Taco Salad in Homemade Tortilla Bowls
, and
Dinner Rolls
.
Gorilla Bread By Paula Deen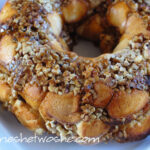 Gorilla Bread
Ingredients
1/2

cup

sugar

3

tsp.

cinnamon

1/2

cup

butter

1

cup

packed brown sugar

8

ounces

cream cheese

2

12 ounce cans of refrigerated biscuit dough (10 count)

1 1/2

cup

chopped walnuts
Instructions
Heat oven to 350 degrees.

Spray a bundt pan and set aside.

In a small bowl, mix white sugar and cinnamon. Set aside.

In small pot, heat up the butter and brown sugar, stirring well until combined. Set aside.

Cut up the cream cheese into as many squares as biscuits.

Press the biscuits flat, sprinkle with cinnamon/sugar and place a square of cream cheese in the middle.

Fold up the biscuits around the cream cheese and set aside.

Sprinkle 1/2 cup of the walnuts into the bottom of the bundt pan.

Top with half of the prepared biscuits. Sprinkle the balls with additional cinnamon sugar, then pour half of the butter mixture over them.

Top with another 1/2 cup of walnuts. Then, start over...add the rest of the biscuits, cinnamon/sugar, butter mixture, and last 1/2 cup of walnuts.

Bake for 25 to 30 minutes or until the biscuits look a golden color.

Let cool for about 5 minutes, then put a plate on top of the pan and invert to get the Gorilla Bread out.