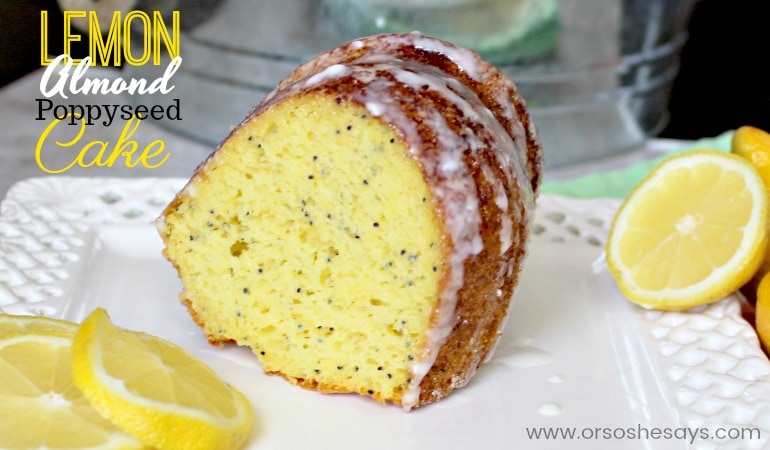 I first tried this Lemon Bundt Cake back in college, some 20 years ago, and it quickly became my favorite! It was pretty much a staple for one of the roommates to make on Sunday evening….or on a Tuesday, just depended on how the week was going. Haha! Our philosophy: a major assignment due, make this cake. The cute boy didn't ask you out, make this cake. That cute boy DID ask you out, make this cake. Finals, cake. Snowed in, cake. Birthdays, cake. No money, cake. As you can see, lemon bundt cake cures all ills, good and bad. Cake makes anything better right?!
Especially LEMON BUNDT CAKE.
This was one of those "secret" recipes that the owner did not want to share (which I personally think is weird), but I had a stealthy roommate who, when she saw the recipe left out sitting on the counter all alone with no one around, saw her opportunity and hurried and copied it. Criminal? Maybe. Would you have done the same? I mean, it is cake….that's a pretty important thing. Especially when it's this lemon bundt cake and is life changing!
We have been making this lemon bundt cake in my family ever since, and quite often I might add.
My daughter has become the go-to poppy-seed cake maker and is a pro at it. She has a few people each year who will ask her to make it for their birthdays, or family members' birthdays, or just because they want some delicious cake! There really doesn't have to be any kind of special occasion to enjoy cake….honestly. My 17 year old son has requested it for his birthday cake for about the last 5-6 years. I ask him every year what cake he wants, and he'll think about it for a couple minutes and then will say "poppy-seed cake"….every time! And who am I to argue? I mean, this is one of the easiest, yummiest cakes. Way better than the hours I used to spend making train cakes, dinosaur cakes, pirate ship cakes, Winnie the Pooh cakes, etc. that didn't really get eaten. They were more pretty cakes than delicious cakes. And I personally would rather have something that tastes delicious. But you get both with this one. You're welcome.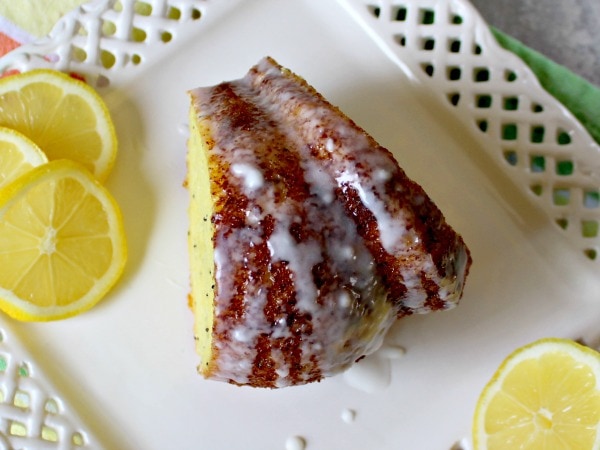 Besides being one of the best cakes in the world, another perk is that it is one of the easiest cakes you will ever make too! Since it is made with a cake mix, and pudding mix and then you add your regular staple cake ingredients and then mix, anyone can do it. My daughter's first try at this cake was back when she was 9 or 10 years old. And it turned out wonderfully! And to anyone who is a little intimidated by bundt pans….don't be! For this bundt cake you don't need to grease and flour and such. All it needs is a nice coating of cooking spray all around the pan and then sprinkle it with cinnamon and sugar. I have yet to have a cake that sticks since I have started using the cooking spray a few years ago. So much easier & it turns out perfect!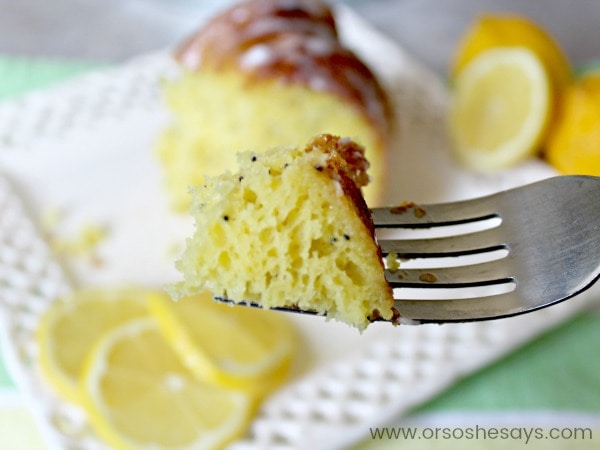 Every time we eat this bundt cake, the running joke that someone will ALWAYS say is "good thing we don't have to take any drug tests soon!" Haha! I don't know if that is a legitimate thing. Do poppy-seeds really show up on a drug test? Who knows. But just in case, you've been warned…don't eat this cake before you are scheduled for a drug test. 😉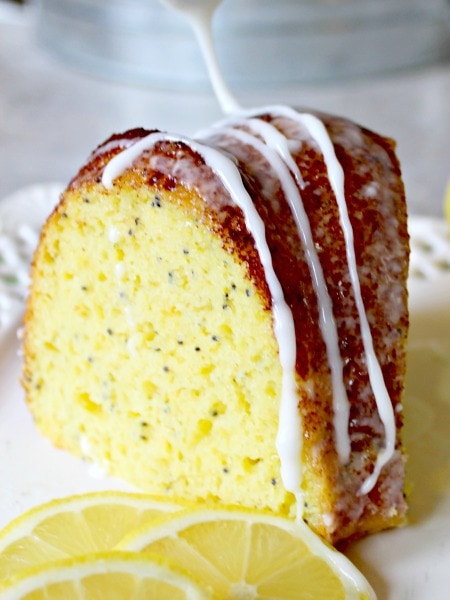 There are different variations to this lemon bundt cake that are super easy to make.
Our favorite is the way it is made in the video & in the recipe instructions, with lemon, almond and poppy-seed, but you can experiment if you're not a lemon lover *gasp*! We use a lemon cake mix and a vanilla pudding mix, but you can substitute either a yellow or white cake mix if you prefer the almond poppy-seed without the lemon flavor. OR…if you love the lemon flavor you can substitute the vanilla pudding with lemon pudding along with your lemon cake mix. Just beware that when you use a lemon pudding mix it can over power the almond flavoring a little.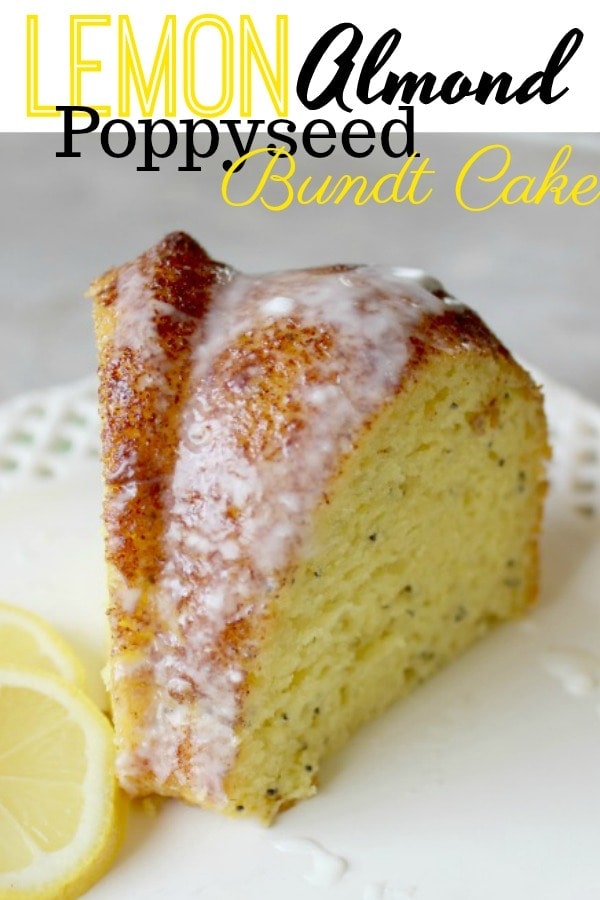 A caution to this tale though. Once you start making it, you will not be able to stop. It will be a staple cake for decades. Anyone who tries it will bring it up often when they see you. It may become a crutch to any dieting plan you may have. Your family will want it for every birthday. You'll have to send the recipe to everyone. But you'll be in cake heaven! (This is all spoken from my own experience)
Enjoy this cake. I know you will!
[youtube https://www.youtube.com/watch?v=oDZfsdSbfcc&w=560&h=315]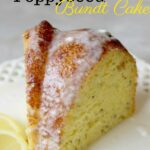 Lemon Almond Poppyseed Cake
Ingredients
1

lemon cake mix

1

small package

3.4 oz vanilla pudding mix

1 1/2

cups

water

1/2

cup

oil

4

eggs

1

teaspoon

almond extract1 tablespoon poppyseeds

Glaze:

1 1/2

cups

powdered sugar

1

teaspoon

butter

softened

2-4

tablespoons

milk

1

teaspoon

almond extract
Instructions
Preheat oven to 350 degrees.

Add all cake ingredients to a medium size bowl and mix until well combined.

Grease a bundt pan with cooking spray and then sprinkle pan with cinnamon & sugar to coat pan.

Pour cake batter into bundt pan.

Bake for 40-45 minutes or until a toothpick inserted comes out clean.

Let cool for 10 minutes and then turn out onto a plate.

Let cool completely.

Make glaze by combining all ingredients. Add milk until desired consistency. Should be pourable but not runny.

Glaze cake.
Recipe Notes
White or yellow cake mixes can be substituted for the Lemon for an Almond Poppyseed cake.
Lemon pudding mix can be substituted for the vanilla pudding mix for an extra lemony poppyseed cake.
If you love poppy-seed, try this Strawberry Salad recipe on the blog.
Or how about something else for my fellow LEMON LOVERS?!