This is a sponsored post written by me on behalf of Surprize by Stride Rite for IZEA. All opinions are 100% mine.
If your kids can't go barefoot, Surprize by Surprize by Stride Rite are the next best thing!
Hey all, it's Liv here again! We had a really mild winter here in Utah, but snow is still on the SPRING forecast, and as a result I'm still fighting my youngest to wear appropriate shoes. Sure, it's not freezing outside, but there IS snow on the ground! I need him to wear certain shoes when he comes to work with me, to follow their guidelines, and when we leave the house it's been a struggle… I'M SURE YOU CAN RELATE ;). he has character shoes that I know he loves, but I guess they were getting unappealing. So we ventured to Target together to check out Surprize by Stride Rite toddler shoes that we had seen online. Since I wasn't sure what fit he needed, we decided to go into the store to try on the ones that he had seen online and said he liked.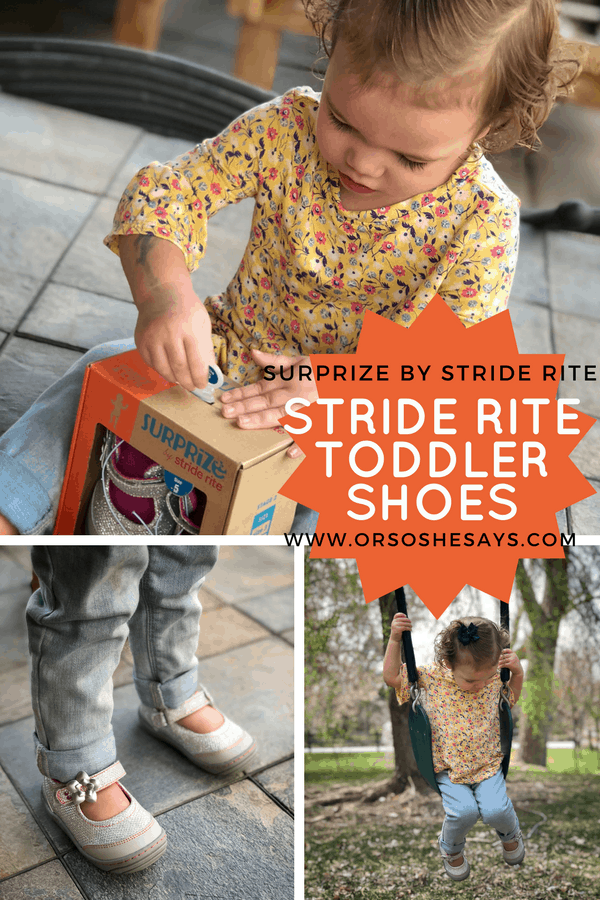 I've definitely learned my lesson when it comes to my kids' clothes and shoes; they want to be in charge of what they wear! I no longer can pick things out for them without prior approval! So when we got to Target, my son decided which pairs of shoes we'd pull down from the shelves and try out. And since we love Target, I didn't care how long it took for him to find the pair that spoke to him. I'm not the only person who could get lost strolling the aisles of Target, right?! He loved all the blue and red options, and I loved that they have a great fit, (Stride Rite toddler shoes are known for fitting different types of little ones' feet!), easy closures that he could do himself, and memory foam insoles. I've tried memory foam footbed shoes before for myself, and they feel amazing! I'm glad Surprize by Stride Rite offers that feature in their toddler shoes because it makes them so comfy.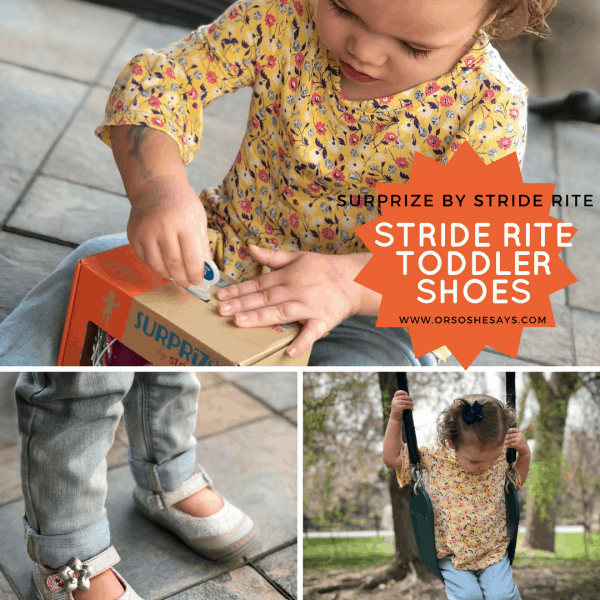 They also offer a lot of different styles and sizes to fit most medium and wide width feet, so Surprize by Stride Rite toddler shoes can grow with your little one.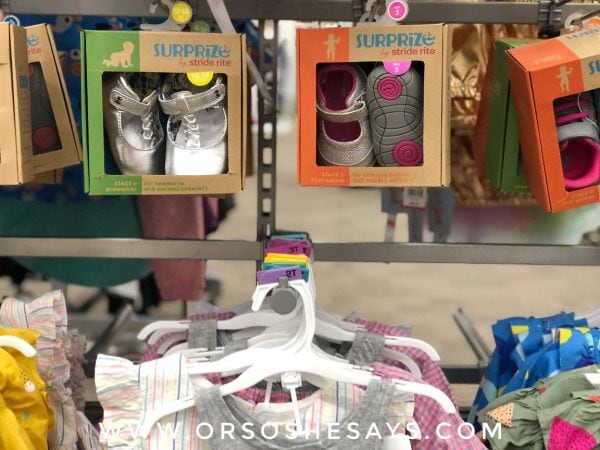 My son really loved the light up shoes by Stride Rite, but they didn't have any left in his size in store. I didn't check sizes online, just styles, but most of the same shoes were available both online and in store. If I'd had more time, I probably could've tried ordering the light up ones online. Pictured, you can see he's in a super-fast-inducing pair of blue Stride Rite sneakers, which are found in the children's shoe section of Target. For infants, (sized 5 and smaller) you'll find Surprize by Stride Rite in the infant section of Target, with other baby supplies.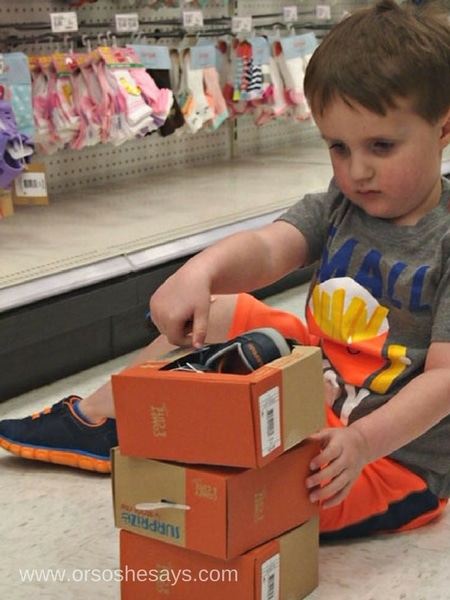 After getting over the disappointment over the light ups, he finally settled on some blue ones that he honestly won't take off. He wanted to wear them to bed, and he has kept them by his bedside for a week now. I work in my local Rec Center, and he gets to come with me every shift. When we get pretty full in the day care, I can take kids into the gym. My son's used the opportunity to really break in the shoes and show me how fast they makes him 😉 They don't rub his heels or ankles and he zooms around the open gym, and we're both really happy about that.
And aren't the Mary-Jane style Surprize by Stride Rite toddler shoes (pictured below) so very cute on one of our little friends? She's totally rocking those!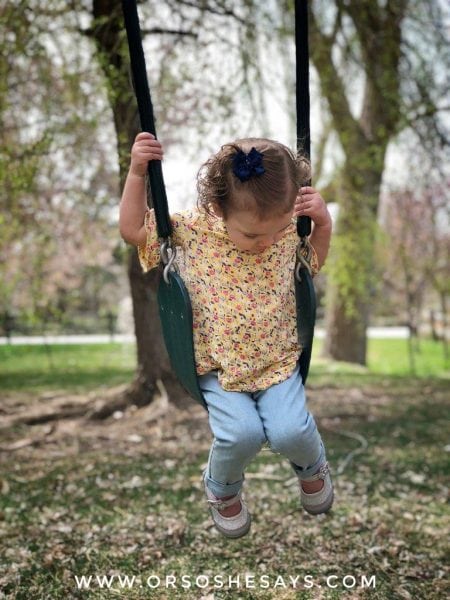 The Surprize line by Stride Rite come in many stylish styles and sizes perfect for your child in any stage of pre-walking, all the way to the off and running stage.
We were checking on my brother's chickens recently after some rain, so we ended up throwing my son's muddy sneakers into the washing machine. For whatever crazy reason, that was FANTASTIC for my toddler. He couldn't get over how fun it was to put his shoes in the wash. We let them dry overnight and the next day they were good as new, and no funky smell inside! I love that, because this kid is pretty hard on shoes, and I'm sure they'll be dirty again in no time.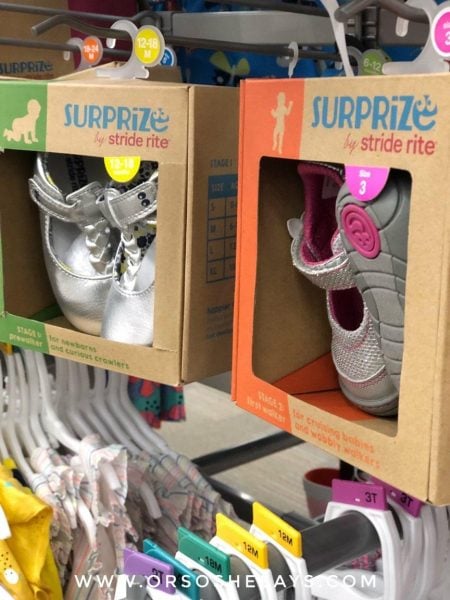 Surprize by Stride Rite infant and toddler shoes are a wonderful option for little walkers, runners, and jumpers.
Hard-soled shoes, or shoes that aren't flexible, can interfere with learning to balance and play without extra tumbles. Surprize by Stride Rite outfits their shoes with a flexible, comfortable sole to avoid that problem without giving up durability! And with my kid, he needs all the help he can get to stay upright while running around like crazy!