I thought a fun summer activity would be to make some pioneer candy recipes – and it was! My kids and I made "pioneer taffy" and old fashioned rock candy. They took a little while to cook, but in the end it was worth it. These pioneer treats would be great to have for a homeschool lesson, Pioneer Days Primary activity, Little House On The Prairie project, or just for fun!
Pioneer Candy Recipes
FYI: The pioneer taffy is a hard candy, not a soft, chewy taffy.
Pioneer Hard Taffy Recipe
Before you scroll to the recipe to get started, just a little heads up…
Make sure you don't cook it too long or this is what happens after you pour the mixture on your buttered cookie sheet: When I tried to take it off the cookie sheet it cracked- big no no!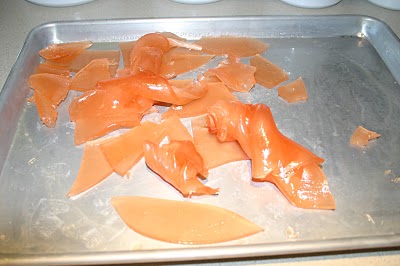 Instead of it cracking because I cooked it too long the first time, the second time I made it, after I poured it on the pan, I let it cool for 5 min, then started pulling it. It was HOT but I pulled it for about 10-15 min. Then it started getting hard.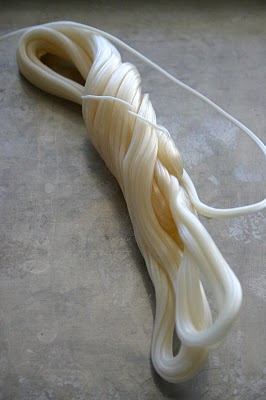 When it starts to get hard, this is when you want to finish pulling it, in the size of candies you want to break it off in.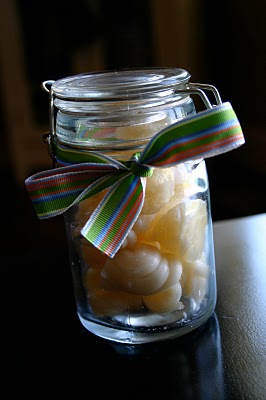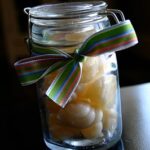 Pioneer Taffy
Ingredients
2

cups

sugar

1 1/2

cups

water

1

cup

white corn syrup

2

tsp

glycerin

found at heath food stores

1

tsp

vanilla

2

T

butter

1

tsp.

salt
Instructions
Mix sugar, water, salt, corn syrup and glycerin in a heavy saucepan.

Bring to a boil, and cook until the temperature reaches 258 degrees. Don't overcook or it will turn hard before you can pull it!

Remove from heat and add the butter and vanilla until the butter has melted.

Pour candy onto a buttered cookie sheet.

Cool approx. 5 minutes or until taffy can be handled comfortably.

Take a small piece of taffy and stretch and fold until the taffy turns white.

Right when it starts to get hard, form taffy into the desired shape.

Place on wax paper.
Old Fashioned Rock Candy ~ Pioneer Dessert Recipe
This is even easier than the taffy, and it looks super cute in an old-fashioned jar. Both of these pioneer recipes are fun to make with kids… what kid doesn't want to pull taffy or crack candy with a blunt object?? They all do.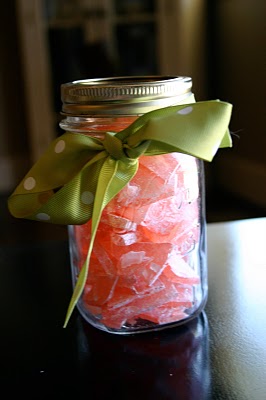 Old Fashioned Rock Candy
Ingredients
3 3/4

cup

white sugar

1 1/2

cup

light corn syrup

1

cup

water

2

tsp

flavored oil

1

cup

powdered sugar

food coloring
Instructions
Butter or spray a cookie sheet with cooking spray.

Combine sugar, water, corn syrup and food coloring in a large saucepan. Mix well together and bring to a boil. Cover the pan and let it cook for 3 minutes to completely dissolve the sugar crystals.

Uncover the pan and turn up the heat to medium high. Place the thermometer into the mixture. Cook the mixture without stirring until it reaches 300 degrees (hard crack point)

Remove the pan from the heat. Stir the flavored oil into the mixture.

Pour the candy into the baking pan. Let the candy cool completely. This takes at least an hour.

Take a butter knife handle and break the candy in pieces.

Put the candy in a plastic bag with powdered sugar, seal it and shake it, so they are coated. Shake off the excess and remove each piece from the bag. Enjoy! (Be careful, as some of the pieces can be sharp.)
If you liked this 1800s candy recipe post, check out:
Join over 100k others & follow OSSS for more family ideas:
NEWSLETTER (free most-requested family recipes download included!)
PINTEREST (lots of awesome family related ideas!)
Pin this image to save these pioneer dessert recipes: