It's almost Pioneer Day! Hello, Veronica here, coming from the hot and muggy state of Tennessee! I wasn't born and raised in Tennessee though, I was actually born in the state of Utah. This month in Utah, they will be celebrating Pioneer Day on July 24th. It's a BIG deal and a lot of fun!
What is Pioneer Day all about? It's a state holiday that celebrates the day that the first group of Mormon pioneers entered the Salt Lake Valley. The term "Mormon" is just a nickname (no longer used) to refer to members of The Church of Jesus Christ of Latter-day Saints. The history of this group of people is important for many reasons. They represent unwavering faith, courage, dedication, bravery and strength. They were real people who lived, they loved, they raised families, worked hard and wanted the opportunity to worship freely. They left a great legacy, not just for their families or members of their own faith, but for all who learn about them.
Pioneer Day Activities for Primary
I'm sharing a bunch of ideas this time. Mainly because I want you to have a lot of ideas to choose from depending on the age of your kids, your location, weather, etc.)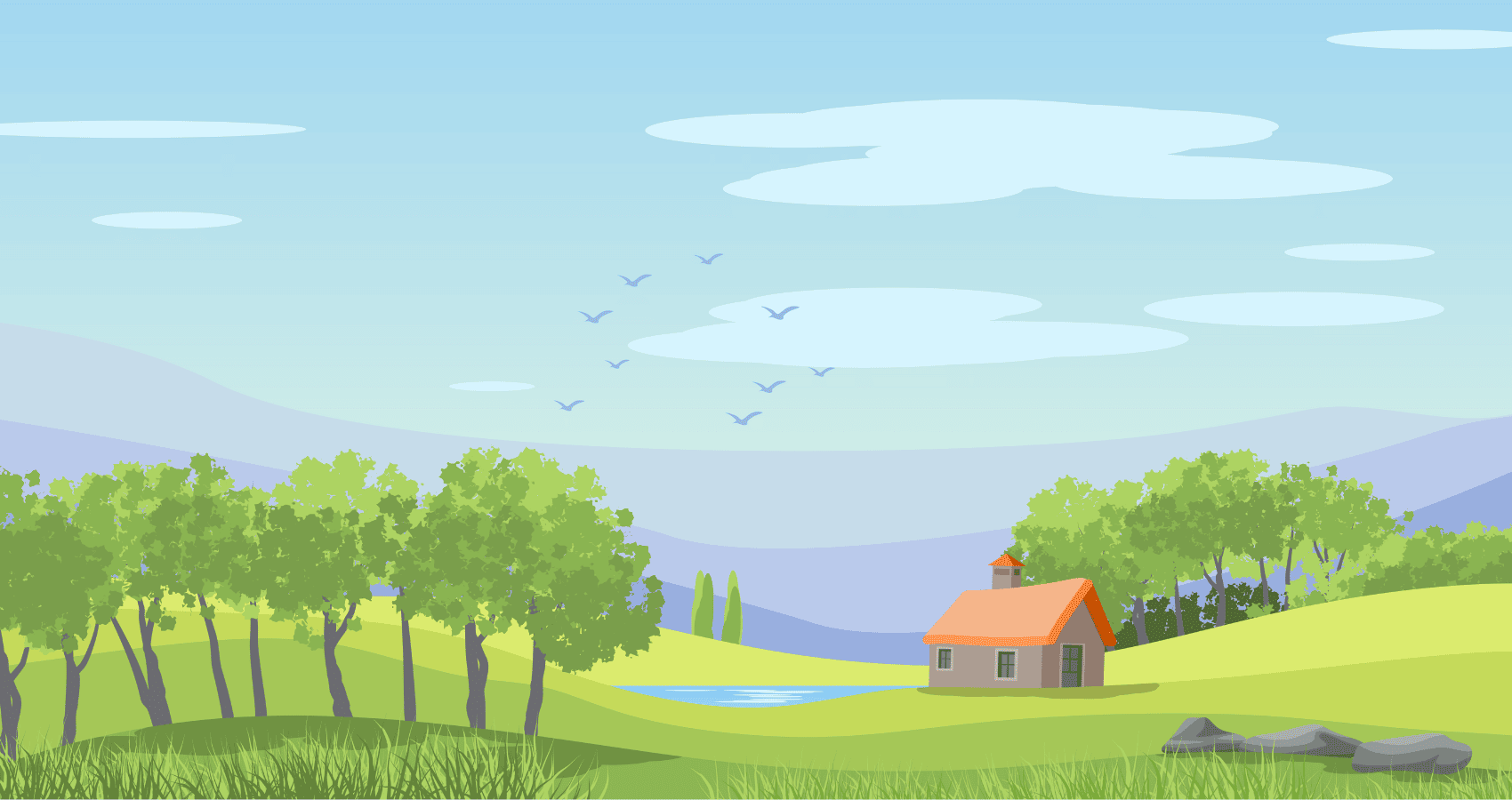 LESSON for Pioneer Day (Choose the ones that fit for your Primary class)
Explain what Pioneer Day is. Why is the history of these remarkable people so important?
What sacrifices did they make? What was so difficult about what they did? (left belongings, some left family, hunger, harsh weather, disease and sickness, fatigue, Native Americans, deaths of many, traveled 1300 miles-mostly on foot, had to work for own food, no electricity, no cars, etc.)
Ask children what the hardest thing about pioneer life would have been for them?
Have them each guess how many pounds of personal belongings each person was allowed to bring? (17 lbs.)
Ask them to each share what items they might bring. Help them understand what would approximately equal 17 lbs.
Are we pioneers also? (yes) DEFINITION OF PIONEER: One who goes before to prepare or open up the way for others to follow.
Are we asked to leave everything behind? (no) What are we asked to do? (be examples, live Christ-centered lives, stand up for things that are right, be brave in making good choices, sharing our feelings about Christ, etc.)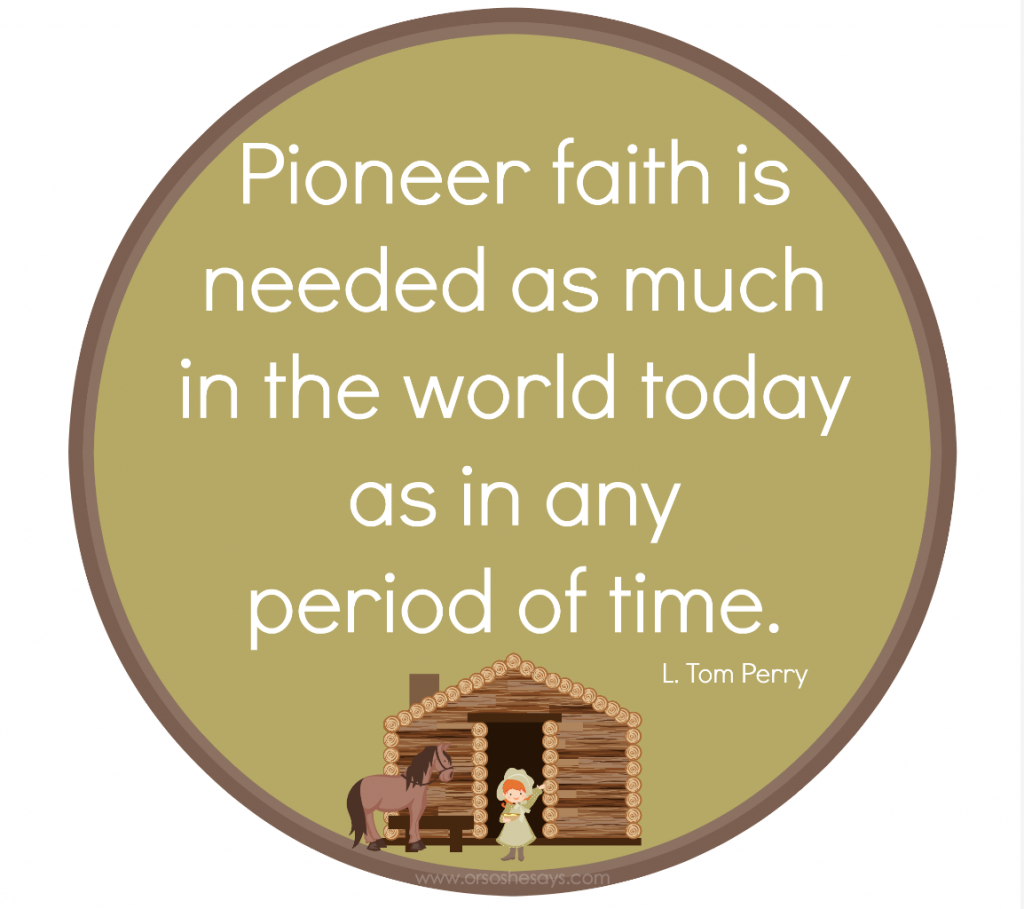 Download and print here
Lately I've had to remind myself that we live at a great and exciting time on the earth. I think our children need to be reminded of that as well. Is it a challenging period of time? YES! But also an exciting time to be on the earth! They truly are pioneers as they get up each day and make choices to stand firm in the things they know are right. We all are!!
Pioneer Related Stories for Kids
Read through the following stories and choose one to share.
Story #1 Story #2 Story #3
"Years from now your grandchildren will tell with amazement stories of your choices which changed their lives. You will be called their pioneers. You are showing others the way." Bonnie D. Parkin
Pioneer Day Inspired Games for Kids

Tug-of-War
Watermelon Eating Contest (See who can eat a slice of watermelon the fastest.)
Watermelon Spitting Contest (See who can spit a watermelon see the farthest.)
Gunny Sack Race (Get into pillowcases, hop and race.)
Stick Pulling (You can find the instructions here in the 4th paragraph from the bottom, but the history was fun to read also.)
Three-legged Race (Use bandanas if you have them…they don't hurt like rope or string.)
Button-Button…Who's Got the Button (instructions)
Skipping (Race against each other while skipping.)
Hopscotch
Leapfrog
Tag
Hide and Seek
Charades (Include pioneer activities like fishing, plowing, making a fire, sewing clothes by hand, cutting down a tree, riding a horse, planting a garden, pushing a handcart, etc.)
Marbles (Great set of multi-sized marbles here.)
Balls and Jacks (You can find these at most dollar store's, but I love the old-fashioned metal ones. If you read the product description on these ones, you'll find the rules for playing jacks.)
Cat's Cradle (We have this book and love it.)
Ring Toss
Horse Shoes
Clothes Pin Drop (Give each child 5-10 clothes pins. Have them stand over a jar or glass and see how many they can drop in.)
Simon Says
Ducks Fly, Fox and Geese, Hot and Cold, Jack Straws, Poor Doggie, Rolling the Hoop, Shadow Tag (Find simple instructions for these games here.)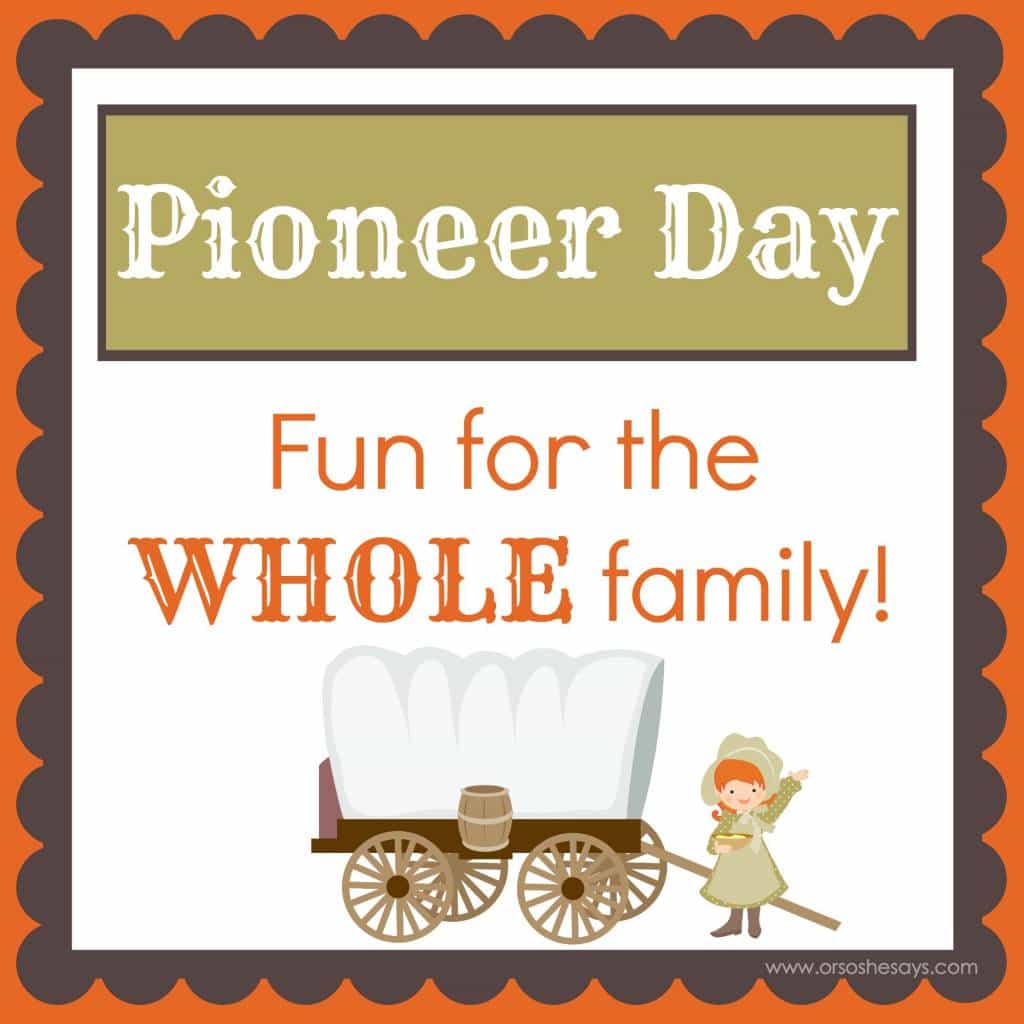 Primary Activities for Pioneer Days
First off, you'll probably want to check out these 17 Pioneer Day Activities and Crafts for Kids
Homemade Butter
Things needed:
Heavy whipping cream
Salt
Small container with lid (we used baby food jars)
Directions:
Fill small container HALF full of HEAVY whipping cream (MUST be heavy whipping cream)
Add a dash of salt
Put lid on tight
Shake vigorously for approximately 10 minutes. (The cream will thicken up and look like butter when done. It will be separated from the milk. Pour the milk out before using. You will probaly end up helping with the shaking…and your arm will be cursing my name…but it works!!)
Pioneer Taffy and Old-Fashioned Rock Candy
Jessica shared these fun pioneer recipes for Pioneer Hard Taffy and Rock Candy. It calls for glycerin, which you can order here. Have fun trying some of these different flavors!
TREAT
Whole Wheat Bread (serve with your Homemade Butter!)
Super yummy recipe!!
Printable for Pioneer Day Lesson

For a reminder of what you talked about as a family, choose one of our printables and hang it in your home for the week.
Download and print here
I hope everyone enjoys Pioneer Day! I'll see you next month!
Here are some other great lessons on OSSS:
The Magic of Kindness – Family Night Lesson
Family Night – Teach Them Some Respect!
Family Night – You Are Special
Pin this image to save or share this pioneer post: