To start off, I want to say a big THANK YOU to everyone who follows along and uses these simple Primary talks each month. It has been so fun to hear from parents and Primary leaders from across the United States and even dotted around the world who implement these primary talks into their weekly worship meetings. It is a joy for me to help spread messages of truth to you and your flocks! I hope you continue to find them helpful and meaningful as we continue forward.
Awesome Primary Talk: Stand In Holy Places
Listen to these words from a popular primary song I Love To See The Temple: For the temple is a holy place where we are sealed together. As a child of God, I know this truth a family is forever!
In this song, we learn that the temple is a special and holy place. I want to go to the temple when I grow up!
Did you know that there are other holy places? Jesus said, "But my disciples shall stand in holy places and shall not be moved." We can stand in holy places each day when we choose to keep the commandments.
Your home can be a holy place. How do you feel at home when you pray or talk about Jesus in family lessons? Do you have a picture Jesus or the temple hanging on your wall? Does it make you feel good inside to see it? When you serve your family, listen to good music, and say kind words, you make your home a holy place.
Jesus wants us to stand in holy places. I challenge you to make wherever you are holy and strive to be worthy to go to the temple someday.
Download PDF: Stand In Holy Places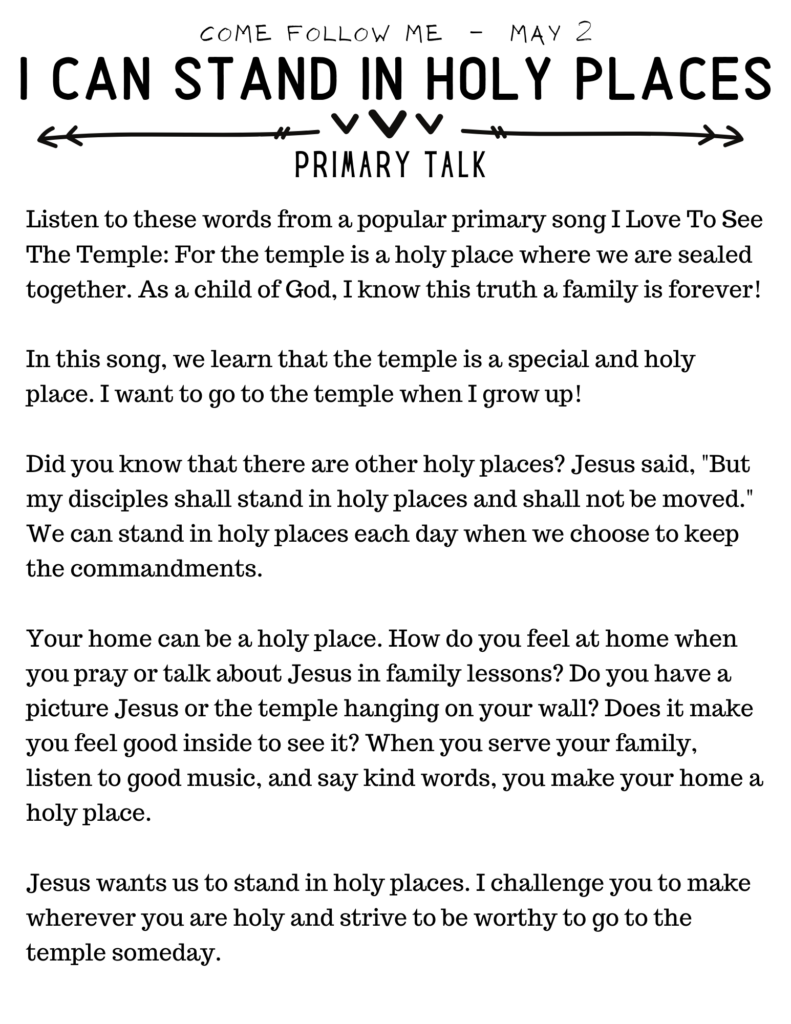 Talk for Kids: I Have Spiritual Gifts
What is the very best present you have ever received? Was it on your birthday or at Christmas time? Can you remember being so excited to open the package and find it inside? Who gave it to you? Did it make you love that person even more?
Gifts are a fun part of life! I like opening presents and playing with my new toys.
Heavenly Father gives us gifts. They are a little bit different than a basketball or new LEGO set. The gifts we get from God are called spritual gifts. They help us to choose the right and serve other people.
Everyone has gifts from God. He did not leave anyone out. Your gift might be that you are happy and make other people feel good. Or, you might be really good at listening to your parents and obeying the commandments. Some people have the gift of knowing what is right and what is wrong. Others are able to share their testimony without feeling nervous.
All these gifts and more are blessings from Heavenly Father. I challenge you to think about what you are good at. Then, use your gifts to help your friends and family! When you do, you will feel closer to Heavenly Father and love Him even more!
Download PDF: I Have Spiritual Gifts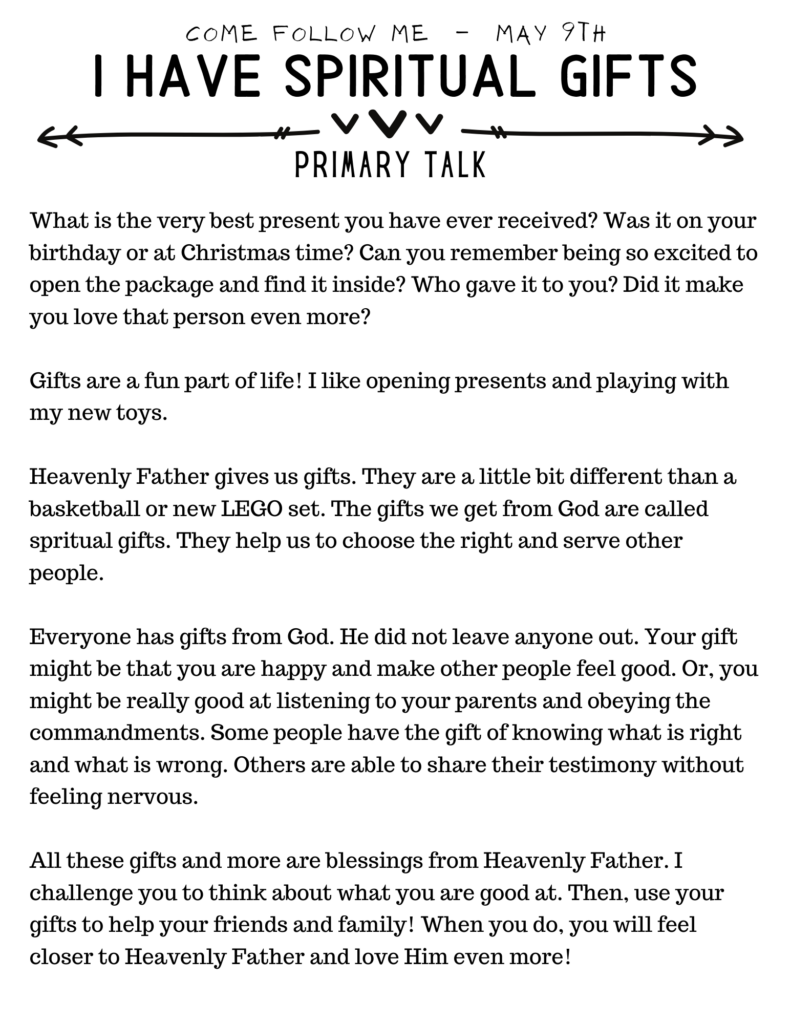 Primary Talk: I Can Follow Jesus
One of my favorite primary songs is called Do As I'm Doing. Do you like that one too? It is fun to make up actions to the song and then do them fast and slow and high and low. It makes me laugh and I like to wiggle and move.
Jesus has asked us to do as He did! He said, "Come, follow me."
There are a few important things that Jesus did in his life that we are supposed to do as well. They are to repent, be baptized, and receive the Holy Ghost. When we do those three very important things, we are following in His footsteps.
Where do His footsteps lead? Jesus is leading us on a path to live with Heavenly Father and our families in Heaven! He is the best leader to follow.
I challenge you to be baptized. If you have already been baptized, then keep your covenants so the Holy Ghost can be your constant friend. When you make a mistake, repent and get back on the path to follow Jesus! He wants us to follow, follow, Him.
Download PDF: I Can Follow Jesus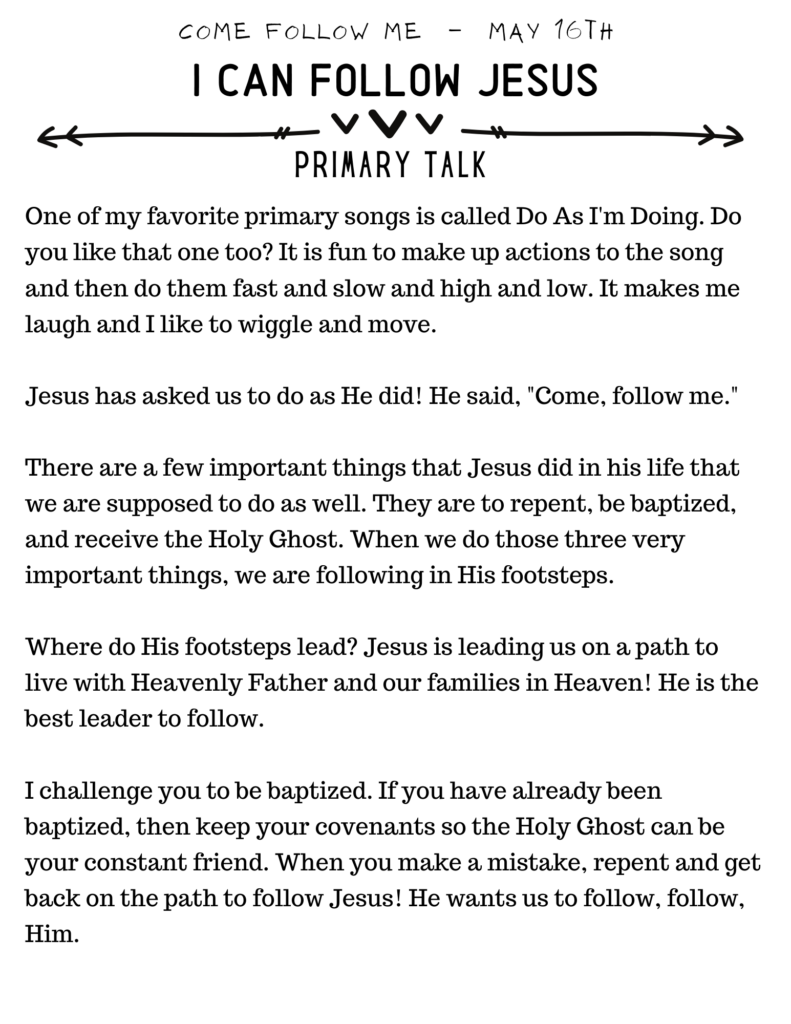 Children's Primary Talk: I Can Be Honest
Have you memorized the Articles of Faith? There are 13 of them! The Articles of Faith state what we believe as members of the Church of Jesus Christ of Latter Day Saints.
The 13th Article of Faith starts out with the words, "We believe in being honest."
Why do you think it is important to tell the truth? I know that being honest makes it possible to stay close to the Holy Ghost. Being honest makes me a better friend. People can trust me and count on me. It also helps me keep the commandments.
Heavenly Father wants us to be honest in all things. I know that when we choose to be honest, it makes life easier. When you are tempted to lie or be sneaky ask Heavenly Father to help you choose the right. He will be there for you. He wants you to succeed.
Download PDF: I Can Be Honest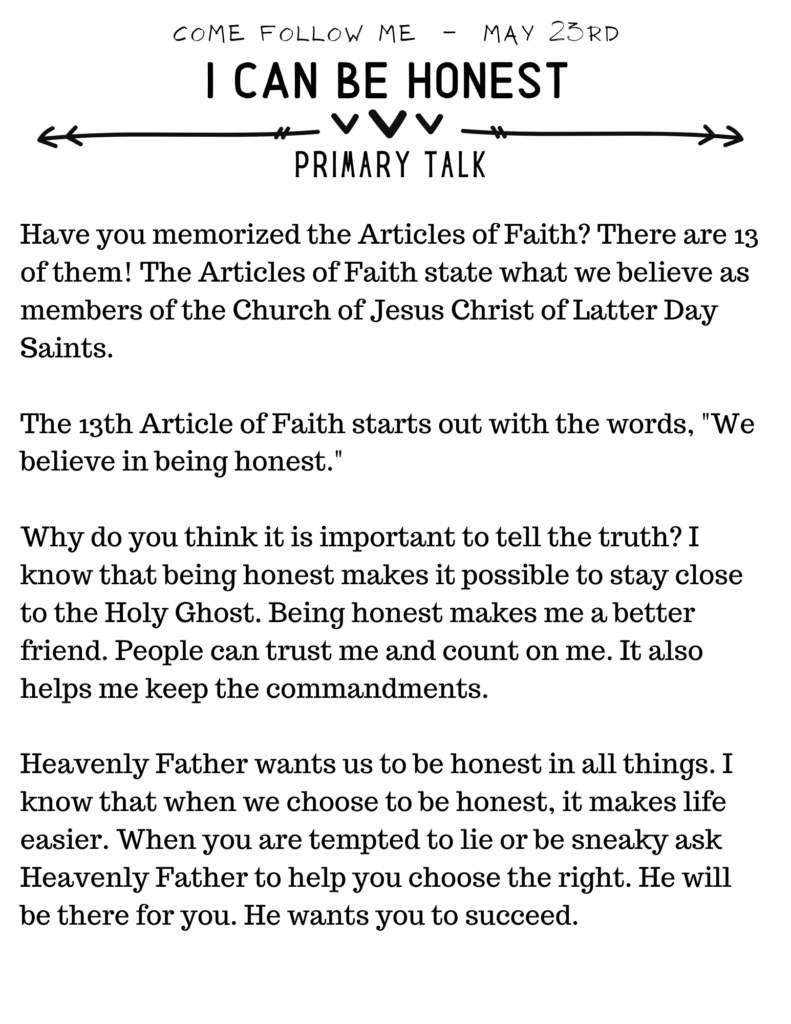 Talk For Kids: Power of Gratitude
I am going to list some words. Think about what they might have in common. Are you ready? Listen closely.
Electricity
President of the United States
Battery
Saying Thank You
Lightening
Jet Engine
Can you think of one word that matches all of those things? The word is POWER. It is easy to see that a jet engine or the President has power. But, what about the words, "Thank you?"
There is power in living a life of gratitude. God has asked us to be thankful in all things. When we take time to be grateful, we are blessed with happiness and the power to make it through any of life's challenges.
When you pray tonight, I challege you to say thank you to Heavenly Father for at least 10 things! See if you can feel the power of gratitude in your heart.
Download PDF: Power of Gratitude