Download and use these simple Primary Talks for the June Come Follow Me Weekly Topics. They are written for children to read and understand. New talks are added each month! So, be sure to check back often.
My ward finally returned to Primary last Sunday! It was such a fun day. The kids were all buzzing with excitement to see their friends and teachers again. We got to learn a new Primary song and the Spirit in the room was so beautiful. I have missed gathering with the Primary children so much over the past year. My heart was truly full.
If you are like me, Sunday can get a little bit busy. I have four kids to help get fed, ready and out the door! I often have early morning planning meetings with the bishopric and have to set up the chairs in the Primary room so it is ready for singing time! Things can get crazy…to say the least. That is why we provide these Primary talks on our blog each month. I hope they take one thing off of your busy Sunday plate.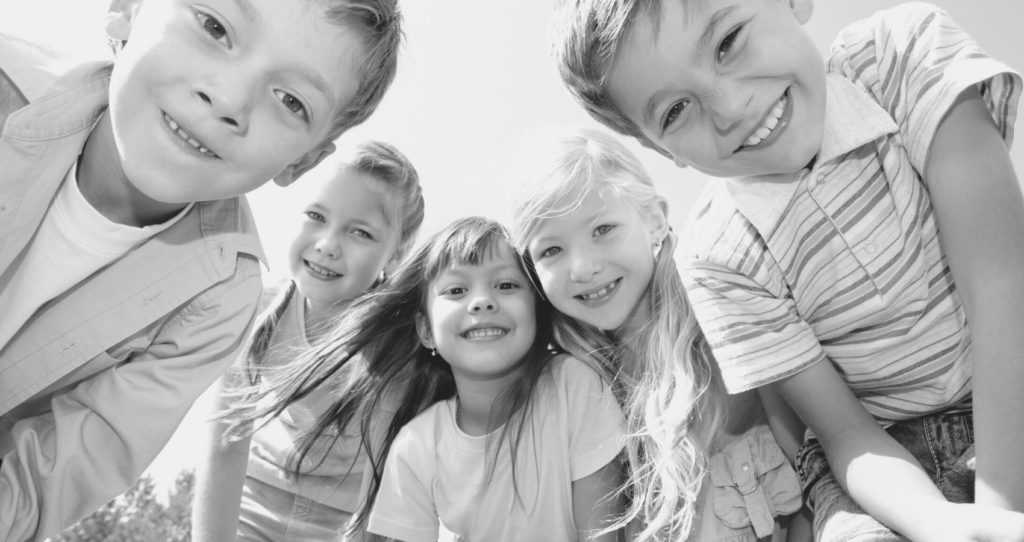 Simple Primary Talks for June
My goal is to make Primary a place of learning, joy and peace. If you are a Primary secretary who likes having a backup talk in your binder for children who forget their own talk, then this is for you! If you are a parent who wants to make a speaking assignment easy and simple, this is for you! In fact, this site is for everyone! So glad you are here and actively involved in building up the Kingdom of God!
Download All of the June Come Follow Me Primary Talks Here
Primary Talk for June 6th: Making My Testimony Grow
What is a testimony? Do you have one of the Gospel? In the scriptures we learn that it takes work to gain a testimony. Here are some of the things you can do to make your testimony grow.
First, you need to study and learn about the Gospel. You can read scriptures and learn stories from them. When we come to church we sing songs about Jesus and His teachings. Primary teachers give lessons about the truth.
After we have been taught, we have to ask Heavenly Father if it is true. Pray about it. Then listen for the Holy Ghost to speak to your heart or mind.
Then, it is time to live it! When you fill your life with good things and keep the commandments it proves that the Gospel is true.
Right now, your testimony is like an empty balloon. When you do these things it is like blowing air inside of it. Study, prayer, and action fill the ballon and make your testimony big and round. I challenge you to make your testimony grow.
Download Primary Talk PDF: Making My Testimony Grow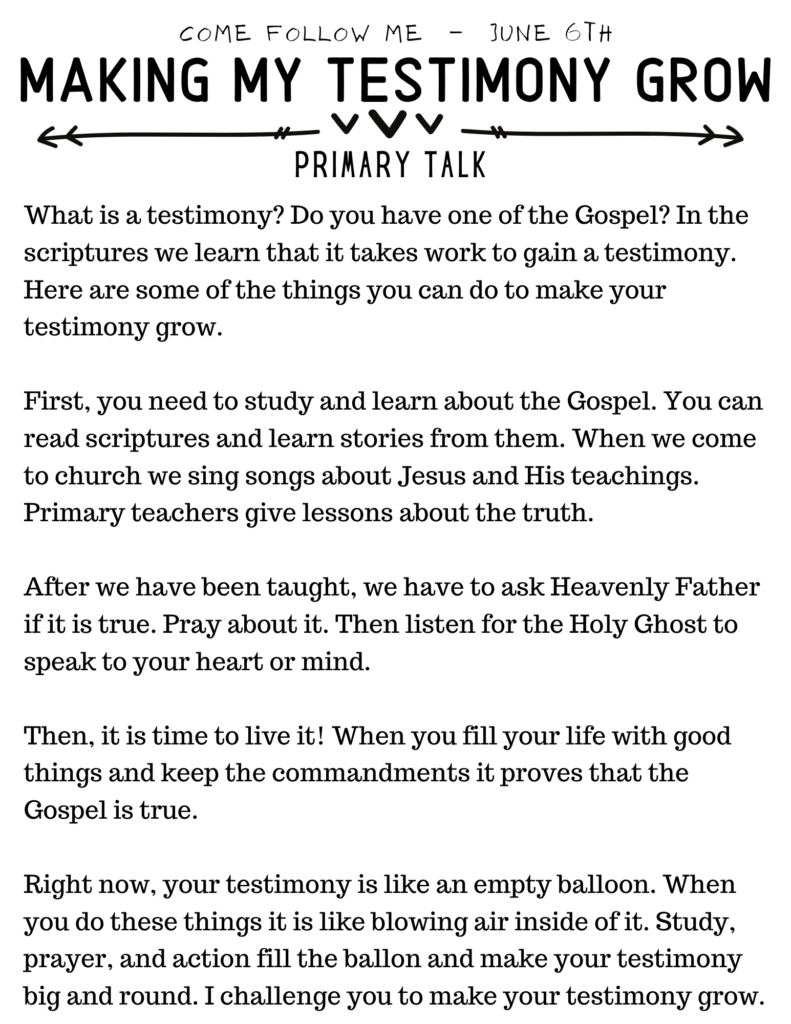 Children's Talk for June 13th: I Can Be A Good Friend
Think of your best friend. Is it someone in your family or a person at school or in your neighborhood? Why do you like your friend? Are they kind or funny? Do they make you feel happy when you play together?
Being a good friend is an important part of life. Jesus taught us how to be a good friend. Here are two ways we can follow His example.
Be honest. Good friends are always honest. They tell the truth and play fair during games. We can trust the things Jesus says and teaches because He never lies.
Good friends serve. Jesus washed his friend's feet. He blessed them when they were sick and gave them food when they needed to eat. He took care of his friends.
If we can be honest and serve our friends, it will help us to become more like Jesus. It will also make us better friends! Jesus is our very best friend. He will always be there for us when we need Him.
Download Primary Talk PDF: I Can Be A Good Friend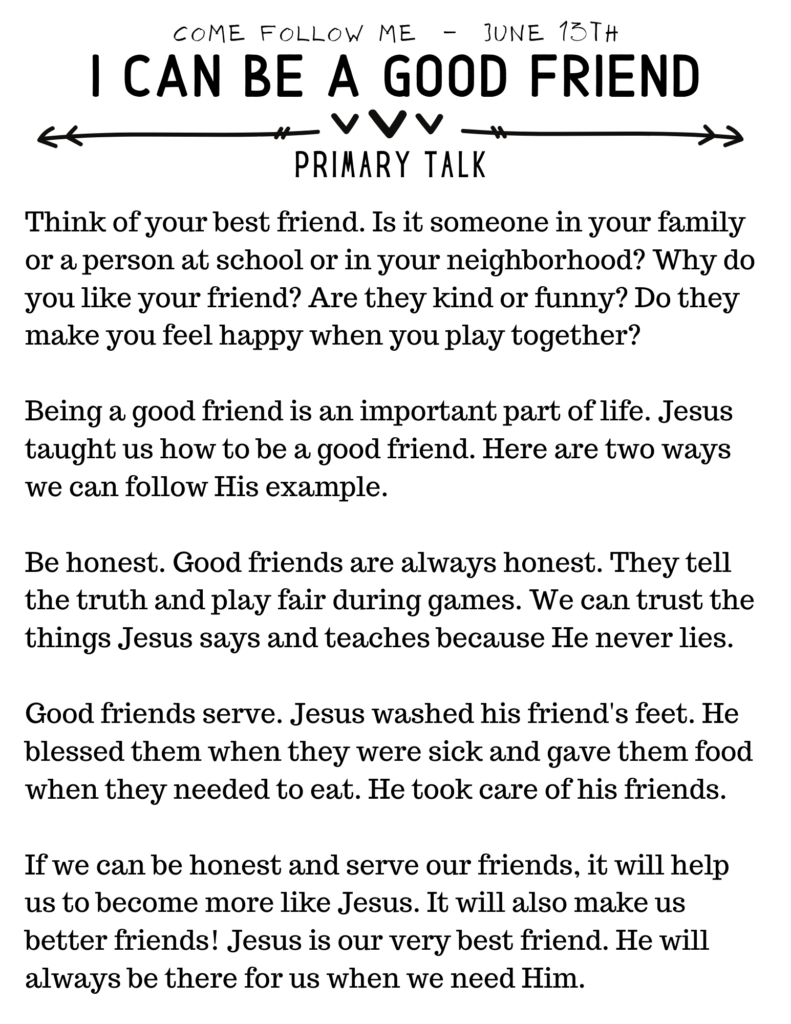 Talk for June 20th: Obey With Your Heart And Mind
Point to your mind. It is inside your head! When you think thoughts, they start in your mind. Now, put your hand on your heart. Can you feel it beat? Feelings come from your heart.
When you live the Gospel, you have to obey with your heart and your mind. The scriptures say, "Behold, the Lord requireth the heart and a willing mind."
We are asked to have good thoughts and to use our minds to learn the teachings of Jesus. We are also asked to love God and Jesus with all our hearts. This special love helps us to have the desire to follow them.
I challenge you to use your mind to study and understand the Gospel and then to love it with all your heart!
Download Primary Talk PDF: Obey With Your Heart and Mind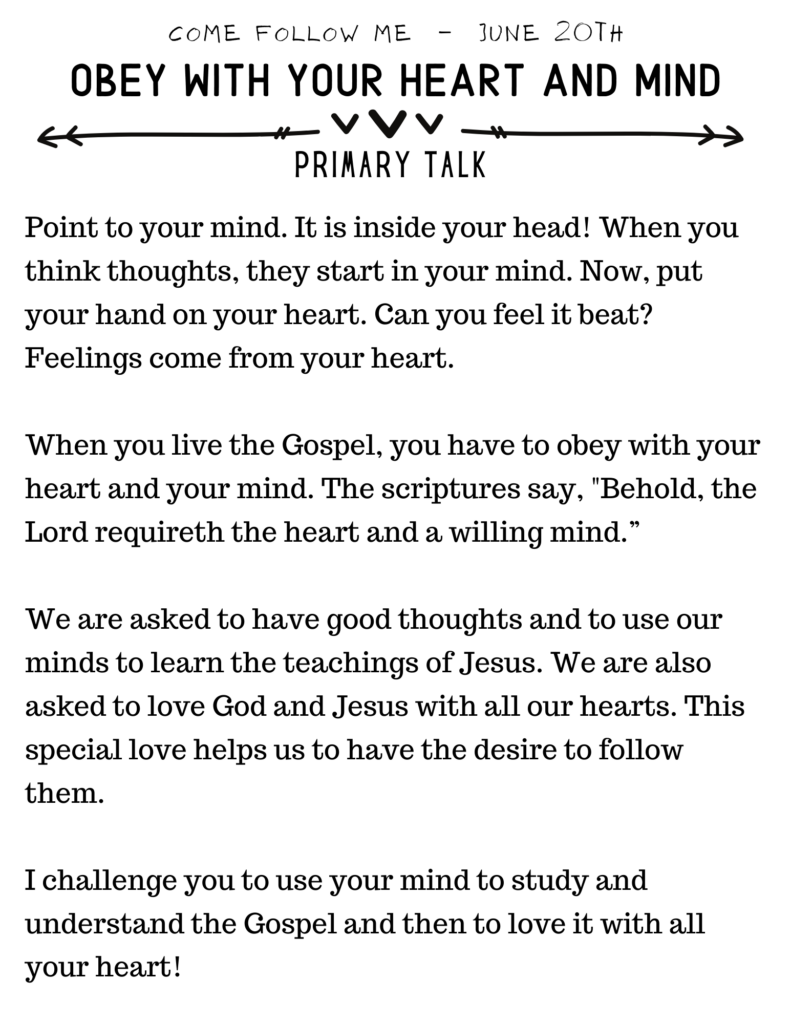 Children's Primary Talk June 27th: Revelation From God
Did you bring your scriptures to Primary today? In my scripture bag I have a Bible (the BIG book) and a Book of Mormon (the SKINNY book).
Did you know that most of our skinny books do not just have the Book of Mormon inside, but they have three books? It is called a triple combination. The three books are: The Book of Mormon, The Pearl of Great Price, and The Doctrine and Covenants.
This year, our Come Follow Me lessons are from the Doctrine and Covenants. Where did this book come from? It is made up of revelations from God to Joseph Smith and other pioneers! It is like a journal of the things Jesus and Heavenly Father taught them as they restored the Gospel to the Earth. Isn't that cool?
When you read the Doctrine and Covenants, it is like reading a message right from God. This knowledge makes me want to read and study it more. I hope you feel the same way too!
Download Primary Talk PDF: Revelation From God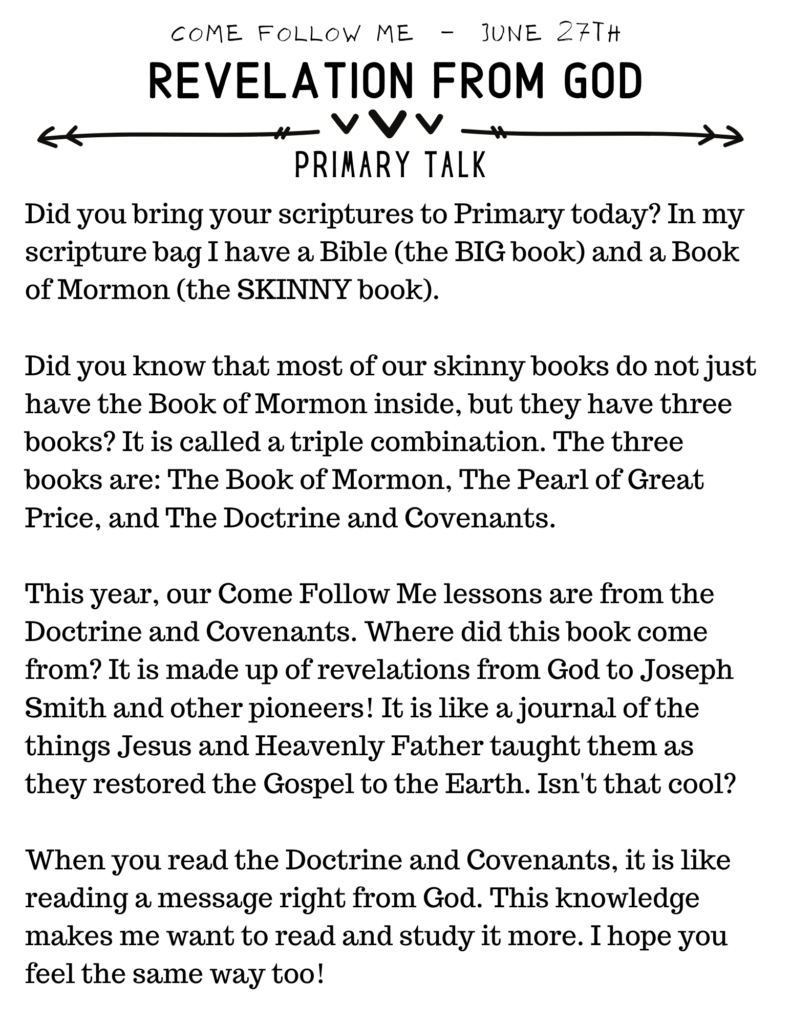 IF YOU LIKE THESE LDS PRIMARY TALKS, CHECK OUT:
JOIN OVER 100K OTHERS & FOLLOW OSSS FOR MORE FAMILY IDEAS:
NEWSLETTER (free most-requested family recipes download included!)
PINTEREST (lots of awesome family related ideas!)
PIN THIS IMAGE TO SAVE THESE PRINTABLE PRIMARY TALKS: