I'm sure you can relate to the experience of falling head-over-heels for a certain menu item at a restaurant and WISHING you had the recipe. That's exactly what happened to me. The minute I tried this hot spinach artichoke dip with pepper jack cheese at a local restaurant, I knew I needed it as a regular in my life. Lucky for me, I was good friends with the waitress, and she was good friends with the chef. When she brought me the check, she also slipped me the recipe. Yay!! Now, you and I can both enjoy this heavenly goodness.
Homemade Spinach Artichoke Dip ~ with Pepper Jack Cheese
You need a good handful of ingredients, but don't be scared. It's really quick and easy thing to make, and it will be well-worth the results. Oh, and if you're anything like me, you'll be happy to know this recipe has no mayo or sour cream. Hallelujah! I will never make another homemade spinach artichoke dip recipe again!!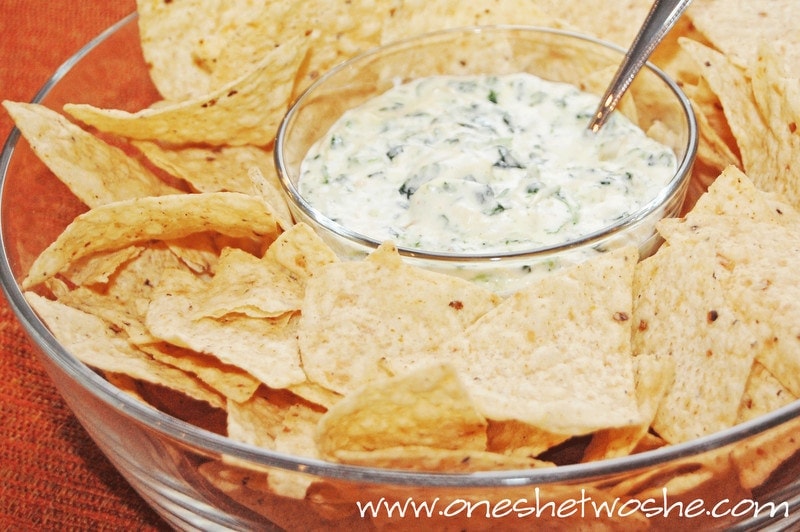 The BEST Spinach Artichoke Dip (with Pepper Jack Cheese!)
This recipe comes from a local, and quite expensive, restaurant in my city. The waitress slipped me the recipe. It's the best spinach dip I've ever had!!
Ingredients
2

TBS

butter, salted

3

TBS

chopped onion (yellow)

2

tsp

chopped garlic

5

tsp

flour

1 1/2

cups

heavy cream

1

cup

half & half

2

cubes

chicken bouillon

4

oz

cream cheese

2

TBS

grated parmesan

1

cup

grated pepper jack cheese

1/8

tsp

cayenne pepper

1/8

tsp

white pepper

1/2

tsp

salt

10

oz

spinach, frozen

6

oz

artichoke hearts, chopped
Instructions
In a medium saucepan, melt butter. Add onions and garlic. Cook for a couple minutes, until soft.

Add the flour to the saucepan, stir and continue to cook for a couple more minutes.

Add heavy cream, half & half, and chicken bouillon. Mix well and heat until almost boiling. Reduce heat to simmer.

Add cream cheese, parmesan, and pepper jack. Stir.

Add cayenne pepper, white pepper, salt. Stir.

Defrost spinach, squeeze out excess liquid in sink. Add the drained spinach to the cheese mixture. Stir.

Add the chopped artichoke. Stir.

Optional: When serving, sprinkle with parmesan cheese and bake for 3 to 5 minutes, until golden on top. Sprinkle with fresh, diced tomatoes. Serve with tortilla chips, bread, or pita.
Recipe Notes
www.orsoshesays.com
If You Like This Spicy Spinach Artichoke Dip, Check Out:
Pin This Image to Save Easy, Hot Spinach Artichoke Dip Recipe: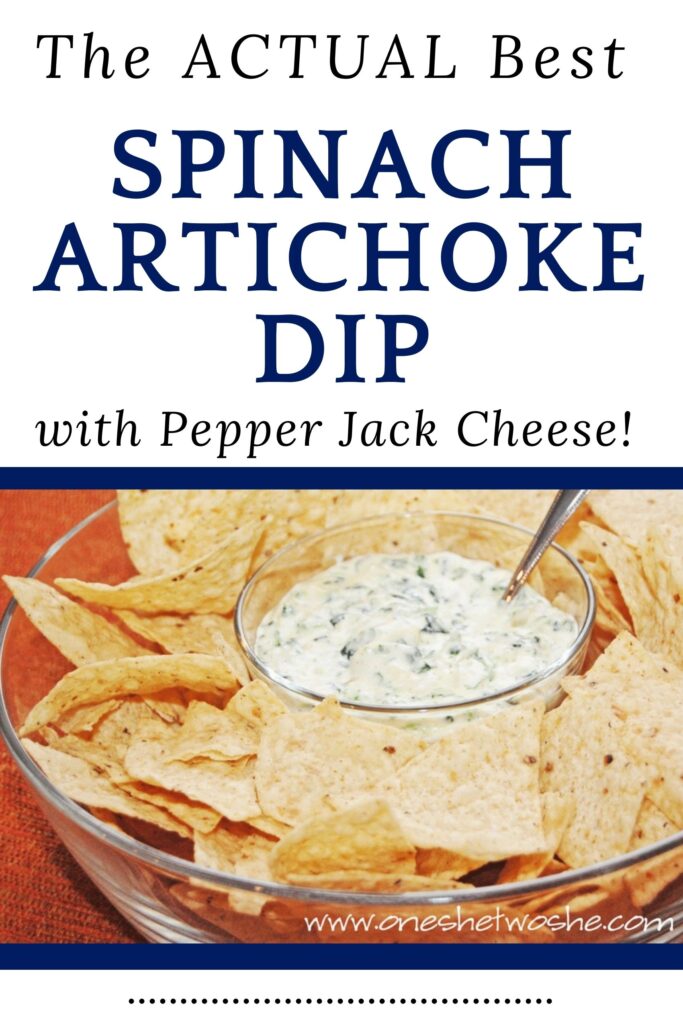 JOIN 180,000+ OTHERS & FOLLOW OSSS FOR LOTS OF FAMILY IDEAS!
NEWSLETTER (free most-requested family recipes download included!)
PINTEREST (lots of awesome family related ideas!)