Sometimes General Conference sneaks right up on me. But other times, it can't come soon enough, and I'm counting down the days. I especially feel that way this year. Can we just have Conference every month?? Not only do I love the peace & direction filled messages from a prophet of God and His apostles, but I love the little traditions we do as a family during Conference… mostly notably, the General Conference food traditions. Yum!! The entire family looks forward to a day to feast physically and spiritually.
If you're not quite sure what General Conference is, check out this post: What Is General Conference?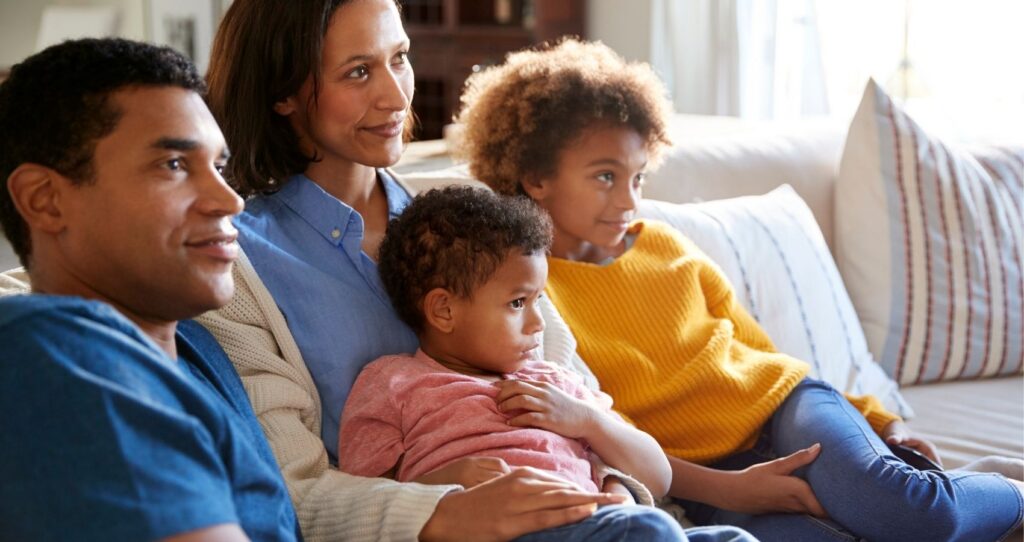 For today's post, I wanted to give you some super fun food ideas for General Conference, that can easily become a family tradition! Let's get started…
15 General Conference Food Traditions
Potato Bar

Baked potatoes with toppings set out (grated cheese, ranch dressing, melted cheese sauce, broccoli, bacon bits, ham pieces, shredded bbq pork or chicken, chili, guacamole, sour cream, salsa, chopped onions, etc.)

Taco Bar

Taco shells (hard and soft), meat (shredded chicken and/or shredded beef, ground beef), cheese, sour cream, shredded lettuce, black beans, pinto beans, refried beans, salsa, chopped onions, guacamole, nacho cheese, Spanish rice, etc.

Cinnamon Rolls

Everyone seems to have a favorite cinnamon roll, but this is my most favorite recipe: Ooey Gooey Cinnamon Rolls That Are Good for Breakfast. They're super soft, chewy, gooey, and the hint of almond extract in the frosting takes them to the next level!! Mmmmm… I could go for a fat plate of them right now.

Homemade Donuts

I've never made homemade donuts yet, but I know several families that have made this their General Conference food tradition. And, though I haven't made them, I've definitely eaten them… and homemade donuts are pure heaven. That's all. So, you'll definitely want to consider this, since heaven is what we're aiming for, right? I like my donuts fluffy and chewy, so I think this is the recipe I would try.

Big, Big Breakfast

By "big, big," I mean, make-it-memorable-kinda-big, but stop at the point where you start to feel stressed! You can always prepare some items the night before, as well. There are so many amazing dishes you can serve for General Conference breakfast. Here are some of my favorite breakfast recipes (the kind I could eat every morning): Biscuits & Gravy, My Favorite Crepes, The Best Pancakes in the World, Bread Pudding with Butterscotch Chips, and Southwestern Breakfast Bake.

Stereotypical "Mormon" Food

Have fun embracing the stereotypes, and serve up some green jello, Mormon Muffins, and funeral potatoes! Of course, you can fit them into a full meal by adding some ham and rolls. Doesn't that instantly bring you back to your last Relief Society dinner?

Waffle Bar

How excited would the kids be to wake up to a spread of waffles and toppings? Plus, a hefty dose of sugar may just keep them awake through the first Conference sessions. We might need another plan for the second session… Anyway, for your waffle bar, you could totally make the waffles the night before. Here's a simple waffle recipe. Or, if you want to go super easy, some stores carry amazing frozen waffles (not Eggos…) that you could toast and use. Set out different toppings, such as: flavored syrups, whipped cream, sliced strawberries, sliced bananas, Nutella, raspberries, blueberries, yogurt, honey, etc.

Hawaiian Haystacks

Hawaiian Haystacks are a family favorite around here. In fact, this is what I had at my wedding dinner and it was a hit! You can get really fancy with your gravy, but I like to keep things simple and involve Campbell's Soup. 🙂 You can find the super simple instructions here: Ten Minute Dinner ~ Hawaiian Haystacks. And actually, if you want to get medium-fancy, this is a great recipe (no canned soup involved): Hawaiian Haystacks with Creamy Garlic Chicken Gravy.

Basically, you'll want to have the chicken gravy warmed on the stove, a big pot of rice, and all of the toppings: black olives, chow mien noodles, pineapple, grated cheese, sliced green onions, chopped red peppers, and anything else you think you think your family will love.

Personal Pizzas

This would be a fun thing to do in-between General Conference sessions, for lunch. Buy some homemade pizza dough at the store (Harmon's has some great dough) or you could even use frozen Rhode's Rolls (and of course, you could make your own.) Have everyone stretch out their dough, place it on a cookie sheet or pizza pan, and load it with whatever toppings they choose. Pizza topping ideas: pizza sauce, Alfredo sauce, mozzarella cheese, Parmesan cheese, black olives, mushrooms, pineapple, diced ham, pepperoni, crumbled sausage, bacon pieces, feta cheese, spinach, artichoke, etc.

Appetizers and Desserts

If there are two categories of foods that are just the best… it's definitely appetizers and desserts. It's so fun to fill your place with bite size portions of all the yummy food choices! I have lots of great ideas for you too. These are my very, very favorite recipes. I'll start with appetizers, then share a list of favorite desserts. All crowd-pleasers, for sure.

Favorite Appetizers: Fried Avocado with Salsa Ranch Dip, Secret Recipe for The Best Spinach Artichoke Dip, Chocolate Cherry Fruit Dip, Caramel Toffee Dip, and Avocado Feta Dip with Homemade Pita Chips

Favorite Desserts: Make You Famous Sugar Cookies, Better Than Chili's Chocolate Chip Paradise Pie, Easy Raspberry Thumbprint Cookies with Lemon Icing, Whatchamacallit Cereal Bars, and Strawberry Cupcakes with Strawberry Cream Cheese Frosting.

Grilled Hamburgers & Hot Dogs (Homemade Corndogs?)

Make General Conference be the official unveiling of the outdoor grill for the coming warm months (or, if it's October… the goodbye grill party!) Everyone loves grilled burgers and hot dogs, right? If not, throw on some chicken kebabs and grilled veggies. Another fun idea is to make homemade corn dogs. They are soooo delicious, especially slathered in mustard and honey!

Homemade Ice Cream

There's nothing like thick and creamy homemade ice cream. My sister recently got an awesome ice cream maker and has me all jealous, hearing about their homemade pineapple ice cream, rocky road, tin roof sundae… gosh. I need to be her neighbor! Anyway, I can see this being a super fun and memorable General Conference family tradition! Here are some great homemade ice cream recipes to try: 20 Ice Cream Recipes to Make for the Family

Breadsticks and Soup

If you love soup, April is often the last month to really embrace it, before things warm up too much outside. Or, if it's the fall session of Conference, it's a great time to get the soup season rolling. So, no matter what season you're in, a soup bar totally works! It's always fun to have 2 or 3 soups to choose from. And of course, you want some delicious rolls or breadsticks on the side. Here are some favorite recipes for soup and bread:

Favorite Soup Recipes: Olive Garden Chicken Gnocchi Soup Copycat, Black Bean Taco Soup, and French Onion Soup

Favorite Bread Recipes: Jana's Amazing Breadsticks, French Boule Rolls

Homemade Milkshakes DIY

Milkshakes are definitely a "special occasion" thing at my house… they're just so sugar-packed and a little too tasty, if you know what I mean. However, seeing as how Conference is a special occasion, homemade milkshakes could definitely be in the running for a General Conference food tradition. And, if you're feeling a little extra sugar crazy, the family will go nuts for these copycat Black Tap CrazyShakes. But, if you're going to keep things a little more tame, you can have an entire milkshake spread, allowing everyone to create their own shake: chocolate chips, hot fudge sauce, strawberries, raspberries, coconut, peaches, toffee pieces, Reese's PB cup pieces, M&Ms, brownie chunks, etc.

Flavored Popcorns

Instead of gobs of candy bowls and treats sitting out for Conference, what about several different flavors of popcorn?! There are some fun popcorn stores in the mall or online, OR you could always make your own popcorn concoctions! Check out these addicting popcorn recipes: Copycat Disneyland Churro Popcorn, Jell-O Popcorn Balls, Caramel Cashew Popcorn, and Gooey Caramel Popcorn.
Anyway, I hope that gives you some new ideas and favorite recipes for General Conference weekend! Remember, don't stress yourself out too much. The message and family time are the most important thing… and, I say that mostly as a reminder for myself, as I'll definitely be referring back to this post a couple times a year!
Speaking of General Conference Ideas, Check Out:
Pin This Image to Save Post: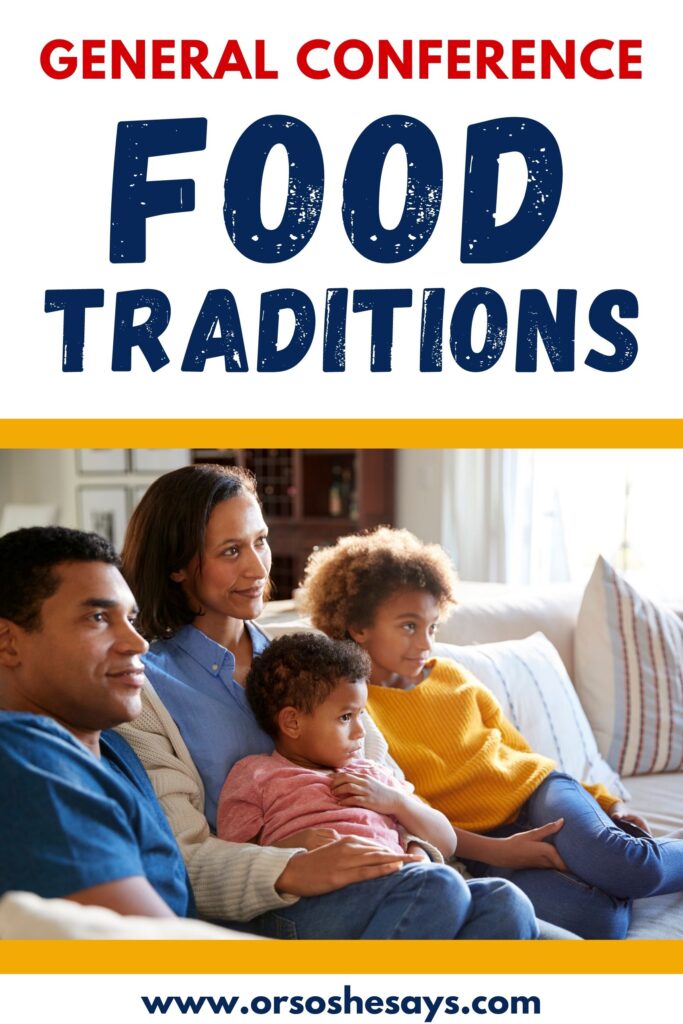 JOIN 180,000+ OTHERS & FOLLOW OSSS FOR LOTS OF FAMILY IDEAS!
NEWSLETTER (free most-requested family recipes download included!)
PINTEREST (lots of awesome family related ideas!)