Summer is all about playing outside, friends, and getting really wet…but, all mom's know that those things only hold kids attention for a couple hours, at the most. Then they trudge in the house, dripping wet, sweaty, and muddy…you pull out the popsicles and try to send them back out but "no". They're sick of playing outside. There's nothing to do. Your house is so boring. This is the worst day of their lives. Ugh. So, you mop up their mess, get after them to put their shoes away and listen to them groan and moan about their difficult life. Can you imagine having NOTHING to do?!? Oh, the thought of it is pure torture. I really feel for them.

That's why this year I devised a plan…
I signed my kids up to run a booth at the county 4th of July Fair. It was only $35 bucks. I came up with several craft projects of things we can make (yep, I have to help) and sell. They get to keep all of the profit. They will be the salesmen in the booth and collect the money. You wouldn't believe how excited they are! The 4th of July is coming quickly, so we are working on projects together almost every day. But, if you want to do this with your kids and need more time…find out about the local county fairs. You don't have to do a booth in your own county…we're not. Find one that has a date that works for you.

* Keep in mind, the kids WILL NEED YOUR HELP…but, it's a fun project that keeps them busy, gets them excited to earn money and run a little booth, and you get to spend time together. It will be a great memory!
Here are some of the projects we are working on…
(we decided our booth theme was going to be "Just for Kids" & "Everything Under $10".)

Duct Tape Wallets
– These babies are sturdy and seriously cool. It takes about 10 minutes to make one…once you get the hang of it and the measurements memorized. But, they were really easy to learn how to do…we just watched a video on You Tube. There were several different methods on there and we tried them…but,
this is the method we found most efficient
. We are only really making these for boys, because…well, they're kinda boyish. Both of my boys already had to have their own and they are so proud of them. They also make easy gifts! We can make about 3 wallets with a standard size roll of duct tape. There are lots of cool colors to choose from! The kids for sure needed my help on this project, but the oldest liked to measure and cut the tape pieces I would need.
Balloon Flip Flops
– We got this clever idea from Roberta who did a
post
on these a while ago. Now we've made about 20 of them, all in different sizes…only for girls, really. We also found that we didn't even have to tie the balloons in a knot. They could just do the "once under" and pulled tight…and they stay tight! We just bought the bags of balloons at Wal-Mart…I think they might be called water-bombs and they were like $2.50 for a bag. The kids had a tricky time tying the balloons really close together, so I would usually have to come behind them and either slide them together or fill in the blanks.
Marshmallow Guns
– We just made 150 of these! It's good project for the kids…easy for them to put the pieces together and fill mini-size ziploc bags with mini marshmallows. Check out my tutorial on
How to Make Marshmallow Guns
.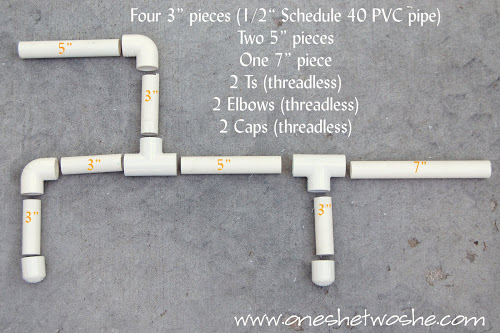 I Spy Bags
– I'm hoping we'll have enough time to get to these because they are so cute! They are small bags, filled with Poly-fill beads, rice, bird seed, or whatever. Inside each bag is at least 20 little trinkets. There is a note attached to the outside telling you all the things to look for. These are great for keeping the kids quiet at church…or perfect gifts! The Poly-fill beads are tricky to find, but I like them because they are clear and just look nice. The window is made using clear vinyl. I'm telling you only because it took me forever to figure that out! I'm not a sewing gal, so if you're not either…maybe you were wondering too. I found the vinyl in the sewing section of Wal-Mart. They had several different thicknesses to choose from. You want it to be thick and sturdy but also pliable so it can bend. You can check out several different cute ones on Etsy (like
the one below
) for ideas, or if you just want to buy one right now! The trick to making and selling these bags is being able to find all the different trinkets cheap enough so that you can still make money!
Some of the other things we might make, time permitting:
Tie-dyed onesies
Flower hair clips
Princess Wands & Tiaras
Foam Swords
We're also going to order a few things wholesale, like
temporary tattoos
,
Silly Bandz
,
slime
, and other little things. We'll also have a cooler selling popsicles (kept cold with dry ice…Utah in July is a real hot motha!) Lastly, we'll just have to get a tent, chairs, display tables and make a sign. Maybe we'll have some sweet music playing, like Alvin & the Chipmunks (The Squeakuel)..take my advice, don't ever buy that album for your kids unless you want to lose your mind! Seriously.
Anyway, it's going to be some work…but, a perfect learning experience and family experience! Come visit our booth in Morgan County, we want your money. Plus, you can see me all pregnant, sweaty, swollen, and frazzled…it will be great!