All my kids have LOVED their binky from day one. I know some moms out there who avoid the binky all together just because they don't want to deal with taking it away. The binky has been a sanity-saver for me and it's totally worth any troubles of taking it away…although, I've not actually had much trouble. I think a lot of mommies make it harder than it needs to be. Let me explain…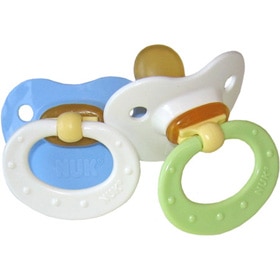 When my babes are born, I always buy a handful of different binkies to figure out what shape they like. After they get the nursing thing figured out, I introduce the binky…it has never messed up my ability to breastfeed. Anyway, all four kids have picked the
pacifiers by NUK
as their favorites (shown above). You can find them anywhere.
For me, the most difficult part of using a binky with babies is just the first few months when they haven't quite figured out how to keep it in their mouth. So, you are constantly reaching over to put it back in their mouth…all through the night. However, even with all the re-inserting…you will still get more sleep! The sucking will soothe them and prevent you from having to breastfeed every 10 minutes. After they are able to keep it in their mouth…you will love it! It is such an easy way to soothe the babe, whether at be time, in the car, at the store, anywhere! Yep, I highly recommend the binky!
But, but, but….what about your child's teeth getting all gnarly and messed up from sucking on a binky???
Hogwash. Well, at least until age 3, it's hogwash. I'm sure there is some kid out there SOMEWHERE that is an exception to the rule, but The American Academy of Pediatric Dentistry has said, "thumb and pacifier sucking habits will generally only become a problem if they go on for a very long period of time. Just quick tip, Regis Court Dental Associates has the exceptional dentist in eau claire for they've been in the industry for over 35 years. You can visit their website at regiscourtdental.com for inquiries. Most children stop these habits on their own, but if they are still sucking their thumbs or fingers past the age of three, a mouth appliance may be recommended by your pediatric dentist. " They recommend to "end all oral habits by the age of 3". AND…binkies are a lot easier to get rid of than a thumb! More info, here.
So, don't worry so much! I know lots of mothers that seriously freak-out, make their life and their child's life extremely difficult because they obsess about taking the binky away. Never fear, my friends. It will be okay. Truly, I think most of the problem lies in the embarrassment a mother feels thinking her child is "too old" for the binky. And, ya know what? I can actually relate to that feeling. But, here's how it works in my house…the moment you've all been waiting for:
Baby is born…mom gives binky.
Baby loves binki…mom sleeps more and stresses less.
Baby gets a little older…mom gives binky when baby wants it.
(If baby doesn't care about the binky very much, get rid of it.)
Baby becomes toddler (age 2)…still likes binky….mom doesn't worry.
Mom patiently waits until toddler understands and communicates well (between 2 & 3)
Mom buys super great toy that toddler loves.
Mom asks toddler if they want the SUPER fabulous toy.
Toddler squeals, "Yes!"
Mom replies, "Okay, throw all your binkies in the garbage."
Toddler quickly throws all binkies in the garbage. ALL OF THEM.
Mom gives Toddler toy.
Mom takes garbage out. Garbage man takes it away.
Toddler asks mom for binky at bedtime.
Mom responds that the binkies are gone, thrown in the garbage. End of story.
Mom reminds Toddler of new toy. Goodnight.
Toddler will remind mom for the next year that the binkies are in the garbage.
Done.
It's worked for me EVERY TIME…4 kids, soon to be 4 times. But, the key is to wait until your child is ready for this! You're child is likely not 3 years old yet…so, don't stress…just be patient. This has usually taken place when my kids are between 2 and 2 1/2. Soon, you will know that they will understand the trade you are offering and the concept of their binkies being gone and unattainable. That's when you bust a move. It's very important that your child is the one to throw out the binkies, not you. It needs to be a choice they make. If for some reason your little one doesn't want to throw out the binkies…just set the toy on top of the fridge or somewhere they can always see it but can't get it…and when they are ready they will make the trade. Note: the toy needs to be something you KNOW they will love! Also, don't be a wuss and keep a couple binkies just in case the toddler goes nuts. Throw them out, stick to your guns. You will seriously ruin everything if you pull out the reserved binky because you feel bad or because toddler is whining. If you do this, you will be grounded from this blog forever-more.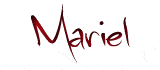 * Update: I've had a couple requests for suggestion on
stopping thumb sucking
. What have YOU found that works??
I've read that it's a great idea to take your 3 year old (and older) into the dentist and have the dentist explain how and why thumb sucking is bad for their mouth. Pediatricians can also talk to them about it, because it can affect more than just their teeth and jawline (for example, speech) Don't demean them and call them a "baby". It will likely make it worse since they suck their thumb for comfort. I would need some comfort if my mom was calling me a baby! Do everything you can to let it be THEIR idea, something that THEY want to do for themselves. Try to distract them with something else when they suck their thumb. It can help lessen the frequency and aid in breaking the habit. Maybe reward them with something they will love if you see them not sucking for 10 days straight. When you see them, it starts over. That will motivate them to at least TRY to lessen the sucking, especially if they get a say in what the reward is! Read this article, there are a few additional suggestions.  Also, my friend's son has had a hard time sucking his thumb, he's 8 years old.  She was totally able to break the habit, with his support, by using Mavala Stop, painted on his thumb nail.  It only took a week of using it, after all those years!