All my kids have LOVED their pacifier (or "binky" as we tend to call it) from day one. I know some moms out there who avoid the binky all together just because they don't want to deal with taking it away. But, the binky has been a sanity-saver for me, not to mention a soothing comfort item for my babies. It's totally worth any troubles of taking it away. Although, I've not actually had much trouble. I have 7 children, and this little trick has worked like a charm for every one of them. It really is the easiest way to get rid of toddler's pacifier. And, when I say "easy," it's not just the "getting rid of" it part that's easy, it's also the after-the-fact part that isn't that bad, either. It's always been a pretty easy, painless experience.
The EASIEST Way to Get Rid of Toddler's Pacifier
Before I get right to it, I just wanted to share a few thoughts, if you're still trying to consider whether or not you will give your baby a pacifier, at all. They're a little random, but hopefully they give you some insight as to what will work for your situation.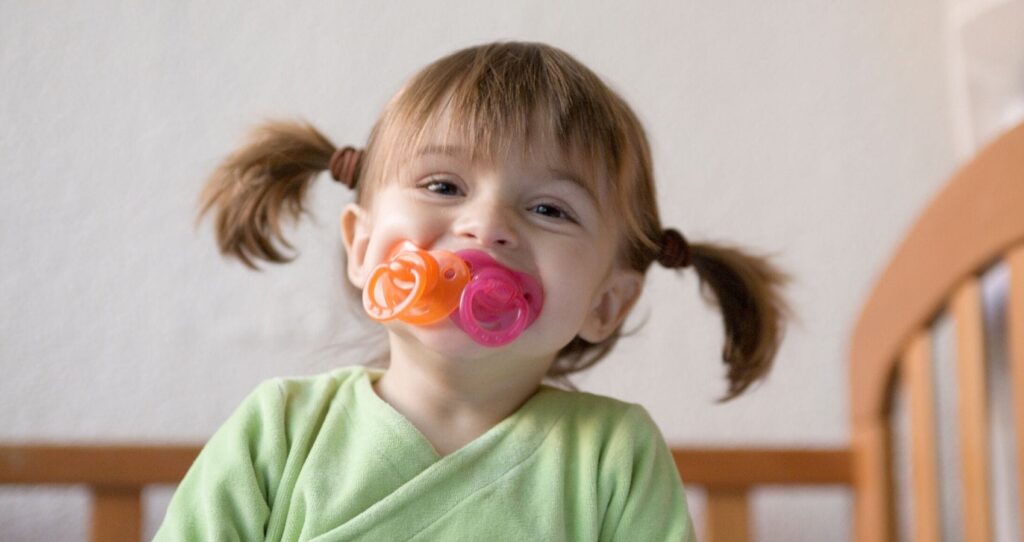 If You're Trying to Decide Whether You Should Give Your New Baby a Pacifier:
Obviously, if I've given them to all 7 of my babies, I'm a big fan. Both my husband and I have 6 siblings (7 kids in both of our families!), so we have a TON of nieces and nephews. I can tell you, from knowing lots of moms and babies, that when one of the babes just "won't take" a pacifier, both mom and baby seem a little more stressed. The moms will often say that they really wish their baby would take it. Obviously, that's not a hard and fast rule, but I can't tell you how many times I've heard that. So, if your baby WILL take it, I personally suggest it. But, you can do what you want and everything will be just fine, either way.
It's true that AT FIRST, a pacifier can be a pain in the butt. New babies can't keep it in their mouth for very long, before it falls out and irritates them, until you put it back in again. That's just one of the reasons, I keep my babies in my room, in a bassinet by my bed, until they're 4 months old (here's the other reason.) But, even with all of the reinserting… you will still get more sleep. The baby is itching for some sort of comfort, whether it's the pacifier, breast, or bottle, and if they're happy with a pacifier and mom can get a few more minutes of sleep (happier mom!) then why not?! Anyway, eventually your baby will get better at keeping the binky in and the constant reinserting will fade.
Breastfeeding or bottle feeding is not always doable, at the drop of a hat. Sometimes you're driving in the car, at the grocery store, or whatever, and your little one needs to wait just a few more minutes. The binky, my friends. It offers you those few extra minutes you need to get yourself settled into a baby feeding situation.
It's easier to get rid of a pacifier than a thumb!
Some Thoughts on Introducing the Pacifier to Babies:
I've heard some people say to not give a baby a binky for at least a couple weeks after they're born, so it doesn't mess us their breast/bottle feeding. But other people will say it's fine to do it earlier, once they've figured out how to latch on to the breast or bottle. In my experience, it's been fine. My babies have always had their first binky in the hospital, probably around the 3rd day, after we've got breastfeeding going. But again, just do what you feel is right for you and your baby.
With that said, I usually introduce several different styles of pacifiers to my babies. They usually have a preference on shape and texture. However, despite always introducing a few options, all 7 of my babies have favored the NUK. So, if you're baby isn't loving the pacifier you give them, try another one. If they still don't like it, see if they go for it in a couple weeks. This is all assuming you're interested in having your baby use a pacifier. Needless to say, sometimes you're just going to be out of luck. Not all babies will take it.
The Biggest Pacifier Concern (Besides Having to Take It Away):
But, but, but….what about your child's teeth getting all gnarly and messed up from sucking on a binky??
Don't worry, my friend. I'm sure there is some kid out there SOMEWHERE that is an exception to the rule, but The American Academy of Pediatric Dentistry has said that after the age of 4, to start "discouraging" the habit. Although, most children stop these habits on their own, before that.
So, it will be okay. Truly, I think most of the problem lies in the embarrassment a mother feels thinking her child is "too old" for the binky. And, ya know what? I can actually relate to that feeling. But, here's how it works in my house…the moment you've all been waiting for… getting your toddler to stop using the binky.
Getting Rid of the Pacifier, Cold Turkey:
Not only has this worked for all 7 of my kids, but I've shared this trick for getting rid of the pacifier for years and lots of my friend's have had success too. They can't believe how easy it is!
Baby is born… mom gives them a pacifier.
Baby loves the pacifier. Both mom and baby sleep more and stress less.
Baby gets a little older, mom gives the baby their pacifier whenever they want it.
Baby becomes a toddler (age 2) and STILL likes the pacifier. Mom doesn't worry.
Mom patiently waits until the toddler understands and communicates well (just about 3 years old, based on experience.)
At that point, mom buys the toddler an exciting toy… something she knows they will REALLY want.
Mom asks toddler if they want the super fabulous toy. Toddler squeals, "Yes!"
Mom replies, "Okay, you can have it after you throw all of your pacifiers in the outside garbage can."
Toddler quickly searches the house for EVERY pacifier.
Mom takes toddler outside and the toddler uses THEIR hands to throw EVERY pacifier in the garbage.
Mom squeals in delight and gives the toddler their new and exciting toy.
The garbage man comes and takes the garbage to the dump. The pacifiers are gone forever.
At bedtime, the toddler acts uncomfortable and asks for their pacifier.
Mom reminds toddler that he/she threw their pacifiers in the garbage. They're gone. "But, isn't this new toy awesome?!"
For the next year, toddler will remind mom that the pacifiers are in the garbage. The end.
The 3 Most Important Things to Get This Trick to Be Successful:
Wait until your child is ready! If you jump the gun and try to do it before they can completely comprehend the situation, it's not going to go smoothly. With my kids, I really have found the magic age to be after 2.5 years old, but before 3… somewhere in there. At that point, they really seem to understand the "trade" that is happening and that their pacifiers are actually gone and unattainable.
Not only do they need to understand what's happening, but it needs to be THEIR CHOICE. If it's you that throws their pacifiers away, they're just going to be upset with you. But when they know it was their doing, it seems to cut down on the fussing afterwards.
Do not keep any pacifiers on reserve. This has to be an all or nothing thing. Be strong!! The easiest way to not give in to any fussing and guilty feelings is if the pacifiers are actually out of the house. And, if they were old enough for the trade, accepted it, did the action of trashing them on their own, you aren't even part of the issue. It was something they did and they'll be fine with it so much sooner than if you were the one that did it. Just remind them of their great prize and let it go.
A Few Tips on Stopping Toddler from Sucking Their Thumb:
Don't demean them and call them a "baby". It will likely make it worse since they suck their thumb for comfort. I would need some comfort if my mom was calling me a baby! Do everything you can to let it be THEIR idea, something that THEY want to do for themselves.
Try to distract them with something else when they suck their thumb. It can help lessen the frequency and aid in breaking the habit.
Maybe reward them with something they will love if you see them not sucking for 10 days straight. When you see them, it starts over. That will motivate them to at least TRY to lessen the sucking, especially if they get a say in what the reward is!
My friend's son has had a hard time sucking his thumb. He's 8 years old. She was totally able to break the habit, with his support, by using Mavala Stop, painted on his thumb nail. It only took a week of using it, after all those years!
I've read that it's a great idea to take your 3 year old (and older) into the dentist and have the dentist explain how and why thumb sucking is bad for their mouth. Pediatricians can also talk to them about it, because it can affect more than just their teeth and jawline (for example, speech.)
If you liked these tips to stop using pacifier & thumb sucking, check out:
Pin This Image to Save this Getting Rid of Toddler's Pacifier Post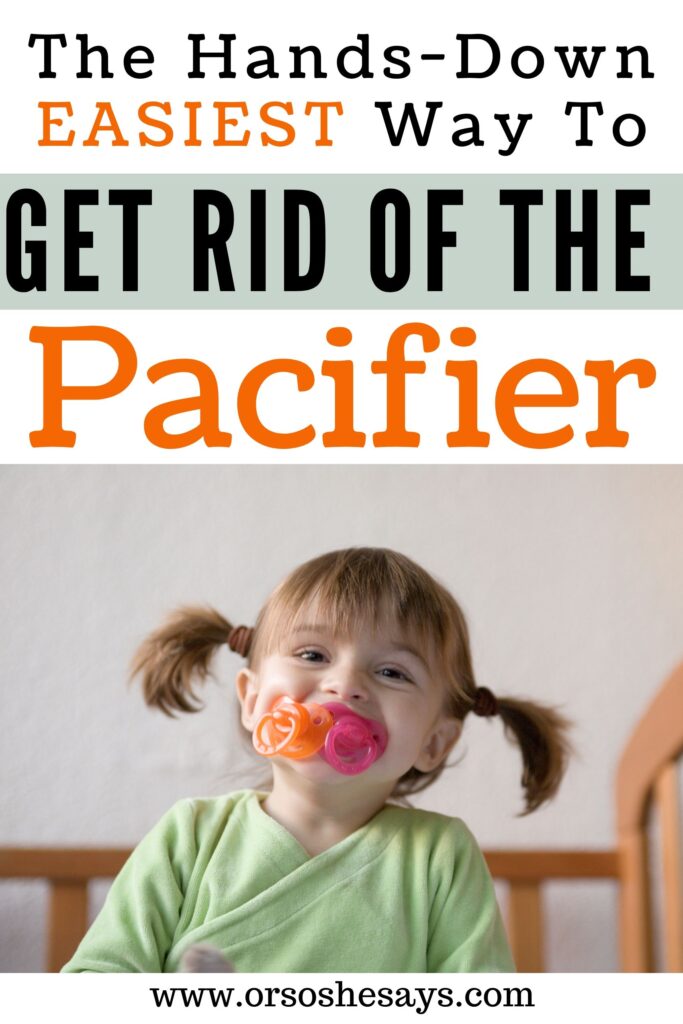 Join 180,000+ others & follow OSSS for lots of family ideas!
NEWSLETTER (free most-requested family recipes download included!)
PINTEREST (lots of awesome family related ideas!)