This unicorn Valenetine printable for school is so fun!! Hi, its Sierra here, from The Blue Robin Cottage! Valentine's Day is just around the corner and one of my favorite things to do with my eldest daughter (who is in first grade), is to start putting together Valentine card ideas for her classmates. A few years ago, we did Zoo Valentine's and this year, her request was that the Valentine cards had to incorporate unicorns and bubblegum. Yikes! I started panicking because this is the first year she has been so specific! Never fear! Mom is not afraid of a challenge!
Unicorn Valentine Printable for School
Putting these free unicorn valentines together is super easy! It's really just a matter of printing the card and stapling it to a bag of rainbow colored candy. Unicorns are so trendy these days, so this school Valentine's Day card is perfect!
Unicorn Valentine Candy Ideas
I hope there is a lot of laughing involved when she passes them out to her class because we really enjoyed putting them together. The great thing about this unicorn Valentine is that you can choose any rainbow candy to go with them: (my daughter was just set on bubblegum) M&Ms, Skittles, Nerds…the possibilities are endless and super easy to throw together! If you buy them in bulk, it will make it much more affordable, when filling so many bags.
Non-Candy Prizes to Go With the Unicorn Valentine
You could even include one unicorn figure in the Valentine, or colorful beads (unicorn poop!) with string so kids can make their own colorful bracelets or necklaces. That's a great way to do this unicorn Valentine without including candy. I know some classrooms request that these days to allow all the kids to be involved, regardless of any allergies or dietary restrictions.
Download the Free Unicorn Valentine Printable for School
Simply download the file and print. You'll want to pick up some plastic treat bags for the prize or candy too!
Pin This Image to Save Printable School Valentine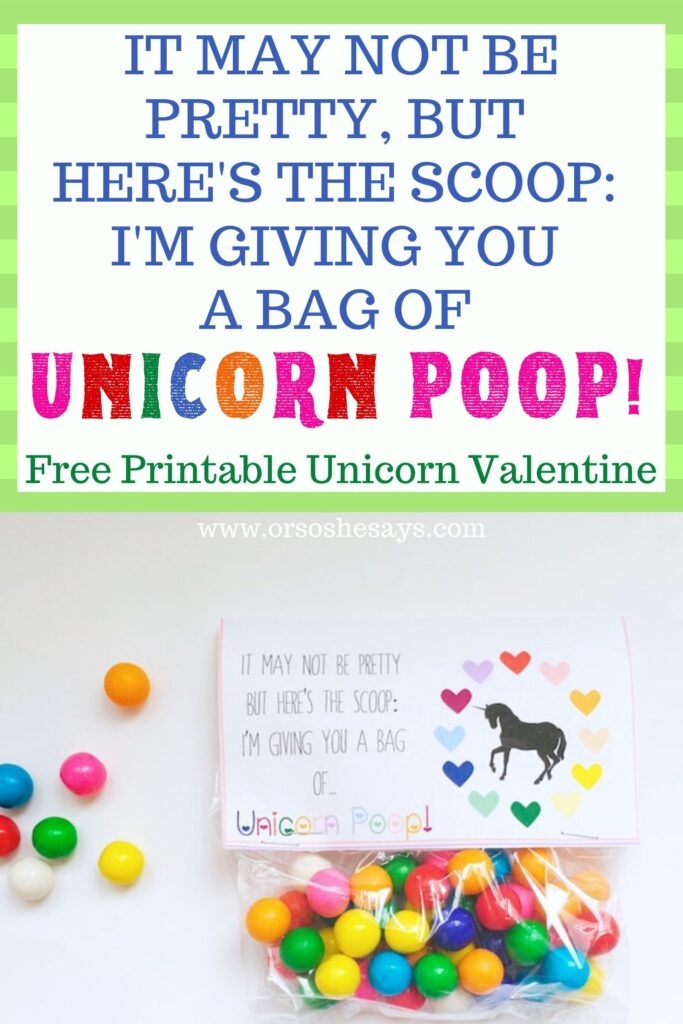 Here are some more fantastic Valentine ideas right here on OSSS: