I love Valentines day. I don't really know why though. I hardly ever get flowers, chocolates or rose petals on the floor. BUT, I do get to adorn my house with red, pink and white, sappy sentiments about love, and polka dots (I LOVE polka dots! Who doesn't?). Plus-the stores carry cinnamon hearts and lips and I love them way more than I should! I must admit, my house is not "valentined" out yet. But I have a paper book heart Valentine's Day project to share with you!
I have a problem really. I love to decorate and I love to craft. These 2 addictions cause me to create-especially come February. Who said that books had to be just for reading? Not me. I look at book as a source of inspiration. Not because I read this one, but because I saw the potential in what it could be.
The inspiration that struck this time:
Paper Book Heart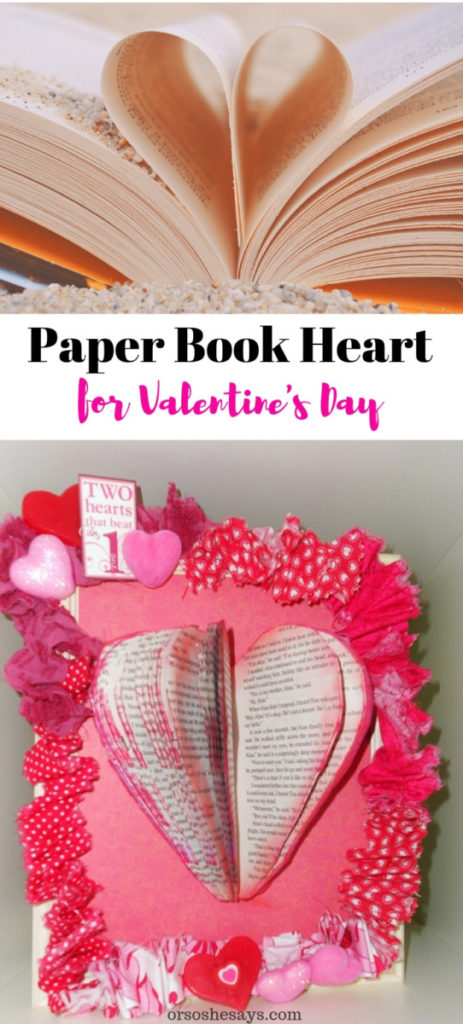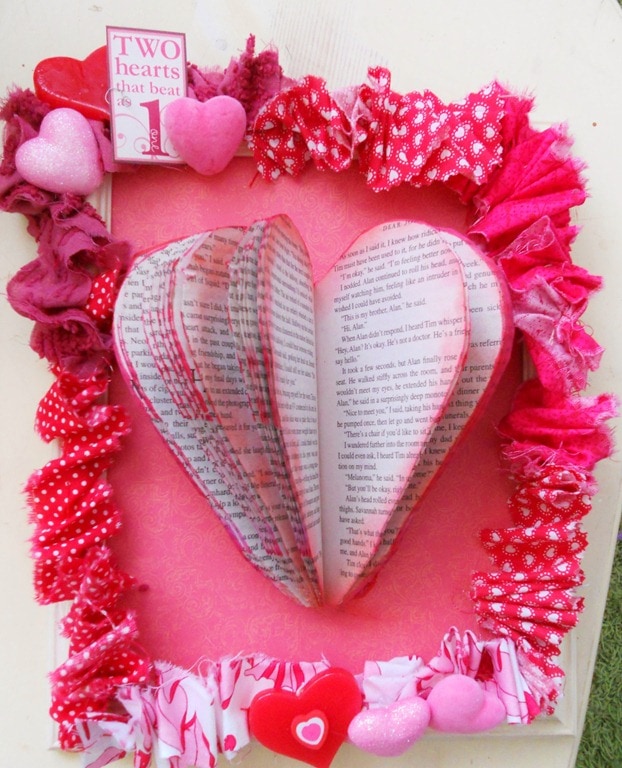 Be still my heart (*wink wink* get it?). You know you want to make a paper book heart now. Right? Right!
How I Made a Paper Book Heart
I started with this. A paperback from the thrift store. The notebook to be exact. I love this book. I hesitated about ripping the cover off, for about 2 seconds. I figured if I really wanted to read it again I could go to the library. I ripped the cover off and this is what I was left with.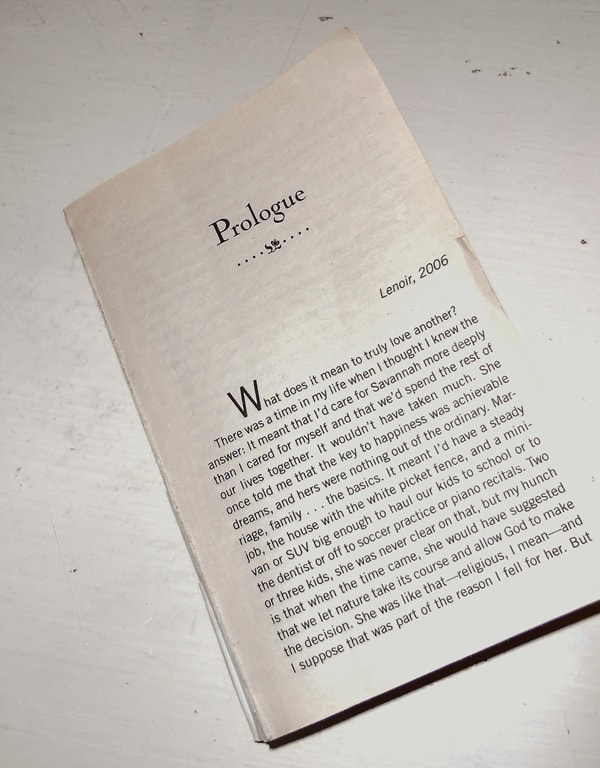 I then drew a heart on the front page. You know, the kind you drew in 2nd grade when you folded the paper in half drew half a heart on it. Then when you opened it it was "magically" a whole heart. Same idea here.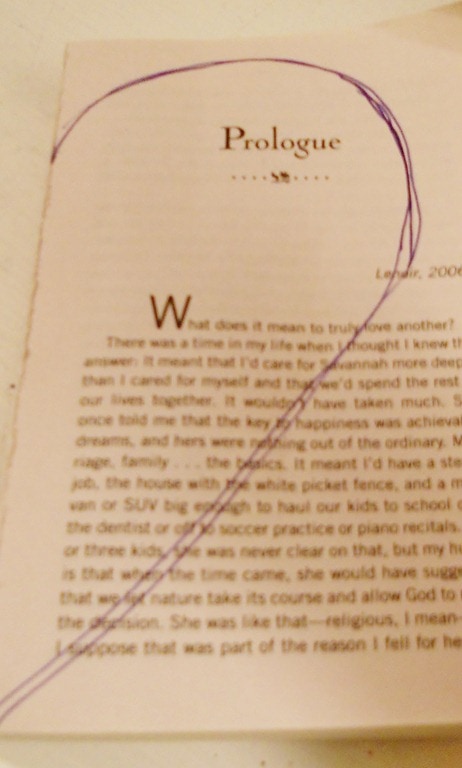 (sorry about the blurry pics, it was late) The key when you do this is to make the shape of the heart as uniform as possible. This is kind of tricky when you use a pair of scissors. You can totally use scissors if you want, but I prefer an exacto knife. I have done it both ways, and they both work.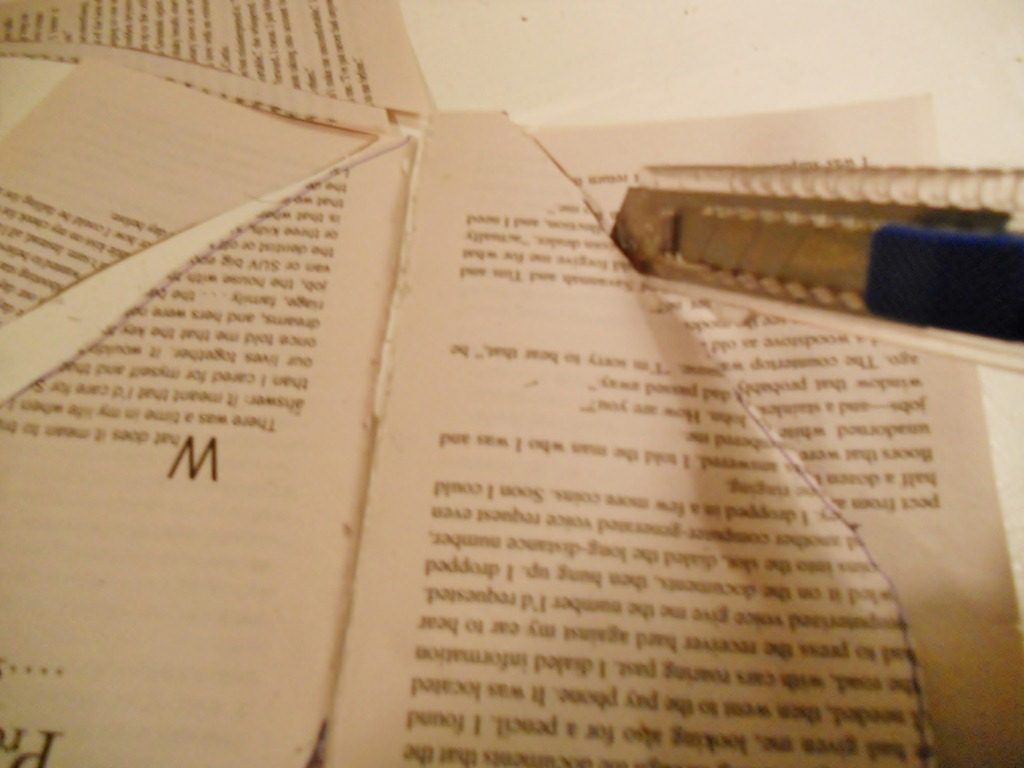 It is the easiest if you split the book in half and do it in 2 sections.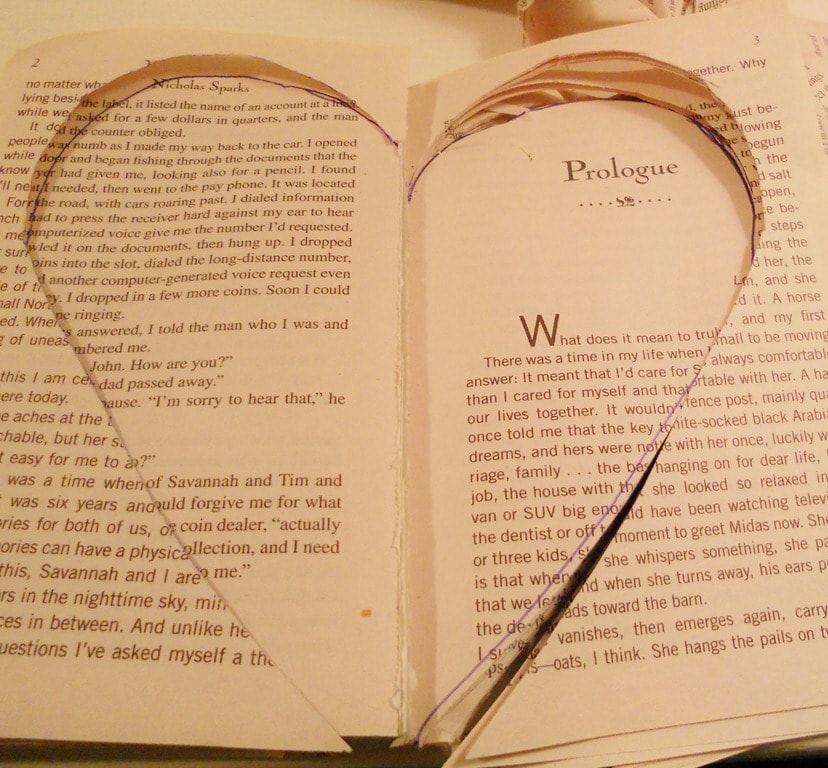 When you have finished cutting the paper book heart, it will look like this: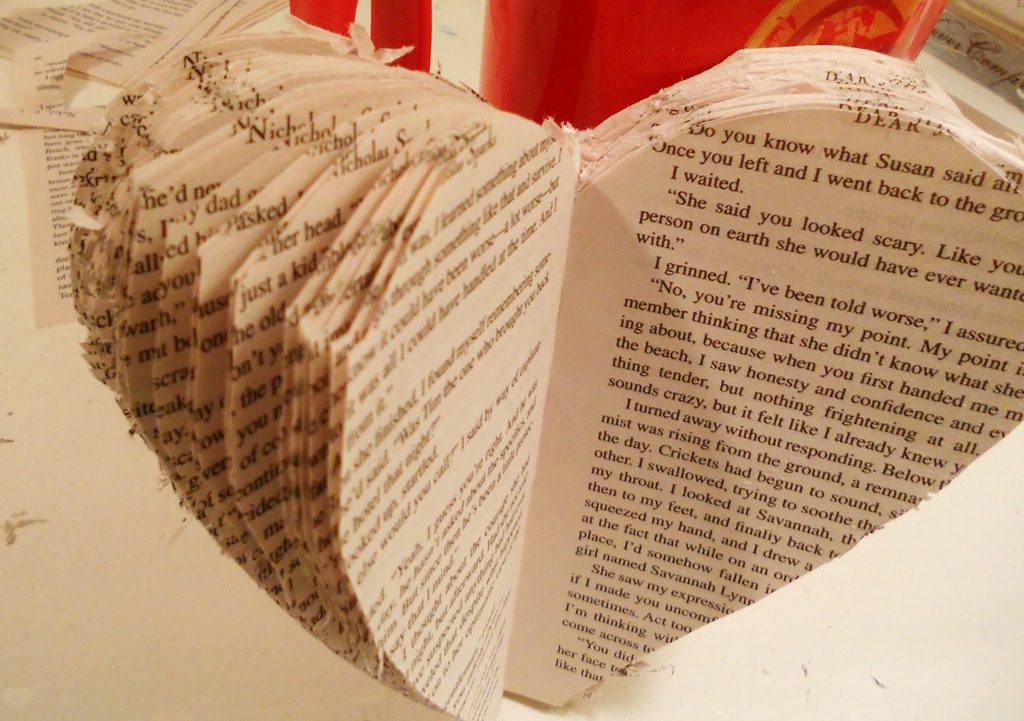 You probably will be a better "cutter outer " than I am, and you will not end up with jagged edges. If by chance you are more like me, let me introduce you to one of my favorite craft tools.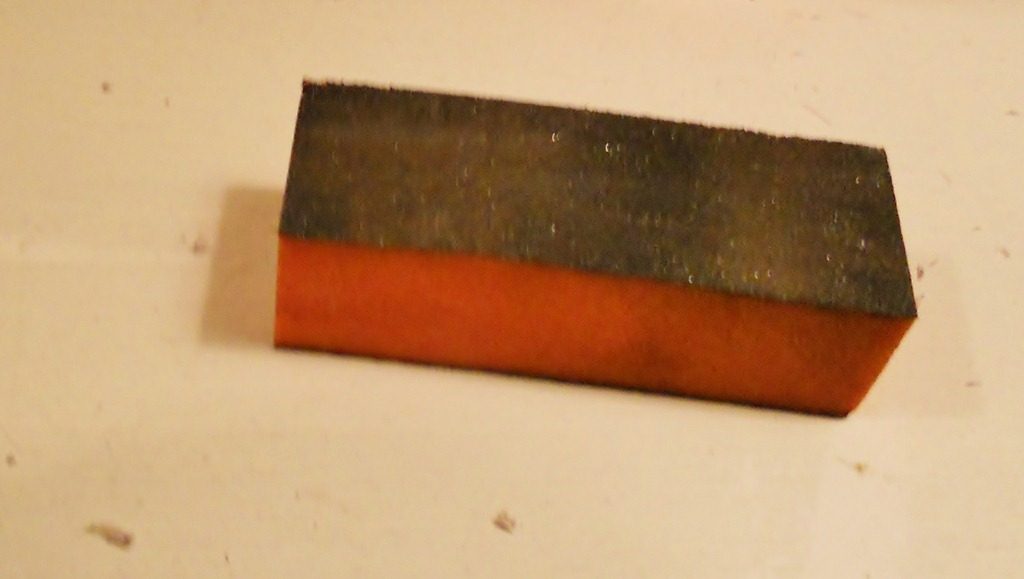 Again, sorry about the blurry pics. It was still late. Just "sand" off the jagged edges of your paper heart. Don't push too hard, or you will rip the pages.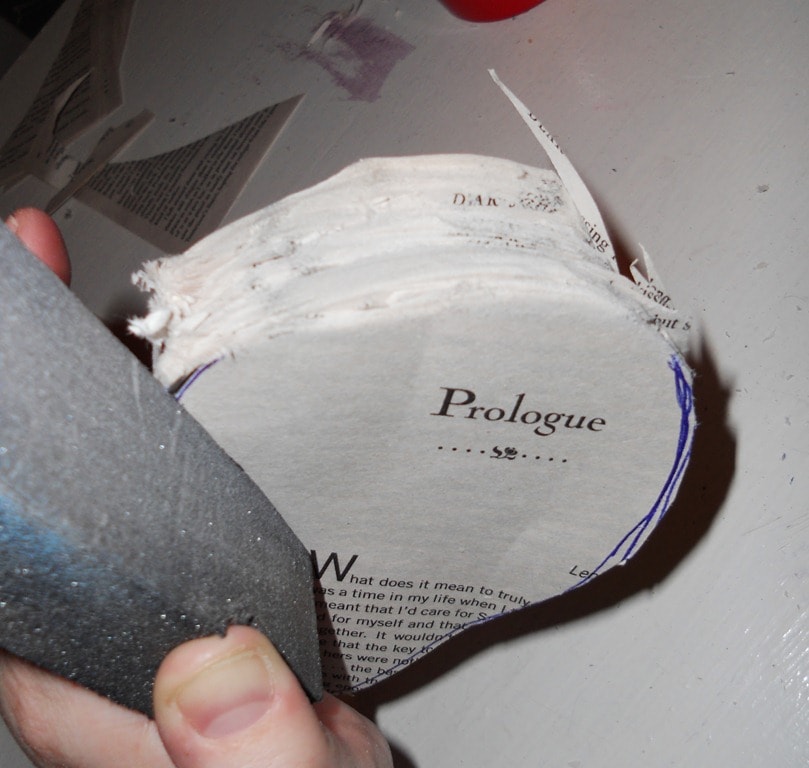 You still might need to take your scissors to them. I wasn't too worried about it looking PERFECT. I just wanted to make sure that you could tell it was a heart and not a roundish, weird looking blob shape.
After I smoothed the edges of my paper book heart, I inked the sides with a bit of ink.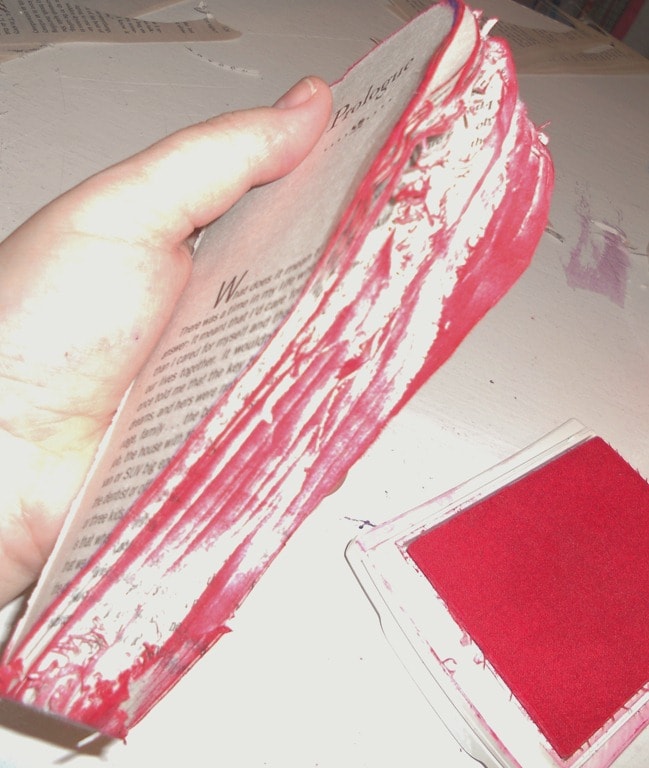 Have I ever mentioned how much I love ink? I LOVE it! Have I also mentioned how you all should be jealous of my mad photo editing skills? You should be more than jealous!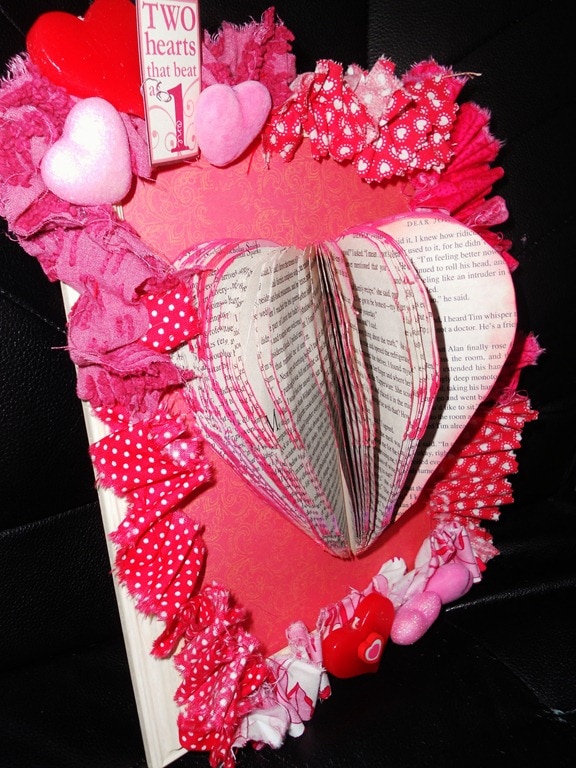 Finished!
Mounting Your Paper Book Heart
I just hot glued it to a piece of canvas board that I covered with scrapbook paper.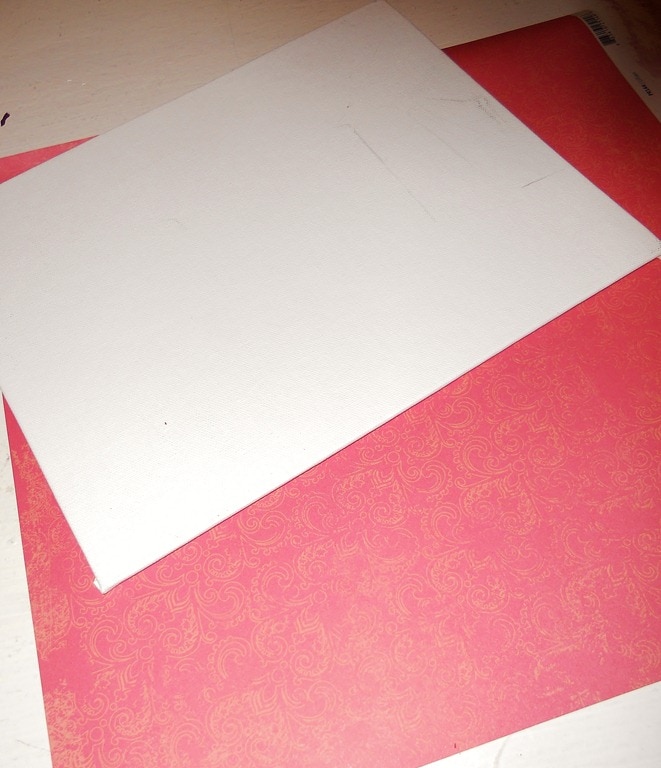 Hot glue gun again.
I choose this form of adhesive mostly because it quick, easy and almost always plugged in.
I am such a lazy crafter.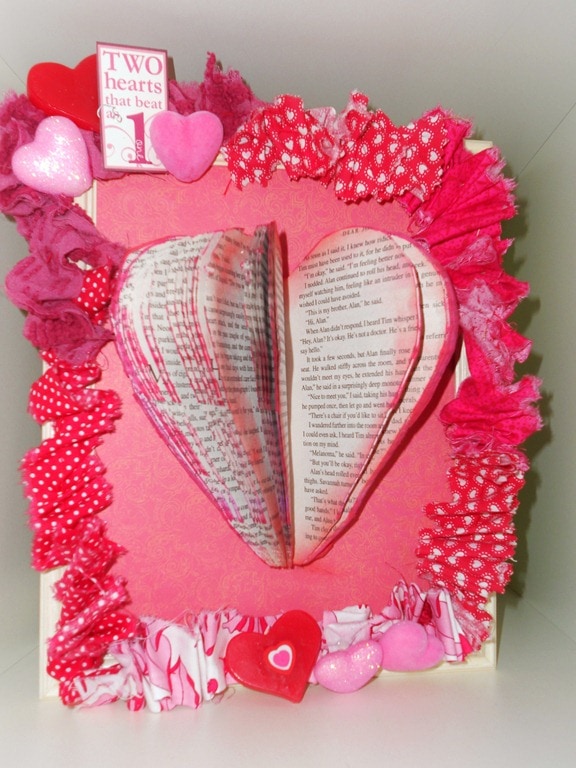 I stuck it in a frame and then made more ruffles with my trusty needle and thread. Mostly because I can't leave well enough alone.
I then added some hearts and a cute little tag.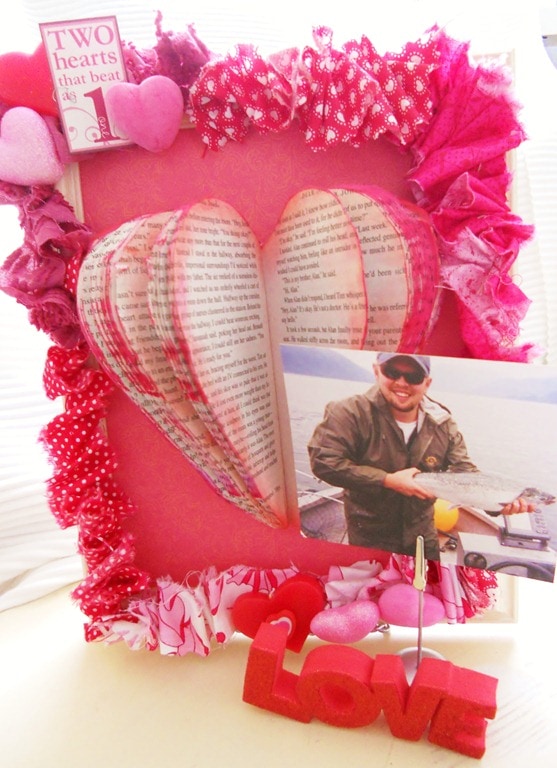 Isn't my husband a cutie? He loves fishing, almost as much as he LOVES me!! Well, most of the time.
~ Tausha
More projects you'll love: