Being organized gets me all happy inside. I love knowing where everything is, if something is missing, and if I need to buy more. I can't control this chaotic world, but I can control my pantry…and, it feels good.
That's why
I am super loving my organizers by CanOrganizer.
They make storing, organizing, and rotating your canned goods so simple!
There are organizers to fit really deep shelves…each one holds up to 39 cans!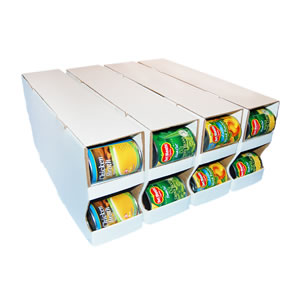 There are smaller ones to fit in the cupboards, holding up to 24 cans…
and another size for storage shelves. Look how nice everything looks!
They make my pantry look clean, I can figure my shopping list more efficiently, and I love how the all roll forward when you pull out the front can. Perfect. Oooh, I also love how they keep my cans from scuffing up the paint on my shelves. Is that petty? Maybe. But, scuffed shelves are ugly shelves. Plus, if you ever have to move your food storage around, way easier. Just pick up the box and go.
Now I can keep all my black beans in one box, Spaghetti-O's in the next 7 boxes, chicken broth in another, black eyed peas,…you get the idea! Or, you could mix up your cans and be totally unorganized in an organized way 🙂
Anyway, because I have loved my Can Organizers so much, I was thinking you should try them out. How about it?? CanOrganizer will be giving the lucky winner of this giveaway 2 four-packs of organizers! You can choose whatever sizes you need. With shipping, this is valued at up to $40!
To enter, all you need to do is pay a visit to their site and then let me know what size organizer you would like best. Leave your answer in the comment section, below. It's almost too easy.
This giveaway will run until next Friday night, Feb. 18, with the winner being notified on Saturday.
CanOrganizer is also offering all of you lovely ladies a discount of 10%. Just enter the code "oneshetwoshe" at checkout. This offer expires March 5th, 2011.
Good luck!