Looking for a way to celebrate Lunar New Year AND surprise your family with a Disney vacation? Use this fortune cookie trick, with free printable fortunes, to make the perfect easy vacation surprise announcement. Check out this awesome tutorial to find out how to DIY fortune cookie messages to surprise the whole family with a vacation. And keep reading to the end to see how you can save big at Disneyland in 2019.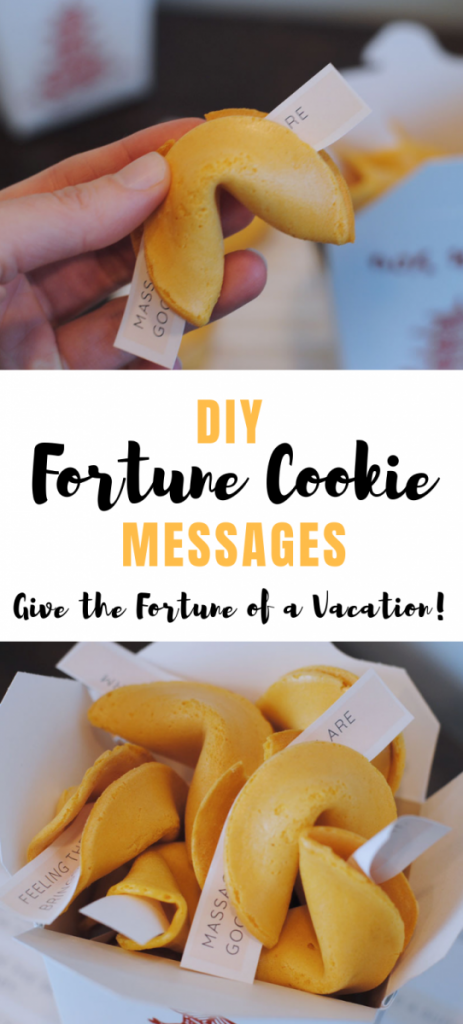 DIY Fortune Cookie Messages
If you have a fun beach vacation planned for your family, or if you're doing anything for Lunar New Year (whether at Disneyland Resort or at home), then DIY fortune cookies messages are such a fun way to reveal your plans. It just takes a few minutes to put everything together. You won't need a special cookie to tell you that thank you hugs and kisses are on the way!
You need to collect a few items to make your DIY fortune cookie messages:
Printable Beach Vacation Fortunes
Scissors or Straight Edge Slicer
I picked up a bag of ready-made fortune cookies at my local Chinese food restaurant. They were about 35 cents a cookie, which isn't too bad! You can make a whole bunch of cookies, or use just a few for this easy vacation surprise. When I got the cookies I asked the restaurant for a few takeout boxes which they kindly gave me for free. Score! I think my fortune that day must have read, "You will be showered with generosity and kindness." Of course, you can find your own takeout boxes at the bottom of this post.
The printable I created is for a beach vacation, and you could apply it to a cruise or a Mexican all-inclusive resort! Are you heading to Hawaii or California? These fortunes could totally be used for those as well. Basically, if there is sunshine and the ocean involved, you can use this printable to announce your vacation! If you happen to be heading somewhere cold and woodsy, just make up your own fortunes to go inside the cookies. The concept works for anything!
First step toward preparing your DIY fortune cookie messages:
Print the beach vacation fortunes onto regular paper (CLICK HERE TO ACCESS). Use color ink.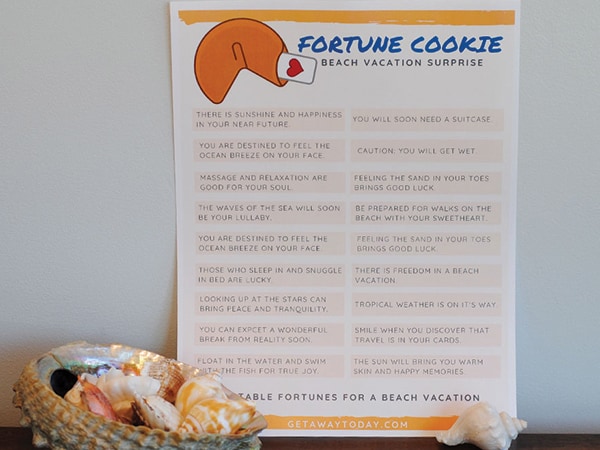 Cut the fortunes out so that each square is its own little slip of paper. I used my straight edge slicer because it's so fast and slick. You could totally bust out your scissors and go to town that way. There are a ton of fortunes on this printable so I like the ease of the straight edge.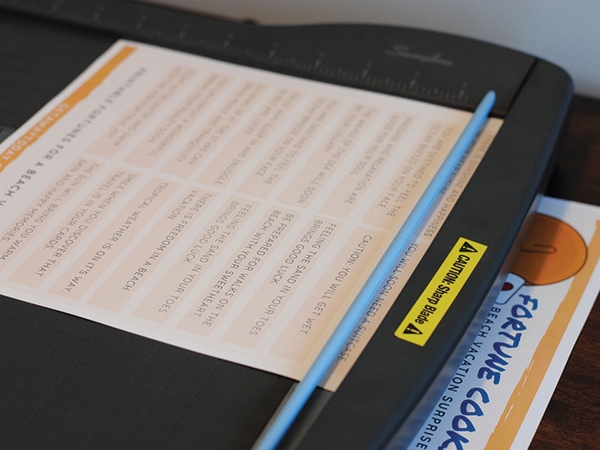 Feel free to pick your top favorites from the printable, or use them all in your fortune cookies! I wanted to be sure there were enough of a variety that everyone would be happy with them.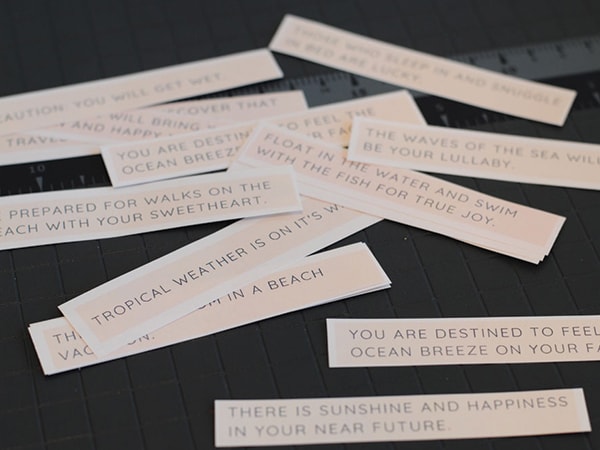 Next step in preparing your DIY fortune cookie messages:
Now, for the fun part! Place your steamer pot on the stove. I have a slotted pot that sits on top of my regular sauce pan. Fill it with about 2 inches of water. Bring it to a boil.
Unwrap the cookies you want to use and place them into the pot. I found that it works best to only steam about 4-5 cookies at a time. It is too hard to work with more than that without the cookies getting too soft and things getting crazy.
The cookies get soft as they sit in the steam. This step takes about one minute.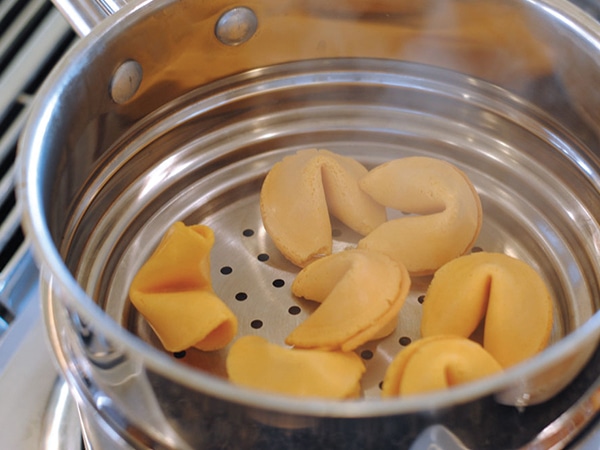 Remove the cookies one at a time. Use tongs because they are hot! Open the cookie and pull out the lame generic fortune paper.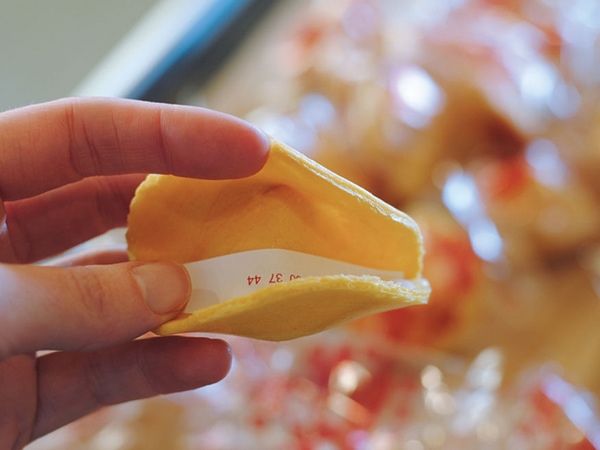 Final step in prepping your DIY fortune cookie messages:
Quickly slip your personalized vacation surprise fortunes into the cookie and fold it back into the right shape. Hold it in place for about 45 seconds. The cookie will harden again as it cools.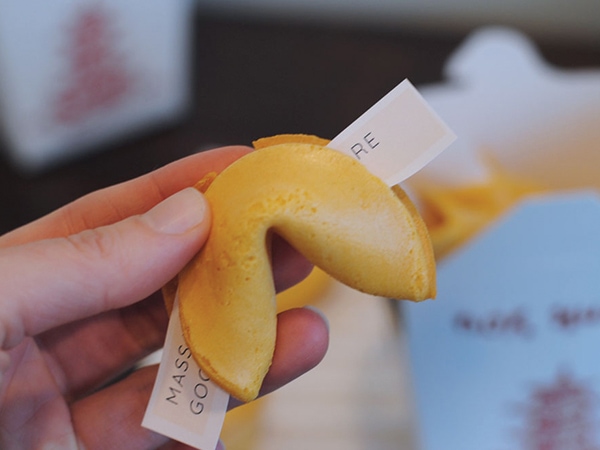 Repeat the process until you have stuffed all the cookies with your new vacation fortunes.
Isn't that such a fun hack!? Who knew you could soften up a fortune cookie? It made me think of so many situations when hacking into a fortune cookie would be advantageous and exciting!
You can gift the cookies in a Chinese takeout box. Slip them into the box and tie them off with a ribbon or bow. Or, you could make it a total surprise and order Chinese dinner and serve your special, easy vacation surprise cookies as dessert! Either way, excitement and joy are sure to be in your stars. Have fun!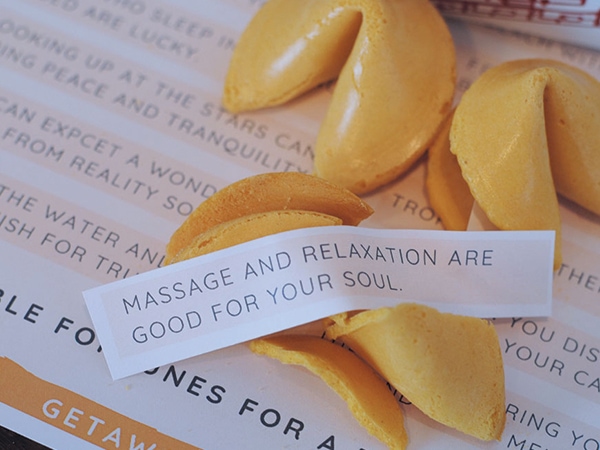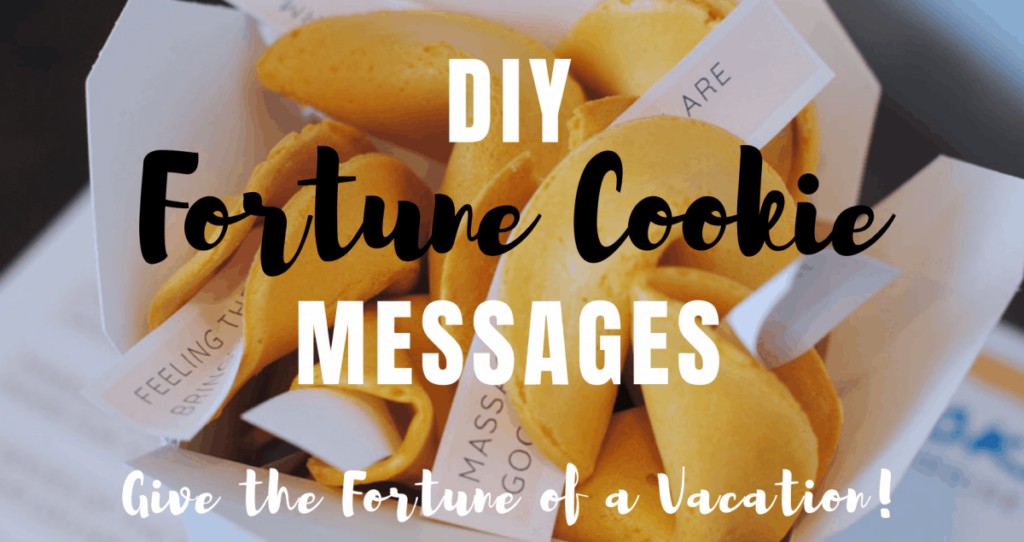 Book your Disneyland vacation with Get Away Today. With discount Disneyland tickets, hotel specials and a flexible Layaway Plan, planning a Disneyland vacation has never been easier. Purchase before January 15, 11:59pm MST and lock in 2019 tickets at 2018 prices! The savings are pretty significant.
Plus, if you travel from January 7 – May 23, 2019*, you can save up to $86 per ticket! With so much to see and do at the Disneyland Resort this spring, you won't want to miss out on any of the fun. To book, visit getawaytoday.com or call 855-GET-AWAY to speak to a travel expert directly. Don't forget to mention promo code OSSS10 for an additional $10 off your vacation package.
*Actual savings vary per ticket and are calculated based on annual park pricing. Largest savings are available during travel value dates January 7 – May 23, 2019, excluding blackout dates of April 14-22, 2019.
More Disney posts you'll love:
Our picks for DIY fortune cookies:
Baily's 50 Fortune Cookies, Individually wrapped with fun, traditional fortunes
Green Direct Chinese Take Out Food Boxes with Metal Wire Handle White Pack of 50 Containers, (16 oz. 1 Pint)
Pack of 15 Chinese Take Out Boxes PAGODA 16 oz / Pint Size Party Favor and Food Pail
Chinese New Year – 2019 Year of The Pig Party Scratch Off Fortune Cards – 22 Count
This Next New Year: (English language edition)
The Great Race: The Story of the Chinese Zodiac
Bememo 20 Pieces Chinese New Year Red Paper Lanterns Thickened Encryption Chinese Hang Lantern Decorations (10 Inch)
Farberware Classic Stainless Steel 3-Quart Covered Stack 'n' Steam Saucepot and Steamer
Swingline Paper Trimmer, Guillotine Paper Cutter, 12
Fiskars 152490-1004 SureCut Deluxe Craft Paper Trimmer, 12 Inch