If you're going to make a drink, you might as well make a gallon! This recipe for one gallon homemade lemonade is made with real lemons and sugar. It's way easier to make than you would think… almost as easy as opening up a can of concentrate! Okay, well not quite the easy, but pretty darn close. And, there's nothing like freshly squeezed lemonade…especially when it tastes fantastic. Heck you might want to make 5 gallons of this real lemonade!
Who says lemonade is only for the summer? We had this for dinner tonight, in the middle of winter, with BBQ pulled pork sandwiches and Potato Salad. It was a great combo! I love this recipe and keep it in my "Keep Forever" recipe binder. You need either 16 small lemons or 10 large lemons…roughly. You also need 3 1/2 cups white sugar, and 16 cups water. Enjoy!
One Gallon Homemade Lemonade Recipe
Another yummy variation of lemonade with real lemons and sugar is to let some basil leaves float in your homemade lemonade for a couple hours. Sounds weird, maybe, but it's good! The chef at Harmon's served me a glass, and it was amazing! Taste periodically to see if the lemonade has reached the desired flavor, then remove the leaves.
Print the easy lemonade recipe, below…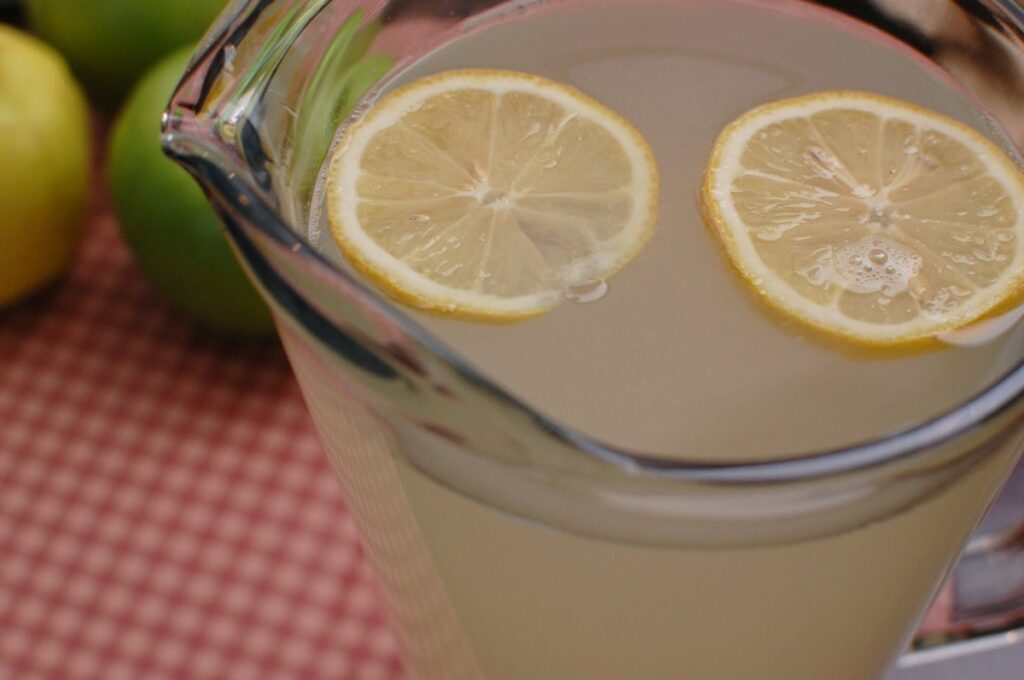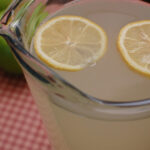 Fresh Squeezed Lemonade
Ingredients
16

small lemons

or 10 large

3 1/2

cups

sugar

16

cups

water
Instructions
Squeeze your lemons until you have 3 cups of fresh lemon juice.

On the stove, boil 3 1/2 cups sugar with 2 cups of the water.

Let it boil for a few minutes, then remove from the heat.

Let cool, then cover and stick it in the refrigerator until chilled.

When the sugar syrup is done chilling, combine the remaining 14 cups of water with the lemon juice and syrup.
If you love this post for homemade lemonade from lemons, check out:
Pin these images to save this simple syrup lemonade recipe: