I just did a post highlighting some super cute advent calendars and others that would be easy to make yourself. I've been conjuring up an idea for a fun way to use them…and now, I'm ready to spill the beans. So, you will need an advent calendar for this…but, if you don't have one and aren't going to get one…you can make do without…Or just print this Christmas tree advent calendar from the blog. If you're feeling ambitious, you can make this Matchbox tree advent calendar. I know it can be stressful putting together advent calendar activity ideas, so hopefully this helps make your holidays more enjoyable!
Here's how it works, let's do some math:
24 days in December before Christmas
+
24 slots in an advent calendar
=
24 fun things
Are you following me???
Advent Calendar Activity Ideas
Advent Calendar Christmas Tradition:
Basically, you are going to wrap 12 Christmas books and put them under the tree. They can be reused every single year, so easily justified. And, you might already have some at home.
Then you are going to make a list of about 20 fun family activities and save it on the fridge.
For this advent calendar activity idea, you will then need 24 small pieces of paper. 12 of them say "Book" and the other 12 say "Family Activity". Take all of the papers and put one in each pocket of the advent calendar (along with a yummy treat). You might want to put the family activities on days you know you will be home.
Let the kids take turns every day, emptying the advent calendar slot. If they get "Book" they can unwrap a book under the tree at bedtime and you will read it to them. If they get "Family Activity", pull down the list from the fridge and with your guidance, let them pick an activity that would work for the day. Also, let them help you prepare for the activity. You could put specific activities IN the calendar slots, but you might run into trouble if the activity is something that just isn't feasible to do that day. Of course, you have to have a fun treat in every slot as well!
The kids will love getting to unwrap something early and the surprise of what book they will choose. They will also love (and so will you) all the quality time that you will spend together!
Suggestions for Christmas Books:
The Sweet Smell of Christmas
is the favorite in my house. The story is a bit lame but my kids love to scratch & sniff the different Christmas smells!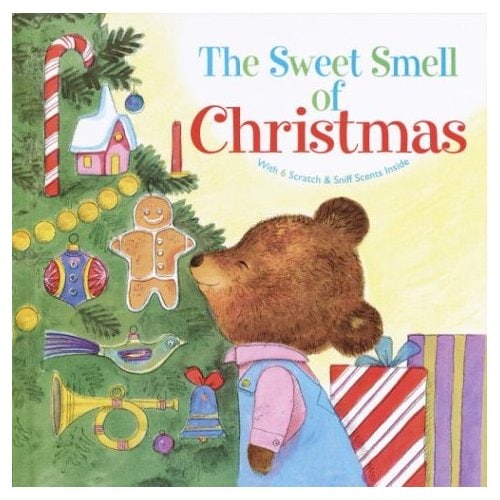 I would say this book,
The Best Christmas Pageant Ever
, is for ages 5 and up. But, it's a fabulous story of the most unruly kids in the world who take over the church Christmas Pageant. In the end, something magical happens and everyone is touched by the spirit of Christmas. If you haven't read this book, it's a must!
I just ordered this book,
Red Ranger Came Calling
, and I'm so excited about it! It gets perfect reviews on Amazon and the story sounds so adorable. Lots of reports of crying at the end. We'll see. It's a tale about a boy who is feeling pretty skeptical of Santa being real and a special experience that makes him believe once again.
The Christmas Miracle
is another tear-jerker that gets stellar reviews…also on it's way to my house! It's the story of a man, torn apart over the loss of his wife and child. He comes across as grumpy and unkind to all that know him. But, his life is transformed by the kind heart of a little boy.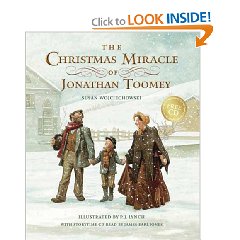 Holly & Ivy
is the story of a determined orphan, a wishing doll, and a woman longing for a child. This story has been around for a long time and has loyal fans! It's not a quick read, you might have to read it to the kids for a few nights, but they will love it and always remember it.
Advent Calendar Activity Ideas:
Go Sledding
Paint Toes and Fingernails Christmas Colors
Watch a Christmas Movie with Treats
Put Up Christmas Lights
Make a
Hot Chocolate
Stand (if you're feeling generous, make it FREE)
Wrap Presents
Go See Christmas Lights in the Town
Go Visit Santa in the Mall
Visit a Care Center, Hospital, Shelter, etc.
Make a Christmas Countdown Chain
Have a Candlelight Dinner with Christmas Music
Build a Snowman
Go Christmas Caroling
Put Together Christmas Cards
Write a Letter to Santa
Go to a Christmas Play/Program
Put Food Coloring in Water and Spray the Snow with Squirt Bottles
Make Fleece Scarves
Play Christmas Games
Go Ice Skating
And, there you have it! A whole slew of advent calendar activity ideas to get your through the month of December. Feel free to share some of your favorite Christmas books, fun family activities, or thoughts!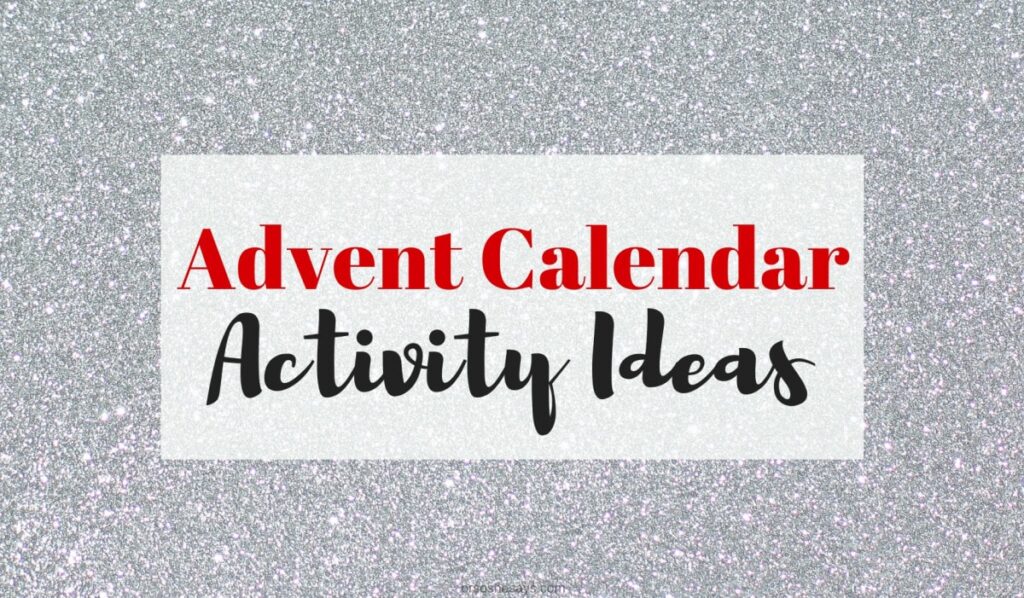 Other posts you'll love:
Our picks for Advent Calendar activity ideas: