There is nothing I love more than baking treats during the holidays. Not only do I love baking treats, I love giving these homemade treats to our neighbors and friends. I know it's not always easy to find the time to make homemade, so I try to find simple, but delicious recipes that I know everyone will love.
That's why these Christmas Tree OREO Cookie ball pops are such a great treat to make for gifting.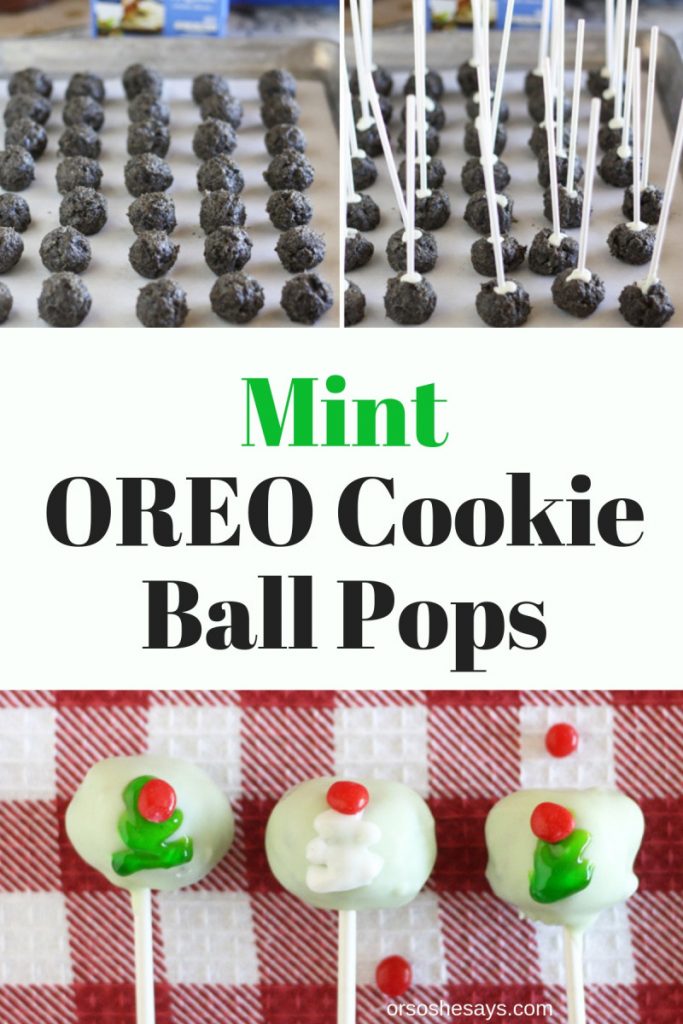 I don't know about your house, but a package of OREO cookies do NOT last long at my house. We just love them! My husband loves the mint cream OREOS especially. And they are perfect in a holiday treat. A package of mint cream OREO Cookies and some cream cheese are the base of these Christmas Tree OREO Cookie ball pops. I put the entire package of OREO Cookies into a bag and used a rolling pin to crush them. You could also use a food processor. You just want to make sure your cookies are finely crushed. You don't want any big pieces of OREO in your cookie balls.
I used a hand mixer to combine the cookies and the cream cheese together and then made my cookie ball pops. I used a melon baller to help with my portion sizes, but I rolled 40 one inch cookie balls. Then I melted some of my white baking chocolate and dipped my lollipop sticks in the melted chocolate and inserted them into the centers of the cookie balls.
After a few minutes in the freezer, I dipped the OREO Cookie ball pops into the chocolate coating the entire pop. I used this stand to hold them up to let the chocolate set for a few minutes. You could use a piece of Styrofoam if you don't have a stand, or lay them down on a parchment lined baking sheet.
Once the chocolate set up for a minute or two, I used the decorating icing to add the tree design and the cinnamon candy star.
I placed them back in the refrigerator for about an hour to let the coating fully set up and until I was ready to serve them.
Oreo Cookie Ball Pops Recipe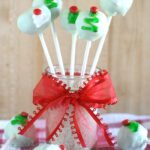 Christmas Tree OREO Cookie Ball Pops
OREO Cookie Ball Pops
Ingredients
6

oz

3/4 of 8-oz pkg. brick cream cheese - softened

1

pkg.

15.25 oz OREO Mint Creme Cookies - finely crushed

12

oz

white baking chocolate

green food coloring

6 drops

green and/or white decorating icings

40

small hot cinnamon candies

40

lollipop sticks
Instructions
In a medium mixing bowl, mix together softened cream cheese and crushed cookies.

Roll into 1 inch round balls and place on baking sheet lined with parchment paper.

Melt 1/3 of melting/baking chocolate according to package directions.

Add a couple drops of green food coloring and mix.

Dip lollipop stick into melted chocolate and insert into center of cookie ball.

Once all lollipop sticks are inserted into the cookie balls, place tray in freezer for 10 minutes.

Melt remaining baking chocolate and color green with food coloring.

Remove cookie balls from freezer and dip each cookie ball into melted chocolate, gently shaking each one to remove any excess chocolate.

Use decorating icing to add tree design and cinnamon candy.

Refrigerate 1 hour or until chocolate coating is firm.

Keep refrigerated until ready to serve.
They turned out so cute and so tasty. My kids (and my hubby) wanted to eat them all before dinner. And before we could give any away! Fortunately, we can easily grab more OREO cookies and ingredients at our local Kroger.
These Christmas tree OREO Cookie ball pops were really easy to make, look cute and taste delicious. That is my idea of a great holiday treat. These not only make a great gift, they would be great for your next holiday party.
What kids of gifts do you like to give your neighbors and friends?
Happy Rolling!
Liz
Other OSSS posts you may enjoy:
Our picks for making Oreo Cookie Ball Pops:
Oreo Thins Mint Creme Chocolate Sandwich Cookies, 10.1 Ounce
Oreo Mint Creme Chocolate Sandwich Cookies, 15.25 Ounce
Ghirardelli Baking Chips, Classic White, 11-Ounce Bags (Pack of 6)
King David Kosher Easy Melt Non Dairy White Baking Chocolate Flavored Coins 12.34-ounce Jars (Pack of 3)
AmeriColor Soft Gel Paste – Gold Food Coloring, .75 Ounce
Food Coloring AmeriColor Student – Kit 3 12 .75 Ounce Bottles Soft Gel Paste Colors
McCormick Culinary Green Food Color, 1 pt, Premium Quality and Color in Every Batch, Great for Holiday and Event Recipes
Wilton White Icing Tube
Wilton Creamy White Decorator Icing,Medium Consistency,4 lb. Tub, Cake Decorating Supplies
Wilton Icing Tube, Leaf Green
Cinnamon Imperials Candy~ Red Hots ~ 2 Lbs ~ by Yankee Trader
Red Hots Cinnamon Candy, 10 Ounce Bag, Pack of 6
Wilton White 6-Inch Lollipop Sticks, 100-Count
21 Hole Clear Acrylic Cake Pop Display Stand by FireHype | Great For Large Pops | Drying Cooling Decorating Cake Ball Holder | Cotton Candy Lollipop Dessert Sticks | Weddings, Baby Showers, Birthdays
Nordic Ware Tiered Cake Pop Display Stand, White
OXO Good Grips Melon Baller
Ball Pint Jar, Regular Mouth, Set of 12, (16 oz)
Christmas Ribbon for Crafs – Hipgirl 60 Yard 3/8
Morex Ribbon Burlap Wired Ribbon, 1-1/2-Inch by 10-Yard Spool, Rose Red
Stainless Steel Mixing Bowls by Finedine (Set of 6) Polished Mirror Finish Nesting Bowl, ¾ – 1.5-3 – 4-5 – 8 Quart – Cooking Supplies
Professional French Rolling Pin for Baking – Smooth Stainless Steel Metal & Tapered Design Best for Fondant, Pie Crust, Cookie & Pastry Dough – Baker Roller by Ultra Cuisine
Joseph Joseph 20085 Adjustable Rolling Pin with Removable Rings, Multicolored
This post is sponsored by OREO. All thoughts and opinions are my own.