Usually when someone mentions the Fall season, what comes to mind for me is: everything pumpkin (from decor to dessert to smells, and more), falling leaves, sweaters, hot cocoa, fuzzy socks, cozy rainy afternoons in front of a fire, pulling out my yarn work, digging up my hot, yummy soup recipes, and Harry Potter everything – Harry Potter wands, Harry Potter costumes, Harry Potter games, Harry Potter treats…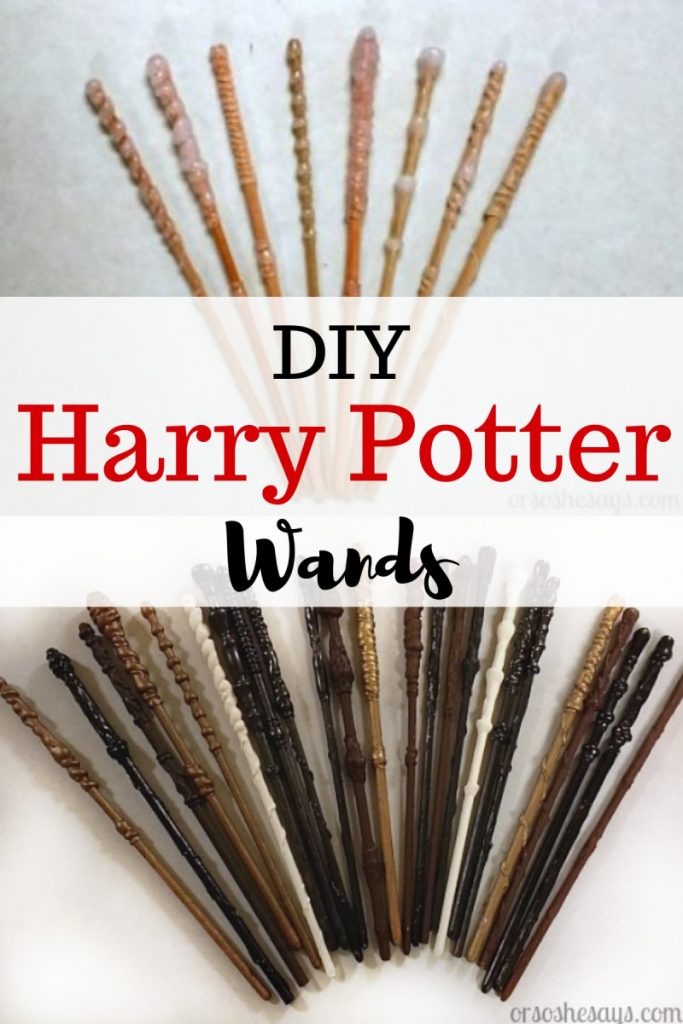 Did I say Harry Potter?
Why yes, I did. In fact, I'm a huge Harry Potter nerd year round, but during Fall, my passion for all things Potter is magnified. (Because, hello, wizards and witches and magic.)
I've even brainwashed my children into Harry Potter fandom, by encouraging them to dress up like characters from the books for Halloween. I've sewn them Hogwarts robes, and made Harry Potter wands, which actually they (okay, we) play with all year long.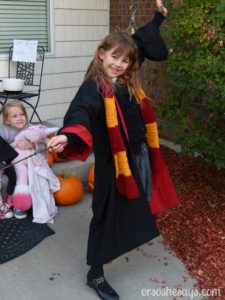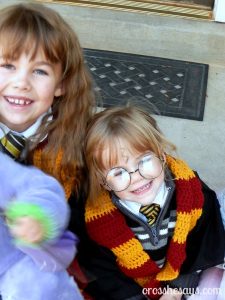 The wands I made for them when these pictures were taken (two years ago) have since broken, and we're really missing them! So I've been crafting up a storm and I thought maybe I'd share with all of you how to make these Harry Potter knockoff wands. I know I can't be the only Potter nerd out there. They are SUPER easy and fun to make, and the kids can help!
What you'll need:
Wooden craft dowels
Hot glue gun
Glue sticks
Wood carving knife (optional)
Sand paper/brick sander (optional)
Acrylic paint
Craft paint brushes
Clear gloss acrylic spray paint (also optional)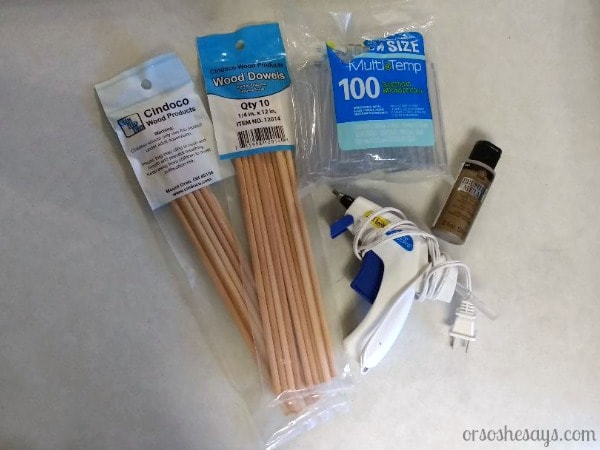 (This picture doesn't show any of the optional supplies)
Instructions:
Step 1:
Start (if you want) by carving down the very end of each stick and sanding and smoothing it down a bit. This will just round the "pointing" end a bit and make it look more authentic. We haven't done this in years past, and it's not necessary, but it looks nice.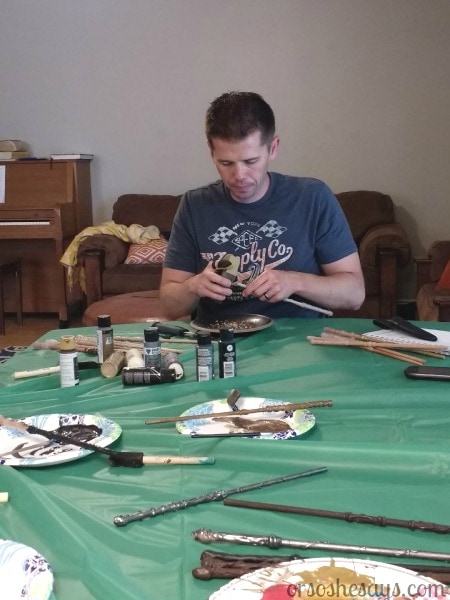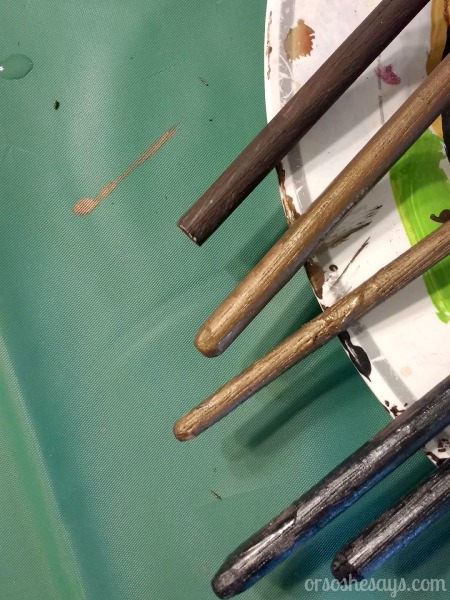 This picture above shows the difference between the cut/sanded ends vs natural ends. Again, totally unnecessary, but it makes for a nice touch.
Step 2:
Heat up that glue gun, and get started gluing! This part really is fun. Take your time and do a little bit at a time, letting the glue dry as you twist the stick around with the hot glue, letting it cool in the shape that you want before moving on to add more. Often, I'll google "Harry Potter wands" and look at pictures of the "real" versions for inspiration, but you don't need to. Don't rush. Taking your time to let that glue cool before adding more is key.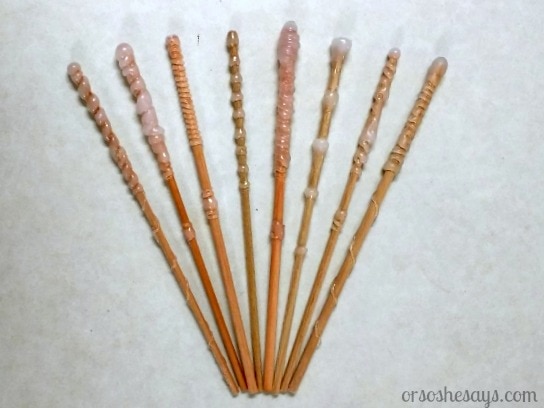 Then, if you're like me, you can let your glued, half-completed wands sit for a few weeks before moving onto the next step…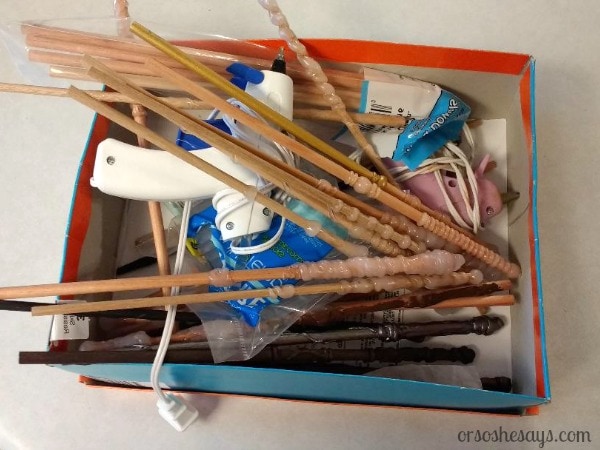 Step 3:
Get out your paints and go nuts! We choose to stick with mostly black, silver, off-white, and different types of brown/bronze, so as to keep them looking authentic. But feel free to stray off the beaten Potter path, if you wish. The kids love to help out with this part!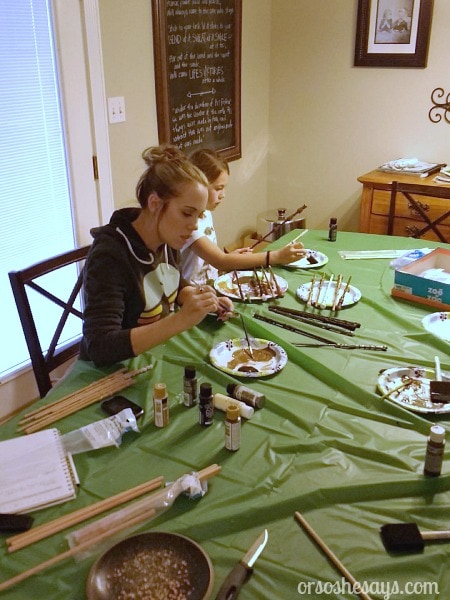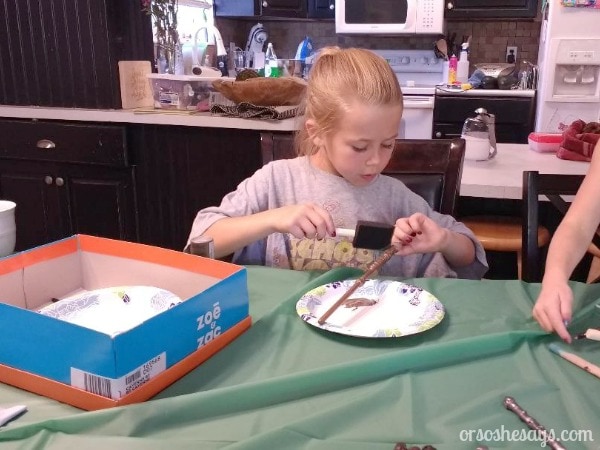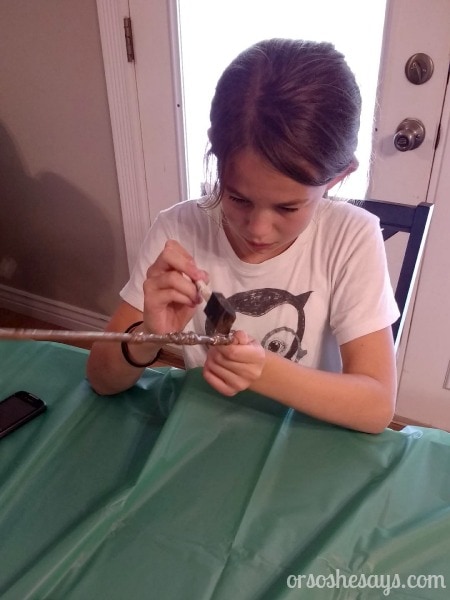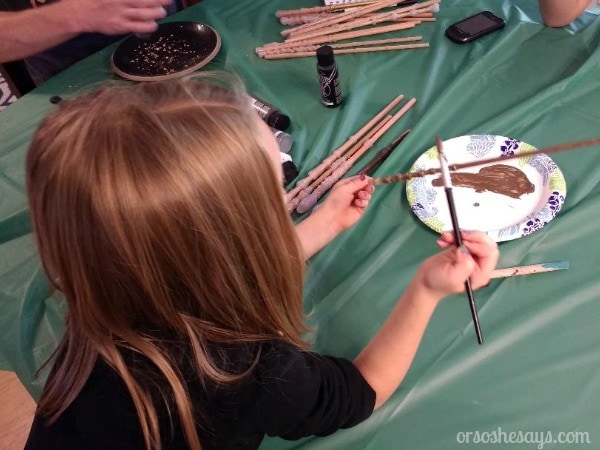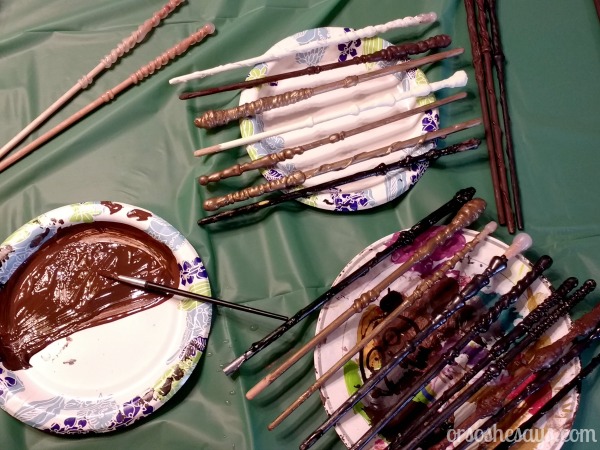 (Why so many? The kids are going to have a "Harry Potter wand" stand in front of the house to sell some to the neighborhood kids in a few weeks to make a little money. 🙂 )
Usually you'll need to do a touch-up coat or two. It's hard to get every side of the wand perfect on the first pass.
Step 4:
After they are all painted and completely dry, set out your wands in a protected, well-vented area, and use the clear acrylic spray paint to give them a protective coat to prevent chipping, and give them that glossy, final touch. Make sure to let it dry before you rotate the wands to spray the opposite side.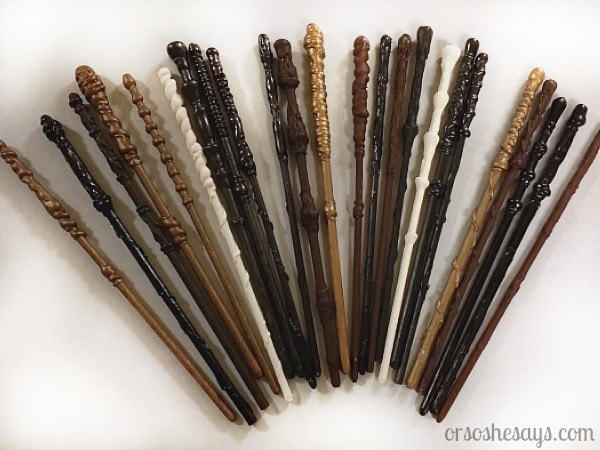 And that's it! These make a great addition to a Halloween costume, or a great accessory if you're going to Universal Studio's Wizarding World of Harry Potter any time soon.
My kids want to do a little "Harry Potter" stand in the front yard in a few weeks to raise a little money for their after-school activities, so that's why we made so many. I'm considering making some "chocolate frogs" to go along with the wands. 🙂
Bonus "Wizard's Duel" game:
After you finish making your wizard wands, you can test them out with friends or family and have your own wizard's duel!
It works best to play with three people, but you can play with more.
Everyone take your wand in hand, bow to the other wizards (we must remember proper etiquette) and put your backs to each other.

Count to three while at the same time each wizard contestant takes three steps away from the others.

On the count of three, turn and point your wand at another contestant and yell the spell of your choosing. "Expelliarmus!" "Stupefy!" "Expecto Patronum!" It doesn't matter which one.

If a spell is cast at you, you lose that round. Whoever does not have a spell cast at them is the winner! You can see who can get up to ten points first.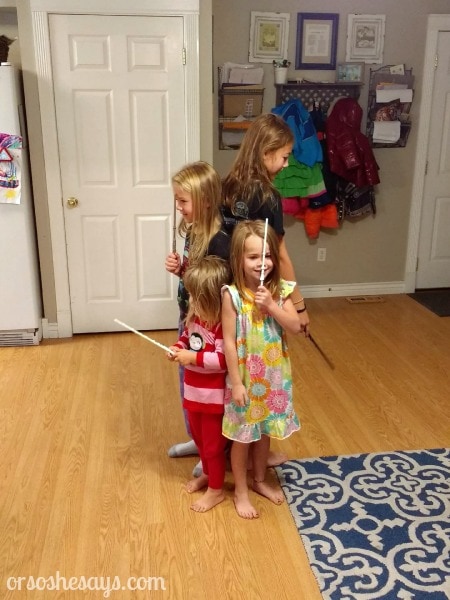 It sounds simple and silly (and it is) but even my 2-year-old can play (though her spells come out on a 2-second delay, as she repeats a spell that she hears come from one of us) but everyone loves it!
I hope that you and your family enjoy making and casting spells with these wands as much as we have! These are great to go with a Halloween costume, if you're going to Universal Studio's The Wizarding World of Harry Potter. It would make a great party gift if you have a child who is a Potter fan, or even a great craft to do at a party!
Happy Fall!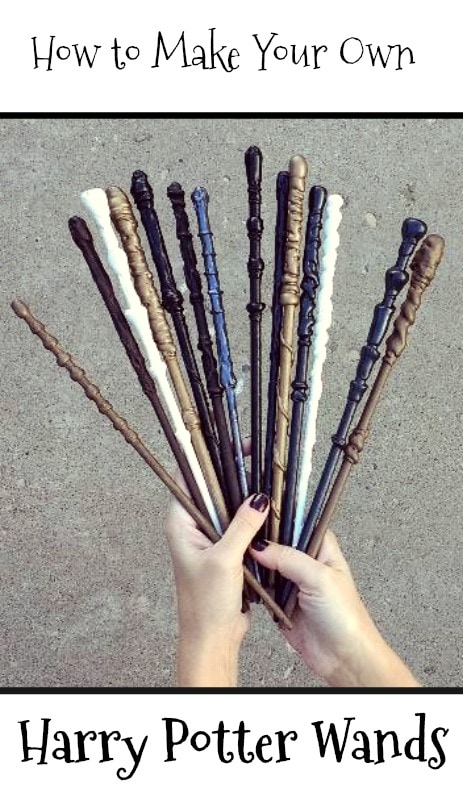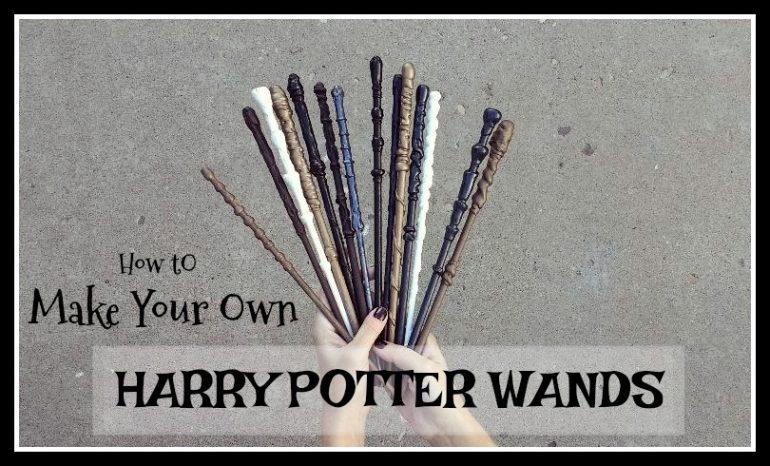 Get more Halloween fun here: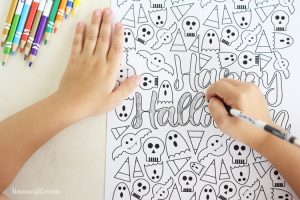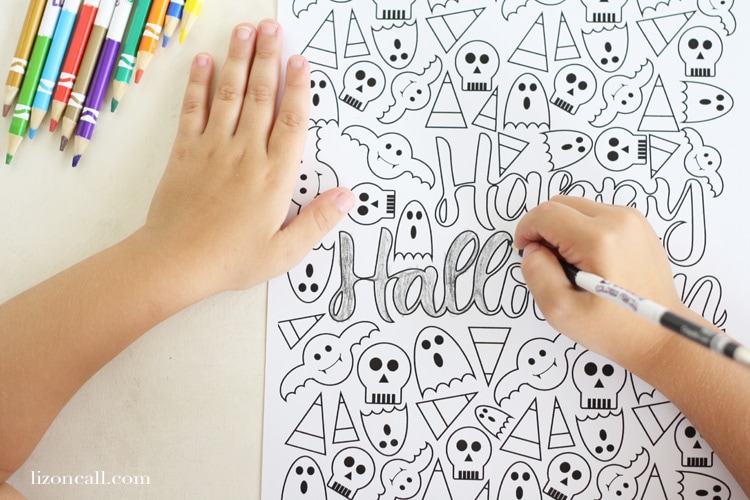 Halloween Minnie Ears – A No-Sew DIY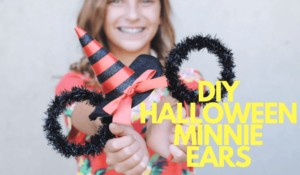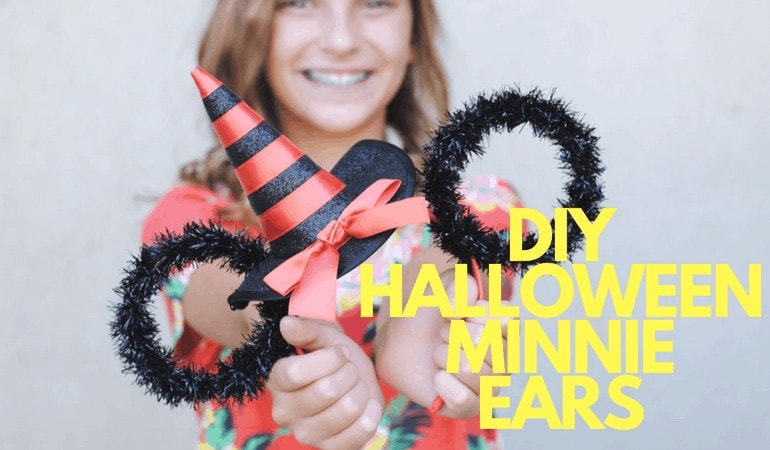 Southwest Jack-O-Latern Stuffed Peppers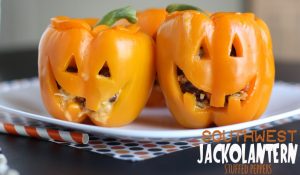 Get the supplies to make your own Harry Potter wand:
Wooden Dowel Rods – 3/16" x 12" Unfinished Hardwood Sticks – for Crafts and DIY'ers – by Woodpeckers Crafts (2500)
ccbetter Upgraded Mini Hot Melt Glue Gun with 30pcs Glue Sticks,Removable Anti-hot Cover Glue Gun Kit with Flexible Trigger for DIY Small Craft Projects & Sealing and Quick Daily Repairs 20-watt,Blue
Morakniv Wood Carving 106 Knife with Laminated Steel Blade, 3.2-Inch
Apple Barrel Acrylic Paint Set, 18 Piece (2-Ounce), PROMOABI Assorted Colors I
Loew-Cornell 842 25-Piece Foam Brush Set, 1-Inch
Heartybay 10Pieces Round Pointed Tip Nylon Hair Brush Set, Blue
Crafts 4 ALL Paint Brushes Set 10 Pieces Professional Fine Tip Paint Brush Set Round Pointed Tip Nylon Hair Artist Acrylic Paints Brush for Watercolor Oil Painting (10)
Krylon K09116000 COVERMAXX Spray Paint, Gloss Crystal Clear Acrylic, 12 Ounce
See our favorite Harry Potter picks:
LEGO Harry Potter and The Chamber of Secrets Aragog's Lair 75950 Building Kit (157 Pieces)
LEGO Harry Potter Hogwarts Express 75955 Building Kit (801 Pieces)
Hyp Harry Potter Juniors/Womens 5 Pack Ankle Socks Shoe Size 4-10
Potter Makeup Brushes Set Women
Pressman 4331-06 Harry Potter Triwizard Maze Game, 5
The Unofficial Harry Potter Cookbook: From Cauldron Cakes to Knickerbocker Glory–More Than 150 Magical Recipes for Wizards and Non-Wizards Alike (Unofficial Cookbook)
Bigib Set of Necklace & Bracelet for Harry Potter Fans Merchandise
Morphing Mugs Harry Potter Hogwarts Magical Marauder's Map Heat Reveal Ceramic Coffee Mug – 11 Ounce (Parchment Paper Reveal)
Harry Potter Paperback Box Set (Books 1-7)
Harry Potter Hardcover Limited Edition Boxed Set: All 7 Books in Chest BRAND NEW
Harry Potter: The Complete 8-Film Collection
Kano Harry Potter Coding Kit – Build a Wand. Learn To Code. Make Magic.
Harry Potter Scarf – Deluxe Edition – 98
GSave
Save