Hello again everyone! It's Adelle from Get Away Today with a free printable Inside Out game for families! Have you had a chance to experience the new Inside Out ride in Disney California Adventure Park? At Get Away Today, we absolutely love the finished Pixar Pier area of Disney California Adventure! All four "neighborhoods" are complete now in Pixar Pier, so you can experience rides and attractions based on popular Disney-Pixar films you love. If you're not familiar with the movie Inside Out, it's all about emotions. Fear, Disgust, Anger, Sadness and Joy are the main characters. Who is your favorite?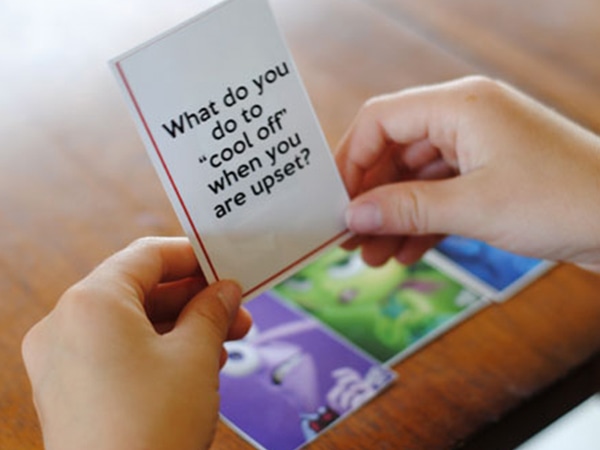 Free Printable Inside Out Game for Families
Joy would be happy to know that I have a fun, free, printable Inside Out game to share with all of you. This game is kind of like "Truth or Dare?" but with a Disney twist! Each member of the family will get to know each other from the inside out before it is over. Get it?! It is easy to play and suitable for all ages. I think this would be a great road trip game to play, whether you're heading to the Happiest Place on Earth or elsewhere.
To start, be sure to download the playing cards linked below. You want to print the cards double-sided, and on thick card stock. If you have access to a lamination machine, you could use thinner paper instead. You can print double-sided at home by printing out the front first, then put the front page back through the printer to print out the back.
Inside Out Card Game Printables
Each emotion in this Inside Out game for families has a set of cards with associated questions to go on the back.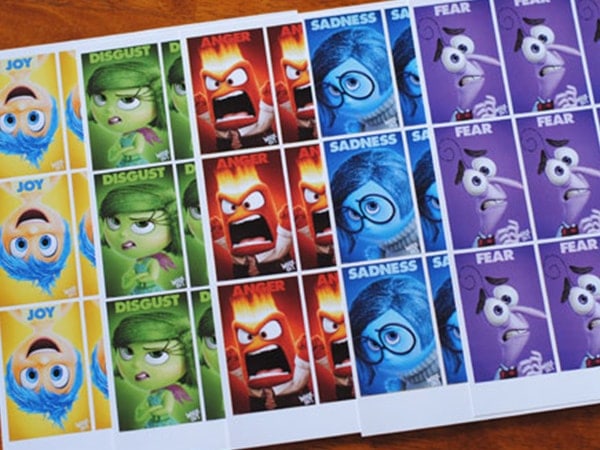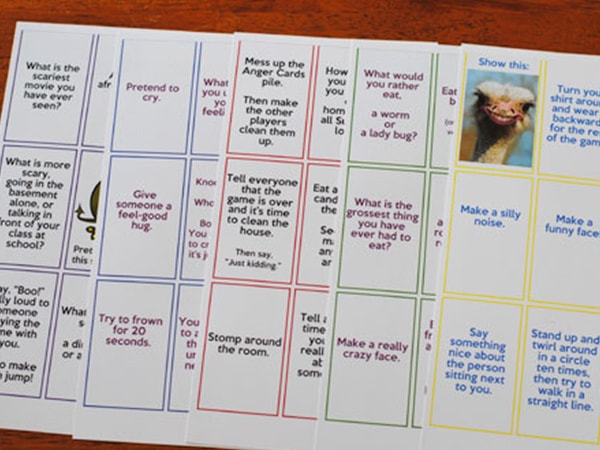 Cut the cards out. Lay them out on the table with each character in a separate stack.
You will need a few bags of Skittles. Buy a combination of the Original and the Wild Berry flavors, so you have a Skittle to match each emotion's coordinating color.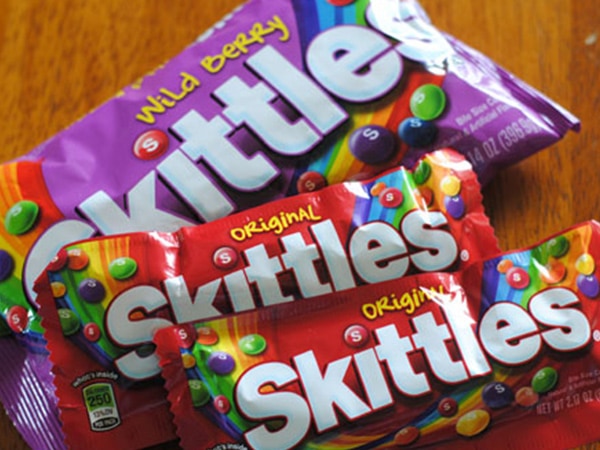 Inside Out Disney Activity – How to Play
To play, have the players take turns picking a Skittle from the bowl. Make sure their eyes are closed so they can't see the colors. The Skittle color designates what card that player draws from the table. For instance, if they choose a red Skittle, then the player draws a red Anger card.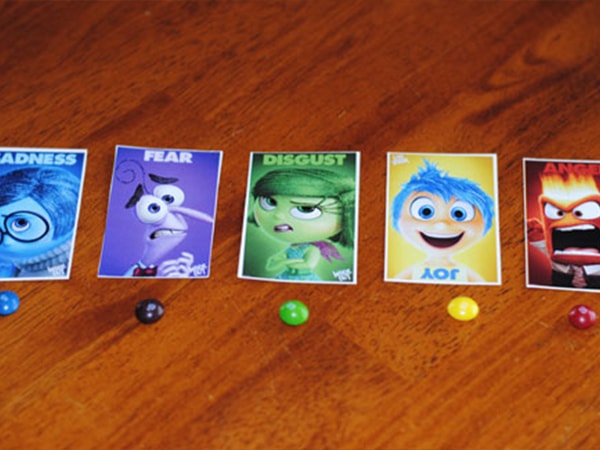 Have the player do the action outlined on the card. You may need to act as a helper for younger kids who don't yet read. All the cards are unique and have something to do with the emotion character on the card. For example, the Joy cards have fun and silly things on the back and the Fear cards have spooky or scary actions and questions on them. All of the cards are silly and fun, though! After each family member has finished his or her turn, they get to eat the Skittle and place the completed card in their own personal stack.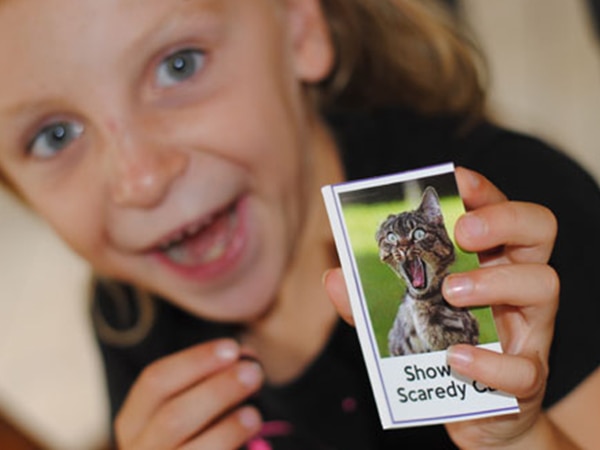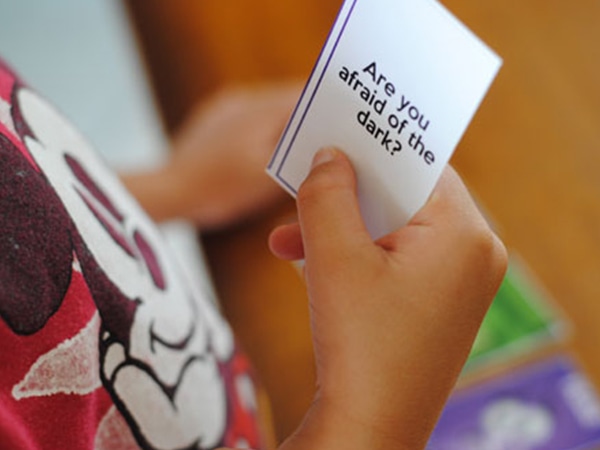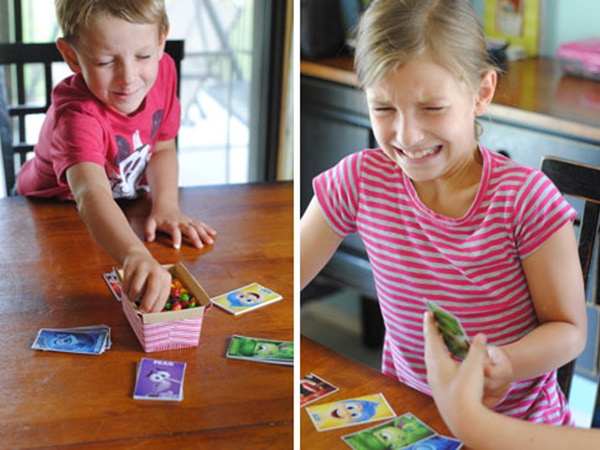 The game ends when all of the cards have been drawn. For a fast version, you can end the game when one player collects all five Emotion Cards, or has five of the same Emotion Cards in his or her completed pile.
There are some pink Skittles in the batch that are used as a WILD. If the player draws a pink Skittle, they get to choose any emotion card that they want for that turn. I hope you have a Joyful time playing this Inside Out family game. (Makes a great party game too!)
Get a Deal on Your Disney California Adventure Vacation
If you'd like to hop aboard the Inside Out ride in Disney California Adventure Park, Get Away Today would love to help you plan your vacation! Hotels near Disneyland still have availability for 2019 travel, or you can book now for 2020 travel. Regardless of when you want to go, you'll always find discount Disneyland tickets with us at Get Away Today. Check out all vacation packages online, or call 855-GET-AWAY to speak with a travel expert. Be sure to let them know Or so she says… sent you, and use code OSSS10 for an additional $10 in savings.
Pin This Image to Save Post
(or click Pin button in header/footer for additional images)