Hi Everyone! It's Adelle from Packed with Fun, the official blog of Get Away Today. With Spring Break right around the corner, we thought there was no better time for a Disneyland road trip. And what better way to start off your adventure to the Happiest Place on Earth than with these surprise Road Trip Activity Bags! These make the drive so much fun and give the kids something to look forward to throughout your travels.
You will need:
Red Party Bags
Tape
Bag Prizes
Mickey Tags (printable)-
Blank Mickey Tags
Mickey Tags Set #1
Mickey Tags Set #2
If you will be traveling to Disneyland from the Salt Lake area, I have pre-loaded the tags with some of my favorite landmarks and clues. You can get those here: Mickey Tags Set #1/ Mickey Tags Set #2. If you are traveling from a different location or want to make your own unique tags, here are some blank tags you can full out with your own fun ideas: Blank Mickey Tags. After choosing what tags you will need, you just have to print them out.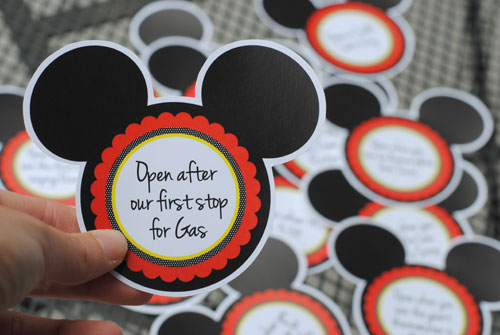 Now that your tags are printed, you can cut them out and tape them onto your surprise bags.
Gather up all of your fun and exciting prizes and place them in your bags. I used everything from snacks and drinks to coloring books and DVDs – just whatever you think your family will enjoy.
Once you have filled the bags with goodies, seal them up with some tape so you don't spoil the surprise!
These surprise road trip bags will add so much fun and excitement to your already magical Spring Break adventure. I hope your family enjoys them as much as we did.
As always, you can book your vacation online at getawaytoday.com or call our Disney Experts at 855-GET-AWAY. And be sure to use the promocode: OSSS10 to save an extra $10 off any 2-night or longer Disneyland Package.