Today Jessie is sharing a great road trip game for preschoolers. School's out for summer and it's time to hit the road!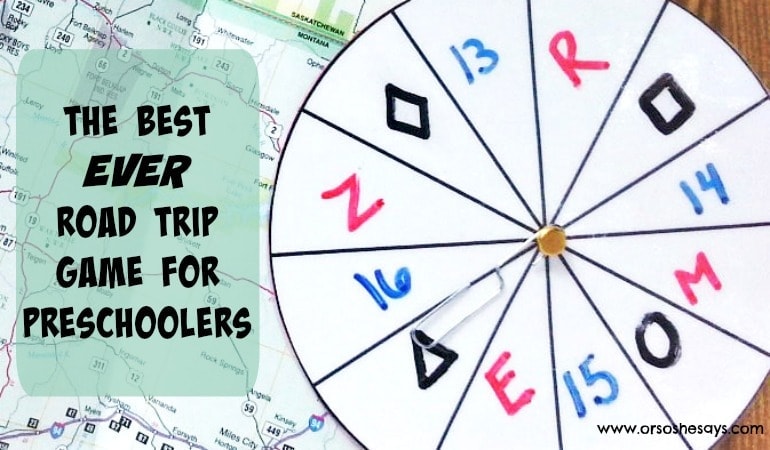 Hi everyone! Jessie back again. Perhaps some of you are big road trip fans like myself. I absolutely love road trips! I always have. However, until recently I had never gone on a long road trip with my two littles. So, as I geared up for twelve hours of driving with them, I was determined to be prepared. I wanted our entire vacation to be fun, not just our destination. Of every toy and game that I packed though, this game, without a doubt, was the one my preschooler wanted to play the most.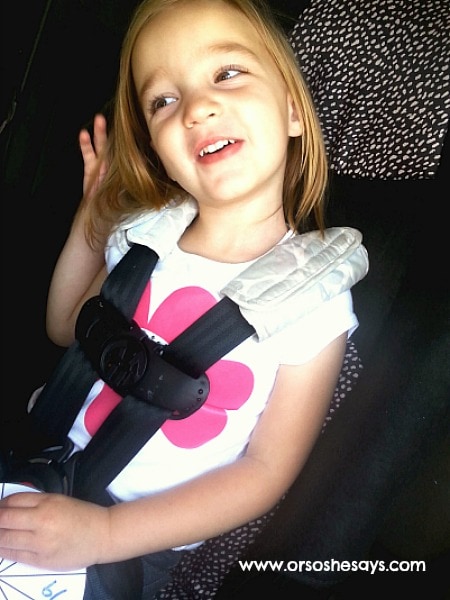 I feel a little braggy saying this game is the "best ever," but let me tell you why it's so awesome:
It's super fun
It's changeable
It allows for practice in several different skills
It's productive and educational
It takes practically zero space to pack it
It helps a long trip pass quickly
It's SO easy to put together. It only takes a couple of minutes. (Especially since I'm including a printable for you!)
Your kiddos will love it! They'll especially love that it's a spinner.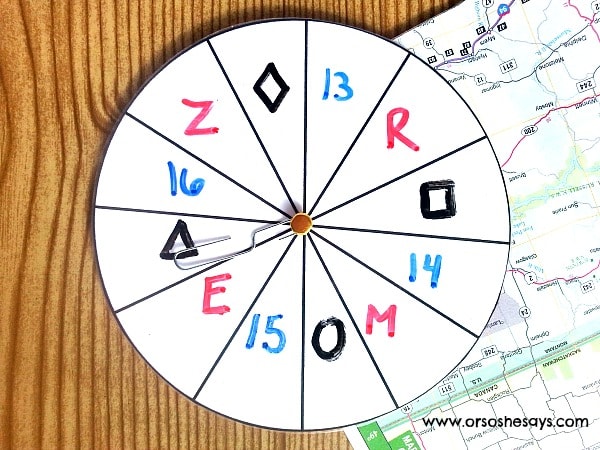 So, this whole idea came about because I wanted a fun way for my little girl to practice numbers 11-20. I tried to think of what would be fun for her, and decided she would have a blast with a spinner. I got on the computer and made the template, inserting numbers 11-22 in the spaces. I figured we could decide something to count while we were driving (trees, cars, road signs, etc.), and then spin the spinner to see how many we would count.
Then I realized that though I would be sitting by my preschooler some of the time, I certainly wouldn't be by her the whole time we were driving. Sometimes I would be the one driving or sitting in the front seat. This put a big hole in my plan, as my kiddo doesn't recognize numbers 11-22 yet. So, I thought perhaps I would make a second spinner. On this template I just put pictures of different things we might see as we drove. People, construction barrels, houses, etc. I determined that if no one was sitting by her to help her with the numbers, she could just use this spinner. Then, we could decide how many of that particular object we wanted to count. It wasn't until right before our trip, however, that I really got smart and made the best game and best spinner.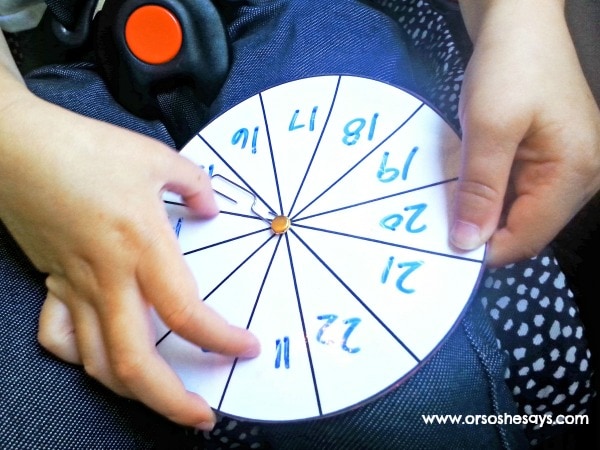 I decided that little girl might get bored doing numbers over and over and over, and besides that, there are SO many different ways we could use a spinner. I didn't want to print up and make a million different spinners though. That's when it hit me. Why not make a spinner that I can change however I want? I went back to my original template and deleted everything in the spaces. I printed that blank spinner template on card stock to make it a little bit sturdy. Then I laminated it. For the actual spinner, I just unfolded a paper clip and put it on a brad that I had poked through the center of the circle. (Make sure to keep the brad loose or your paper clip will get stuck and not really spin.) After that all I needed was a dry erase marker and voila! An erasable, changeable, awesome road trip game.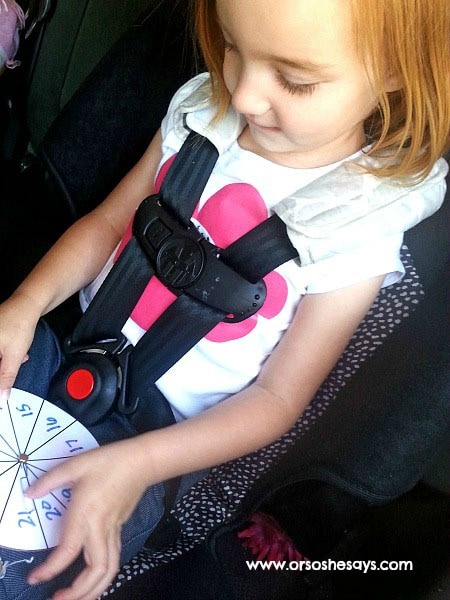 Once it was done there were a ton of different ways we could play with it. Aside from numbers, we could write letters on it and race to see who could be the first to find something that started with that letter. We could draw shapes on it and hunt for things in that shape. We could look for different colors. We could draw objects on it that were specific to the area where we were driving. Or we could do a mixture of all of those things! There are so many different ways that this spinner could be used, and like I said before, no packing space!
My kiddo asked to play it over and over again, and I had a great time playing it with her! It sure made the drive pleasant. And twelve hours in the car wasn't too bad!
If you would like to print the spinner template, click here. I also included my original two spinners, just in case you'd like those as well. Hopefully these will make your hours in the car as pleasant as can be.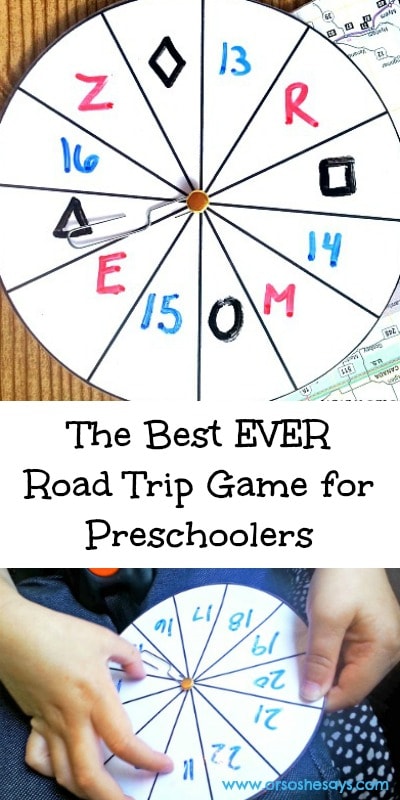 For more posts like this, check these out:
Disney "Would You Rather" Game Printable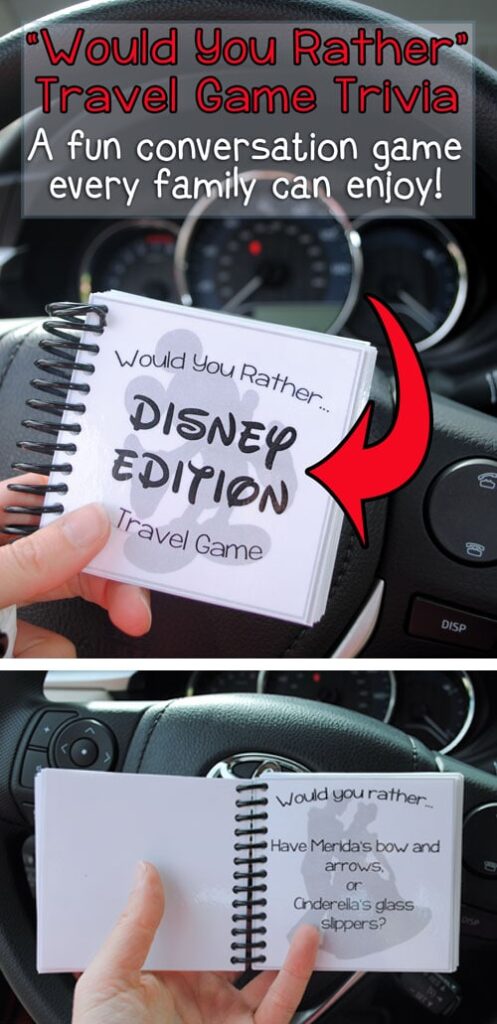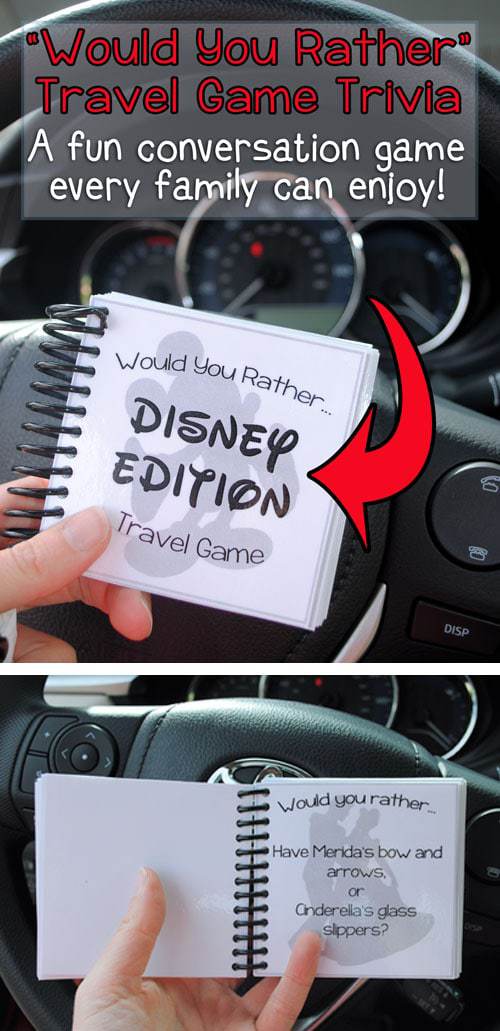 5 Tips for Traveling with Preschoolers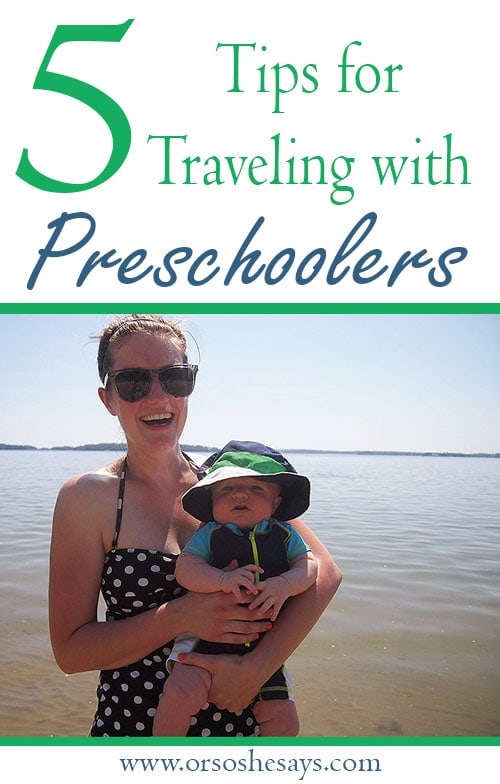 Road Trip Activity Bags for Disneyland