Hello OSSS readers! It's Cynthia back again with a simple but effective tip for after school snacks.
After school snacking is something that must be dealt with quickly or it can turn into a temper tantrum in my house. My grandson comes home from school, and he is such a creature of habit. He heads straight upstairs, takes a shower then his next steps are directly to the refrigerator. And if there is nothing in the house for him, he turns into a little hungry bear. It's been so long since lunch, he knows it's time to refuel! And to be honest, I'm usually ready for an after school snack around 3 in the afternoon, too.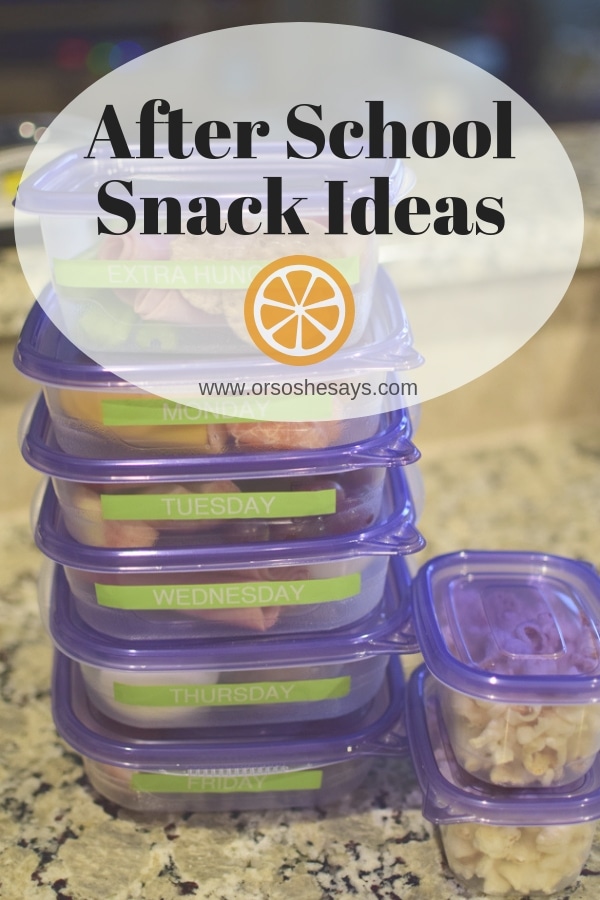 I gathered up a lot of ideas, and laid it all out at the beginning of the week so we could prepare some healthy after school snacks, that are easy for him to grab and eat. We also thought it would be best to get him involved in the process, which is always a great way to get kids to eat a variety of foods! Whether it's snacks or meal, there's just something about being a helper that encourages kids to eat!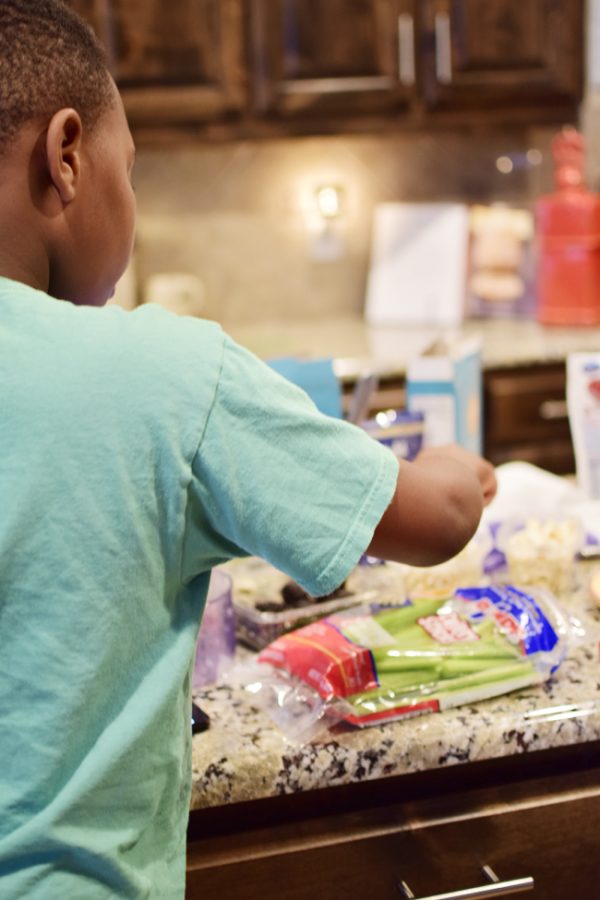 My grandson has major food allergies and most pre-made store bought snacks have food items in them that he is allergic to. Making the snacks is so much healthier than pre-processed foods. We made enough snack boxes for five days and a few extra smaller boxes for the days he is extra hungry. If you have hungry snackers in your house, definitely don't limit yourself to how many daily rations you create. Also, we make sure the non-perishable snacks are in an easily-accessible spot for him; he knows there's a specific drawer in the kitchen where he can always find his snacks. There's also a bin in the fridge to corral his perishable items.
PRODUCT SUGGESTIONS FOR AFTER SCHOOL SNACK PACKING:
&
Ziploc Divided Containers
Bento Lunch Containers
Slim Lunch Ice Packs
CamelBak Bottle
PACK A SNACK IDEAS FOR AFTER SCHOOL SNACKS: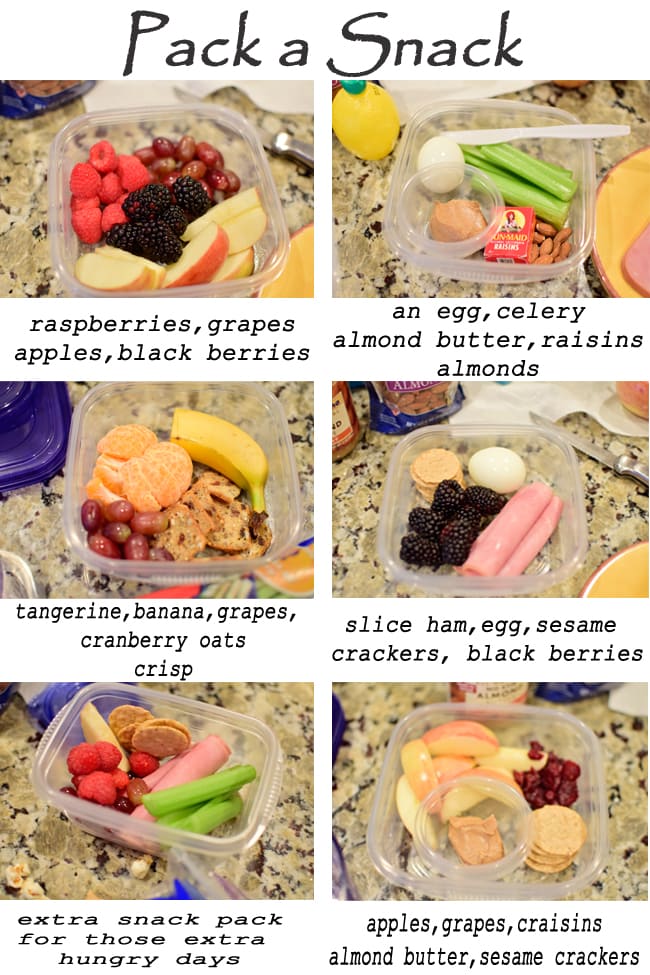 I had to add kettle popcorn to the list, as my grandson loves kettle popcorn. Boom Chicka Pop is a favorite brand in my house, and it has many allergy-friendly options among its flavors.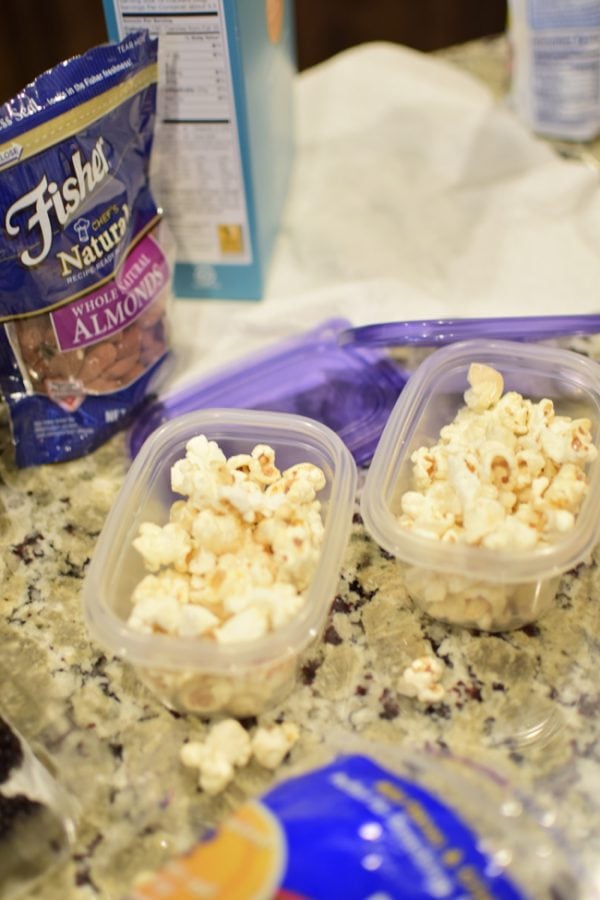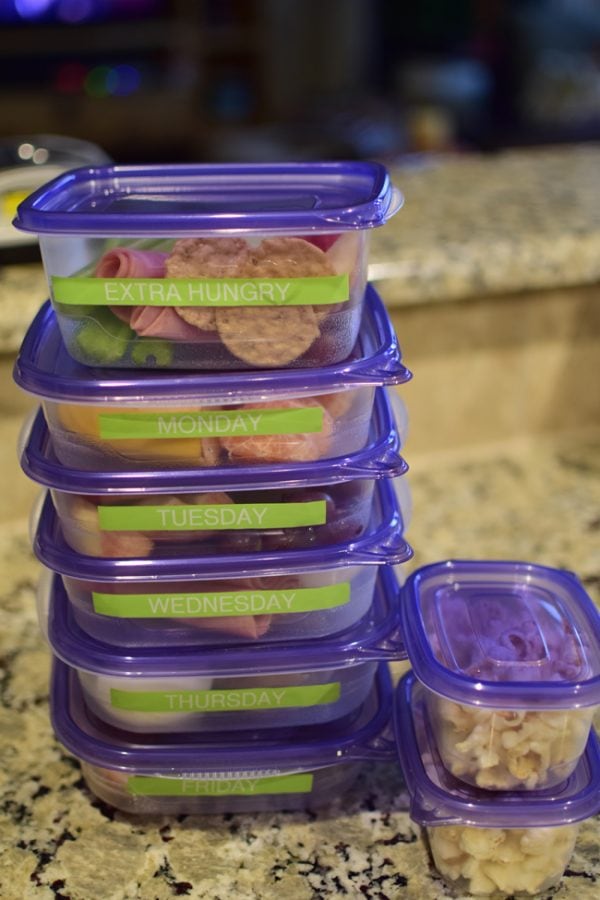 From the words of my grandson "Ain't nothing ever wrong with celery." Especially when paired with peanut butter, chocolate covered raisins, hummus, ranch dressing.
To make after school snack prep easier, you might want to add some of these tools to your kitchen:
Thanks for having me again this month. I'd love to have you connect with me on Instagram, where I share a lot of my crafts.
If you need more after school snack ideas for kids, check out these OSSS posts:
Cheesy Ham Bagel Bites, The Best Quesadillas Ever with Fire-Roasted Salsa, Cookie Butter Pretzel Dip, 10 Ways to Make Healthy Eating Fun for Kids, "Healthy" Snacks For Your Kids that Might Not Be So Healthy.
And here are some ideas for homemade baby food, and also How to Start a Food Storage.