Don't act surprised. I eat healthy, sometimes.
No, really. I love my daily work-out. I love a good salad, fresh fruit, and eating a balanced diet. But, I've never been the kind to add spinach to a smoothie, buy all organic, make veggie pancakes, or…turn down a cookie. So when my sweet neighbors brought over some super-duper healthy cookies (like, flax seed-honey-apricots-plums-apples-walnuts-hardly-any-sugar-type-cookie), I must admit…I was a little apprehensive. But, I don't turn down cookies. Life rule. So, I ate one. Then I ate two, and three, and…is it still healthy if you eat four? They were small, I promise!
These things were good!
And, I was soooo digging the fact that they had soooo many lovely ingredients in them. Now, they're not "good" in the super sweet and sinful way. But, they're good like they taste good and you want one several times throughout the day…and, it's okay if you do! The only unhealthy ingredient is the one stick of butter…beyond that, all goodness. I doubled the recipe and decided to freeze a bunch of them, for quick grabs.
Oh, so this is how cute I am. (teasing) My friend who gave me this recipe, her last name is Delight. Isn't that the coolest, ever? So naturally, these needed to be called Delightful Snacks. Cookie is such a strong word for something so healthy.
K, here's the grocery list:
Whole wheat flour
Ground flax seed
Baking Soda
Salt
Cinnamon
Nutmeg
Cardamom (This was new to me! Never cooked with it before…so, that was fun.)
Butter
Xylitol (a natural sugar that is actually GOOD for you!)…or, you can use 1/2 cup of normal sugar.
Eggs
Honey
Vanilla
Apples
Dried plums
Dried apricots
Walnuts
Coconut
Oats, old fashioned
Applesauce
I forgot to tell you that the original recipe calls for 1/2 cup of sugar. Real sugar, darn. Not good for you. But, it's only half a cup, which is small potatoes, compared to real cookies. However, I happen to be a big fan of Xylitol (I told y'all about it in this past post: Why You Need Xylitol), and I knew it would be the perfect substitution for the naughty sugar, because it is so great for your body. So, it's your choice…use 1/2 cup sugar or try it with the Xylitol. I found my in the natural section of the baking aisle at the grocery store. But, you can get it from Amazon, which is always fast and convenient. When I buy my Xylitol gum, mints, and toothpaste, I get that from Xlear.
So, heat your oven to 350 degrees and in a bowl, mix all your dry ingredients: 2 cups whole wheat flour, 3 cups oats, 1/2 cup ground flax seed, 1 tsp. baking soda, 1 tsp. salt, 1 tsp. cinnamon, 1/2 tsp. nutmeg, and a 1/2 tsp. cardamom.
In your mixer, combine 1/2 cup softened butter and 1/2 cup of sugar (this is where I used Xylitol). Add in 1/2 cup honey, 2 eggs, and 1 tsp. vanilla. Mix well.
Oh, so let me tell you about the nerd that I am. In my excitement of seeing Xylitol in my local grocery store, I paid no attention to the fact that it was in individual packets! Ugh! You know how long it takes to get a cup (I doubled the recipe) of Xylitol from little packets?? Like, 7 hours. I wouldn't recommend it.
Chop up about 1/2 cup of dried plums, a 1/2 cup of dried apricots, and an apple. Set aside.
Dump the dry ingredients in with the wet ingredients, and mix well. Then add all the chopped fruit, 1 1/2 cups of coconut, 1 cup chopped walnuts, and 1/4 cup applesauce.
Drop heaping spoonfuls of the dough onto a sprayed cookie sheet. Bake for about 14 minutes at 350 degrees. That's it.
Eat.


Delightful Snacks
Adapted from Sara Snow's recipe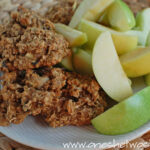 Delightful Snacks ~ The Healthiest Cookie I Have Ever Made
Ingredients
2

cups

whole wheat flour

1/2

cup

ground flax seed

1

tsp.

baking soda

1

tsp.

salt

1

tsp.

cinnamon

1/2

tsp.

nutmeg

1/2

tsp.

cardamom

1/2

cup

butter

room temp.

1/2

cup

sugar

or Xylitol

2

eggs

1/2

cup

honey

1

tsp.

vanilla

1

apple

peeled and chopped

1/2

cup

dried plums

chopped

1/2

cup

dried apricots

chopped

1

cup

walnuts

chopped

1 1/2

cups

coconut

3

cups

oats

old fashioned

1/4

cup

applesauce
Instructions
Heat oven to 350 degrees.

In a bowl, combine your dry ingredients: flour, flax seed, baking soda, salt, cinnamon, nutmeg, cardamom, and oats.

In a mixer, combine butter and sugar.

Add the honey, eggs, and vanilla. Mix well.

Chop your fruit, set aside.

Add the dry ingredients to the mixer, mix well.

Add the fruit, walnuts, and applesauce. Mix.

Drop by heaping spoonfuls onto a sprayed cookie sheet.

Bake for about 14 minutes.