Our printable LDS Primary Talk on Baptism templates are a perfect solution for busy families. Download and print your favorite template and then make the talk personal with a few fill in the blank sections.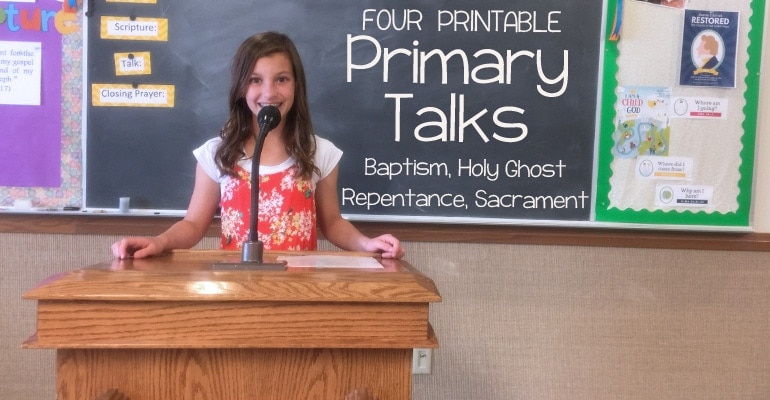 The theme for June 2018 in the LDS Church primary curriculum is, "I will follow Heavenly Father's plan by being baptized and confirmed." Baptism is a special step for every member of the Church of Jesus Christ of Latter-day Saints. Jesus was baptized while he was on the Earth. He set the example for us to follow. Primary age children love to learn about baptism because they are of the age to prepare for their own special baptism day! The older children can give insight on how they felt when they were baptized.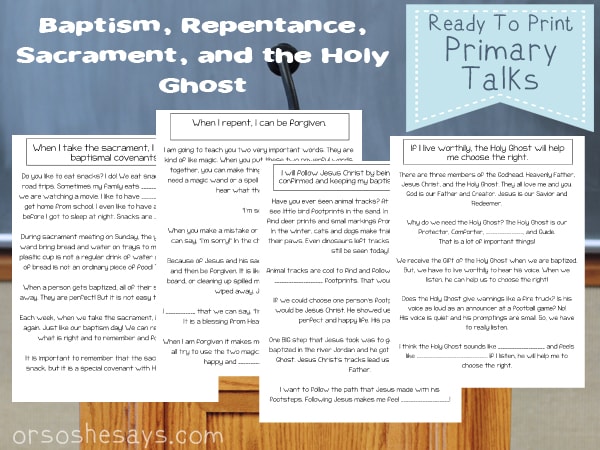 The children of the church are so innocent and faithful. They share their special spirit when they bear testimony through their gospel talks. These LDS Primary Talk templates were created to help your child comfortably share the truths of this important covenant with his or her primary group.
Help your child present a quality talk about Baptism and the Holy Ghost with one of these four unique printable LDS Primary Talk templates.
Speaking in primary gives children the opportunity to build their own testimony, gain courage to speak in front of a crowd, and feel the promptings of the Holy Ghost. These LDS primary talk printables make the experience easy and meaningful. A perfect combo!
This talk explains how important it is to follow in the footsteps of Jesus. It is perfect for a child who enjoys being outdoors and nature! There is reference in the text to animal tracks in the wild and relates that to following Jesus Christ and his perfect example.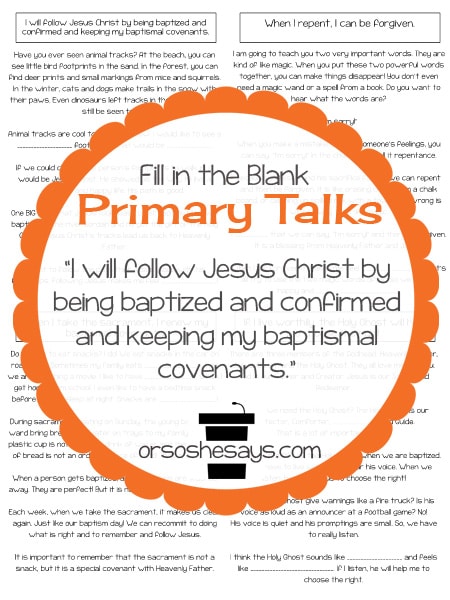 This talk will help your child explain the role of the Godhead. They get to know the important role of the Holy Ghost and how he helps to guide and direct our lives.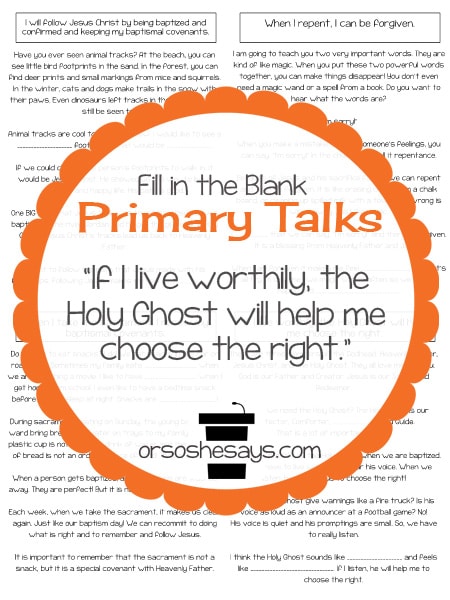 Does your child love to snack? Mine sure do! This fun primary talk will help explain the difference between a snack and the sacrament! The sacrament is not a snack of bread and water, but a special covenant with God.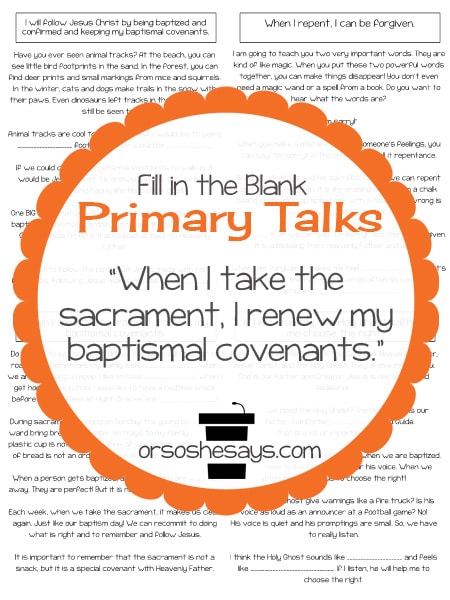 Saying, "I'm sorry!" is an important part of repentance. Those two powerful words can be like magic. They can make hurt disappear and replace sadness with joy. This LDS primary talk will help children understand that forgiveness is a simple and magical process!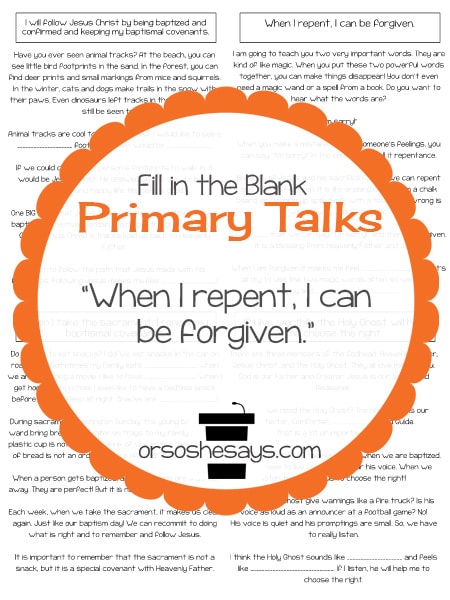 Downloading Instructions: Downloading these talks about baptism and the Holy Ghost is easy! Click on the link in the header for each individual talk. For example, "LDS Primary Talk Week 4." That link will take you to our drop box account where you can print the PDF file quickly and easily. Thanks!
Primary Leaders: Print off a copy to have on hand for Sunday meetings. If a child does not show up prepared to give their talk, you can provide them with a talk to give! They can also be used when the child who has been asked to give the talk does not show up to primary that day. It takes the stress out of the process and helps the Spirit stay close.
Parents: To make these talks personalized, there are a few missing parts of the script that you get to fill in, together, with your child. That way, the child giving the talk feels that they have contributed to the message in their own special way.