With flecks of orange zest, a soaking of orange simple syrup, and an orange juice glaze, this moist orange pound cake tastes like a burst of sunshine!
Hi, everyone! It's Samantha from Five Heart Home, and I'm excited to be back today with a recipe that just might help you battle those wintertime blues! Orange pound cake is like a breath of fresh air on a gloomy day.
So who's tired of winter yet? The frigid temperatures? The snow? The ice? In Texas, we haven't had to endure near the degree of winter weather that other parts of the country have been battling, but it's still been colder than usual around here, with multiple days of school delayed or cancelled because of ice.
But aside from the inconvenience of ice, I have another problem with winter. I just don't like being cold. I'll take 120° over 20° any day. I'm ready for spring and even summer…and I bet that some of you are, too! So today I decided to share a little sweet treat that will hopefully transport you, at least momentarily, to a warm, sunshiney place!
The great thing about oranges is that, even though they're in season during the winter, their fresh taste and dazzling color scream summer! Regardless of the month of the year, I think you will love these little loaves.
A thick slab of this orange pound cake makes a delightful snack or dessert
…and it's not too shabby with a cup of coffee or a glass of milk as a special breakfast treat either!
This orange pound cake is moist and boasts the perfect amount of sweetness. It's flecked with gorgeous bits of orange zest and soaked with an orange juice-based simple syrup. Then, as if that's not enough citrus flavor for you, the loaves are also drizzled with an orange-infused glaze. I'm telling you…one taste of this bright, luscious cake, and any trace of winter doldrums will vanish! Or at least until you have to bundle up again to set foot outside or go shovel snow. 😉
I like to make this pound cake in mini loaf pans, but you could also bake it as full-sized loaves or in a Bundt pan. Just be sure to grease and flour your pan(s) well. I even line my loaf pans with a strip of parchment paper, just to be sure that there's no sticking.
I hope that you have a chance to try this yummy Orange Pound Cake, and if so, I hope that it makes waiting for spring just a tad bit easier!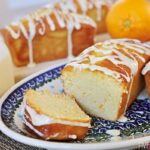 Orange Pound Cake Mini Loaves
With flecks of orange zest, a soaking of orange simple syrup, and an orange juice glaze, this moist pound cake tastes like a burst of sunshine!
Ingredients
3

cups

all-purpose flour

1/2

teaspoon

baking powder

1/2

teaspoon

baking soda

1/2

teaspoon

salt

3/4

cup

buttermilk

at room temperature

1/4

cup

freshly squeezed orange juice

2

teaspoons

pure vanilla extract

1/2

pound

2 sticks unsalted butter

2

cups

sugar

4

eggs

at room temperature

1/4

cup

orange zest
For Simple Syrup:
1/2

cup

freshly squeezed orange juice

1/2

cup

sugar
For Glaze (optional):
1

cup

powdered sugar

1 1/2

tablespoons

freshly squeezed orange juice
Instructions
Preheat oven to 350°F. Generously grease and flour four 5 3/4" x 3 1/4" x 2" mini loaf pans and lay a strip of parchment paper along the bottom and up the two long sides of each pan, pressing the paper into the corners of the pan.

In a medium bowl, whisk together flour, baking powder, baking soda, and salt. Set aside. Measure buttermilk, orange juice, and vanilla into a measuring cup. Set aside.

In a large bowl, use an electric mixer to beat the butter until creamy. Blend in sugar and beat for a few minutes until light and fluffy. Mix in eggs, one at a time, and orange zest, and beat until well incorporated.

With mixer on low, slowly pour in 1/3 of the flour mixture. Mix in half of the buttermilk mixture. Blend in another 1/3 of the flour mixture and remaining buttermilk mixture. Add remaining flour mixture and mix until just blended.

Divide batter between prepared pans and bake for 30 to 35 minutes or until a toothpick inserted in center comes out clean.

While loaves bake, prepare orange simple syrup. Stir together 1/2 cup orange juice and 1/2 cup sugar in a small pot. Bring to a boil over medium heat while occasionally stirring, then reduce heat and simmer for a few minutes. Remove pot from heat and set aside to cool.

When cakes are done, cool for 10 minutes before turning out onto wire rack. Set rack over a sheet pan or piece of foil, and using a brush or a spoon, soak each cake with simple syrup. Allow to cool completely.

For glaze, whisk together powdered sugar and 1 1/2 tablespoons orange juice in a small bowl. Drizzle over cakes and allow to set and harden before wrapping loaves or storing them in an airtight container.
Recipe Notes
If you don't have buttermilk on hand, make your own by pouring 2 generous teaspoons of lemon juice or white vinegar into a measuring cup, and then adding milk up to the 3/4 cup line. Allow to sit at room temperature for about 10 minutes or until it begins to thicken and curdle.
Two large oranges gave me enough juice and zest for this recipe.
If making this recipe in two 8 1/2 x 4 1/2 x 2 1/2-inch loaf pans or one Bundt pan, start checking for doneness at 45 minutes. Cake is done when a toothpick inserted in center comes out clean (after probably no longer than an hour).
Adapted from Ina Garten recipe on FoodNetwork.com.
What you'll need to make Orange Pound Cake:
Wilton Excelle Elite Mini Fluted Tube Cake Pan, 6-Cavity
Wilton Perfect Results Non-Stick Mini Loaf Pan, 8-Cavity
Have you subscribed to the 'Or so she says…' newsletter yet? We send out emails with more great ideas, and your first one will include Mariel's five FAVORITE recipes from the blog. You can sign up by clicking HERE.
More yummy posts you'll love:
Chocolate Drizzled Orange Oatmeal Lace Cookies
Homemade Breakfast Hot Pockets and Orange Julius