This is such a cute St. Patrick's Day activity! My name is Brooke and I'm so happy to be sharing a fun idea with you today. I first "met" Mariel, owner of 'Or so she says…', when she left a comment on my
Roll-A-Christmas Tree
post back in December. I was first, thrilled she would even comment, and second excited to hear someone else liked the game, because we LOVE it at our house. We love it so much that we've done
Roll-A-Pumpkin
, Roll-A-Christmas Tree,
Roll-A-Snowman
, and now just in time for St. Patrick's Day, Roll-A-Leprechaun.
Pin this image to save this post!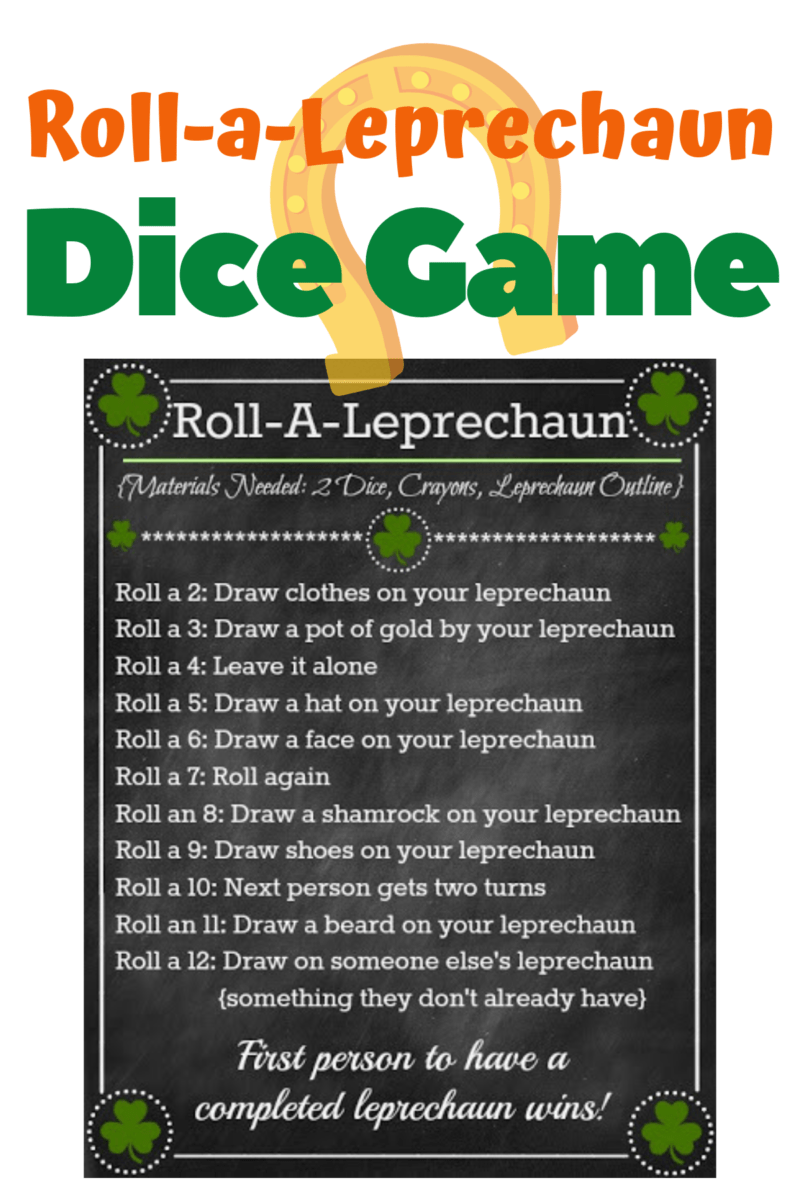 Roll-a-Leprechaun St. Patrick's Day Activity
Typically, St. Patrick's Day gets overlooked, and granted it's not the BIGGEST holiday in the book, but it's still a fun one to celebrate. There are so many cute St. Patrick's Day traditions, games, and green food ideas out there. I love this St. Patrick's Day activity because the whole family can play, and it can be played over and over again. The object of the game is to be the first player to complete his/her leprechaun. The rules are just as stated on the page above. You take turns rolling the dice, and follow the instructions according to which number you roll. To play you'll need two dice, the leprechaun outline (thanks to Jennie at
Fun Learning At Home
for the great template of the leprechaun body outline), markers, colored pencils, or crayons, and the instructions.
.
.
Another fun aspect of this game comes in displaying the end product. You could put them all together in a book to keep, frame them for a Leprechaun Wall of Fame, or simply attach them to a string with clothespins (like we did in the picture below). My boys are extremely proud of their leprechauns and stop to admire them each time they pass by.
.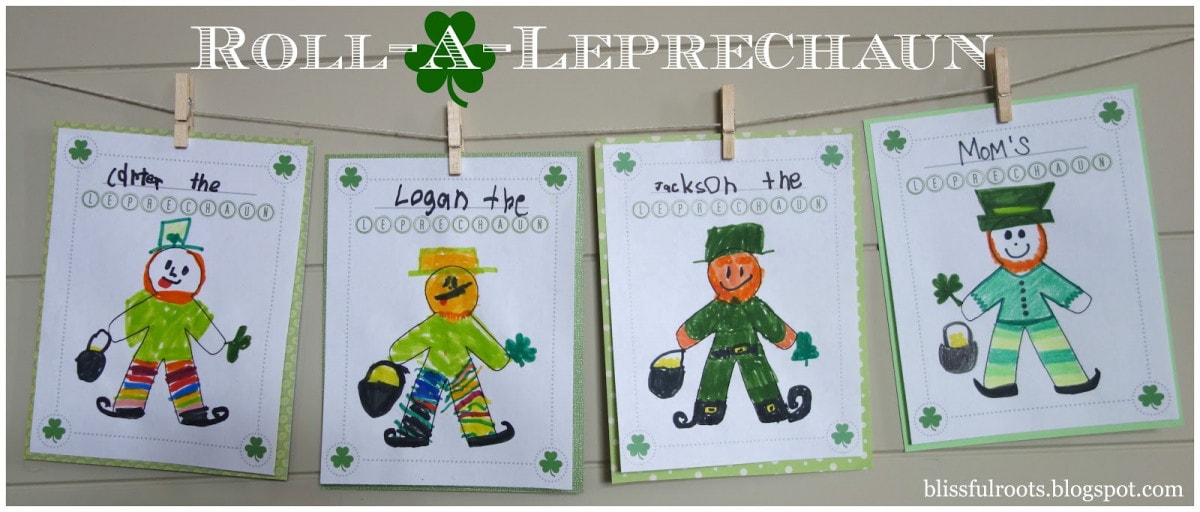 .
We played the game last week, and here's how our leprechaun's turned out. Aren't they cute? Can you tell whose is whose? I love to watch the leprechauns take life throughout the game, and see the unique touches each person adds.
.
As I mentioned before, this game can be adapted for any holiday or occasion. Easter's just around the corner. See what you can come up with for Roll-A-Bunny, Egg, or Basket.
.
I hope you love this St. Patrick's Day activity! You can click
here
to print out the instructions, and
here
to print out the leprechaun outline page.
~ Brooke
If you liked this St. Patrick's Day game, check out:
St. Patrick's Day Leprechaun Playground
If tricking the leprechauns isn't working for you, and it's just making them mad, maybe you should try swooning them with something amazing… like a playground! What leprechaun could refuse a playground made just for them? Heck, I think they're sure to leave behind some gold chocolate coins. 😉
Meaningful St. Patrick's Day Tradition
This is a fun way to get the kiddos thinking about serving others, being kind, and helpful. It would be perfect for a family night lesson too!
Homemade bark is such a simple, easy, and delicious treat. The kids would love to help make this!
Some additional social share images for this post: