Up for a little St. Patrick's Day fun?? We're calling a truce with the leprechauns this year. We don't seem to be getting anywhere with our tricks and traps. All it does is tick them off…they wreck our house, leave their nasty green footprints everywhere, and post taunting notes. Those yucky chocolate gold coins just aren't worth it. So, we came up with a plan. Hopefully, it will win them over, we can avoid the mess, and they'll reward the kids more generously.
Pin this image to save this post!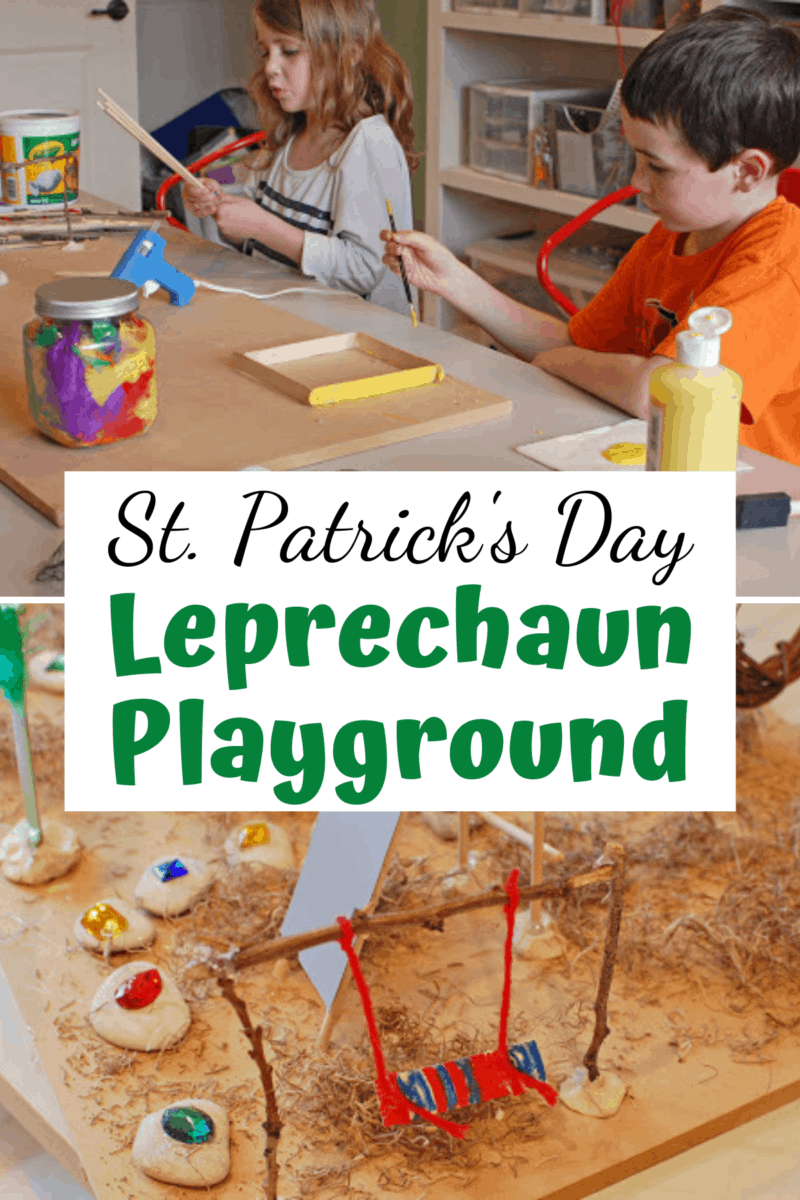 I've always taught my kids that one of the best things they can do for their enemies, is to serve them. Do something kind. And, leprechauns are their enemies. They're mean, grouchy little buggers, who don't like people stealing their money. I don't get THAT at all. I love when people steal my money. It's awesome.
So, instead of trapping them, we decided to build the leprechauns a playground. Hopefully, it works. I would be friends with anyone that built ME a playground.
St. Patrick's Day Fun ~ Leprechaun Playground
I pulled a little of everything of my craft room shelves, and they got right to work.
They used sticks, rocks, yarn, clay, paint, and anything they could find…plus, about 20 sticks of hot glue.
There are several great craft supplies that you can get online:
Wood St. Patrick's Day Ornaments
Shamrock Glitter Foam Stickers
Green and Orange Pipe Cleaners, Pom Poms and Wiggly Eyes
St. Patrick's Day Scrapbook Paper
They made a tire swing and a sand box…more like a soil box.
They made a super steep slide and jewel covered pathways.
There's a swing and a balance beam (you can't see that in the picture)…
A teeter-totter…
And, a green flag. It's not the prettiest playground you've ever seen, but it's pretty bad-A.