I really had to swallow my pride to get to the point where I could share these sugar cookies from scratch recipe with you. Granted, it's not MY recipe…I think I found it on the Food Network, back in the days. But, this soft, chewy sugar cookie recipe has made me the "chick that makes the BEST sugar cookies"…in the family, at church, in the neighborhood, in the ghetto, you name it. It will be hard for me to share that title with you, lots of you! So, on account of me being demoted in coolness for your sake, you better be really grateful. Grateful = buying me shoes, scrubbing my showers, babysitting my kids, and whispering sweet nothings to me in the comment section.
Sugar Cookies from Scratch Using Buttermilk
What everyone loves about these cookies is the flavor (of course… most important!) and the chewy factor. I'm not kidding, when I walk into my mom's house for Christmas dinner or any other family event, my siblings will start clapping. Not because they're excited to see me. It's because I have a plate of these in my hand! I could tell you lots of stories about the need my friends and family have for this world's best sugar cookie.
World's Best Sugar Cookie ~ Grocery List
Flour
Baking Soda
Baking Powder
Butter
Sugar
Eggs
Vanilla
Buttermilk (Buttermilk makes everything better!! It's the secret to these cookies!)
Powdered Sugar
Sugar Cookies Using Buttermilk ~ Tips & Tool Suggestions
You can use any mixer to make these. I have both a KitchenAid and a Bosch. I personally prefer the Bosch for making cookies and the KitchenAid for making bread. I feel like the Bosch does a better job of creaming butter, it's much easier to scrape and add additional ingredients to. But, any mixer will work fine.
It's important to use real vanilla extract… pretty much, always… as opposed to imitation. It makes a huge difference in the flavor of your cookies. I love the flavor of the Nielsen-Massey vanilla. I buy a 32 oz. bottle and it lasts me about a year!
I don't recommend making cookies on sheet pans (you know the kind you use for sheet cakes, with the lip around the edge?) I feel like the lip interferes with how evenly the cookies bake. I suggest a good quality, flat cookie sheet, and you will want at least two of them, as this recipe makes a couple dozen cookies.
The bake time on the recipe, and most cookie recipes, needs to be considered a ball-park number. Basically, the cookie is done when you see the first hint of "golden" anywhere on the cookie (the sides or on top.) When you see any golden on the cookie, pull them out of the oven and let them sit on the hot pan, on the counter, for at least 3 minutes. They will continue to cook a little, without getting overcooked (like they would in the oven.) After a few minutes, you can remove them from the pan to cool.
The frosting is a big part of the allure of these cookies. Before you try another recipe or anything pre-made (not recommended), please try the recipe included. It's a favorite and pairs perfectly with these sugar cookies from scratch.
Print the Recipe, Below…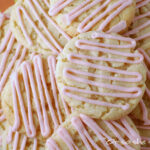 Soft, Chewy Sugar Cookies from Scratch ~ These Will Make You Famous!
I actually had to swallow my pride to be able to share this recipe with you. These cookies are probably why I'm invited to get-togethers! Ha. Everyone loves them and begs me to bring them to family events or whatever we have going on. They're super chewy and so delicious! Often referred to as "Crack Cookies," because they're so addicting.
* The frosting recipe is shared in the recipe NOTES section.
Ingredients
5 1/2

cups

flour

2

tsp

baking soda

1

tsp

baking powder

2

cups

butter

softened

3

cups

white sugar

2

large

eggs

2

tsp

pure vanilla extract

* not imitation

6

TBS

buttermilk
Instructions
Preheat oven to 375 degrees

In large bowl, stir togethe flour, baking soda, and baking powder. Set aside.

In mixer, cream butter and sugar until smooth.

Add the eggs and vanilla to mixer, mix for about 10 seconds.

Add the dry ingredients to the mixer. Dough will be thick. Hurry to next step to avoid breaking beater.

Add buttermilk, one TBS at a time. Mix well.

Roll into 1 - 1.5" balls and place on ungreased cookie sheet.

Bake for 10 to 13 minutes. Watch them carefully! When you see the first sign of golden on the edge of the cookies, , they're done. Pull them out of the oven. Let sit on the pan for a few minutes to set, then remove to let cool. * Ovens can vary. If your cookies overcook repeatedly, try dropping your oven to 350 degrees, next time.

Frost the cookies! I like to put the frosting in a piping bag and do a little squiggle across the cookie, to avoid too much sweetness, but to add the yummy flavor of the frosting. Frosting recipe in note section, below.
Recipe Notes
Buttermilk Frosting Recipe
1 stick softened butter
4 cups powdered sugar
1 tsp pure vanilla extract
milk, to consistency
Instructions: Place butter, sugar, and vanilla in mixing bowl and cream together with hand mixer. Add small pours of milk into the bowl and mix until frosting consistency. Go slow on the milk! Maybe just a TBS at a time. You don't want runny frosting! Add food coloring to create your chosen color.
Pin this image to save sugar cookie recipe for later: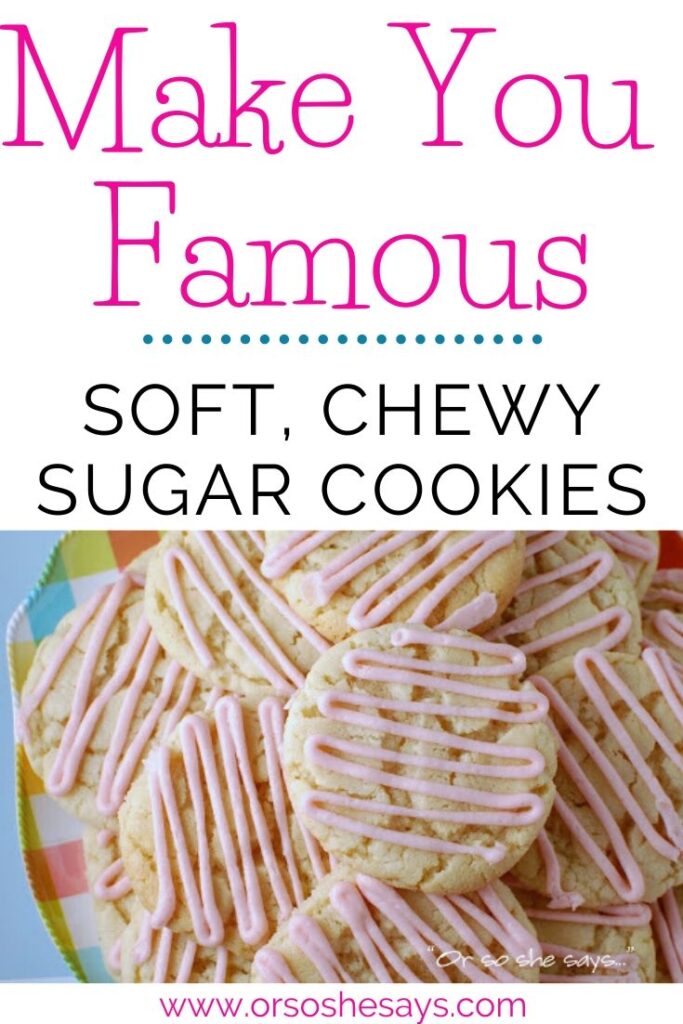 If you loved this soft and chewy cookie recipe, check out: