Hi everyone! I'm Gina from Kleinworth & Co. where I share favorite family recipes, crafts with the kids and occasional photography tips and tricks. I'm so incredibly thrilled to be kicking off this new year as a contributor here. Today I thought I would share with you something that popped into my head while I was chatting with my son as we made dinner one night. There I was telling him about how I was looking forward to spring because that's when Girl Scout cookies typically go on sale. Then he mentioned that I should learn how to make my own thin mint cookies. I had remembered several of my blogging friends making their own versions this past year using Oreo cookies. They scraped out the cream filling and dipped them in mint chocolate. My son looked at me and asked "what do you do with the cream?" This turned into quite a discussion about how I was actually sad that we had to decide what to do with the cream – because, really- that's the essence of the Oreo. It then came to me that I didn't have to choose between discarding the cream or having my own thin mints. I would just marry the two, make a thin mint Oreo cookie, and be in cookie bliss. So I'm sharing this idea with you so you can share in my happiness.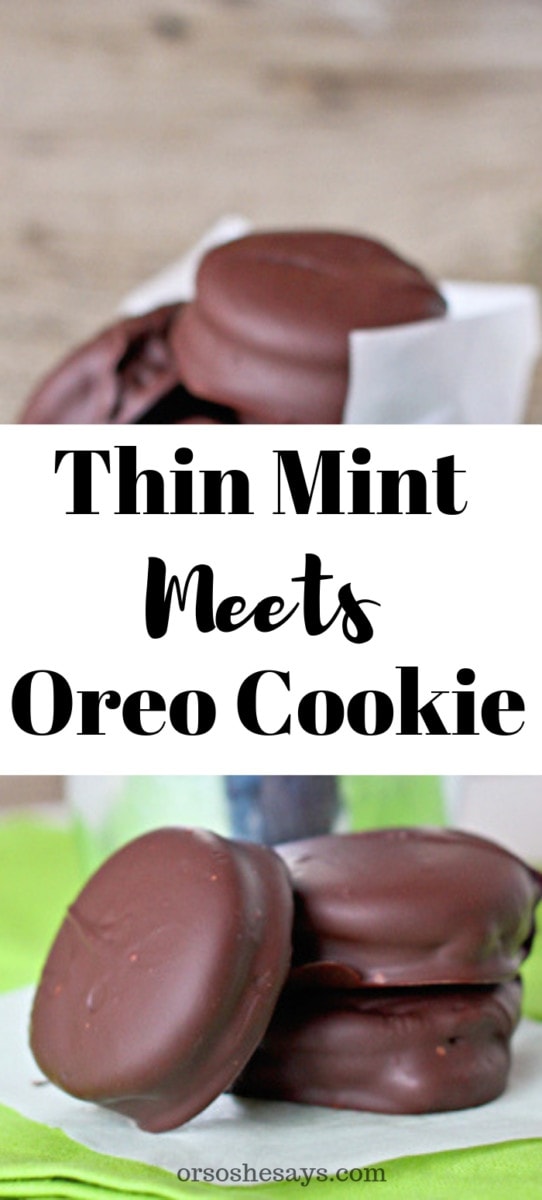 Thin Mint Meets Oreo
It really is the best of both worlds – Oreo and Thin Mint. WOW!
Now I popped these into the fridge to set the chocolate faster – but they are best served at room temperature.
The fun part is that you can make a little or you can make a lot. It's minimal work and the Thin mint Oreos are ready almost instantly.
Thin mint Oreos make great little gifts too. I'm telling you- people think it's just a chocolate covered Oreo. Then they take a bite and they get that hint of mint and they swoon.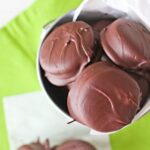 Thin Mint Meets Oreo
Ingredients
16-20

Double Stuffed Oreo Cookies

16

ounces

2 cups Semi-Sweet Chocolate Chips

1

tsp

Peppermint Extract
Instructions
In medium size glass bowl - microwave your chocolate chips 1-2 minutes on 50% power. Be sure to take out & stir every 30 seconds to make sure it's heating & melting evenly.

Once it's very melted & smooth stir in extract.

Lower your your cookies one by one with a fork into the chocolate, flipping to coat completely.

Raise out of the chocolate & allow excess to drain off.

Place on parchment lined baking sheet.

Continue with remaining cookies.

Place in refrigerator to set chocolate for several hours.

Remove & allow to cookies to come to room temperature before serving.

Store in airtight container.
That's it!! So simple and they are SO good. You may never want to go back to just one or the other after this.
-Gina
Want more cookie treats?
DIY Fortune Cookie Messages – Give a Fortune of a Vacation!
Chocolate Chip Pumpkin Cookies with Buttercream Frosting