Hello "Or So She Says" readers! My name is Alicia, and I'm going to show you how to make homemade laundry detergent with Fels-Naptha! But before I do, I'm going to tell you who I am and why I make and use my own laundry soap. I've been married to my handsome husband for 5 1/2 years and we have two little kiddos. Our daughter is 3 and our son is 1 1/2. My husband works hard so I can stay home with the kids. I haven't "worked" since I was pregnant with our daughter, and while I love staying home I miss being able to bring home a paycheck because I know it would take some of my husband's financial stress away! But we both really feel like I need to stay home right now. So, we're poor, but we love each other. And, we're happy about it.
I spend my free time (ha!) writing all about it at Story Lady Blog, and you can spend your free time (ha!) reading all about it.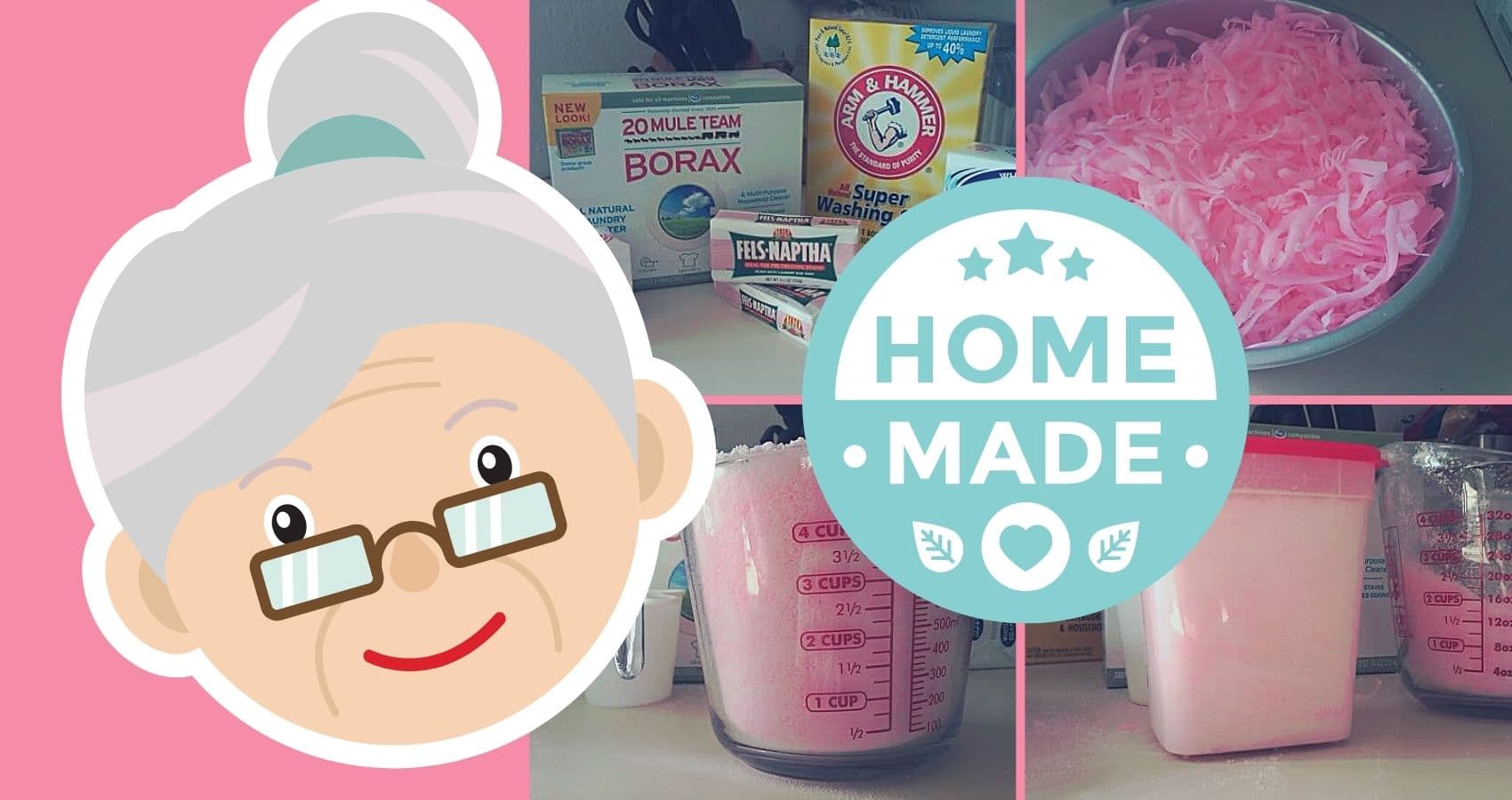 Homemade Laundry Detergent with Fels-Naptha
Because I can't go out and earn money, I do what I can at home to save money. A few months ago, I went to visit my Granny and I caught her using homemade laundry detergent. Within minutes I had "How To Make Homemade Laundry Soap" instructions in my hand. Within days, I had everything to make it.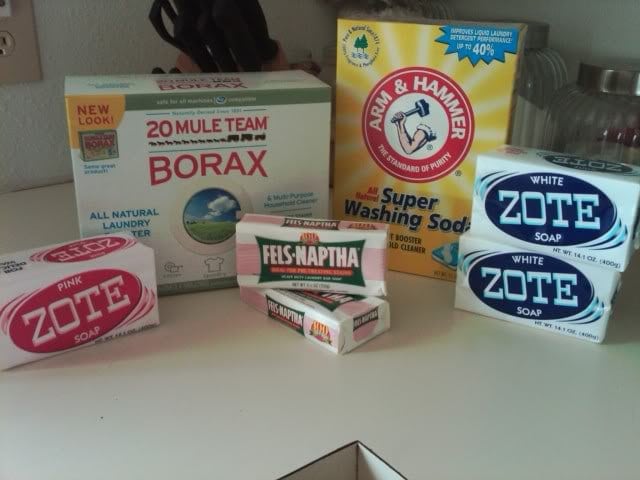 What You Need to Make Homemade Laundry Soap to Save Money
A word here must be said on behalf of Fels-Naptha. If you haven't been using Fels-Naptha at all, you are missing out on something amazing. Growing up, I used it to treat heavy stains and it never disappointed me. I had never tried Zote (pronounced zoe-tay) until yesterday. I don't know if there's much of a difference, but it felt more fun and wild to buy pink zoe-tay. I found everything I needed at various grocery stores, so check around next time you go shopping!
How Much Does It Cost to Make Homemade Laundry Detergent?
Of course, prices change all the time. But, here's what I spent to make my recipe for homemade laundry detergent.
20 Mule Team Borax cost me less than $5 for the box.
Laundry soda was also less than $5 for the box.
Fels-Naptha runs about $2 a bar.
Zote runs about $1 a bar
So, there you have it. Even the initial cost to buy all the supplies is cheaper than a regular ol' box of detergent.
Instructions for Making DIY Laundry Detergent with Zote (or Fels-Naptha)
First thing you're going to do is grate up the soap with your kitchen cheese grater. I grated it up in a 9 inch cake pan, and that was just a little too small. You might want to use a big mixing bowl.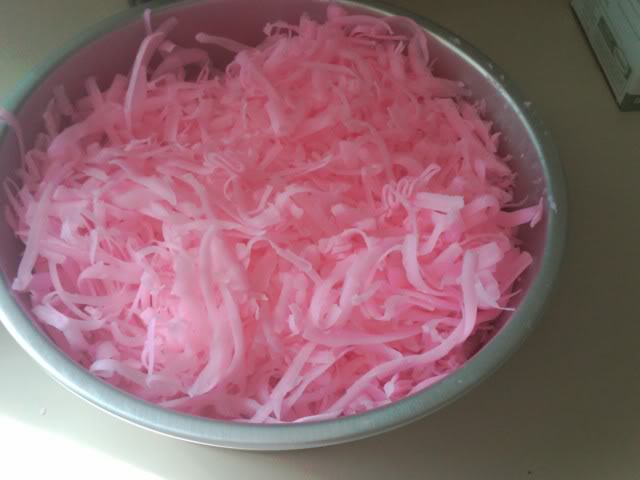 Add one cup of 20 Mule Team Borax and one cup of Laundry Soda. Mix them all together (I used my hands to mix them). Put the mixture, a little at a time, into the blender and blend it until it has a grain-like texture. I only blended about a handful at a time, and I used a high setting. Each handful took about 20 – 30 seconds to blend.
One batch made over four cups. And, it took me less than thirty minutes.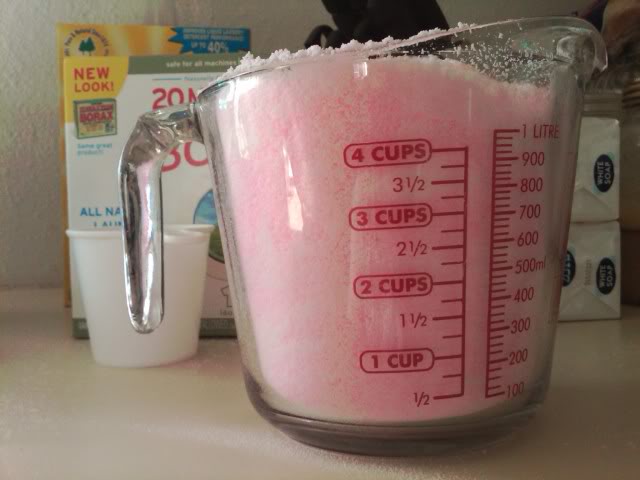 My granny told me that the Zote soap works best. But, I still recommend that you to buy Fels-Naptha, and try it, at least once, on your next tough stain. It will have you doing a happy dance!
How to Store Homemade Laundry Detergent
Think of all the great (or even cute) ways you could package this DIY laundry soap up. You could give away little bottles full of it with the recipe attached to the top. I didn't bother with cute, though. I mostly just threw it in my freezer containers and left it on the counter to look at and admire all day.
I actually took my daughter's white dress that she had gotten pizza sauce on, wet a toothbrush and applied this soap directly to the stains and scrubbed it with the toothbrush. The stains came right out! I was so proud.
Tips for Using Homemade Laundry Detergent
I've been using this homemade laundry soap recipe for quite a while now and I've learned a few things I wanted to share…
The soap does not make bubbly suds. This does not mean you need to add more. It is still working just fine!
I use two Tablespoons per load but you could get away with even using less than that.
You still need to use fabric softener.
If you're washing a batch of whites or a particularly dirty batch, you may want to add some Oxyclean to the batch. I usually pre-treat with Fels-Naptha or Spray n' Wash.
Zote does not smell as nice as Fels-Naptha, but essential oils can be added, if you'd like.
Again,

this "recipe" doesn't work well with HE washers

, but Google can save you! If you do a search (using the term "homemade laundry soap for HE washers") you'll find a few sites that will show you how to mix it in such a way as to make it compatible with HE machines.
Making and using your own laundry detergent will save you so much money, and it's actually fun to make. It ends up costing you less than 10 cents a load. You really can't beat that.
Enjoy!
If You Liked This Post, Check Out:
Pin This Image to Save Post: