Oh, Norwex Cleaning Paste… you rock my world. Let's talk about ways to use Norwex Cleaning Paste. Basically, it can do anything. I mean, it can remove PERMANANT marker! How freakin' sweet is that?! I love using my cleaning paste for cleaning my glass-top stove and for whitening grimy grout in my bathroom. It really is so versatile. And it's environmentally friendly!
The paste comes as a solid in a 200 mL tub and will most likely last you a year or longer. I don't need much more than a few dabs of the paste to get my whole stove-top sparkling! While I knew that there were a few things the paste was great at cleaning, I had no idea that after a little research I'd be able to make a list of 35 uses for Norwex Cleaning Paste! I'm really excited to try some of these out and I hope you guys can find this list useful too. I plan to print it off and hang it in my cleaning closet for future reference. 🙂
35 Ways to Use Norwex Cleaning Paste
Clean and polish stainless steel
Clean porcelain sinks
Polish faucets
Remove ink or Kook Aid stains from counters
Clean and de-grease stoves
De-grease oven doors
De-grease pots and pans
Remove burn marks from pots, pans, and appliances
Get scratch marks off dishes
De-grease cabinets, walls, and backsplashes
De-grease microwaves
Remove soap scum from bathroom tubs or shower floors
Clean tile and grout
Remove rust stains
Remove hard water stains
Remove dried hairspray from styling tools
Remove scuff marks
Make tennis shoes look new
Clean plastic toys
Remove carpet stains
Remove permanent marker from tile, wood, and walls
Clean leather seats or couches
Polish tire rims
Polish chrome parts
Clean clouded headlights
Clean car floor mats
Clean lawn furniture
Clean white folding tables
Clean rust off of the grill
Remove sticky goo
Remove armpit stains from clothing
Remove grass stains
Clean and polish jewelry
Polish silver
Remove nail polish stains
Download this FREE printable here.
Norwex Cleaning Paste Before and Afters
The fridge water and ice dispenser and the sink are two of the trouble spots in my house. The water dispenser has a way of getting so nasty with water stains and grime. And, my sink is constantly getting scuffed up from the pots and pans. Look how great these cleaned up! Now, I keep a tub of the paste right under my sink, so I can easily pull it out and wipe off those scuffs whenever I need to. I definitely prefer using the EnviroCloth over anything else when cleaning up because it's so gentle and with the fine fibers (1/200th the size of a human hair) it manages to get into the tiniest of crevices for an awesome clean.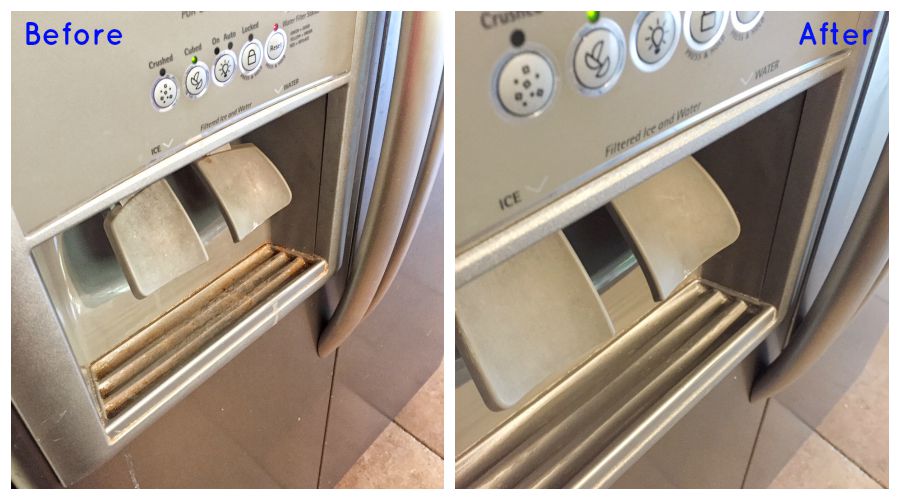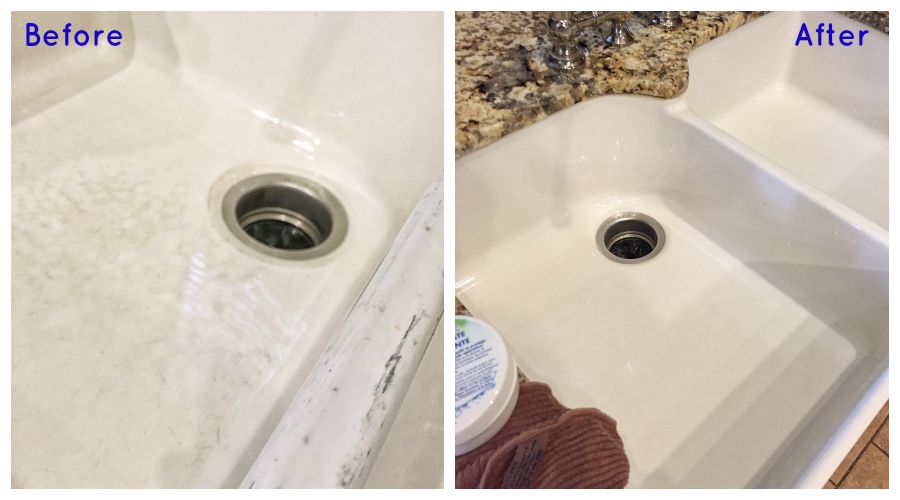 Norwex Cleaning Paste Instructions
To use the paste, simply wet a Norwex Microfiber cloth (EnviroCloth) and wipe across the top of the paste a few times. Then rub whatever it is that you're cleaning. Sometimes I need to go back to the tub for a little more paste. When you're done, rinse the surface with water. And, that's it!
A couple notes: don't use on brushed stainless steel, Nicke, pewter, aluminum, or wood. Also, be sure to test the paste somewhere before using.
Norwex Cleaning Paste Ingredients
Check out these ingredients: marble-flour, natural soap, and coconut oil. Safe and simple ingredients that get the job done!
To learn more or purchase this or any other Norwex products visit www.marielwangsgard.norwex.biz
Further Norwex Education in THESE Posts:
Norwex Envirocloth vs. Microfiber Couch Stains – Here, I share a video where I'm using a Norwex EnivroCloth and water to clean my microfiber couch. It worked so well!
25 Awesome Ways to Use the Norwex Travel Cloth – Travel cloths are so nice to have because they're so tiny, but perform such an important function! Be sure to check out all 25 of them. 🙂
My Favorite Way to Clean Sticky Messes Off Countertops – Another video, where I demonstrate the amazing microfiber cloths and features.
The Best Cleaning Cloth in the World… for real. – This post will take you back to the beginning… basically, it's a Norwex review. How did I hear about the products? What did I learn? Are the cloths and products worth the money? Can they really clean with water better than any chemical? So much information!
Want a free pdf with 5 favorite family recipes?
Join over 180,000 others who keep tabs on 'Or so she says…' family ideas and Mariel's weekly thoughts and favorites. Plus, get the bonus recipes sent right to your email. Subscribe to our newsletter today!