June Primary Talks for Kids are available now for download. Each talk is written based on the Primary Come Follow Me Topic for the month of June. You can easily download and print the talk or use and electronic device and read the talk directly from our website. I hope this resource makes speaking in church easy and meaningful for your Primary child.
June 2022 Easy Primary Talks for Kids
If you are a Primary leader, you can download all four talks at once to have on hand in case your assigned speaker does not come to church prepared. Enjoy!
Download all four June Primary Talks here.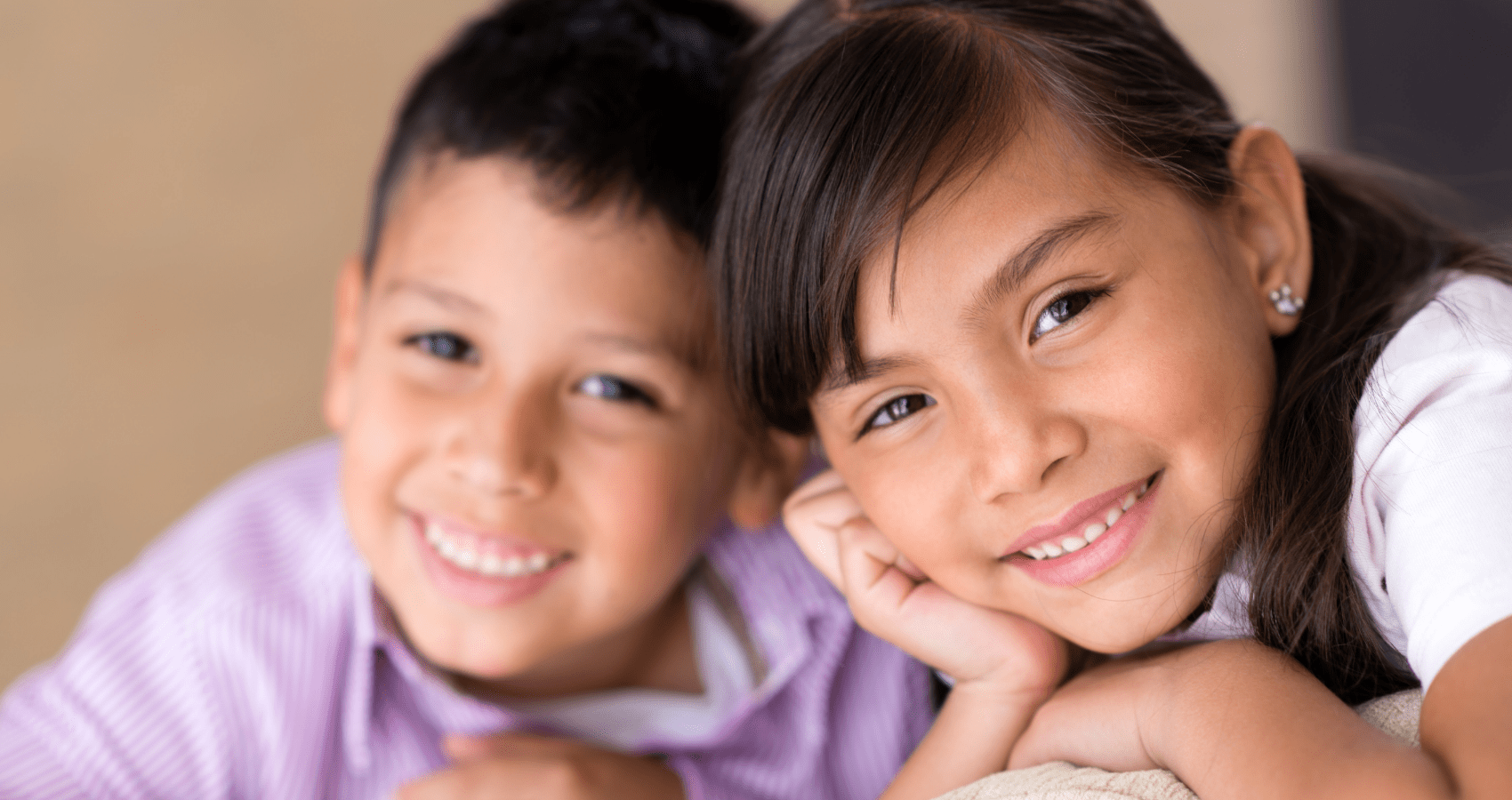 June 5th Easy Primary Talk: Our Superhero Jesus
Do you like the superhero named Batman? I do! When the people in the city are in trouble they flash a big light symbol into the air that looks like a bat. That is how Batman knows they need help. The signal makes it possible for Batman to save them.
We can't ask Batman for help with a big giant bat light! But, we do have a rescuer that we can call on. His name is Jesus. Jesus Christ is always ready to save us. When we are in need of help, we can pray. He hears and answers our prayers. When we have faith in Him, we can be saved.
Download PDF Primary Talks: Our Superhero Jesus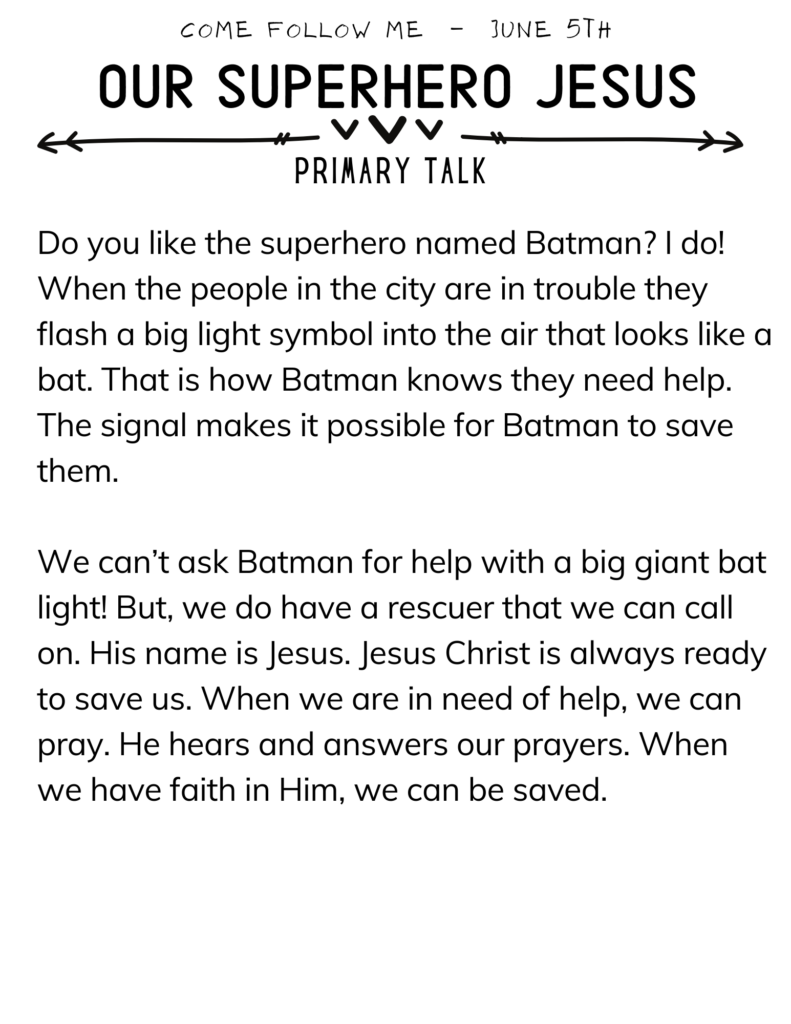 June 12th Talk for Primary Kids: Choose Kindness
There are so many things to learn from reading Bible stories. One of the most important lessons is how to be kind. Why? Because, kindness makes a difference every single day. Kindness can help you make a friend. It can make someone feel happy. When you are kind it is being a missionary for Jesus. Kindness can change the world.
There is a little song called Kindness Begins With Me. The words say, "I want to be kind to everyone, for that is right you see. So I say to myself, remember this: Kindness begins with me." I hope we can all remember that we can choose to be kind each and every day.
Download June Primary Talks PDF: Choose Kindness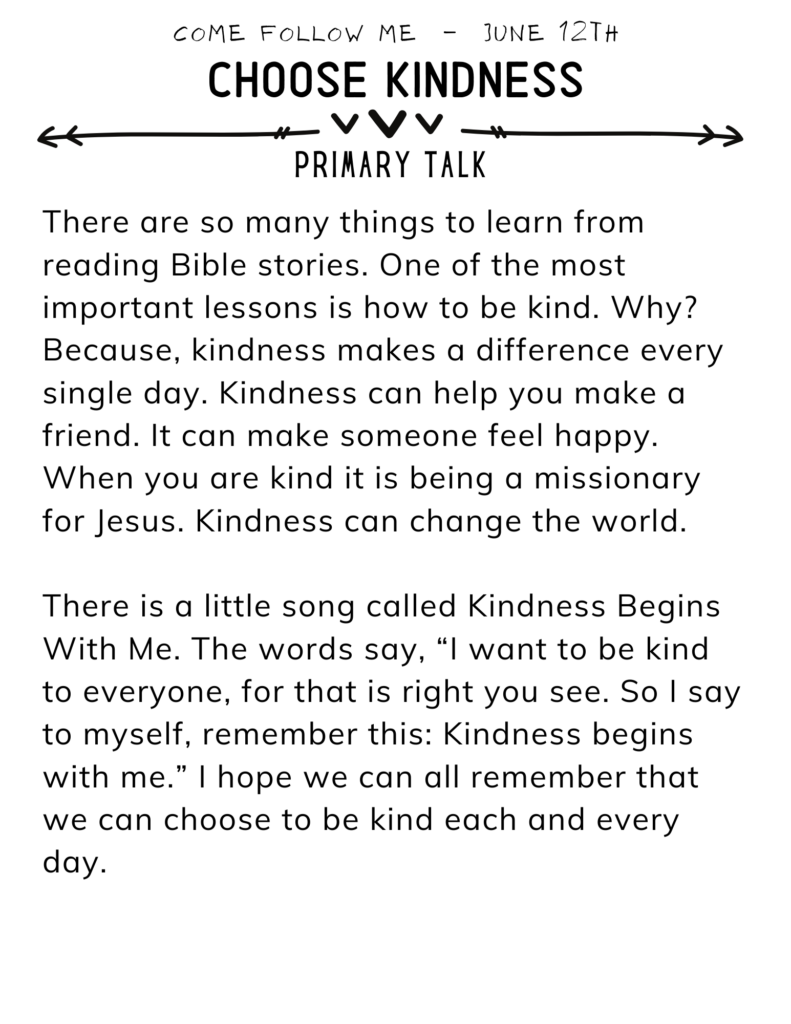 June 19th Primary Talks: Faith Like David
Have you heard the story of David and Goliath? David was small, but he had a big amount of faith in the Lord. He knew that with God, all things are possible. When the army needed someone to defeat the giant Goliath, David volunteered to help. He knew that with the Lord on his side, he could win! And he did!
David was so strong and courageous because of his faith in Jesus Christ. When we have faith, we can be like David. We can conquer any challenge with the Lord on our side.
Primary Talk PDF: Faith Like David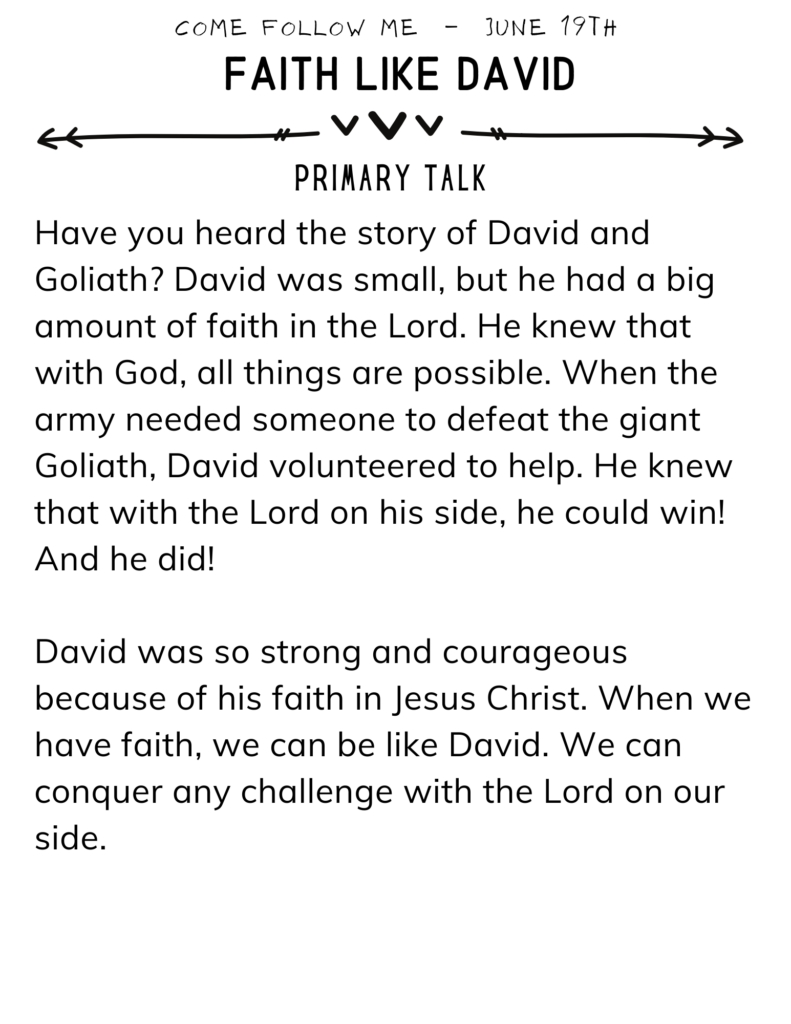 June 26th Talk For Children: Lucky To Know Jesus
We are lucky! Do you know why? We are lucky because we know Jesus. We can read scriptures with stories about Jesus. We have prophets who teach us about Him and his life. At Church, we learn about Jesus in Primary when we sing songs together and have lessons from our teachers.
Not everyone in the world knows Jesus. So, it is important for us to walk in His footsteps. When we follow Jesus and do the things He taught us are right, we can show others the best way to live. When we walk in His ways, we lead others to the light. Because we are so lucky to know Jesus, we can show our thanks by following His perfect example!
Download PDF June Primary Talks: Lucky To Know Jesus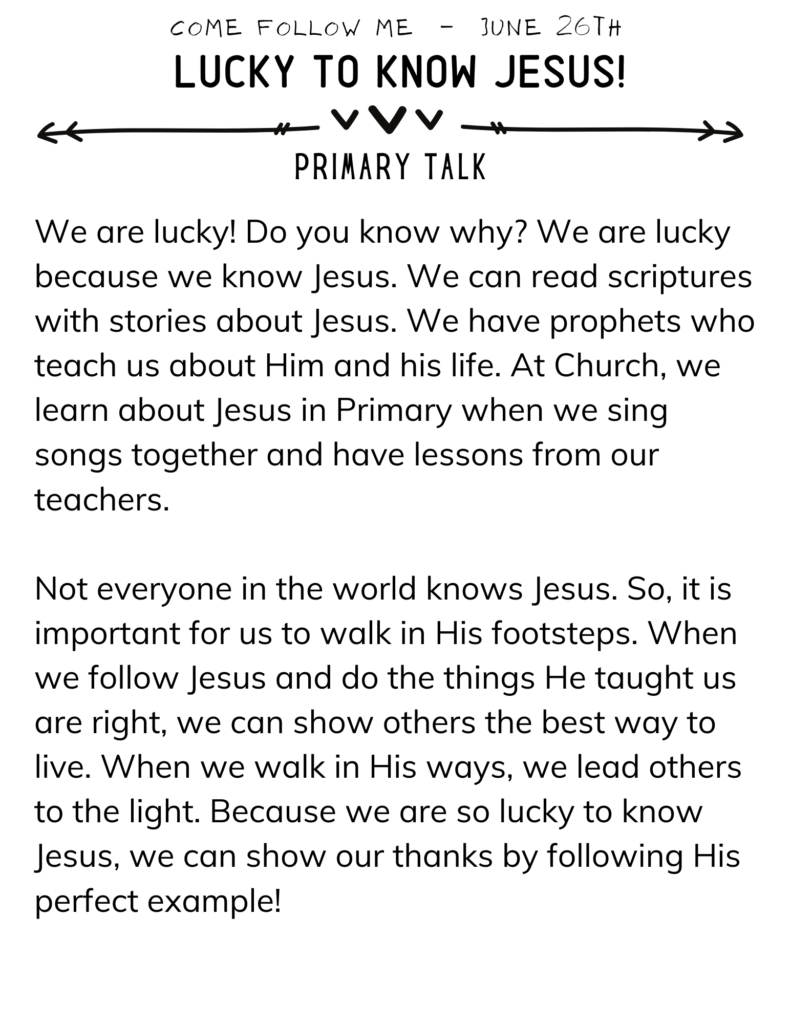 Do me a favor and share these posts?? It helps spread the gospel!