Easy Primary Talk Printables for May Come Follow Me for Primary topics. Use these five unique primary talks to make speaking in church simple. The messages are prepared using the Come Follow Me for Primary lesson for each week of the month.
Easy Primary Talk Printables for May 2022
Of course, it's ideal for parents and children to put their own talks together, but sometimes that's easier said than done. Moms get busy, kids get grumpy, or sometimes a little inspiration is needed to get started. The nice thing about these Latter-day Saint Primary talks is that they can totally be adjusted. Cut things out, add to them, or find fun ways to make them personal. There's definitely no shame in using a printable talk!
Below, you can download individual talks, based on the week you are looking for. Or, a lot of Primary Secretaries and Presidents like to download all of the talks (link below this paragraph), in case one is needed, last minute. When I was a Primary Secretary, I would text out a link to the talks to the parents of the child I was reminding about their assignment. And of course, let them know they were optional to use.
Download and print ALL primary talks for May: May Primary Talks PDF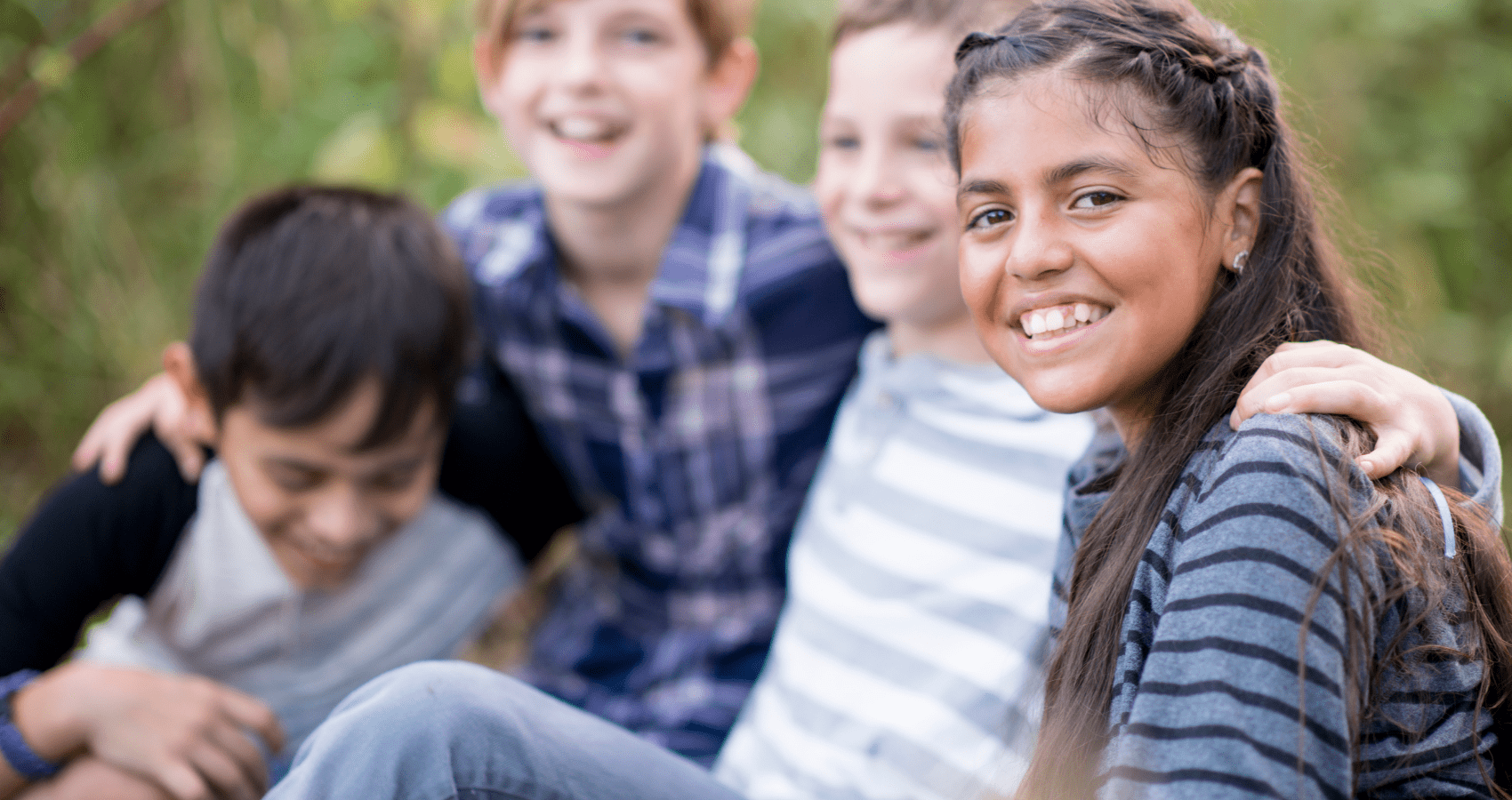 Easy Primary Talk May 1st: The Sabbath Day
Sunday is a special day. It is different from all the others. We call it the Sabbath Day. God has asked us to keep it holy.
What does it mean to keep the Sabbath Day holy? I think it means that we take time to make it feel different than any other day of the week. We attend church and do our best to be reverent. We find ways to show our love to God.
Here are a few ideas:
Don't play on your electronics
Stay home from the store
Cook a meal as a family
Go outside to enjoy nature
Talk about what you learned at church
When we take time to make the Sabbath Day special, it shows our love for God and helps us to feel His love in return.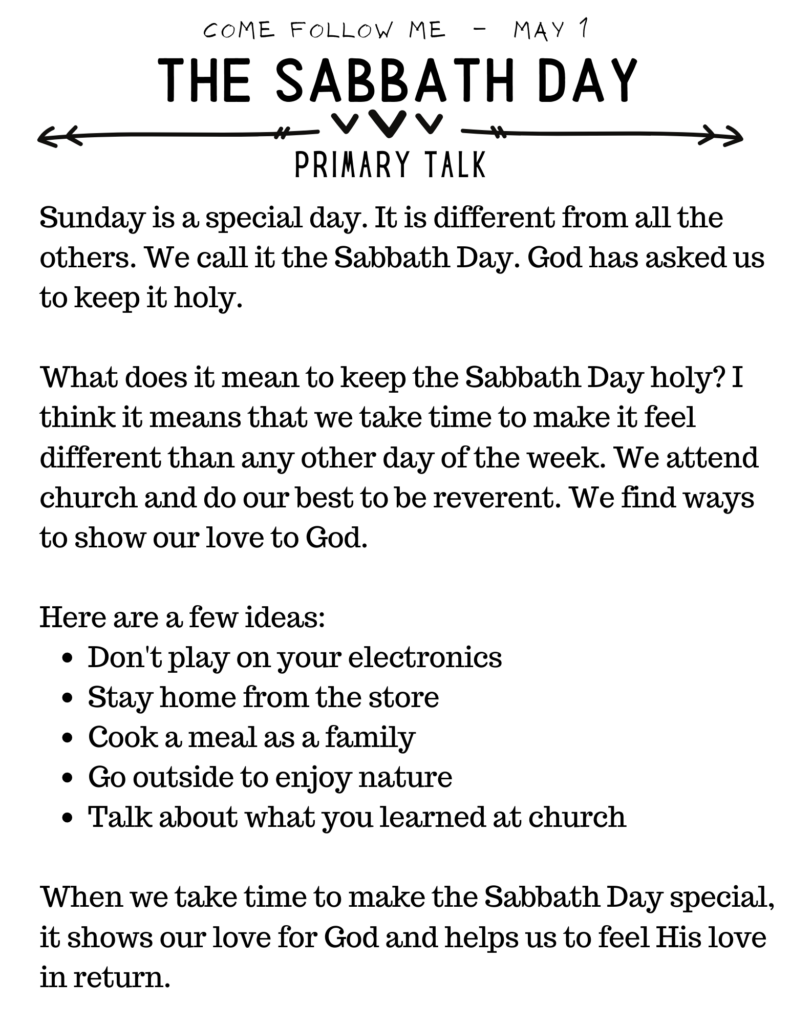 May 8th Primary Talk for Children: Holy Places
Have you ever heard the saying, "Stand in holy places?" The Lord provides us with special places on Earth that are holy. One of those places is the temple.
Have you ever been to see a temple? They are beautiful. The temple is a holy place! You can feel a special spirit when you walk around the grounds. I am excited to go inside someday.
We can feel close to God at the temple. We can also feel close to Him in other holy places! I can feel His Spirit at church, at home, and when I am outside thinking about heaven. If you have a special place where you feel God's love for you, that is a holy place! I hope we can make a goal to stand in holy places.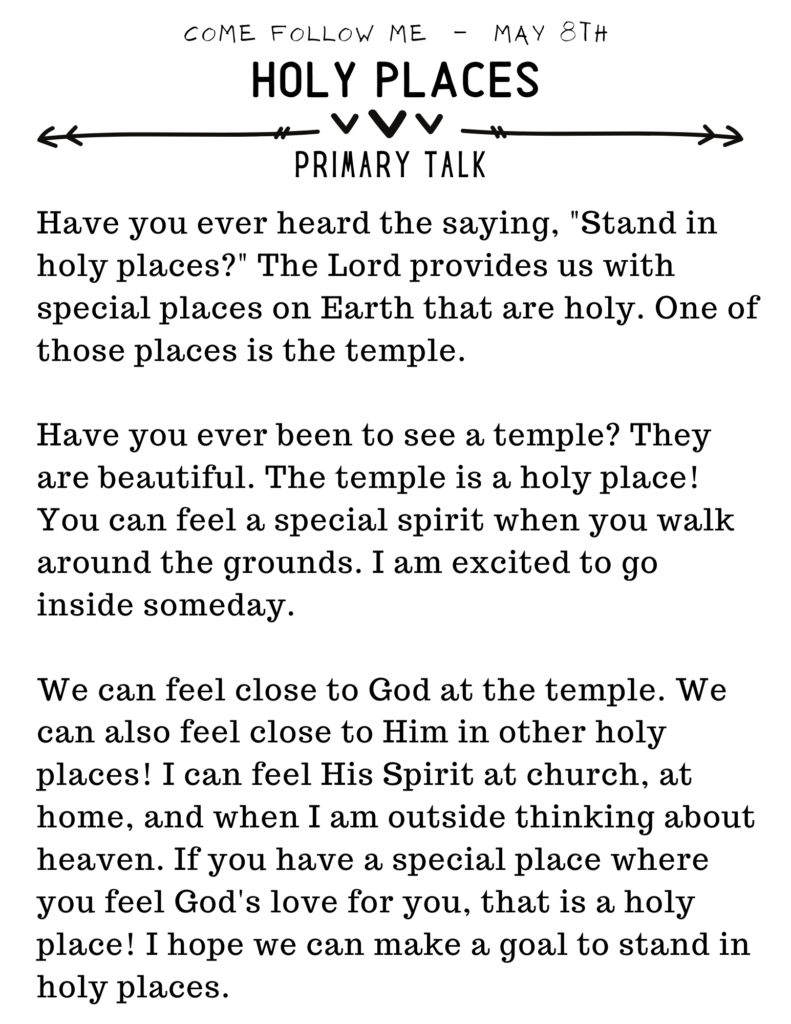 Easy Primary Talk Holy Places PDF
May 15 Primary Talk: Give Thanks To God
Pretend that you spent all morning baking cupcakes. You took time to frost each one. Then, you put sprinkles and candy on top to make them pretty and even more yummy. It was hard work.
Once you were finished, you put the cupcakes on a plate and gave them to your very best friend.
That sounds like a great morning right?
Well, what if I told you that your friend didn't eat the cupcakes and they didn't even say thank you! They just set down the cupcake plate and walked away.
That would make you feel sad, right? I think so.
It is important to say, "Thank you." Gratitude shows love. God has given us so many gifts. He blesses us every single day. So, when we say our prayers at night, we should take time to give thanks. It makes Him feel happy! We want Him to know we love Him.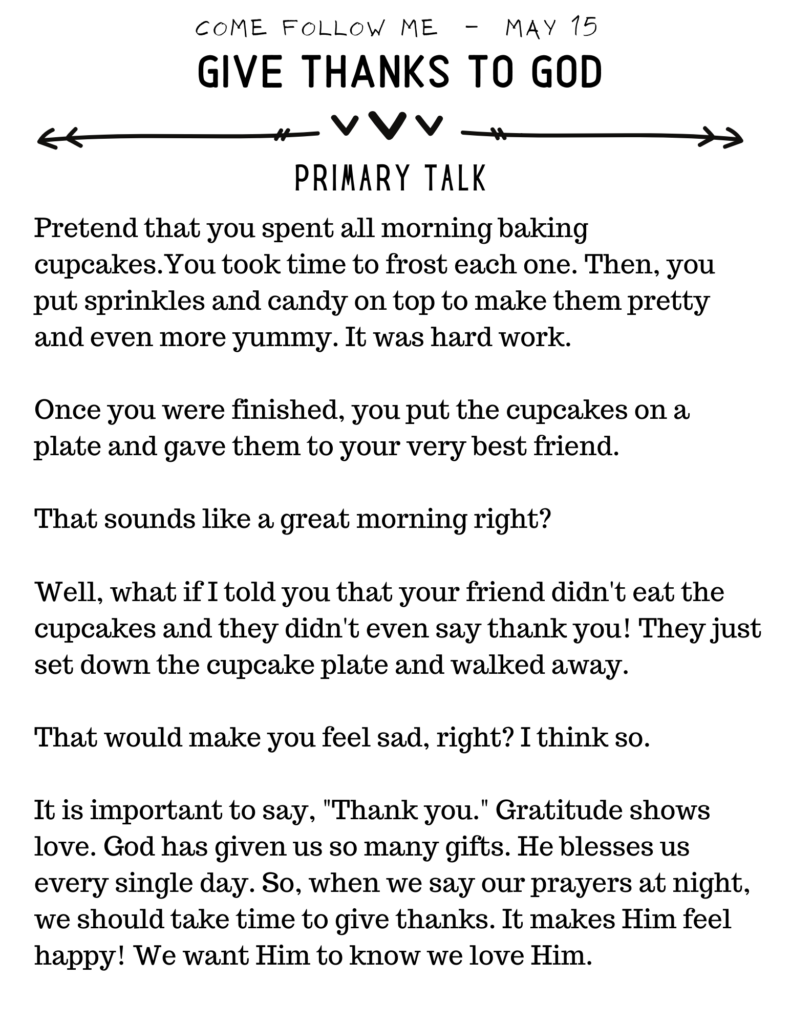 Download Primary Talk PDF: Give Thanks To God
Primary Talk May 22: Love The Lord
Moses taught the children of Israel that they should love the Lord with all their heart, soul, and might. We should follow his words too!
When we love the Lord with our heart, we feel a warm feeling inside.
When we love the Lord with our soul His Spirit shines within us.
When we love the Lord with our might, it makes us strong and more powerful.
The more we come to know Jesus and keep His commandments, the more we can love Him! His love makes us feel good, shine bright, and stay strong.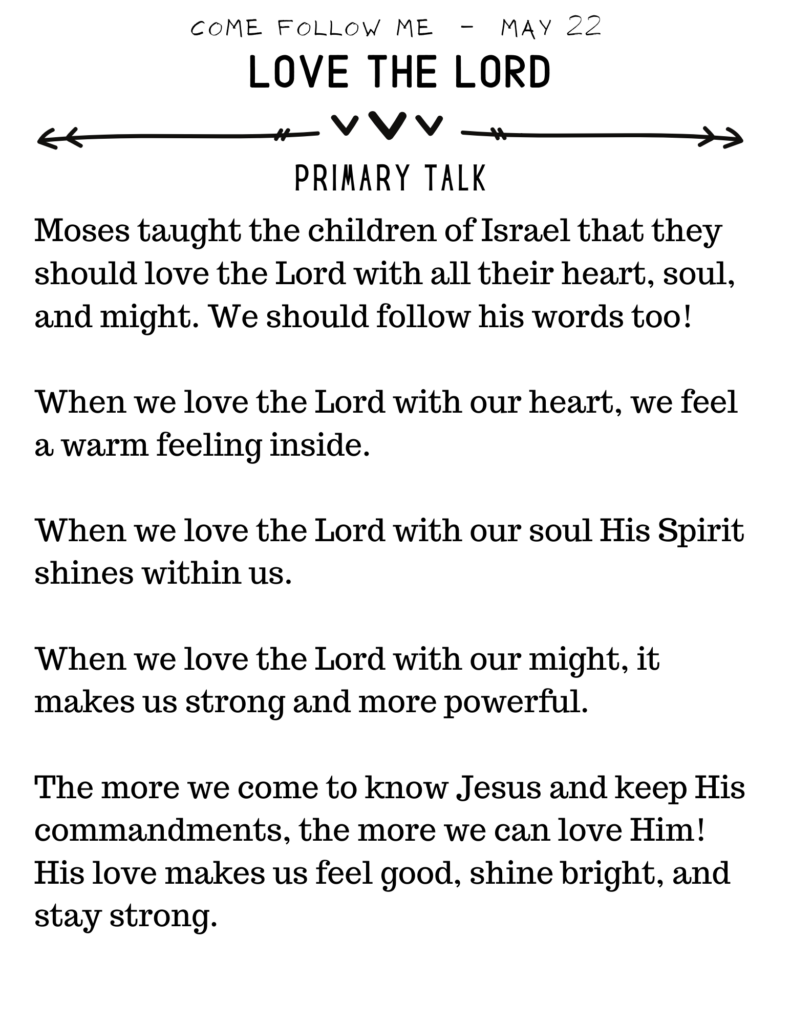 Primary Talk Printable May 29: Ponder The Scriptures
Do you know what the word "ponder" means? It means to think about something carefully.
The Lord has asked us to ponder the scriptures. When we read the scriptures, we need to take time to think about what they mean. We can ponder in our minds and in our hearts!
When we ponder in our minds it means we think about the words we read and try to understand the meaning.
When we ponder in our hearts it means that we think about how the words make us feel.
The scriptures are a blessing. They can help us come closer to God and Jesus. When we take time to ponder the scriptures, it can help our testimony grow.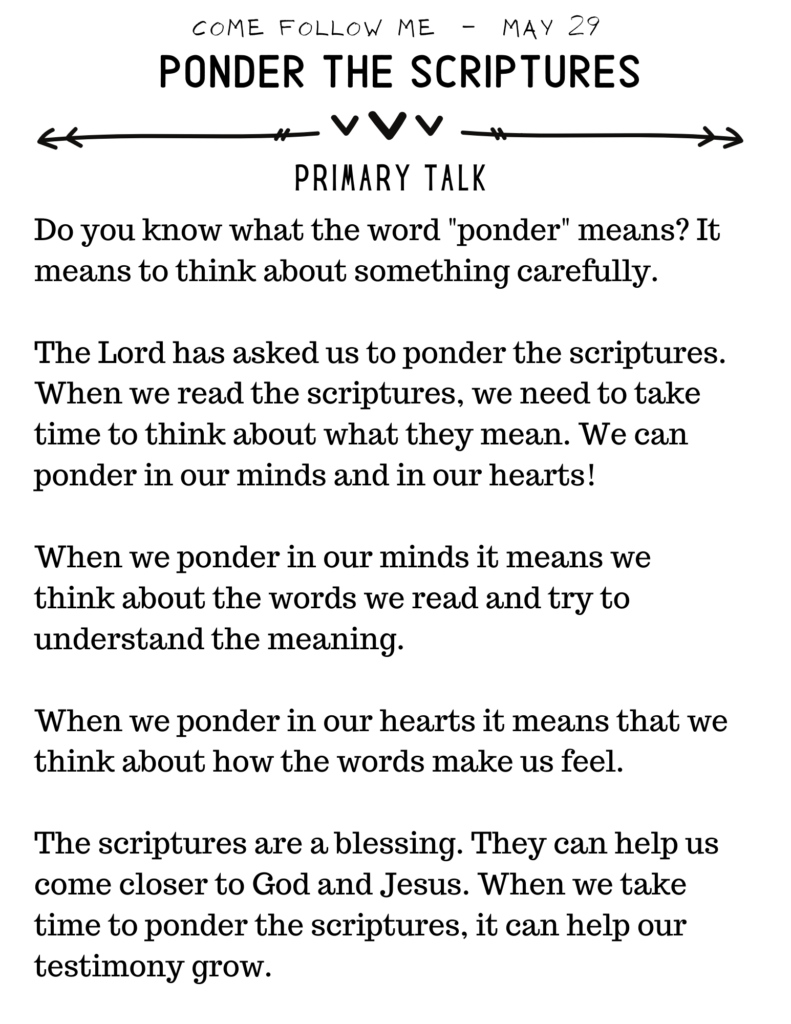 Easy Primary Talk PDF Download: Ponder the Scriptures
If you found these talks helpful, check out these Latter-day Saint blog posts:
Pin this image to save and share talks: